Reported in 2021: 16,413 Falun Gong Practitioners Arrested and Harassed for Their Faith
(Minghui.org) In 2021, 5,886 Falun Gong practitioners were confirmed to be arrested and 10,527 harassed for their faith.
Falun Gong, also known as Falun Dafa, is a spiritual discipline that has been persecuted by the CCP (Chinese Communist Party) since 1999.
The newly confirmed arrest cases include 841 that took place in 2020 and 5,045 in 2021. As for harassment, the 10,527 cases broke down to 7 cases in 2016, 1,275 in 2020 and 9,245 in 2021.
The new cases also brought the total arrest and harassment tally in 2020 to 8,160 and 10,973, respectively. Due to strict information censorship in China, the cases cannot always be reported in a timely manner, nor is all information readily available.
April through June in 2021 recorded big spikes in both arrest and harassment cases. The monthly average of 1,620 harassment cases between these three months was twice the number in March and six times the number in February.
Several group arrests took place in both May and June, including the arrests of 13 practitioners in Suzhou City, Jiangsu Province on May 10; 26 practitioners in Tangshan City, Hebei Province on May 12; 9 practitioners in Lanzhou City, Gansu Province on May 13; 16 practitioners in Jiaozhou City, Shandong Province on June 2; 28 practitioners in Mudanjiang City, Heilongjiang Province on June 10; and 26 practitioners in Chaoyang City, Liaoning Province on June 11.
The sudden increase in April-June 2021 was a result of the continuation of the "Zero-out" harassment campaign launched in 2020 and aimed to force every practitioner on the government's blacklist to renounce their faith. The increase was also due to the intensified persecution around the CCP's "sensitive dates" of April 25 (the anniversary of 10,000 Falun Gong practitioners' peaceful appeal outside the central government compound in 1999 for the right to practice their faith) and May 13 (the anniversary of Falun Gong's introduction to the public) to prevent practitioners from speaking out about the persecution. The "stability maintenance" campaign prior to the CCP's centennial anniversary on July 1 was another example of the Party's intensified persecution targeting practitioners.
With the 2022 Winter Olympics set to take place in China from February 4 to 20, the CCP has begun yet another round of campaigns to "maintain social stability," especially in the three Olympic Games zones, Beijing, Yanqing (a rural District in Beijing), and Zhangjiakou in Hebei Province. Similar tactics were used when the Olympics were held in Beijing in 2008.
To further prevent practitioners from speaking out, the authorities installed surveillance cameras throughout China and strictly censor the Internet, filtering out information that it considers sensitive.
Practitioners in Liaoning, Chongqing, and Hebei were seized at their own homes by the police in Henan, who traveled hundreds of miles to arrest them, after finding out they sent out information about Falun Gong on a popular social media platform, WeChat. In another incident, a woman in Dalian City, Liaoning Province was arrested and later sentenced to 4.5 years for tweeting information about the persecution of Falun Gong during a trip to Japan.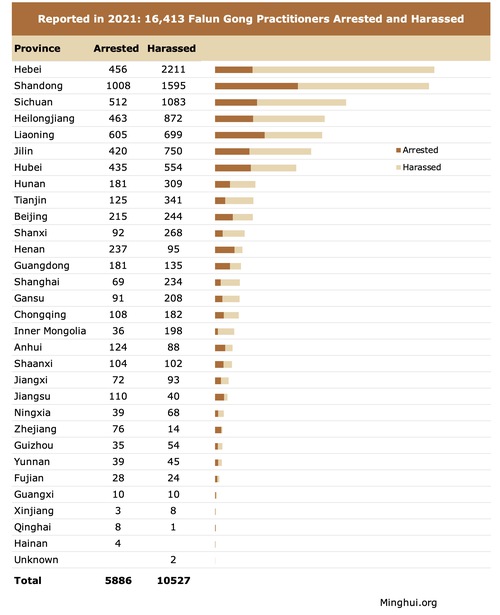 Shandong topped all other regions with 1,008 arrests, followed by Liaoning (605) and Sichuan (512). Hebei (2,211), Shandong (1,595) and Sichuan (1,083) had the most harassment cases. Eighteen other provinces registered triple-digit combined persecution cases, six provinces had double-digit cases and two regions had single-digit cases.
Among the targeted practitioners, 608 were taken to brainwashing centers, with Hubei leading the pack with 124 cases, followed by 117 cases in Shandong and 81 cases in Jilin.
Since the persecution of Falun Gong began in 1999, the authorities in Wuhan City, Hubei Province have closely followed the regime in suppressing practitioners, especially through brainwashing sessions. After the "zero-out" campaign was launched in 2020, Wuhan authorities also repurposed ten existing facilities across the city and used them to conduct brainwashing sessions.
Among the arrested practitioners, 687 were older than 65, with 131 in their 80s and 3 in their 90s. Another 632 harassed practitioners were also older than 65, with 219 in their 80s and 15 in their 90s.
After a 90-year-old woman in Jilin City, Jilin Province was arrested on May 14, 2021, for talking to people about Falun Gong, the police pushed her into their car, snatched her keys, and ransacked her home. She was held in a metal cage at the local police station and released on bail a few hours later.
Some of the practitioners have been repeatedly targeted in the past two decades for upholding their faith. In addition to the arrests, harassment and detention, some also face financial devastation after the authorities suspended their pension and ordered them to return the funds they received during previous prison terms.
Along with the elderly practitioners, some young practitioners were also targeted, including a 19-year-old college freshman in Shandong and a 27-year-old woman in Anhui.
The targeted practitioners came from all walks of life, including teachers, engineers, business managers, doctors, nurses, taxi drivers, and researchers. A former police supervisor in Shandong suffered declining health after her arrest on January 9, 2021. She is now awaiting a prison sentence following a hearing on December 16. Having been forced to move three times in 2020 after his landlords were ordered by the police to evict him, an electrical engineer in Shanghai was arrested on October 20, 2021, while traveling to his hometown in Zhejiang.
Below are more details of various persecution cases.
Targeted Before Sensitive Days
Arrested During the "Two Sessions" in Beijing
Starting in mid-February 2021, the authorities in Beijing began to harass local Falun Gong practitioners, with the excuse of maintaining stability prior to the Chinese People's Political Consultative Conference and the National People's Congress between March 4 and 11.
In some cases, dozens of police officers and residential committee staff members went to one practitioner's home and demanded that they not leave their neighborhood during the meetings. In some areas, police officers also checked on practitioners at home each day.
On March 7, 2021, Ms. Huo Zhifang, 57, went to deliver food to her elderly father. Hours later that afternoon, the police ransacked her home and arrested her.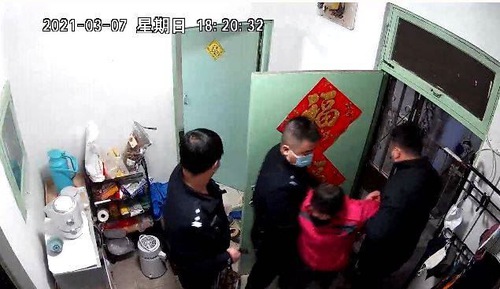 Video screenshot of the police arresting Ms. Huo
Arrested Prior to CCP's 100-year Anniversary
A group of police officers broke into Mr. Sun Zhentie's home in Changchun City, Jilin Province at around 6:30 a.m. on April 14, 2021. One officer flashed a piece of paper that he claimed was an arrest warrant but put it away before Mr. Sun could read it. Before taking the 61-year-old man away, the police took photos of him and his 26 Falun Gong books. One officer said that the arrest was to "maintain social stability," as the celebration of the CCP's 100-year founding was coming up in a few months.
On June 11, 2021, authorities in Chaoyang City, Liaoning Province arrested 26 Falun Gong practitioners and a family member, claiming that the arrests were a "gift" for the Chinese Communist Party's centennial celebration on July 1.
Ms. Zhong Weiling, 71 and of Lianyungang City, Jiangsu Province, was arrested and taken to the Lianyungang City Detention Center on June 16, 2021. According to a detention center guard, due to the upcoming centennial anniversary of the CCP's founding, the detention center was receiving between 200 and 300 new detainees every day as part of the regime's effort to "maintain stability" during the celebration.
With injuries to her legs and loss of teeth from being tortured when she was detained before, Ms. Zhong had a difficult time getting food due to the extremely limited resources and poor conditions in the detention center. She quickly lost weight and was dizzy from lack of food.
Harassment Before the Winter Olympics
Two officers from the Haidian District Police Department in Beijing, surnamed Guo and E, respectively, showed up at Mr. Qin Wei's door on December 21, 2021. They were accompanied by a group of unidentified people. When Mr. Qin's family stopped them, they said they came to "maintain stability" in preparation for the Winter Olympics.
Ms. Han Fei in Chaoyang District, Beijing, also had similar experiences of being followed and monitored by the police and neighborhood committee members. The police called her husband on November 30, warning her not to go out because of the winter Olympics.
Harassment and arrests also occurred in other areas of Beijing. At 11 p.m. on December 15, officers from the Dayushu Police Station in the Yanqing District arrested Mr. Yu Hongbing and his wife. On December 24, two officers from the Kangzhuang Police Station in the Yanqing District harassed Mr. Hao Xiufeng at his home in Xibozi Town.
Besides Beijing, officials in neighboring Hebei Province also carried out the intensified harassment. In Wei County of Zhangjiakou City, a large number of plainclothes police officers were dispatched to patrol the streets. In addition, Wei County Police Department has held numerous activities at the county seat and various towns since December 1. During these events, the police openly criticized Falun Gong and distributed a large number of flyers containing slander about the spiritual practice. They offered financial rewards to ordinary citizens for reporting practitioners to police.
As a result, some practitioners were arrested. Ms. Zhou Guihong and her husband Mr. Niu Jiancheng (not a practitioner) were arrested on December 10 while transporting materials intended to produce New Year calendars with Falun Gong information.
Re-emergence of Brainwashing Centers
When the targeted practitioners refused to renounce their faith in the "Zero-out" campaign, some were taken to brainwashing centers for "further education."
Wuhan, the capital of Hubei Province and the initial source of the pandemic outbreak, was known as a "national role model" in hosting brainwashing sessions for Falun Gong practitioners. With more than 60 brainwashing centers already in place, the Wuhan authorities have recently opened another nine locations across the city.
Often known as "Legal Education Centers" or "Transformation Learning Centers," the brainwashing centers are located in government offices at every level of government, colleges and universities, state enterprises, and private companies and residences. Places such as nursing homes, hospitals, welfare homes, guest houses, and hotels are also used to hold brainwashing sessions.
Starting in 2021, the authorities in Wuhan gave the brainwashing centers new names, such as "caring homes" or "caring centers," in order to avoid increasing international scrutiny of the hidden crimes taking place in these facilities.
Having been held in various brainwashing centers eight times, Ms. Zhou Ailin, a former auditor at the Qiaokou District Industrial and Commercial Bureau in Wuhan was arrested again and taken to a brainwashing center after her initial 15-day administrative detention expired.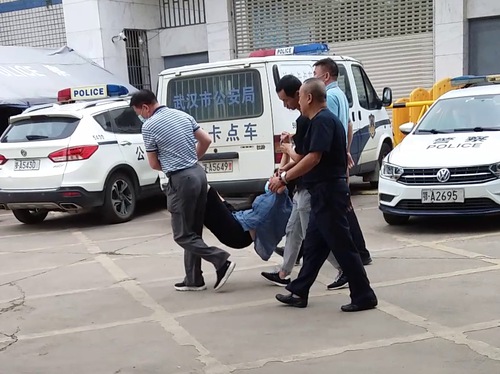 Ms. Zhou is carried away by the police
In a newly built two-story brainwashing center in the outskirts of Wuhan, the authorities hired two former Falun Gong practitioners who had given up the practice under pressure, and paid each of them 200 yuan per day. Their job is to "transform" detained practitioners with other hired henchmen, most of whom are young men who don't have a full-time job.
The practitioners who were held at the new brainwashing center were confined in separate rooms on the second floor. With no windows or lights, the rooms are pitch dark. Practitioners are forced to watch propaganda videos that slander Falun Gong. Sometimes they are not allowed to sleep for many days. They are ordered to write guarantee statements and are threatened with prison sentences if they don't comply. Some practitioners went on hunger strikes to protest but were force-fed.
During a brainwashing session in Songzi City, Hubei Province, Deng Liangui, the head of the Songzi City 610 Office, ordered the police to beat detained practitioners. He once said to a practitioner, "We don't have to follow the law on Falun Gong. We are following our own rules at the 610 Office. You can go ahead and sue us. I'm curious to see which agency dares to accept your case."
Even after Ms. He Haiyan of Chenzhou City, Hunan Province was released after being held for seven days at a brainwashing center, the authorities instructed her mother to keep on monitoring her.
Other brainwashing centers are known to exist in Jilin, Shanxi, Shandong, Zhejiang and Jiangsu.
Deaths Due to Arrests and Harassment
The arrests and harassment caused many practitioners to die, including two who died in custody one day after they were arrested. Others passed away due to the mental distress from the non-stop harassment.
Mr. He Xinli, a Dalian City, Liaoning Province resident, was harassed in April 2021 and ordered to sign a statement to renounce Falun Gong. The elderly man in his 80s was deeply traumatized by the intrusion and died in less than 20 days.
Mr. Sun Pijin of Mengyin County, Shandong Province, also died one day after he was arrested while working on his family farm on June 17, 2021. The police informed Mr. Sun's family of his death on June 18. They said that Mr. Sun refused to have the coronavirus test at the Mengyin County Chinese Medicine Hospital and that he jumped from the building and died instantly. The police cordoned off the scene and did not allow anyone to get close.
When Mr. Sun's family saw his body at the Mengyin County Funeral Home, they saw that he was leaking brain fluid, one of his eyeballs was missing, and his abdomen was sunken. The authorities forced his family to have his body cremated eight days later. They also forbade his family from appealing or filing any wrongful death lawsuits.
Mr. Li Jianshe, a Zhumadian City, Henan Province resident, was arrested by officers from the Yicheng Police Department on June 26, 2021, and was taken to the city detention center. His family was informed on July 2 that he had been taken to the intensive care unit of a hospital. When they saw him they observed that Mr. Li's back, arms, and neck were swollen. He passed away four days later, on July 7, 2021.
The police began to harass Ms. Wang Guiying, of Yongji County, Jilin Province, in June 2021, one month before the CCP's centennial anniversary of its founding in July 2021. When the police came to ransack her home on July 20, Ms. Wang suffered a heart condition. Although the police gave up on arresting her, they continued to harass her, even after she moved into her daughter's home. Ms. Wang's health quickly deteriorated and she passed away on August 6, 2021. She was 76.
A woman in Hanchuan City, Hubei Province, Ms. Hu Hanjiao, passed away on November 9, 2021, 13 days after being admitted to prison to serve a four-year term. Ms. Hu was arrested on March 15, 2021, and sentenced on June 16, 2021, for talking to people about Falun Gong. The authorities refused to allow her husband to see her body or her medical record. They also pressured him to dismiss the lawyer he hired to seek justice for Ms. Hu and forbade him to discuss her death with other local Falun Gong practitioners.
When Ms. Kang Aifen's husband opened the door on June 17, six plainclothes officers who were hiding in the stairway rushed over and barged into his home. While two officers held Ms. Kang, the rest of them began to search the place. All her Falun Gong related materials were taken away. One officer said to Ms. Kang, "Even if you wear a hat when you go out, we can still recognize you." Ms. Kang's husband asked the police why they were arresting her. They replied that they were following higher authorities' orders, as the CCP's centennial anniversary of its founding was coming up on July 1.
Ms. Kang, a resident in Jiamusi City, Heilongjiang Province, struggled as she was taken away and was pushed into the police car. Even though her blood pressure was dangerously high, the police forced the detention center to admit her. There, the guards force-fed her, causing her to suffer a heart attack. As her condition worsened, the guards began to give her injections and IV drips, which only caused her condition to deteriorate further. Her arms swelled so badly that the nurse could no longer inject her. She was unable to stand or walk on her own. She lost vision in both eyes and had difficulty breathing.
On the verge of death, the police released her on August 17, but they still submitted her case to the procuratorate and sought to imprison her. Her health further declined with the ongoing harassment. She passed away on November 18, 2021.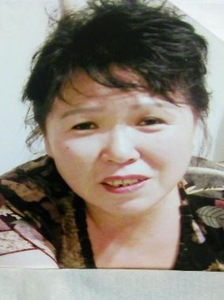 Ms. Kang in recent years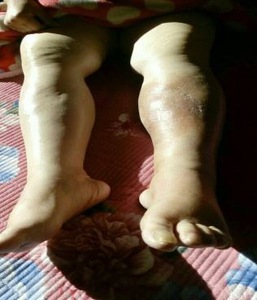 Ms. Kang's swollen legs following her latest incarceration
Ms. Li Shuangyan, a 45-year-old Hegang City, Heilongjiang Province resident, died one day after she was arrested on December 16, 2021, for making informational materials about Falun Gong. She was interrogated and tortured for nearly 30 hours at the Fuli Police Station. When she was on the brink of death, the police ordered her husband to pick her up after he got off from work. Her husband called an ambulance, but Ms. Li was already dead when it arrived.
Elderly Targeted
Mr. Gong Xueliang, 84, and Ms. Wang Zhongqiong, 81, were walking on the street on November 8, 2021, when two police officers suddenly stopped them. This was the second time within a month that the married couple in Shifang City, Sichuan Province was arrested for their faith in Falun Gong. They were released on the same day, and the police are now seeking to prosecute them. During their earlier arrest on October 13, one officer held Ms. Wang's left arm behind her back and forcefully twisted it. There were over 60 Falun Gong books and some Falun Gong keepsakes that were confiscated.
Mr. Gu Jiushou, an 82-year-old retired Chongqing University professor, was arrested on November 9, 2021, after being reported for talking to people about Falun Gong at a bus station. The police dragged him to their car and handcuffed him. They also rolled up his down jacket and its inner layers and ripped off his belt. At the police station, they had him sit on a metal chair. Before letting him go, the police measured Mr. Gu's height and took front, left, and right side photos of him. He was exhausted and his sons had to hold him up as they walked out of the police station.
Twelve officers arrested Mr. Luo Zhenggui, an 86-year-old in Gulin County, Sichuan Province, on his way home on November 5, 2021. They took him home and broke down his door. They turned his house upside down without a search warrant but did not provide a list of the items they confiscated. All of his Falun Gong books, informational materials, cellphones, and media players were confiscated. Even many of his everyday items, including batteries, printing paper, incense, history books, cash, and food, were taken as well. The police released Mr. Luo at midnight after measuring his height and weight and collecting his fingerprints and footprints. The police also attempted to arrest his wife, Ms. Zhang Ziqin. She escaped and was forced to live away from home to hide from the police.
In order to achieve the goal to force all local Falun Gong practitioners to renounce their faith in the "Zero-out" campaign, police in Dujiangyan City, Sichuan Province arrested Ms. Yang Huijun, a woman in her 80s, and used photos of her being tied up to threaten others.
The police broke into Ms. Yang Huijun's home on August 20, 2021 and arrested her. When she refused to sign the statement to renounce Falun Gong, the police tied her up and took photos of her. Her family, who was deceived by the communist regime's slanderous propaganda against Falun Gong, worked with the police in arresting her. Her Falun Gong books and other materials were confiscated.
The police then used Ms. Yang's photos to intimidate other local practitioners. They found Ms. Su Jianhua's daughter and pressured her to look for her. Ms. Su's son-in-law, who has a hostile attitude towards Falun Gong due to the persecution, often beats and verbally abuses his mother-in-law. The police initially attempted to pressure Ms. Su, in her 70s, to sign the renouncing statement, by showing her photos of Ms. Yang being tied up. When Ms. Su refused to comply, the police asked her to sign three pieces of blank paper, promising that they wouldn't use her signatures against her. Ms. Su signed on the blank paper after being pressured by the police and her family. She later realized the police could use her signatures to slander Falun Gong, so she submitted a statement to Minghui.org to nullify her signatures.
Even those who gave up practicing Falun Gong were not spared in the "Zero-out" operation. Twelve officers broke into Ms. Xue Xiuying's home. Even though she had given up Falun Gong many years ago and has developed dementia due to a brain disease, the police still ordered her to sign the renouncing statement. Ms. Xue's family was terrified and condemned the police for persecuting elderly, sick people. The police showed the photos of Ms. Yang being tied up to threaten them, "Don't think you can avoid signing the statement by pretending to be ill. This is what will happen if you don't sign it!"
The police also threatened Ms. Xue's family that their children or grandchildren's work and education would be affected if she did not sign. They especially threatened her two grandsons who were attending prestigious colleges, Tsinghua University and University of Science and Technology of China. Worried about their sons' education, Ms. Xue's children signed the statement for her.
Family Impacted
The persecution has not only affected the practitioners themselves, but also brought tremendous distress to their family members.
Ms. Pan Jing of Dandong City, Liaoning Province, was hosting a birthday party for her 89-year-old mother on September 3, 2021, when a group of police officers suddenly broke in and arrested her and her four guests.
Six days before the Mid-Autumn Festival on September 21, Mr. Jia Guojie, a doctor in Jishan County, Shanxi Province was arrested, leaving his elderly mother at home alone during the traditional holiday which celebrates family.
After Ms. Huang Wenfen of Yingchang City, Hubei Province was taken to a brainwashing center on August 20, 2021, her 96-year-old father, who relies on her to take care of him, was left unattended.
In Beijing, a 12-year-old girl with epilepsy was arrested with her parents on January 14, 2021. On the way to the local police station, the mother, Ms. Zhen Miao, told the police about her daughter's medical condition and asked to have the girl dropped off at her brother's home. Not only did the police reject her request, they interrogated Ms. Zhen in front of her daughter throughout the night. Although the girl was released hours later to her grandmother, she has been struggling to cope with the trauma and as a result her epileptic seizures have increased.
During a harassment of Ms. Kou Huiping, a railroad transportation company employee in Lanzhou City, Gansu Province, on August 20, 2021, the local police and community officials showed her pictures of her mother in fear and distress after being threatened. They said, "We will make your mother suffer every day like this. She is already so old. If one day she can't stand it and passes away, it will be all your fault!"
Because Ms. Kou stays firm in her faith, the police kept harassing her family members, including her daughter and siblings. They threatened to force them into homelessness or have them fired from their jobs, in order to force Ms. Kou to comply. Her family members' lives were severely disrupted and her relationship with her family was also damaged.
While Mr. Duan Yanlin, of Anyang City, Henan Province, was detained following his arrest on June 26, 2021, his bedridden mother, who relied on his care, was traumatized by his arrest and soon passed away. The police did not allow Mr. Duan to attend his mother's funeral.
The family of Ms. Yang Li, a Changchun City, Jilin Province resident, went to pick her up at a local detention center on December 16, 2021, after she finished serving a one-year term for practicing Falun Gong. When they arrived, to their shock and horror, they watched as a group of police officers pushed her into a police car and drove away.
Ms. Yang's husband followed them in his own car. He stopped the police car at an intersection. Infuriated, four officers got out, grabbed him and beat him. When his brother and sister-in-law came to stop the police, they were also beaten and his sister-in-law was injured.
Mr. Li Long, a young man in Dongying City, Shandong Province, was twice arrested, in July and August 2021, respectively, for supporting his mother, Ms. Wang Ying, in raising awareness about the persecution. The police attempted to force Mr. Li to provide false testimony against other arrested practitioners. When he refused, the police summoned him on November 6, 2021. Mr. Li refused to cooperate and was roughed up by the police.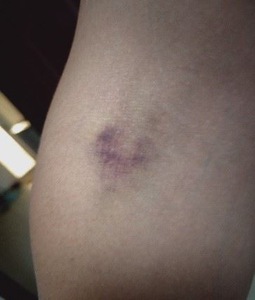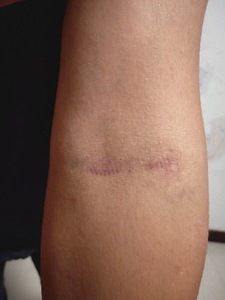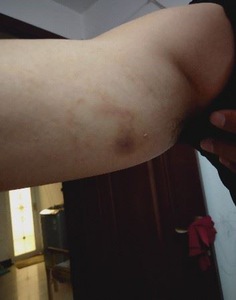 Bruises on Mr. Li's body from police violence
Mr. Li Long's broken cellphone
Repeated Persecution
Having been previously incarcerated for a total of nine years, Ms. Gong Ruiping, 44, a former elementary school teacher in Beijing, was arrested again on July 20, 2021, after being reported for talking to people about Falun Gong. The police tracked her cellphone and located her residence. She has been detained at the Shunyi District Detention Center since then and was force-fed when she held a hunger strike to protest the persecution. The guards also handcuffed and shackled her when she tried to clarify the facts about Falun Gong. She stood trial on December 15 and is now awaiting the verdict.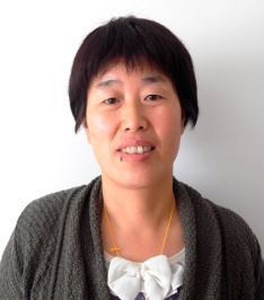 Ms. Gong Ruiping
Ms. Liu Huarong, 68, of Shenyang City, Liaoning Province, was arrested in mid-June 2021 and is now being held in the Shenyang City Detention Center. This is the eighth time that the former librarian has been arrested for her faith in Falun Gong. She was previously incarcerated several times in several forced labor camps, brainwashing centers, and prison for a total of 12 years. While serving time in the Masanjia Forced Labor Camp, she was handcuffed and locked in a storage room without any lights or ventilation for many days. Male guards sometimes dragged her out of her cell into a corridor and beat her.
The police in Jinan City, Shandong Province broke into the home of Ms. Jiang Xinying early on July 22, 2021 and arrested her. The police told Ms. Jiang's family that she was recorded by a surveillance camera when she talked to people about Falun Gong. Her 90-degree hunchback due to previous persecution enabled the police to quickly identify her.
While serving a forced labor term in 2007, Ms. Jiang contracted lung tuberculosis, lymphatic tuberculosis, and spinal tuberculosis. She had holes (the biggest one being 7cm in diameter) in her lungs, and she suffered necrosis of several of her vertebrae. The skin on her back turned black, and on either side of the lumbar vertebra were tuberculosis masses of over ten centimeters. Her gums were also affected and smelled bad. Her third and fourth vertebrae were largely eroded by mycobacterium tuberculosis, and the dead vertebrae pressed against nerves, causing unbearable pain when she moved her legs. Even though she underwent surgery three weeks later, she was never able to straighten her back. Over time, her hunchback became more and more severe.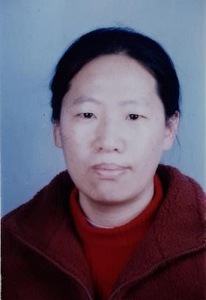 Ms. Jiang Xinying
Similar to Ms. Jiang, Mr. Lu Kaili (also translated as Lyu Kaili), sustained a spinal injury and became paralyzed after he was tortured in prison for 10 years. The former engineer in Dalian City, Liaoning Province was arrested again on June 20, 2021, for "sabotaging law enforcement."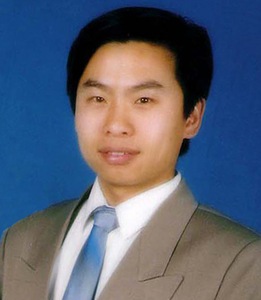 Mr. Lu before the persecution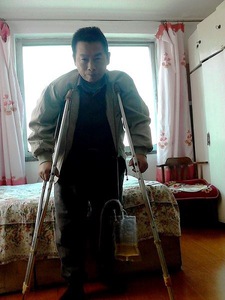 Mr. Lu after he was released from prison
Police Brutality
A group of officers in Qionghai City, Hainan Province knocked on local resident Mr. Zhao Fenghui's door at around 10:11 p.m. on April 7, 2021. When no one opened the door, they threatened to blast it open. They kept kicking the door, shouting, "This is your last chance! If you open up now, you'll be fine, otherwise we will break in. You'd better think it over!"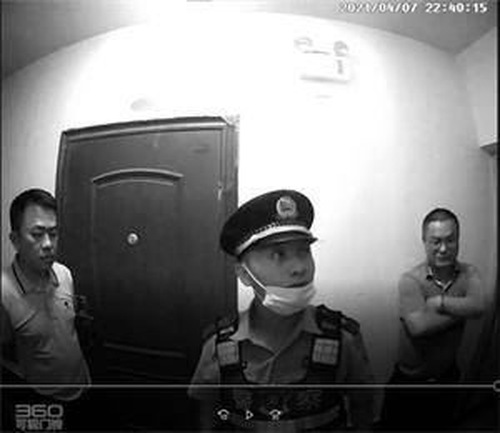 Police outside of Mr. Zhao's home
Mr. Zhao's ordeal wasn't an isolated case of police officers stepped-up threats. While interrogating three locals in Laishui County, Hebei Province, the police threatened to cut off their fingers if they did not cooperate when their fingerprints were collected. One of the victims, Ms. Zhang Shuping, in her 70s, said the police also forcibly opened her eyes when they photographed her, and she now has pain in her eyes and a headache. Her arms also feel numb and her fingers feel very painful due to the excessive force used by the police.
A police officer in Ningxiang City, Hunan Province, pointed at Ms. Li Lihong and said, "I'm going to shoot and kill you," while interrogating her following her arrest on July 23, 2021. During Ms. Li's seven-day detention, the guards did not let her drink water and restricted her use of the restroom. She was handcuffed most of the time.
When Ms. Guo Xiumei, a resident in Shulan City, Jilin Province, refused to cooperate with the police interrogation following her arrest on May 11, 2021. The police covered her head and transferred her to an undisclosed location. They beat her, intimidated her with the torture instrument displayed in the room, and poured wasabi oil mixed with urine into her nose.
Ms. Zhang Junxiu, of Hanzhong City Shaanxi Province, suffered seven broken ribs after being beaten by the police, when she was trying to resist being arrested on June 18, 2021. Although she refused to reveal her address, the police found it in their online database and ransacked it without a search warrant.
Ms. Wang Jinxia, a 47-year-old resident in Shuangyashan City, Heilongjiang Province, was arrested by three officers after checking out at a supermarket on October 6, 2021. At the police station, an officer beat her and kicked her lower body. Her arms became swollen and bruised. Four other officers, including two males, stripped her clothes off and searched her body. When she objected that an officer inappropriately touched her, he said, "I'm just touching you." The same officer kept her handcuffed very tightly, punched her in the head and ears, slammed her head against the wall and made a hand gesture like a gun shooting at her, before releasing her later in the afternoon.
Ms. Guo Shufen, in her 70s and of Changchun City, Jilin Province, was stopped by a residential committee staff member when she left her apartment complex on December 13, 2021. A male police officer appeared and ordered her to take them to her apartment so that they could search it. When Ms. Guo refused to comply, the officer dragged her towards her apartment building. Terrified, she collapsed. The officer then dragged her across the ground to the building entrance. Ms. Guo felt tightness in her chest and couldn't get up. She sat on the ground—in -10°C (14°F) weather—for over 20 minutes before she had the strength to stand up.
Mr. Deng Chuanjiu was taken to the local city government in Pengzhou City, Sichuan Province, when he was released from prison on October 15, 2021 after serving four years for practicing Falun Gong. The government officials beat him and poured cold water on him. The police arrested him again on November 22 and beat him. They beat him so hard that one stick was broken into three pieces and a metal pipe was bent. Then the officer found another metal pipe and police baton and continued beating him. When they took Mr. Deng home, the police ransacked his place and threatened him, "This is only the beginning. We can arrest you at any time and beat you up. Maybe today, maybe tomorrow. Don't even think of having a peaceful life or a sound sleep again."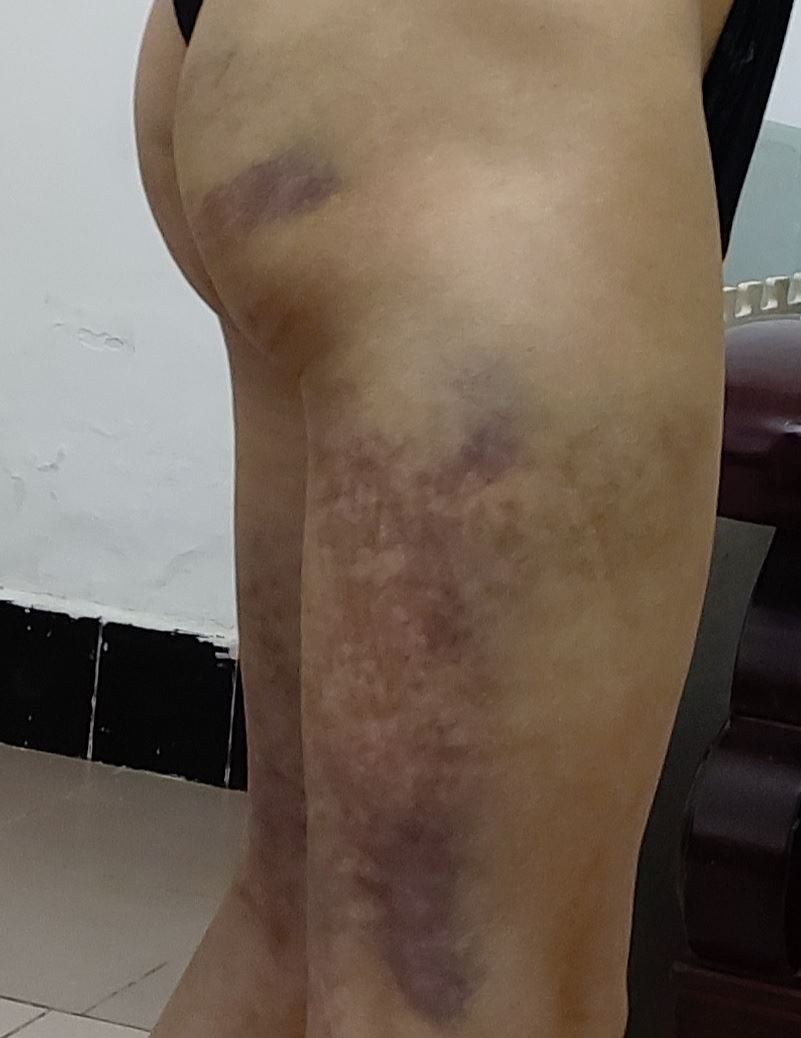 Mr. Deng is covered with bruises after being beaten by police.
Financial Persecution
In recent years, in addition to the ongoing arrests, harassment, and incarceration of Falun Gong practitioners, the Chinese Communist Party has also imposed additional financial persecution by arbitrarily wiping out practitioners' years of service in pension contributions or by suspending their pensions.
After being imprisoned for eight years for her faith in Falun Gong, Ms. Liu Cuixian, a 67-year-old woman in Kunming City, Yunnan Province, was forced to return 39,000 yuan of her pension money she received from the local Social Security Bureau. The bureau claims there is a new policy that Falun Gong practitioners imprisoned for their faith are not entitled to any retirement benefits, even though no Chinese labor law has such a stipulation.
Ms. Yong Yulian, of Yueyang City, Hunan Province, had 10 years of her over 30 years of service arbitrarily wiped out by the social security bureau. She was also forced to make an additional 54,000 yuan contribution to reactivate her suspended pension and her monthly payment was reduced from over 2,000 yuan to 1,400 yuan.
After being imprisoned for ten years, Ms. Liu Xiaoping, of Zhuhai City, Guangdong Province, was devastated to find herself homeless. With her pension suspended for 7.5 years, she applied for low-income government housing, only to be rejected after she failed the CCP's political background check.
A Shanghai resident also faces financial persecution and harassment after being incarcerated for 1.5 years for practicing Falun Gong. A former chemistry teacher at Lianchuan Middle School, Ms. Wang Yaping was fired by the Jiading District Education Bureau. After a former colleague failed to persuade her to renounce Falun Gong, the police frequently harassed and closely monitored her, including in early July (the communist regime's centennial anniversary of its founding), the first week of October (the anniversary of the regime's officially taking power in China), and between November 4 and 11 during the China International Import Expo in Shanghai.
Related reports:
1,963 Falun Gong Practitioners Reported Arrested and Harassed in September and October 2021
2,941 Falun Gong Practitioners Arrested and Harassed in July and August 2021
Reported in First Half of 2021: 9,470 Falun Gong Practitioners Arrested or Harassed for Their Faith
2,857 Falun Gong Practitioners Reported Arrested and Harassed in March and April 2021
226 Falun Gong Practitioners Targeted for Their Faith in February 2021
1,216 Falun Gong Practitioners Reported Arrested and Harassed in January 2021
All articles, graphics, and content published on Minghui.org are copyrighted. Non-commercial reproduction is allowed but requires attribution with the article title and a link to the original article.