Liaoning Man Paralyzed from Previous Imprisonment Faces Prosecution Again (Graphic photos)
(Minghui.org) A former engineer in Dalian City, Liaoning Province sustained a spinal injury and became paralyzed after he was tortured in prison for 10 years for refusing to renounce Falun Gong, a meditation practice that has been persecuted in China since 1999.
Mr. Lyu Kaili's nightmare did not end there. The police recently broke into his home and arrested him on June 20, 2021, for "sabotaging law enforcement." Currently he is held in a detention center and facing prosecution, after the police submitted his case to the local procuratorate on September 17.
Mr. Lyu, 57, experienced seven arrests, two terms of forced labor camps, and one prison sentence for refusing to renounce Falun Gong since the onset of the persecution. He spent a total of 13.5 years in the past 22 years behind bars, and suffered torture such as the death bed, being hung up by handcuffs, and shocked by high-voltage electric batons.
After he intercepted TV signals to broadcast a video exposing the crimes of the Chinese Communist Party in 2005, he was sentenced to 10 years. The prison guards frequently shocked him with electric batons and each time for hours. In 2010, he jumped off a building roof because he could no longer tolerate the extreme physical pain. His tail bone was injured and he became paralyzed and incontinent. He still walks with crutches.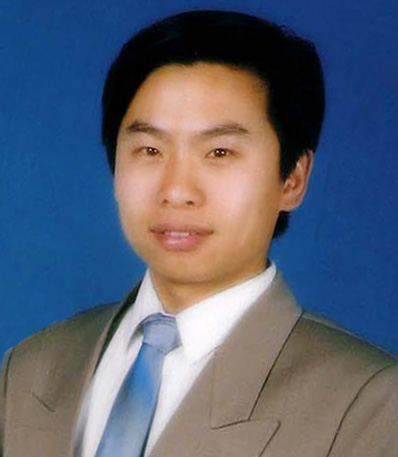 Mr. Lyu before the persecution
Most Recent Arrest and Detention
Officers from Malanzi Police Station broke into Mr. Lyu's home and arrested him on June 20, 2021. They confiscated his Falun Gong books and personal belongings. After seeing that the couplets on his door frame praise Falun Gong, the police accused him of promoting the practice and requested his neighbor to testify against him. When the neighbor turned down the request, the police tore down the couplets and took them as evidence.
The police put Mr. Lyu in Yaojia Detention Center on June 26. At first the staff members refused to take him because he was incontinent. The police coerced the staff member to take him and promised to bring diapers. Mr. Lyu's family received the police's call and brought diapers to the detention center. Somehow Mr. Lyu never received them, and his life in the detention center was difficult without the diapers, especially during summer time.
He had to make do with towels to cope with his incontinence, in addition to having to walk without a crutch. His family is worried sick about his current living conditions. They repeatedly demanded his release for medical reasons but the authorities always turned them away. The police transferred his case to Ganjingzi Procuratorate after his arrest was approved on July 8.
Family's Sufferings
Throughout Mr. Lyu's constant arrests and detention, his elderly mother was terrified and always lived in distress and fear. She died while he was incarcerated and he never got to see her for the last time.
Mr. Lyu's wife, Ms. Sun Yan, is also a practitioner. She was a senior teacher at the kindergarten in Dalian Petrochemical Company. She won several awards and was elected an outstanding worker. After the persecution started, the authorities put her in Dalian Forced Labor Camp, Longshan Forced Labor Camp, and Liaoning Women's Prison, where she suffered brutal torture.
After Mr. Lyu became paralyzed from the torture in prison, his father-in-law's health deteriorated because of the constant pressure and worry. He had recurring cancer and needed an operation.
With Mr. Lyu still detained, the responsibility of taking care of their elderly parents and a younger sister with depression all fell on Ms. Sun's shoulder.
Caring for Family Despite Injuries
Mr. Lyu graduated from Northeastern University and used to work as a chief engineer at Dalian Daqi International Company. After he took up Falun Gong, his company for many years recognized him as the most outstanding worker. After he was released in October 2015, his poor health prevented him from returning to work. He decided to teach English at home to ease the financial burden on his wife.
He came up with many ways to inspire his students and several of them became the best in English in their class. He eventually had to stop teaching because of his health. The students and parents came several times wanting him to continue.
He and his wife, though in a strained financial situation, spent 6,000 yuan to refurbish his in-laws' kitchen in April 2021 so that they could live in a more comfortable and open space.
Details of Past Persecution
1. Employer Removes Him from His Post and Sends Him to Police
After the persecution started, Mr. Lyu's employer many times talked to him about giving up his practice. After he turned down the request multiple times, his employer removed him from being the chief of the office of information technology and ordered to have him monitored at work.
The company security confiscated his Falun Gong books and audiotapes in October 1999. When he asked for his belongings back, security kidnapped him and sent him to Nansha Police Station, where he was locked in a metal cage overnight.
2. Put in Brainwashing Center for Doing Falun Gong Exercises
Mr. Lyu joined his fellow practitioners and did the Falun Gong exercises in a public square on February 5, 2000, the day of the Chinese New Year. Dozens of police officers ambushed and arrested all 70 practitioners and sent them straight away to Dalian City Rehabilitation Center that day. There wasn't a drug addict in the rehab center and the place was dedicated as a brainwashing center for Falun Gong practitioners. After 20 days of torture, his wife paid 2,000 yuan for the food expenses and the police released him.
3. Losing Job and Tortured in Forced Labor Camp after Appealing for Falun Gong
Mr. Lyu decided to go to Beijing to speak up and appeal for Falun Gong on April 4, 2000. The next day several plainclothes officers arrested him in front of the State Department Public Complaints Office and sent him to Dalian Rehab Center. Twenty days later on April 25 his employer, Dalian Daqi International Company, fired him without notice because of his trip to Beijing.
Mr. Lyu and dozens of other practitioners arrested with him were transferred to Masanjia Forced Labor Camp on May 30. In the next one and a half years, he was tortured because he refused to give up his faith.
The authorities in the labor camp forced him to work in a cornfield under the burning sun and beat him with a club if he slowed down. It wasn't unusual for a practitioner on the field to be injured or disabled after the beatings. The practitioners had to work all day every day, even in the rain. Practitioner Mr. Sun Liwen vomited due to physical exhaustion on the first day. Mr. Yang Chuanjun fainted on the field due to exhaustion as well. The guards fed the practitioners stale buns and vegetable leaves cooked in brine, knowing that they had to do hard labor.
Because Mr. Lyu remained steadfast in his faith, the guards put him on a special team and tortured him for 3 weeks. He had to stand under the scorching sun for long hours, and the guards would beat him and shock him with high-voltage electric batons. The flesh on his buttocks broke open and stuck to a wood log because he had to sit still on it for a long time.
The authorities transferred him to Dalian Forced Labor Camp on April 19, 2001. As soon as he arrived there, the guards stripped him and held him down on a wet floor. With his hands cuffed on his back and a man sitting on top of him, the guards took turns shocking his face, head, mouth, genital area, palms, and soles with a dozen electric batons.
Mr. Lyu had to do labor-intensive work such as picking peas until the day he was released on October 20, 2001.
4. Arrested Ten Days After Release and Incarcerated for Two Years
Ten days after his release, the police arrested him and his wife on October 31, 2001, while they visited a practitioner. In Dalian Detention Center, he had to wear handcuffs and shackles that were connected by a short chain, which prevented him from standing and laying down. He went on a hunger strike to protest the abuse and the guards put him in solitary confinement and force-fed him.
The authorities transferred Mr. Lyu to Dalian Forced Labor Camp on December 27, where the guards tortured him for two years. Because he refused to work, he was often cuffed to a death bed and tortured.
The death bed is often used to torture Falun Gong practitioners. The guards pin the victim down on a specially made bed and shackle his four limbs to the four legs of the bed so that the victim is spread-eagled and cannot move. The bed is made of 3-4 6-inch wide plates that spread wide apart and underneath is a chamber pot to collect the victim's urine and feces.
Mr. Lyu went on a hunger strike again in July 2002 while he was tied to a death bed. Three weeks later his health declined. Instead of letting him off the death bed, a captain shocked his groin area with two electric batons. Another time the captain stripped him and wrote insulting words on his body.
Knowing that Falun Gong practitioners don't drink alcohol, the guards force-fed him liquor while his stomach was empty for days and his health had deteriorated from the hunger strike. The guards joked that they were ruining him while pouring the liquor down his throat.
For three weeks, the guards handcuffed his hands to the upper rail of two separate bunk beds from 5 a.m. to midnight every day. A guard used a bedboard to hit his legs to punish him for going on a hunger strike.
5. Becoming Destitute After Escape from Police Station Following Beating
Two officers from Dalian Domestic Security arrested Mr. Lyu's wife on December 9, 2004, while she walked down the street. That night when he came home, several plainclothes officers were ransacking his house. They arrested him and confiscated his Falun Gong books, cell phones, and cash.
At the Xinghuajie Police Station, the police beat him, but the deputy chief said, "I don't see any [beatings]," when he protested against the beating. The next morning he escaped and, to avoid future persecution, did not return home.
6. Sentenced to Ten Years for Broadcasting Truth of Persecution
After the persecution started, all the state media in China played information slandering Falun Gong and the practitioners had no way to convey their views to the public. To let more people know why the Chinese regime's persecution of Falun Gong was wrong, Mr. Lyu and several practitioners intercepted the signal of Liaoyang County Cable TV and broadcast "Nine Commentaries on the Communist Party" on September 5, 2005.
The plainclothes broke into Mr. Lyu's rental place on October 13, 2005, and bashed him with clubs the minute they entered the place. He was secretly taken to Liaoyang City Detention Center.
Without informing his family, the authorities tried him in Liaoyang County Court on January 25, 2006. He was charged with "sabotaging the state law enforcement using a cult practice," the standard pretext used to criminalize Falun Gong practitioners. In April, the judge sentenced him to ten years in prison. He was first put in Yingkou Prison until December 20, 2007, and transferred to Panjin Prison, where he became paralyzed and incontinent.
A prison guard learned that he had an electronic copy of Falun Gong books in April 2010. To punish him, they held him down and tied his limbs to a wooden pole and shocked him with electric batons for two hours. After injuring him, the guards put him in solitary confinement for 15 days, during which time they gave him a little bit of cornbread every day.
For a month in June 2010, he had to do hard labor work for eleven hours every day. He protested and several guards shocked him with electric batons for three hours on July 6.
He went on a hunger strike to protest the abuse and the guards tied him to a chair, stripped him, and again shocked him with electric batons for four hours every day from July 9 to July 13. "I've got time to play with you all year round to make you crawl all over the place," one of them said. He sustained large areas of burn wounds on his neck and chest. The guards claimed that he "scratched himself."
A month later the guards used the electric batons on him for four hours. The next morning on August 30, he jumped off the roof after the pain from the torture had pushed him beyond his mental and physical limits. He broke his spine, pelvis, and ankles. The injury to his tailbone rendered him paralyzed and unconscious. Consequently his memory declined and he couldn't take care if himself. He had to use his fists to help him move on the ground and couldn't control his bowels and bladder.
To make matters worse, the prison authorities locked him in a sick ward and denied him family visits, in an attempt to cover up their crime.
His wife learned what happened to him and many times tried to see him in prison. She never succeeded. Through the help of a lawyer, his wife finally saw him in November 2011, 14 months after the incident.
A prisoner carried Mr. Lyu on his back to see his wife. He had a urinary drainage bag on, no leg movement, and became exhausted after 10 minutes of talking. His wife burst into tears and wanted to bail him out for medical treatment. The prison authorities turned down the request, claiming that he wasn't eligible because "the injury was self-inflicted."
To continue covering up their crimes, the prison authorities transferred Mr. Lyu to another prison six months later on May 8, 2012, without telling his family.
His wife found out that he was at Jinzhou Prison and tried many ways to get permission to see him. Unfortunately in the next 3.5 years, the authorities in Jinzhou Prison denied her husband the rights of family visits, making calls, and writing letters. She only got to see him when he was released on October 12, 2015. He walked with two crutches and a urine bag. The skin of his lower body was blackened and necrotic. He lost the capability to ever work and live normally.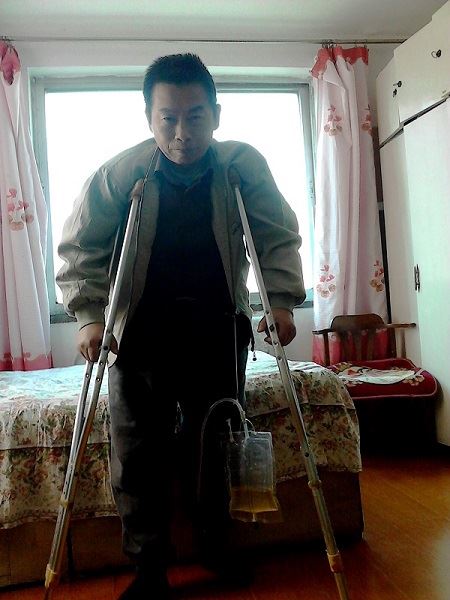 Mr. Lyu after he was released from Jinzhou Prison


Mr. Lyu's skin was necrotic and dark after his release from prison.

Related reports:
Disabled in Prison, Engineer Arrested Again for Upholding His Faith
A Couple's Sad Story of Being Separated and Persecuted for Over a Decade
The Jinzhou Prison Denies Family Visits to Lu Kaili for Over Two Years
Brutal Torture in the Men's Division of Masanjia Forced Labor Camp
German Newspaper Reports a Practitioner's Story and His Efforts to Rescue a Friend in China
Related article in Chinese:
All articles, graphics, and content published on Minghui.org are copyrighted. Non-commercial reproduction is allowed but requires attribution with the article title and a link to the original article.