The Jinzhou Prison Denies Family Visits to Lu Kaili for Over Two Years
February 24, 2014 | By a Minghui Correspondent in Liaoning Province, China
(Minghui.org) With visitation approval from the Liaoning Provincial Bureau of Prisons in hand, Mr. Lu Kaili's family and attorney went the Jinzhou Prison again, this time on January 16, 2014. They had hopes of seeing Mr. Lu before Chinese New Year, yet once again, their visitation was denied.
Prison personnel asked for guarantees from the local police station that Mr. Lu no longer practiced Falun Gong. The personnel even threatened to detain his family members. Under the stress of threats and mind games, Mr. Lu's wife passed out from the constant mental strain of being denied the ability to see her husband time and again.
Mr. Lu's family and attorney have not been able to meet with him since his transfer to the Jinzhou Prison on May 8, 2012.
They last saw him in November 2011 at the Panjin Prison, 14 months after he was severely injured from torture. He was carried from the prison with a catheter bag, his face sallow, and his legs out of commission. He was so weak that he was unable to hold a 15-minute conversation. Heartbroken upon seeing her husband's poor condition, Mrs. Lu wept helplessly.
Mr. Lu, a 50-year-old engineer, was arrested in 2005. Six months later, he was sentenced to ten years in prison. Prior to his transfer to the Jinzhou Prison, he underwent severe torture at the Panjin Prison. The brutal persecution caused paraplegia, urinary incontinence, and other injuries. Recent reports note Mr. Lu's symptoms of uremia, which caused his legs to swell up. However, he is still detained by the Jinzhou Prison, which denies him medical parole.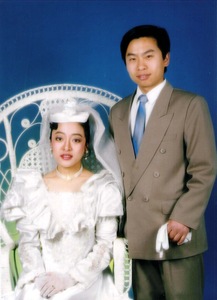 Mr. Lu Kaili and his wife, Ms. Sun Yan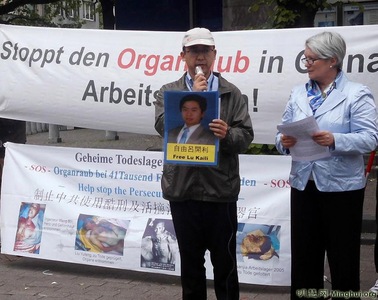 A Frankfurt German Human Rights Organization, the International Society for Human Rights (ISHR/IGFM), launched a rescue campaign for Mr. Lu in 2013. Mr. Guo Jufeng, a Falun Gong practitioner in Germany, calls for help to rescue Mr. Lu at a rally in June. Mr. Guo's efforts and Mr. Lu's story were reported by Ruhr Nachrichten (Ruhr News), the largest local newspaper in Dortmund, Germany on January 13, 2014.
Family and Attorney Threatened at the Jinzhou Prison
Gao Kuan, commissioner of the Jinzhou prison, told Mr. Lu's attorney on January 16 that to see Mr. Lu, he must first obtain proof of Mr. Lu's "not practicing Falun Gong" from the local police station.
Mr. Lu's attorney presented a visitation approval letter from the Liaoning Provincial Bureau of Prisons and questioned Gao's unlawful requirement. Gao replied that he was following the law, but when the attorney asked for legal specifics, Gao became furious: "I won't show it to you. You can sue us whenever you want."
Mr. Lu's family became more worried after Gao's response. They then visited the Warden Office, presented the approval letter issued by the Liaoning Provincial Bureau of Prisons, and asked to see Mr. Lu. Wang Zhansuo, warden of the prison, deferred to his office director, Wang Tao, to handle the case.
Wang Tao asked the family: "Why do you come to see the warden? Your request to see Lu Kaili has already been denied." Wang Tao and the deputy warden Wang Hongbo took the attorney aside to review his legal documents. Then they forced him out of the prison even though his paperwork was complete.
Wang Tao and Wang Hongbo tried to check the family members' IDs in another room. When the family refused, Wang called security director Li Huilin and forced the family into the guard room.
They threatened: "Don't even think about leaving here today. We have already called your local 610 Office. They will come pick you up. To tell you the truth, we simply want to crack down on Falun Gong." The family countered: "We haven't violated any law. We have come here only to see our loved one. Why should we be detained?"
Mr. Lu's wife was devastated and lost consciousness. To avoid responsibility, the officials quickly left the room, saying: "Nobody is going to detain you. Why don't you just leave?" They quickly departed, ignoring the family's request for help with a taxi.
Lu Kaili Brutally Tortured at the Panjin Prison
Falun Gong practitioners from Dalian City, a large seaport in Liaoning Province, intercepted cable TV broadcasts in Liaoyang County on September 5, 2005. They replaced the broadcasts with content from the Nine Commentaries on the Communist Party for 90 minutes.
The regime frantically launched its revenge. Mr. Lu and other practitioners were arrested by police from the Dalian Domestic Security Division on October 13, 2005. They were also beaten severely by police officers before the arrest.
Mr. Lu was secretly transferred to the Liaoyang City Detention Center, where he encountered relentless persecution from the "Liaoyang Four Villains." The "Liaoyang Four" are led by Liaoyang City Domestic Security Team captain Liu Yong, who is notorious for his torture of Falun Gong practitioners.
Mr. Lu was illegally sentenced by the Liaoyang Court for 10 years in April 2006. He was sent to the Yingkou Prison and then transferred to the Panjin Prison on December 20, 2007. During the detention at the Panjin Prison, Mr. Lu underwent many periods of being shocked by high voltage batons.
On April 6, 2010, district instructor Li Feng led others to shock Mr. Lu with electric batons from 9 am until 11 pm. Mr. Lu was kept in an isolation room for 15 days and fed cornmeal meant for feeding pigs every day. When he went on a hunger strike to protest his treatment, prison officials responded by enforcing another round of electric shock.
Mr. Lu was forced to perform heavy labor 11 hours a day. In protest to the slave labor and abuse, he went on hunger strike in late June 2010. In response, guards shocked him with electric batons from 1 pm to 4 pm every day until he ended the hunger strike on July 14. Despite large areas of wounds on Mr. Lu's body from the rounds of torture, guard leader Liu Wenzhen remarked that Mr. Lu had merely scratched himself.
On August 29, 2010, Mr. Lu was shocked with electric batons for four hours after he refused to give up his belief in Falun Gong and to be "transformed."
Mr. Lu was forced to work on the roof of a workshop building on August 30, 2010. He fell from the roof, which fractured portions of his lumbar vertebrae. The fracture caused pelvis, caudal nerve damage, and lower limb paralysis. After the fall, he could only move around by crawling on his fists, which resulted in heavy blistering on his knuckles. He had a hard time getting into bed, and he also became incontinent. At this point, he was unable to take care of himself.
To cover up their crimes, authorities at the Panjin Prison transferred the five most implicated supervisors to other places and secluded Mr. Lu in a "quarantine room" to hide the truth. When Mr. Lu's family heard the news and requested a visit, the prison denied their request.
Mr. Lu's family obtained a lawyer to safeguard their rights. Through their diligent efforts, they were finally allowed to see Mr. Lu in November 2011, 14 months after his fall from the roof.
While his family negotiated with the Panjin Prison for medical parole, Mr. Lu was secretly transferred to the Jinzhou Prison Hospital on May 8, 2012. He has been detained there ever since.
About the Jinzhou Prison
The Jinzhou Prison is the largest prison in western Liaoning Province. The prison mainly holds Falun Gong practitioners who have 10-year or longer sentences, and it is at the forefront of the CCP's system to persecute Falun Gong.
Many Falun Gong practitioners have undergone brutal torture at the Jinzhou Prison. In 2008, the CCP Ministry of Justice recognized the Jinzhou Prison as the "most civilized prison." The perpetrators were praised by the communist regime for their severe human rights violations, and they later received "top merit" on July 22, 2013.
Responsible parties and persons
Jinzhou Prison Wang Hongbo (王洪博), deputy warden +86-416-3496720 (Office) Liang Jun (梁軍), deputy warden +86-416-3496008 (Office), +86-155-41616005(Cell) Gao Koun(高寬), prison director +86-416-3496242 (Office) +86-155-41610886 (Cell) Wang Tao (王濤), warden office dir. +86-416-3496358 (Office) +86-155-41610200 (Cell) Panjin Prison
Song Wanzhong(宋万忠), prison chief +86-427-5632100 (Office) Wang Jianjun (王建軍), 5th ward leader +86-427-5632022 (Home) +86-133-90270503 (Cell) Liu Wenzhen(劉文振), guard leader +86-427-5638665 (Home) +86-132-38238215 (Cell)