Disabled in Prison, Engineer Arrested Again for Upholding His Faith
July 22, 2021 | By a Minghui correspondent in Liaoning Province, China
(Minghui.org) After being repeatedly arrested and tortured, a Dalian City, Liaoning Province, man was arrested yet again for practicing Falun Gong, a spiritual discipline that has been persecuted by the Chinese communist regime since 1999.
When Mr. Lu Kaili's wife returned home on June 20, 2021, she was shocked to see the police ransacking their home and confiscating their Falun Gong books. Her husband wasn't there, either.
After anxiously looking for him for a day, she discovered that Mr. Lu had been arrested and taken to the Dalian City Lockup. She went to the jail to deliver some daily essentials for him, but they only accepted some adult diapers after she negotiated with them.
Three days later, the police ransacked the couple's home again when no one was around and ripped off the couplets with messages about Falun Gong that were on their front door.
Officers from the Malanzi Police Station that carried out the arrest initially claimed that they would release Mr. Lu in five days. But when his wife went to the lockup to take him home on June 25, she saw Mr. Lu being driven away in a police car.
She later confirmed he is being held in the Yaojia Detention Center. When she went to the police station to demand his release again, the police insisted that there was no way they could release him and that they were going to prosecute him.
Sentenced to 10 Years, Disabled in Prison
Mr. Lu, a 57-year-old former engineer with the Dalian Crane Group, has been repeatedly arrested, detained, and sentenced since the onset of the persecution in 1999.
He served time in a forced labor camp between 2000 and 2003. In April 2006, the Liaoyang City Court sentenced him to 10 years in prison. He was sent to Yingkou Prison in early 2007, before being transferred to Panjin Prison and Jingzhou Prison later on.
Mr. Lu was brutally tortured in Panjin Prison. Over the years he's been subjected to more than 20 different kinds of torture. On one occasion, prison guards shocked him with several 150-volt electric batons for six days in a row. He had injuries and bruises all over his body.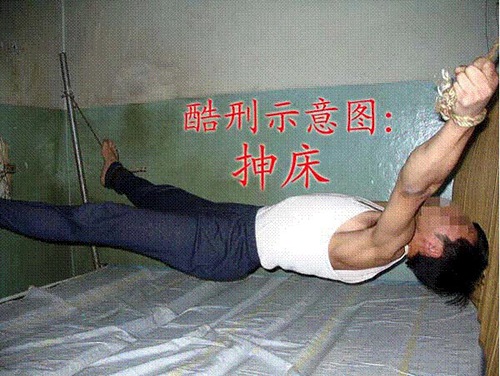 Torture re-enactment: The Death Bed
On August 29, 2018, captain Guan Fengchun shocked Mr. Lu with electric batons and tortured him with other means for four hours starting at 11:00 a.m. At around 6:40 a.m. the next day, Mr. Lu fell from the top floor of a prison workshop. The circumstances surrounding his fall remain unclear.
He fractured vertebrae, his pelvis, and his ankle. He became paralyzed from the waist down. After that, the prison denied him family visits.
With the help of a lawyer, his wife was finally allowed to see him 14 months later. Mr. Lu was carried out to the visiting area by an inmate. His complexion was sallow and his lower body was limp. He was incontinent, carried a urine bag, and was unable to care for himself.
Mr. Lu resumed practicing the Falun Gong exercises after he was released in October 2015. He gradually improved and is now able to walk with a single crutch and take care of himself, but he had not yet recovered from incontinence.
Mr. Lu lost his parents many years ago. His wife and parents-in-law, in their 80s, are his only family. They are very concerned about Mr. Lu's situation in the detention center and hope the international community pays attention to Mr. Lu's case and helps to rescue him.
Related articles:
A Couple's Sad Story of Being Separated and Persecuted for Over a Decade
The Jinzhou Prison Denies Family Visits to Lu Kaili for Over Two Years
Brutal Torture in the Men's Division of Masanjia Forced Labor Camp
German Newspaper Reports a Practitioner's Story and His Efforts to Rescue a Friend in China
All articles, graphics, and content published on Minghui.org are copyrighted. Non-commercial reproduction is allowed but requires attribution with the article title and a link to the original article.
Category: Accounts of Persecution