90-Year-Old Woman Tried for Her Faith
(Minghui.org) A 90-year-old woman in Jilin City, Jilin Province is facing a prison sentence for her faith in Falun Gong, a spiritual discipline that has been persecuted by the Chinese communist regime since 1999.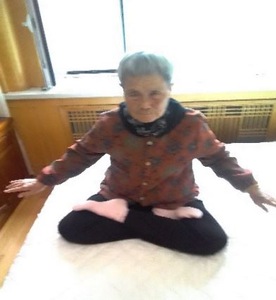 Ms. Cai Xiufang
Ms. Cai Xiufang appeared in Chuanying District Court on October 28, 2021, together with six other local practitioners, including Ms. Zhang Yuhua, her sister Ms. Zhang Yufeng, Ms. Chen Rongjie, Mr. Zhang Hongjie, Ms. Li Ying and Ms. Liu Xiuying. Details of the hearing remain unclear at the time of writing.
Ms. Cai was arrested on May 14, 2021, for talking to people about Falun Gong at a farmers' market. The police pushed her into their police car, snatched her key, and ransacked her place. She was held in a metal cage at the local police station and released on bail a few hours later.
Ms. Cai took up Falun Gong in April 1996 and she credits the practice for quickly improving her health.
After the persecution started, the secretary of the local residential committee urged her to give up practicing Falun Gong. She insisted that she has benefited from it so much and she couldn't give it up.
The police from Beishan Police Station attempted to harass her in late May 2017, but she wasn't home when they came.
Perpetrators' contact information:
Li Zhongcheng (李忠诚), judge of Chuanying District Court: +86-13704326606, +86-432-62404967Zhang Louyi (张楼义), director of Jilin City Political and Legal Affairs Committee: +86-13804418126Bai Yan (白岩), head of Jilin City 610 Office: +86-18843227866
(More perpetrators' contact information is available in the original Chinese article.)
Related report:89-year-old Woman Faces Prosecution for Her Faith
All articles, graphics, and content published on Minghui.org are copyrighted. Non-commercial reproduction is allowed but requires attribution with the article title and a link to the original article.