Forced Abortion and Miscarriage Under the Chinese Communist Party
(Minghui.org) In Xi'an, a modern city with a population of 13 million and the capital of Shaanxi Province, two pregnant women miscarried outside of local hospitals, after they were rejected admission for failing to produce valid COVID-19 test results.
Since December 23, 2021, Xi'an has been placed under strict lockdown due to a surge of COVID-19 cases. No one was allowed to go out for any reason, even if they were running out of food or having a heart attack. Those who attempted to try their luck only met with the most devastating outcomes.
On January 4, 2022, a woman who was more than eight months pregnant arrived at Gaoxin Hospital, but was told to wait outside because her Covid PCR test had expired four hours earlier. While waiting in the freezing night, she miscarried and her fetus died in her womb.
The next day, another woman from Xi'an wrote a post on social media platform Weibo, detailing how she had suffered a similar fate on December 29, 2021. The 28-year-old woman who goes by the name "A rainy and sunny day," said that many hospitals rejected her, causing her to suffer a miscarriage.
On the one hand, the Chinese Communist Party (CCP) has been actively promoting its three-child policy in response to the rapidly declining and aging population. On the other hand, hospitals turned away desperate pregnant women, in order to achieve the "Zero COVID" victory. While the two strategies seem contradictory to each other, it only shows the total disregard for human life by the CCP – whether it encourages women to have more babies or blocks hospitals from saving babies, it has the same goal to maintain its power at the expense of its own people.
While some people may think that the miscarriages in Xi'an were isolated cases in times of crisis, what they didn't realize was that the CCP has a long history of killing babies in its political persecution of various groups, especially practitioners of Falun Gong, a mind-body practice based on the principles of Truthfulness-Compassion-Forbearance.
Since it began the persecution of Falun Gong in July 1999, the CCP has used the strategy of "smearing [practitioners'] reputation, cutting off their financial resources, and destroying their bodies" in its attempt to eradicate Falun Gong, resulting in hundreds and thousands of practitioners being arrested, detained, imprisoned, and some being persecuted to death.
Below are some cases of practitioners who had a miscarriage or were forced to abort their babies.
Doctor Strangled Newborn to Death
Ms. Guo Wenyan is a former employee of a power equipment factory in the Ningxia Hui Autonomous Region. She was seven-months pregnant when she was arrested in 2003 for practicing Falun Gong. The police took her to the hospital to have an abortion against her will. Given her gestational age, the doctor had her family sign a waiver to relieve him of any possible complications.
The baby was crying after it was aborted. Ms Guo's mother-in-law said, "We will take the baby home." When the doctor heard this, he strangled the baby. Very quickly, the baby no longer made any sound and died.
Fetus Removed After Being Dismembered
Ms. Zhang Hanyun, a resident of Hanzhong City, Shaanxi Province, had been unable to get pregnant for five years due to amenorrhea.
Six months after she started practicing Falun Gong in early 2000, her menstruation became normal and she became pregnant at the age of 32. However, in March 2001 when she was almost due, she was arrested and taken to a brainwashing center by staff from the Hanzhong 610 Office.
When the police found out that she was about to give birth, they took her to a hospital where the baby was aborted. However, the large fetus was difficult for her to deliver normally. The doctors then dismembered the fetus inside her and removed it.
Woman Suffered Miscarriage After Mistreatment
Ms. Han Xuelian, a resident of Dingxing County, Hebei Province, was arrested on July 23, 2007. The police ransacked her home and confiscated her computer, TV, printer, Falun Gong books, and 3 cell phones.
Ms. Han, 22 at the time, told the police that she was in her second month of pregnancy. However, she was still forced to stand with her arms outstretched for a long time with a female officer monitoring her. She fainted and miscarried two days later on July 25.
Despite her miscarriage, she was sent to Shijiazhuang Forced Labor Camp to serve a one-year term. Her husband and his 16-year-old sister were also arrested and given one year of forced labor. As Ms. Han's sister-in-law was yet to reach her adulthood to be admitted by the labor camp, the police changed her age to 26.
Woman Sentenced to Nine Years After Suffering from Miscarriage Due to Severe Beating
Ms. Tan Qi (also known as Tan Yajiao), a resident of Kaiyuan City, Liaoning Province, was arrested together with her husband on September 18, 2004. Ms. Tan, who was pregnant at that time, was shocked with electric batons and beaten severely until she lost consciousness.
Later, Ms. Tan was sent to Bailou Detention Center in Benxi City, where she suffered further torture. She went on a hunger strike to protest the persecution and was shocked with electric batons and bound with handcuffs and shackles. She was also force-fed. Days of continuous torture caused Ms. Tan to miscarry, but the head of police station was indifferent to her situation and did not arrange for any post-miscarriage operation.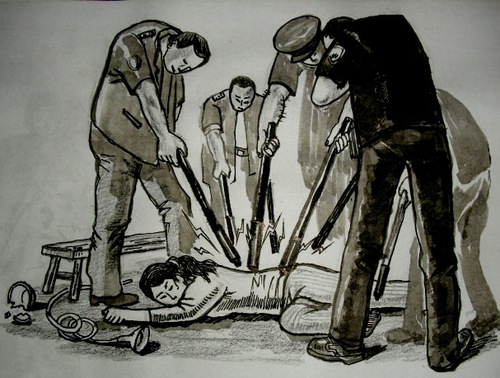 Torture illustration: Shocked with electric batons
She suffered damage to her mental and physical health. She also suffered from menstrual disorders, aches around her lower back and stomach, and numbness in her arms and legs.
In April 2005, Ms. Tan was sentenced to nine years by Benxi City Court, and her husband, Mr. Liang Tielong, was sentenced to twelve years.
Woman Suffered Two Miscarriages After Beatings by Local Authorities
Ms. Liu Yunxiang, a resident of Weifang City, Shandong Province, was arrested on January 21, 2000. The then-32-year-old woman was pregnant at the time. The authorities imprisoned, beat, and tortured her until she had a miscarriage.
In the summer of 2001, Ms. Liu was once again arrested. She endured torture include being shocked with electric batons, and suffered a second miscarriage.
All articles, graphics, and content published on Minghui.org are copyrighted. Non-commercial reproduction is allowed but requires attribution with the article title and a link to the original article.