1,216 Falun Gong Practitioners Reported Arrested and Harassed in January 2021
Feb. 8, 2021 | By a Minghui correspondent
(Minghui.org) After a frenzy of arrests and harassment of Falun Gong practitioners in 2020, the first month of 2021 saw the Chinese Communist Party continue its persecution of Falun Gong – a futile effort that began in July 1999.
Falun Gong, also known as Falun Dafa, is a spiritual discipline based on the principles of Truthfulness-Compassion-Forbearance.
In January 2021, 482 arrests were reported, including 266 additional cases from 2020 and 216 new cases in January 2021. There were 734 cases of harassment reported in the same month, including 583 cases from 2020 and 151 in January 2021. The newly-reported cases brought the total known arrests in 2020 to 6,925 and the total incidents of harassment to 9,159. In particular, in the month of December 2020 alone, the number of arrests increased to 819 and the cases of harassment to 1,569, accounting for 12% and 17% of the annual totals. Due to the information blockade and resultant difficulty in getting information out of China, the total number of arrests and incidents of harassment are likely to be higher than the reported numbers.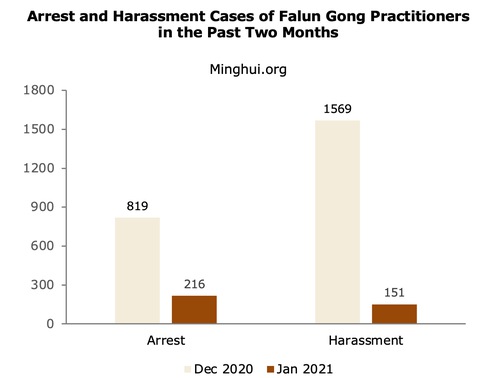 Compared to December 2020, incidents of persecution dropped sharply in January 2021. A similar pattern was observed in early 2020 when fewer persecution cases were reported than in December 2019, as most police forces were dispatched to enforce the draconian lockdowns and to control information circulating across the country about the pandemic, leaving less manpower to maintain the suppression of Falun Gong.
Entering 2021, with reported outbreaks of the virus in China and the Chinese Communist Party's continuing cover-up of infection rates, the drop in cases of persecution of Falun Gong practitioners in January is believed to be an indicator of the severity of the pandemic in China at present.
At the same time, the draconian lockdown measures also make it difficult for Falun Gong practitioners to find out about and record incidents of persecution, resulting in delays in sending information to Minghui.org. 
It also remains to be investigated whether the sudden increase in incidents of persecution in November and December 2020, compared to the earlier months of last year, was a coordinated effort by the authorities to target as many practitioners as possible ahead of the new wave of the coronavirus.
With 260 of the 482 arrested practitioners still in custody and denied visits at the time of writing, their families are very worried about them.
Nationwide Persecution
The targeted practitioners reported in January 2021 hail from 155 cities in 29 provinces and municipalities. The provinces of Heilongjiang (226 = 60 arrests + 166 cases of harassment), Shandong (149), Hebei (120), Liaoning (90) and Sichuan (89) topped the list with the most persecution cases. Another 15 regions registered double-digit cases and 9 provinces had single-digit cases.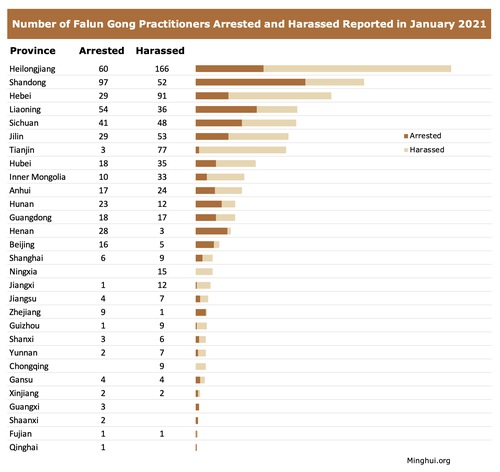 36 Sent to Brainwashing Centers
Thirty-six of the arrested practitioners were sent to brainwashing centers. In Huainan City, Anhui Province, the authorities set up a new brainwashing center in early January 2021 next to the Wangfenggang Township government building. The center is overseen by a police chief and director of the Datong District Political and Legal Affairs Committee, an extra-judiciary agency tasked with persecuting Falun Gong. Local residential committee staff members also seize practitioners and take them to the brainwashing center. It is known that other brainwashing sessions are being held in Chifeng City, Inner Mongolia; Nanchang City, Jiangxi Province; and Wuhan, Hubei Province.
Financial Extortion
Of the 1,216 targeted practitioners, 169 had their homes ransacked and 26 had between 100 and 130,000 yuan extorted by the police. The total amount extorted was 296,100 yuan with an average of 11,388 yuan per person. 
When Ms. Jiang Xiaoli and Ms. Jia Liying of Datong City, Shanxi Province, were arrested on January 19, 2021, the police confiscated 13 printers, Falun Gong books, materials, and cash from Ms. Jiang. They confiscated 130,000 yuan in banknotes with messages about Falun Gong printed on them and Falun Gong books and materials from Ms. Jia. (Due to the strict information censorship in China, practitioners use creative ways to disseminate information about their faith, including printing information on banknotes.) 
Twenty-seven practitioners have had their pensions suspended for upholding their faith. Ms. Zhu Xiyu of Yanbian City, Jilin Province, was ordered to pay back the 200,000 yuan pension she was given when the authorities claimed that she wasn't entitled to be paid during her wrongful imprisonment for her faith, although there is no law China to that effect.
Elderly Practitioners Targeted
Ninety-four (7.7%) of the practitioners were 65 or older, with 2 of the harassed practitioners in their 90s.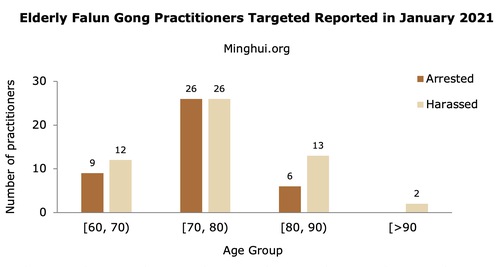 Ms. Chen Lanzhi, 85, of Jinan City, Shandong Province, was followed by two police officers when she went out on January 15, 2021. They arrested her after seeing her distribute five copies of informational materials about Falun Gong. 
Ms. Chen was held at the police station until 10 p.m. The police searched her home, but didn't find any Falun Gong items. They extorted 1,000 yuan from her daughter. 
Mr. Zhou Shaotang, 83, of Panjin City, Liaoning Province, was arrested for talking to people about Falun Gong at a farmers' market on January 13, 2021. 
The police ransacked his home that afternoon and confiscated Falun Gong books. They attempted to take him to the police station, but both Mr. Zhou and his wife were so terrified that they collapsed. Although the police finally left after a three-hour standoff with his family, they kept coming back over the next several days to harass Mr. Zhou.
Ms. Lu Guansuo of Sanhe City, Hebei Province, was told to go to her community center to get a coronavirus test on January 13, 2021. Five residential committee staff members harassed her when she got there. They asked Ms. Lu if she practiced Falun Gong and videotaped her response. When Ms. Lu said she did, Zhang Jing, one of the officers, was videotaped pretending to be her granddaughter and claimed that Ms. Lu had given up the practice. Ms. Lu suspected that the officers were fabricating the video to fulfill some quota of practitioners being forced to renounce their faith. 
Practitioners from All Walks of Life Targeted
The practitioners targeted in January 2021 come from all walks of life, and include teachers, engineers, and doctors. 
Ms. Wang Yonghua, a retired senior engineer from the Gangwan Engineering Design Institute in Wuhan, Hubei Province, was forced to live away from home in January 2021 after the authorities threatened to suspend her pension and health insurance and take her to a brainwashing center. 
Ms. Qin Yun, a teacher in Hangzhou City, Zhejiang Province, was arrested on January 14, 2021, while teaching a class. She has been put on criminal detention.
Ms. Sun Jing, a factory owner in Weihai City, Shandong Province, was arrested at her factory on January 6, 2021. The police pointed guns at 30 of the workers in the factory and forced them to squat and put their hands on their heads. All of the workers' cellphones were confiscated and they weren't allowed to make or receive any calls. They were also followed by the police while they ate lunch or used the restroom. The police spent an entire day ransacking the factory. Most of the workers weren't allowed to go home until after 8 p.m. Ms. Sun's own home was also ransacked, and her Falun Gong books, a photo of Falun Gong's founder, computer, and printer were confiscated.
Mr. Zhang Junfeng, a director of the Haiyang Landscape Bureau in Yantai City, Shandong Province, was arrested at work on January 9, 2021. Six officers took him to his home and ransacked it that afternoon. When his wife refused to open the door for the police, they hired a locksmith and broke in. Three of Mr. Zhang's computers, Falun Gong books, photo of Falun Gong's founder, and other Falun Gong materials, were confiscated. The police even searched his refrigerator for Falun Gong materials.
Below are snapshots of further arrests and cases of harassment that occurred in January 2021. 
***
Arrests
12-year-old Girl with Epilepsy Seized with Her Parents and Grandmother at 2 a.m. Struggles to Cope
Ms. Zhen Miao, 40; her husband Mr. Zhang Shida; and her mother Ms. Wang Chunping, 70, were arrested at their shared residence in Beijing around 2 a.m. on January 14, 2021. The couple's 12-year-old daughter, who has epilepsy, is now staying with her paternal grandmother and struggling to cope with the trauma of that night.
Ms. Zhen's daughter was traumatized to witness the police ransacking their home and arresting her parents and grandmother. When the police took the three adults to the Qinghe Police Station, they took the young girl with them.
After the three practitioners were transferred to the Haidian Detention Center in the evening, the police informed the girl's paternal grandmother to come pick her up or they would take her to an orphanage.
The grandmother is having a hard time taking care of the girl by herself. She is afraid that girl might have a seizure due to the trauma she has experienced.
Days later, the elderly woman went to the Xiangshan Police Station and demanded that the police release Ms. Zhen to take care of her daughter. The police asked the elderly woman if she also practiced Falun Gong and asked who wrote the bail request. When the grandmother said someone else wrote it for her, the police said that it sounded like it was written by a Falun Gong practitioner. They said no documents submitted by Falun Gong practitioners would be accepted and then drove the woman away.
Ms. Zhen, her husband, and her mother were later transferred to the Wenyang Detention Center and have been held there since.
Police Threaten to Cut Off Falun Gong Practitioners' Fingers While Collecting Their Fingerprints
Ms. Zhang Shuping, in her 70s; Mr. Xia Hongmin; and Ms. Ji Xianglan of Laishui County, Hebei Province, were arrested after being reported for talking to people about Falun Gong at a farmers market on January 20, 2021.
After they were taken to the Laishui Town Police Station, the police collected their footprints and fingerprints against their will. While holding their fingers to make prints, the police threatened to cut off their fingers if they didn't cooperate.
Ms. Zhang said the police also forcibly opened her eyes to take her photo, and she now has headaches and pain in her eyes. Her arms are numb and her fingers hurt due to the excessive force used by the police.
The police attempted to detain the practitioners. But due to the coronavirus outbreak in the region, they issued each a 12-day administrative detention for "disrupting social order" and ordered them to serve time at home. Their families picked them up at around 8:00 p.m.
Police officers and village officials went to Ms. Zhang's home the next day and ordered her to sign a statement renouncing Falun Gong. When Ms. Zhang refused to comply, the police then told her teenage granddaughter to find her parents to persuade Ms. Zhang. The girl refused to betray her grandmother. The police confiscated Ms. Zhang's Falun Gong books and photos of Falun Gong's founder and left.
The police also ransacked Mr. Xia and Ms. Ji's homes that evening.
The local officials impounded the three practitioners' electric bicycles. When the practitioners went to the village office and asked for the return of their bikes, the officials threatened them, saying that they should go to the township government to make their case.
Prior to this latest incident, Ms. Zhang and Mr. Xia have been arrested and detained several times for practicing Falun Gong. Mr. Xia also served a term in the Gaoyang Forced Labor Camp.
Man Taken Back into Custody after Hospital Escape, Those Who Sheltered Him Also Arrested
Only one day after Mr. Luo Yaxiong escaped from a prison-like hospital after a year of arbitrary detention for his faith in Falun Gong, he was taken back into custody. His sister and another practitioner who had cared for him were also arrested. They have been put on criminal detention and are now facing possible prosecution.
Mr. Luo, a security officer in Wuhan, Hubei Province, was arrested on December 25, 2019, after being tracked by the police for distributing Falun Gong materials outside of a middle school.
He started a hunger strike on November 9, 2020, and his weight quickly dropped from 176 to 88 pounds. While he was put on an IV in the hospital, ten police officers were assigned to monitor him. His sister, Ms. Luo Yanqin (who doesn't practice Falun Gong), sometimes went to the hospital to take care of him.
On November 27, 2020, Mr. Luo was tried by the Hanyang District Court in his hospital room.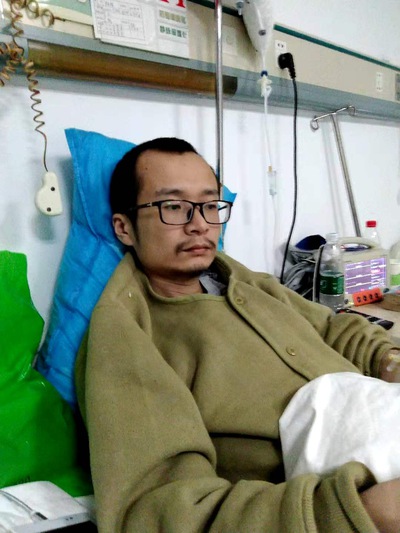 Mr. Luo Yaxiong in the hospital
Around 3 a.m. on December 31, 2020, Mr. Luo escaped from the hospital after the two officers monitoring him fell asleep. He contacted another practitioner, Mr. Liang Yi, and went to his home.
After helping Mr. Luo take a shower and fixing him something to eat, Mr. Liang went to work. Around 5 p.m., a dozen police officers from the Qinduankou Police Station that had arrested Mr. Luo a year before showed up at Mr. Liang's home.
Although Mr. Liang's wife Ms. Liu Aifang refused to open the door, an officer climbed into her home through the window and opened the door for the other officers waiting outside.
The police seized Ms. Liu and another visiting practitioner. Four officers held Mr. Luo down and handcuffed him.
After taking Mr. Luo and the other practitioner away, the remaining five officers ransacked Mr. Liang's home and confiscated Falun Gong books, a photo of Falun Gong's founder, and Mr. Liang's ID. Ms. Liu was taken to the police station after the officers finished searching the place.
Zhang Wenxuan, the same officer who arrested Mr. Luo in 2019, threatened Mr. Liang's daughter and told him to turn himself in in exchange for his wife's release.
The police also arrested Mr. Luo's sister and interrogated her. She was put on criminal detention the next day.
While the police released the other practitioner and Mr. Liang's wife the next morning, they arrested Mr. Liang when he went to the police station to ask for the return of his confiscated items. He was interrogated and put on criminal detention in the Hanyang Detention Center, where Mr. Luo was taken back to.
Mr. Luo's sister's husband later hired a lawyer to represent him.
When Mr. Liang's wife went to the police station to demand his release, officer Zou, who is in charge of his case, said that since so many people are involved in his case, they wouldn't release Mr. Liang and would, in fact, extend his detention by at least a month for now.
Cases of Harassment
Mother and Son Harassed
Since January 11, 2021, the authorities in Anqing City, Anhui Province have been pressuring Ms. Zhang Xingxi to give up practicing Falun Gong. The harassment was a continuation of the "Zero-out" campaign from last year, in which the authorities target all Falun Gong practitioners on a government blacklist in a coordinated effort aimed to force them to renounce their faith.
When Ms. Zhang refused to comply, the authorities found her son and told him to sign the renouncing statement for her. They threatened that his job would be affected and Ms. Zhang would be arrested and taken to a brainwashing center if she insisted on practicing Falun Gong. Fearing what might happen to his mother, Ms. Zhang's son signed the statement on her behalf.
After he told Ms. Zhang about the incident, Ms. Zhang went to the residential committee that was involved in the harassment and announced that she was retracting the statement. She said that her husband Mr. Rui Xiaolin had been persecuted to death in a forced labor camp in 2002 when their son was only ten years old. The boy was traumatized by his father's death and was withdrawn for a long time afterward. Now he is an adult, yet the authorities harassed him again.
Indifferent to the family tragedy, the officers refused to return the statement and continued to harass Ms. Zhang.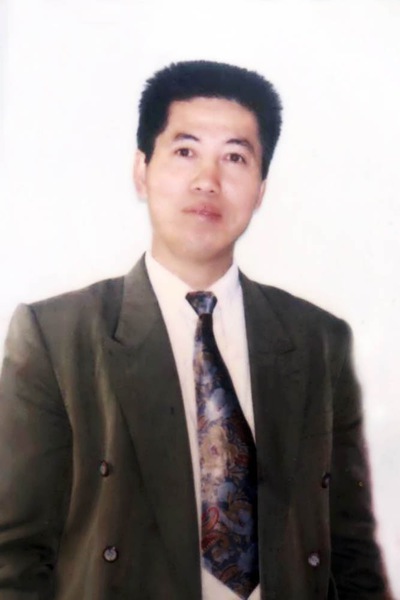 The late Mr. Rui Xiaolin
Daughter of Deceased Practitioner Harassed
Mr. Wang Shuiyong of Botou City, Hebei Province, was traumatized after he was harassed by the police on September 10, 2020. His health quickly declined and he passed away on October 2, 2020, at the age of 65. His death came only two years after his wife, Ms. Yu Guiman, was also persecuted to death at 58 on May 13, 2018, for practicing Falun Gong.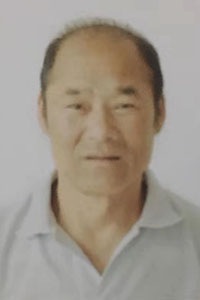 Mr. Wang Shuiyong
Following Mr. Wang's tragic death, his daughter Ms. Wang Cunxia tried to sue the police officers who harassed him. The authorities, however, retaliated against her saying that she was also on the government's blacklist of Falun Gong practitioners. 
Between December 22, 2020, and January 18, 2021, the police harassed Ms. Wang and threatened her, ordering her to issue a statement that she has given up practicing Falun Gong or they would investigate her "illegal Falun Gong activities" and place her on the surveillance list.
Related reports:
15,235 Falun Gong Practitioners Targeted for Their Faith in 2020
1,334 Senior Falun Gong Practitioners in China Targeted for Their Faith in 2020