Man Taken Back Into Custody After Hospital Escape, Those Who Sheltered Him Also Arrested
Jan. 27, 2021 | By a Minghui correspondent in Hubei Province, China
(Minghui.org) Only one day after Mr. Luo Yaxiong escaped from a prison-like hospital after one year of arbitrary detention for his faith in Falun Gong, he was taken back into custody. His sister and another Falun Gong practitioner who had provided care to him were also arrested. They have been put on criminal detention and are now facing possible prosecution.
Falun Gong, also known as Falun Dafa, is an ancient spiritual and meditation discipline that has been persecuted by the Chinese communist regime since 1999.
Mr. Luo, a security personnel working in Wuhan City, Hubei Province, was arrested on December 25, 2019 after being tracked by the police for distributing Falun Gong materials outside of a middle school.
He started a hunger strike on November 9, 2020 and his weight quickly dropped from 176 pounds to 88 pounds. While he was receiving IV drips in the hospital, ten police officers were assigned to monitor him. His sister, Ms. Luo Yanqin (who doesn't practice Falun Gong), sometimes went to the hospital to take care of him.
On November 27, 2020, Mr. Luo was tried by the Hanyang District Court in the hospital room.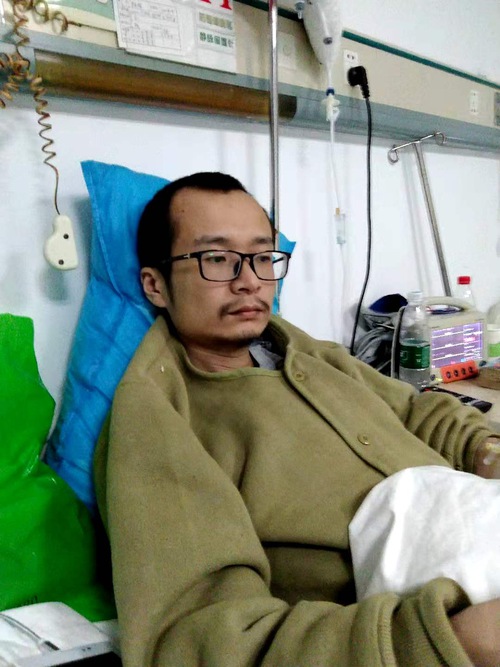 Mr. Luo Yaxiong in the hospital
Around 3 a.m. on December 31, 2020, Mr. Luo escaped from the hospital after the two officers monitoring him fell asleep. He contacted another local Falun Gong practitioner, Mr. Liang Yi, and went to his place.
After helping Mr. Luo take a shower and preparing some food for him, Mr. Liang went to work. Around 5 p.m. that day, a dozen police officers from the Qinduankou Police Station that arrested Mr. Luo a year ago showed up at Mr. Liang's home.
Although Mr. Liang's wife, Ms. Liu Aifang, refused to open the door, one officer climbed into her home through the window and opened the door for the other officers waiting outside.
The police seized Ms. Liu and another visiting Falun Gong practitioner. Four officers held Mr. Luo down and handcuffed him.
After taking Mr. Luo and the other practitioner away, the remaining five officers ransacked Mr. Liang's home and confiscated his Falun Gong books, photo of Falun Gong's founder, and his ID. Ms. Liu was also taken to the police station after the officers finished searching the place.
Zhang Wenxuan, the same officer who had arrested Mr. Luo in 2019, threatened Mr. Liang's daughter and asked him to turn himself in, in exchange for his wife's release.
The police also arrested Mr. Luo's sister and interrogated her. She was put in criminal detention on the next day.
While the police released the other practitioner and Mr. Liang's wife on the next morning, they arrested Mr. Liang when he went to the police station to ask for the police to return his confiscated items. He was interrogated and put in criminal detention at the same Hanyang Detention Center in the evening, where Mr. Luo has been taken back to.
Mr. Luo's sister's husband later hired a lawyer to represent her.
When Mr. Liang's wife went to the police station to demand his release, officer Zou, who is in charge of his case, said that as many people are involved in the case, they wouldn't release Mr. Liang, but will extend his detention by at least a month for now.
Related report:Hubei Man Tried in Hospital Ward for His Faith