Chinese Student in Canada Calls for Help to Rescue Father Detained in China for His Belief
(Minghui.org) With the 2022 Winter Olympic Games scheduled to take place in Beijing from February 4 to 20, the Chinese Communist Party (CCP) has intensified its suppression of various groups in order to "maintain social stability." One of the targeted groups is Falun Gong, a mind-body practice based on the principles of Truthfulness-Compassion-Forbearance.
Ms. Liu Zhiyuan, a Chinese student studying at Carleton University in Ottawa, Canada, recently told a Minghui reporter about her parents' plight for upholding their faith in Falun Gong.
Her parents, Ms. Cao Wen and Mr. Liu Zhoubo, live in Langfang City, Hebei Province. The couple were arrested on November 19, 2021, after the police suspected them of sending text messages about Falun Gong on subway trains. Their cell phones as well as Falun Gong books and materials were confiscated.
Ms. Cao was held at the Beijing Second Detention Center for 39 days before being released on December 27. The notification of her detention issued by the Public Transportation Safety and Security Branch of Beijing Police Department, however, stated that she was only detained for 15 days.
Mr. Liu remains detained at the Beijing Third Detention Center at the time of writing. His daughter is calling on kindhearted people to help rescue him.
Both Mr. Liu and Ms. Cao began to practice Falun Gong in 1995 and they strove to live by the principles of Truthfulness-Compassion-Forbearance. Mr. Liu is an expert in petroleum fracturing, while Ms. Cao is a technical lead on projects related to petroleum development.
Because of his belief, Mr. Liu was imprisoned for 9 years, during which time he was brutally tortured, deprived of food, and threatened with death. "Those 9 years were like hell for me," said his daughter. Upon being released in 2010, Mr. Liu continued to practice Falun Gong.
A 22-Year-Long Suppression
What happened to the Liu family is not an isolated case. Since the CCP launched the persecution of Falun Gong in 1999, tens of millions of practitioners have been targeted for their belief. In 2021, the deaths of 132 Falun Gong practitioners who died as a result of the persecution of their faith were verified.
Reports received by Minghui showed the Beijing authorities have intensified the persecution against Falun Gong in the name of the Olympics. This includes monitoring, harassment, and arrest of practitioners.
Similar measures were taken before during the 2008 Olympics Games in Beijing. In March 2007, the Minister of Public Security launched a new wave of nationwide persecution. Liu Yunhua, Party Secretary of Daan City Political and Legal Affairs Committee (PLAC) and Daan 610 Office in Jilin Province, openly remarked that, based on orders from higher officials, the suppression would be intensified and some practitioners would be killed before the 2008 Olympics.
Mr. Sha Naiyi, an employee of Hongang Oil Extraction Factory of Jilin Oil Field, Jilin Province, was arrested on July 13, 2007. After being tortured in police custody, he died the next day. His family sought justice but heard nothing from local officials.
There were many other examples of this kind. Mr. Yu Zhou, a musician in Beijing, was tortured to death on the Chinese New Year Eve of February 6, 2008. His wife Ms. Xu Na, a painter, was also detained numerous times including twice in prison. When Ms. Xu was painting at home on July 19, 2020, officers from Honggang Police Station in Beijing arrested her, leaving her elderly father at home unattended. Right now Ms. Xu is held at the Dongcheng District Detention Center and she once went on a hunger strike to protest.
Killing with No Mercy
When former CCP leader Jiang Zemin launched the persecution of Falun Gong in 1999, he vowed to eradicate the practice within three months. In a secret order to the extrajudicial agency of 610 Office, Jiang said "beating [practitioners] to death is counted as suicide" and "cremating the bodies without checking their identities." There were also quotas for deaths of practitioners held in prisons and the now-defunct labor camps.
In a recent interview, Canadian human rights lawyer David Matas said Falun Gong practitioners represent mainstream Chinese society. In addition to their large number, practitioners are also self-disciplined and they cover all social levels, professions, and government agencies.
Moreover, practitioners are following the principles of Truthfulness-Compassion-Forbearance to be good citizens. With such a systematic practice, they consistently improve their mind nature to benefit society.
Matas said that Falun Gong's principles are a sharp contrast to the CCP's core ideology of deceit, wickedness, and lies. Falun Gong is deeply rooted in traditional Chinese culture, which explains its immense popularity. On the other hand, communism was imported to China from the west and does not have popular support.
The reality is that the CCP is merely a carrier of power and lacks fundamental support from ordinary citizens. Plus, the totalitarian regime does not allow anything or anyone – even the divine – to be superior to the CCP. That is, the regime requires its members to remain loyal only to the CCP, nothing else, even truth.
Support from Canadian PM's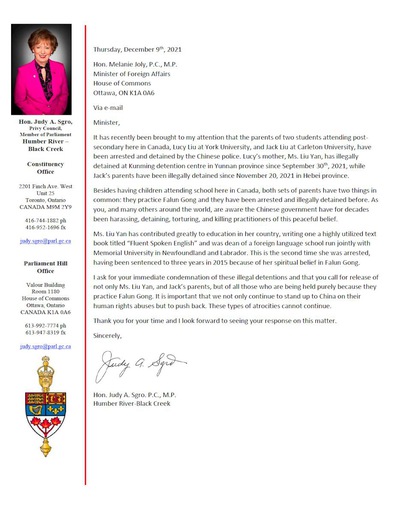 Letter from Judy Sgro, MP to Canadian Minister of Foreign Affairs
After hearing the experience of Ms. Liu and another Falun Gong practitioner, Mr. Liu Mingyuan (no relation to Ms. Liu), whose mother was also detained in China for her faith, several members of parliament (MP's) showed support. Judy Sgro MP, Co-Chair of Parliamentary Friends of Falun Gong, wrote a letter to the Canadian Minister of Foreign Affairs on December 9 expressing her concerns.
In the letter, Sgro urged the Canadian government to condemn the persecution of Falun Gong by the CCP and help release the parents of Ms. Liu Zhiyuan and Mr. Liu Mingyuan. "It is important that we not only continue to stand up to China on their human rights abuses but to push back. These types of atrocities cannot continue," she wrote.
Garnett Genuis MP sent over a video message. He said that Falun Gong practitioners have been victims of the CCP in the past 20 plus years. Because of their peaceful practice, they have been harassed, arrested, detained, tortured, and forced to do unpaid labor. He said that 13 prisoners of conscience related to Canada are currently detained in China for practicing Falun Gong. It is an obligation for Canada to safeguard freedom of belief and conscience, he said.
All articles, graphics, and content published on Minghui.org are copyrighted. Non-commercial reproduction is allowed but requires attribution with the article title and a link to the original article.