Beijing Teacher Arrested Again After Being Incarcerated for 9 Years in Total For Upholding Her Faith
Sept. 25, 2021 | By a Minghui correspondent in Beijing, China
(Minghui.org) Having been previously incarcerated for a total of nine years, a former elementary school teacher in Beijing was arrested again for practicing Falun Gong, a spiritual discipline that has been persecuted by the Chinese Communist Party (CCP) since 1999.
Ms. Gong Ruiping, a 44-year-old former award-winning teacher at Chenguan Elementary School, was arrested by officers of Yuyang Police Station on July 20, 2021. She has been detained at Shunyi District Detention Center since then and was force-fed when she held a hunger strike to protest the persecution. The guards also handcuffed and shackled her when she tried to clarify the facts about Falun Gong.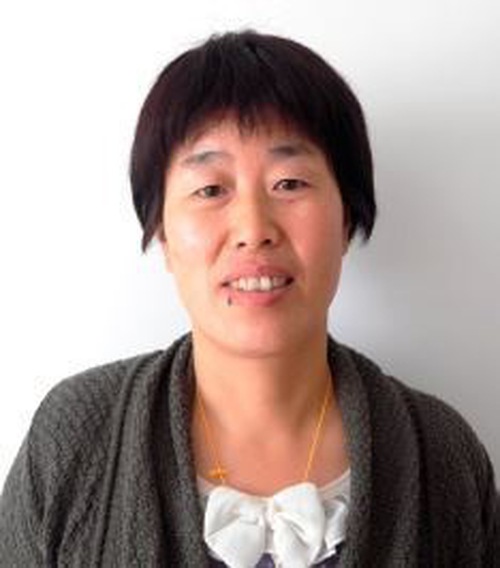 Ms. Gong Ruiping
Ms. Gong was introduced to Falun Gong in May 1996. After watching the lectures for three days, her chest tightness, shortness of breath, neurasthenia, and back pain after childbirth all disappeared.
Having benefited so much from Falun Gong, Ms. Li felt compelled to share her story with people after the CCP launched the persecution in 1999. As a result of her courageous effort, she has been incarcerated for over 9 years, including 4 years in prison and more than 5 years in detention centers, labor camp centers and brainwashing centers. While she was detained, she was beaten, force fed and shocked with electric batons. She was injected with toxic drugs and forced to drink urine. A police officer also sexually assaulted her.
Savage Beating
Over 20 officers and staff members from the Pinggu County Education Bureau went to Ms. Gong's home on July 2, 2001 and took her to the Xin'an Forced Labor Camp. Upon her arrival, the guards and inmates beat her.
Ms. Gong recounted: "They stuffed my mouth with paper, pinched my nose and covered my eyes. I was unable to breathe and almost lost consciousness. Then I heard someone say, 'She's in danger. Let's stop.' I took a deep breath and came to my senses. I saw Wang Qiying was still covering my mouth. It was also her who stuffed my mouth with paper. When she realized I was looking at her, she blocked my eyes with a book. Then she beat me even harder. She pulled my hair, repeatedly banged my head against the wall and punched my face. I lost consciousness again."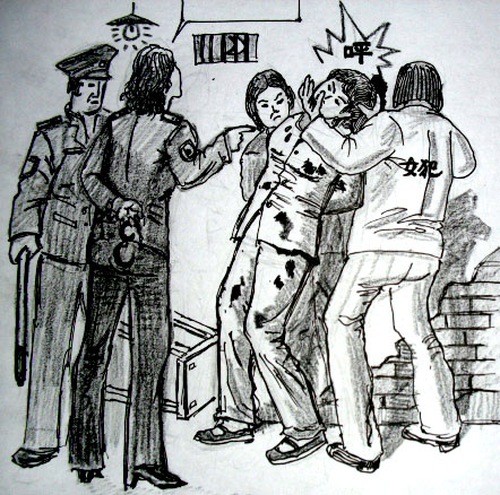 Torture illustration: Beatings
Ms. Gong was then taken to a brainwashing center. When she came to, she saw that her face was swollen and covered with bruises. She could barely open her left eye. Both of her knees were injured and bled. Her skirt was torn.
The next day, Wang Hongjing, the director of the Pinggu County 610 Office, Wang Qiying, Li Cuilan, and section chief Yang (given name unknown) from the Beijing Police Department dragged her to the ground and beat her, trying to force her to renounce Falun Gong. She felt dizzy and lost her hearing. Wang Qiying shouted at her and poured cold water on her.
To protest the abuse, Ms. Gong held a hunger strike, only to be force fed. The guards inserted a tube through her nose, causing excessive bleeding. They also put a laxative in the food, which caused her to have diarrhea more than a dozen times a day. Wang Hongjing sexually assaulted her several times in the hotel room. To conceal their crimes, the authorities did not let her husband visit her until her injuries recovered.
Ms. Gong was transferred to the Pinggu Detention Center on July 13, 2001. The guard Hu Dongshan beat her and kicked her stomach, legs, and head. Her right ankle was injured, but they still put her in shackles.
Six days later on July 19, the guards attempted to take her to Hanzhuan Psychiatric Hospital for further persecution. Ms. Gong escaped and was forced into displacement.
Forced to Drink Urine in a Brainwashing Center
Ms. Gong was arrested again on July 17, 2001, for talking to people about Falun Gong. After she was taken to a brainwashing center again, the police tied her hands with a ripped bedsheet before hanging her up. She was deprived of sleep for more than a month. The police instructed the inmates to beat her with a fly swatter. At one time, one inmate slapped her in the face about 500 times.
The guards also forbade Ms. Gong from using the bathroom and forced her to relieve herself in her pants. She wasn't allowed to change her soiled pants either. A guard forced her to drink her urine and also instructed inmates Wu Yaxian and Zhang Jin'e to strip her clothes and open the windows to have the wind blow on her.
In another torture, the inmates tied Ms. Gong in a chair and pushed the chair down. Then they force-fed her alcohol, knowing that she didn't drink. Wu Yaxian said, "If you refuse to be transformed, we'll make you crazy or die."
Tortured in Beijing Women's Prison for Four Years
Around the 2002 Chinese New Year, Ms. Gong was sentenced to 4 years in Beijing Women's Prison. As soon as she was imprisoned, the guards handcuffed her, beat her, and shocked her with electric batons.
One inmate kicked her leg several days in a row. Others whipped her back with a belt or stabbed her palm with a ballpoint pen.
Ms. Gong recalled: "One day, prison guard Liu Shuping led a group of inmates to carry me out of the building and to an isolated, dilapidated house. Fearing that someone would come in, they locked the house. Then they tied me up with restraining straps and forced me to sit on the ground. They held my upper body down as hard as they could. My chest almost completely touched my legs. Then an inmate sat on my back and I felt my tendons and bones were broken. I couldn't help but scream.
"When they untied the restraints, I thought the torture was over. However, guard Chen Jing lifted my right leg and threw it hard on the ground. I was in excruciating pain and couldn't stop screaming. It took several months for the pain in my legs to go away. But my thighs and toes have been numb since then, causing me to be unable to walk normally."
Ms. Gong said that another time she was held in an intensive transformation team for eight months after the guard found a Falun Gong lecture in her pillow. They took her to a small room, covered the surveillance camera, and began to beat her. An inmate named Li Cuiwen hit her head with a wooden stick and poked her ears with a needle.
Then they tied her to the back of a chair and bent her body forward as much as possible. She could hardly breathe. Next they pushed her and the chair to a corner and instructed another inmate to sit on the chair. She couldn't move at all.
"It was extremely painful and I couldn't stop screaming. They laughed loudly." Ms. Gong recalled.
"As I still refused to renounce my faith, they tried another way by bending my upper body backwards. I could hardly breathe. Guard Chen Jing held my hair and banged my head against the wall continuously. My forehead was injured. My right ankle was bleeding. I still have scars on my right ankle now," she said.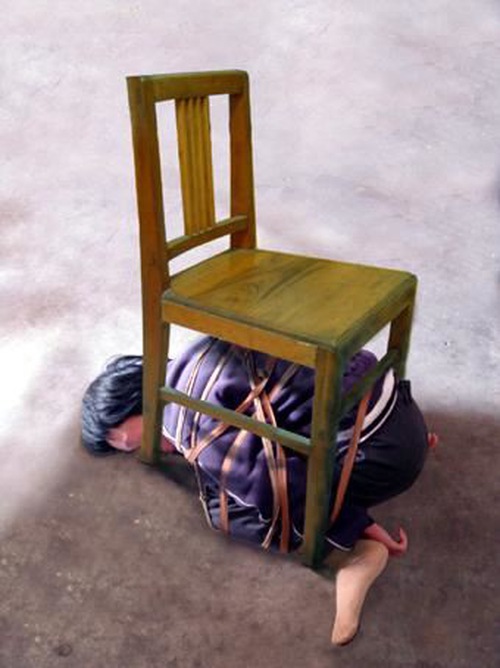 Torture reenactment: Tied up and squeezed under the chair
Eight months later, Ms. Gong was transferred to another team, but the torture didn't stop. The division chief Huang Qinghua instructed five inmates to torture her. She went on a hunger strike to protest the torture and was force fed again.
First Labor Camp Term
Ms. Gong was arrested on her way back home after work prior to the 2008 Beijing Olympics. She was given a labor camp term of two and a half years. After holding her at a dispatch center in Beijing for a month, the authorities took her to the Wuhai Women's Forced Labor Camp in Hubei Province, to avoid international scrutiny during the Olympics.
The labor camp guards in Wuhan deprived her of sleep. She went on a hunger strike to protest the persecution and was force fed. The guards used a mouth opener on her. They kept her mouth open so wide that she felt her cheeks were torn apart. Her teeth also became loose from the force feedings, which created difficulties for her to eat.
The guards also shocked her with electric batons, slapped her in the face, and hung her up from the window frame by the wrists. Her arms were in great pain and she passed out.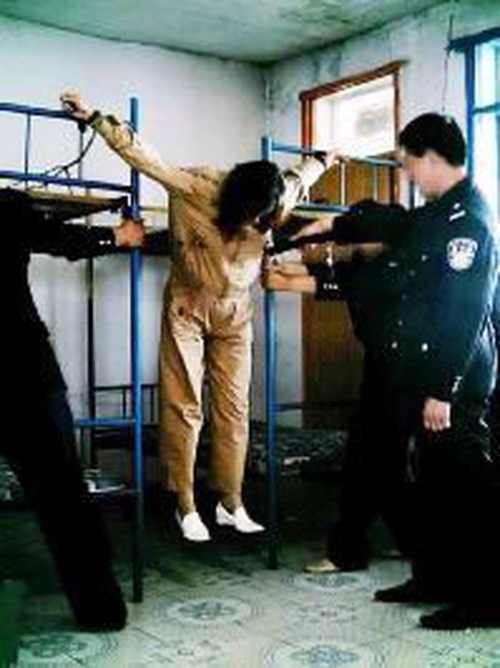 Torture reenactment: Hung up
Ms. Gong was also forced to do intensive unpaid labor during the day and was forced to clean the bathroom or stand still for 2 hours at night.
Second Labor Camp Term
After Ms. Gong was released in 2010, she did odd jobs to make a living. She found a job at a private kindergarten in suburban Beijing in 2012 and temporarily lived there.
On August 29, 2012, officers from Henanzhai Police Station broke into her residence and arrested her. Her Falun Gong books, informational materials and two cell phones were confiscated. She was given two years and nine months at Beijing Women's Forced Labor Camp, where she was forced to sit on a small stool without moving for over 10 hours a day. The inmates beat her or verbally abused her if she moved. The torture caused long term numbness in her legs as a result.
Related reports:
Practitioner Gong Ruiping Injected with Harmful Drugs in Beijing Women's Prison
Teacher Gong Ruiping from Beijing Arrested Again, Subjected to Repeated Persecution
Ms. Gong Ruiping, a Teacher from Beijing Who Suffered Repeated Persecution, Imprisoned Again
Four Teachers in Beijing Sentenced to Forced Labor over 18th Party Congress "Security Concerns"
Barbaric Methods Used to Force Practitioners to Renounce Falun Gong at Beijing Women's Prison
All articles, graphics, and content published on Minghui.org are copyrighted. Non-commercial reproduction is allowed but requires attribution with the article title and a link to the original article.
Category: Accounts of Persecution