Reported in First Half of 2021: 9,470 Falun Gong Practitioners Arrested or Harassed for Their Faith
July 16, 2021 | By a Minghui correspondent
(Minghui.org) The first half of 2021 recorded 3,291 Falun Gong practitioners being arrested and 6,179 harassed for their faith, an ancient spiritual discipline that has been persecuted by the Chinese Communist Party (CCP) since 1999. 
Among the 9,470 targeted practitioners, 1,384 had their homes ransacked. One hundred and fifty-two practitioners had a total of 1,942,553 yuan and 20,000 USD in cash confiscated, averaging 142,292 yuan per person. 
Another 113 practitioners have had their pensions suspended by the authorities, often with the excuse that since they were serving time for their faith they weren't entitled to any retirement benefit during their imprisonment (although there is no such stipulation in the Chinese labor law). One woman in Yunnan Province had her 32 years of service wiped out and is receiving no more pension payments. She relies on meager unemployment benefits to get by.
At the time of writing, 2,042 of the arrested practitioners remain in custody. Another 78 have been forced to live away from home to avoid further persecution and possible arrest.
The 9,470 targeted practitioners hail from 264 cities in 30 provinces. Hebei (1,556), Shandong (1,293), Heilongjiang (998), Liaoning (795) and Sichuan (767) are the five provinces with the most cases. Fifteen other regions registered three-digit cases ranging from 129 to 718. Seven more provinces had double-digit cases and three had single-digit cases.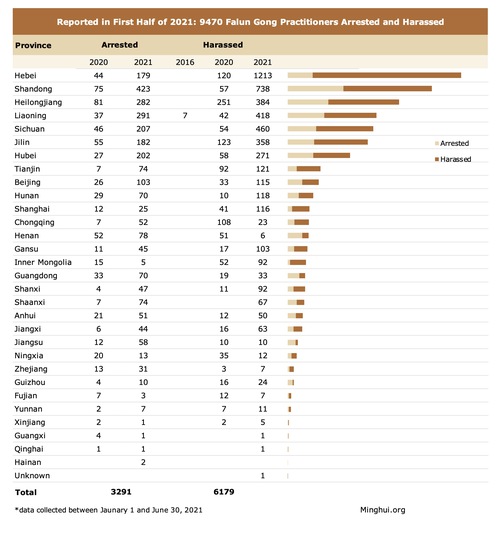 A total of 347 of the arrested and 425 of the harassed practitioners reported in the first half of 2021 were 65 or older. The oldest practitioner harassed was 94. 
In addition to the elderly practitioners, a 12-year-old girl with epilepsy was arrested with her parents and maternal grandmother at 2 a.m. The girl now stays with her paternal grandmother and struggles to cope with the trauma of that night.
A 46-year-old woman with a preexisting health condition suffered deteriorating health following her arrest in April. When her lawyer visited her in June, she was unable to walk on her own and had to be carried by inmates. She was forced to relieve herself in her pants a few times. She also has chest tightness and extreme pain all over her body, including in her head and eyes. Her hands are deformed, and she is emaciated.
A Surge in Harassment Cases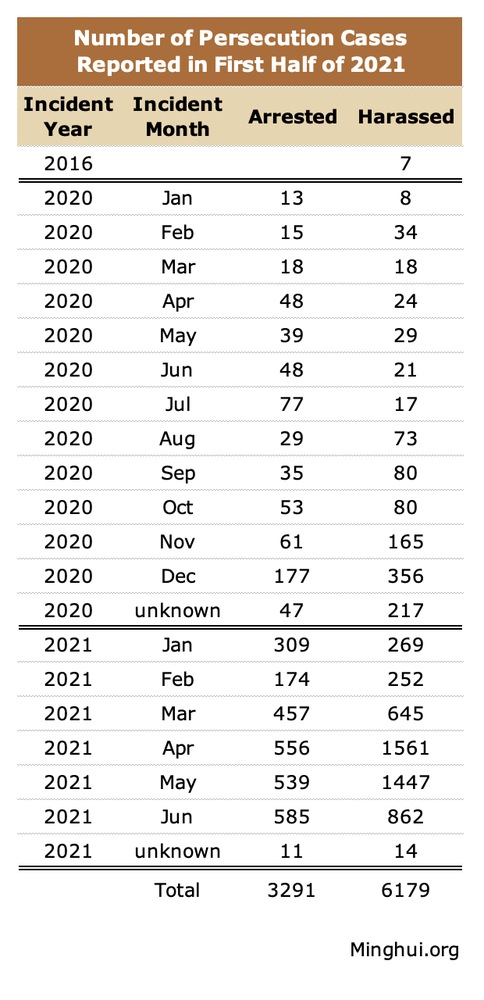 The 3,291 reported arrests include 660 cases that took place in 2020 and 2,631 cases in 2021. The 6,179 harassment incidents break down to 7 cases in 2016, 1,122 in 2020, and 5,050 in 2021. 
The additional cases in 2020 also brought the total targeted practitioners last year from 15,235 to 17,017 (7,319 arrests and 9,698 harassment). Compared to the 3,213 arrests and 3,054 harassments confirmed in the first half of 2020 according to the new data, the 2,631 arrests in the first half of 2021 saw a slight reduction, but the 5,050 cases of harassment showed harassment up by 65%, compared to the same period last year. 
Most of the increases in harassment took place in the months of April (1,561) and May (1,447), which were almost twice that of the same months a year before. This is a result of the continuation of the "Zero-out" harassment campaign carried over from last year, as well as the intensified persecution around the "sensitive dates" of April 25 (the anniversary of 10,000 Falun Gong practitioners appealing in 1999 outside the central government compound for the right to practice their faith) and May 13 (the anniversary of Falun Gong's introduction to the public), to prevent practitioners from speaking out about the persecution. The "stability maintenance" campaign prior to the CCP's centennial anniversary is another cause of intensified harassment of practitioners.
Comparing the available data of arrests and harassment that have taken place in the past three years, April and July (anniversaries marking the onset of the persecution) have always been peak months with the most persecution cases. What's new in 2020 were the huge peaks in November and December. Similar peaks were also observed in the number of practitioners being sentenced for their faith in the last two months of last year, likely a result of the "Zero-out" campaign. It's also not clear whether the authorities were given quotas for arrests that might have led to the year-end surge of incidents of persecution.
While the communist regime also had the "knocking on the door" harassment campaign of 2017 and the so-called "gang cracking down" campaign in 2018 that targeted Falun Gong practitioners for their faith, the "Zero-out" campaign has been the most thorough and pervasive among all, in which the authorities are visiting every practitioner (and some of their family members) on the government's blacklist door-to-door and attempting to force them to renounce Falun Gong.
Below are details of various persecution cases.
***
Deaths Due to Persecution
Arrests in 2021 have so far resulted in the deaths of two practitioners. 
Mr. Li Xianxi of Anyang City, Henan Province, went out to buy steamed buns for dinner at around 5 p.m. on May 11, 2021, and was arrested for talking to people about Falun Gong. He was handcuffed and shackled for doing the Falun Gong exercises at the local detention center.
On the morning of June 13, Mr. Li's family was informed that the small shop owner in his 50s had died the day before. According to those who saw his body, he was emaciated. His head was swollen, and there were injuries to his back and knees.
Mr. Sun Pijin, of Mengyin County, Shandong Province, died one day after he was arrested while working on his family farm on June 17, 2021.
The police claimed that Mr. Sun refused to do the coronavirus test at the hospital. They said that he jumped from the building and died instantly. When Mr. Sun's family saw his body at the funeral home, he was leaking brain fluid, one of his eyeballs was missing, and his abdomen was sunken. 
As Mr. Sun's wife, Ms. Yu Zaihua, died six years ago in the persecution, their daughter (nicknamed Jiaojiao), who is being held in custody, is now parentless.
There were three additional deaths as a result of harassment.
Mr. He Xinli, a Dalian City, Liaoning Province resident, was harassed in April 2021 and ordered to sign a statement to renounce Falun Gong. The elderly man in his 80s was deeply traumatized by the intrusion and died in less than 20 days. 
Similar incidents also happened to Mr. Liu Tiemin and Mr. Jiang Weibin, of Yitong County, Jilin Province, who died in March and April 2021, respectively.
Group Arrests
In addition to the mass harassment, several group arrests also took place in May and June 2021. 
Fifteen Falun Gong practitioners in Suzhou City, Jiangsu Province, were arrested on May 10, 2021. Most of the arrests took place between 6 a.m. and 10 a.m. None of the arresting police officers were in uniform. Some officers said that, under orders from their superiors, they had been monitoring the practitioners for up to seven months and had taken a lot of photos and videos of the practitioners. Several said that if the practitioners signed a statement to renounce Falun Gong, they would be released.
Two days later, 31 practitioners were arrested in Tangshan City, Hebei Province. Police departments in ten districts and county-level cities under the jurisdiction of Tangshan took part in the arrests. The arrests started as early as 5 a.m. A majority of the practitioners also had their homes ransacked and Falun Gong-related materials confiscated.
Entering June, at least 25 practitioners and four of their family members in Dalian City, Liaoning Province, were arrested between June 1 and 3. 
Sixteen Falun Gong practitioners in Jiaozhou City, Shandong Province were arrested by hundreds of police officers on June 2, 2021.
Between June 9 and 10, group arrests took place in Mudanjiang City, Hailin City and Daqing City, Heilongjiang Province, related to the CCP's centennial celebration and the "Zero-out" campaign. 
Another group arrest of 11 practitioners in Lingyuan City, Liaoning Province was documented on June 11.
Harassment
In the "Zero-out" harassment campaign, a number of practitioners reported that they were followed whenever they went out. Some even noticed they were being followed and photographed by drones. Others reported their cellphones being monitored and their location tracked.
Two officers in Dalian City, Liaoning Province harassed the parents of Ms. Li Chunxiao on April 25, 2021. The police demanded that Ms. Li's parents give them her phone number and address. They asked to talk to her and take a photo of her. They said they needed to meet with Ms. Li in person, as it was an order given by the higher-ups. Her parents didn't comply.
The police returned to Ms. Li's parents' home on May 6, 2021, and asked again to meet with her and take her photo. The police threatened that with the massive surveillance network in China, they could definitely find out where she lives. Her parents, in their 70s, are now under tremendous distress due to the harassment.
In Tonghua City, Jilin Province, a village Party secretary threatened Mr. Wang Chuanfu and his wife Ms. Xu Shuzhen on May 18, 2021, telling them to not go out to talk to people about Falun Gong. The reason cited was the upcoming centennial anniversary of the Chinese Communist Party.
One officer asked the couple to sign guarantee statements that were prepared in advance and assured them that the authorities wouldn't look for them anymore after they signed it. When they refused to comply, the officers left.
Two village officials went to the couple's home again on June 3, 2021. Instead of asking them to sign the renunciation statement, they said they were there to take their photo to submit to the higher-ups. When an official handed the documents to Mr. Wang, another one secretly took a photo of Mr. Wang receiving the documents. Mr. Wang noticed that some pages of the statement had been signed under their name, either by the police or village officials.
Ms. Zhang Peizhi, a Beijing resident, is bedridden, but the police and village officials still harassed her at home on June 8, 2021. The officials took away a Falun Gong booklet and threatened to investigate where she'd gotten it.
Upon finding a woman in her 70s mailing a letter to a prosecutor and urging him not to persecute Falun Gong, the police in Suzhou City, Jiangsu Province, traveled nearly 1,000 miles to Chongqing to harass Ms. Lei Changrong. The police showed Ms. Lei a video clip of her walking back home after mailing the letter. The video also had a close-up of her door plate. After the police later released Ms. Lei on bail, they warned her not to submit anything about her harassment to the Minghui website or she would "be in trouble." 
In addition to the local police, village authorities and residential committees that were mobilized to carry out the massive harassment, several state-controlled enterprises and companies have also participated in the harassment campaign. 
The Gudao Oil Production Plant of Sinopec Shenli Oilfield in Dongying City, Shandong Province is one such example. 
Since March 2021, the oil plant's CCP Committee, Petition Office, and Workers' Union together arranged meetings with practitioners, both current and retired employees, mostly in the presence of the police. During the meetings, practitioners were threatened with employment termination, pay and bonus deduction, or obstacles for their children in seeking jobs or promotions if they refused to renounce their faith in Falun Gong. Some practitioners were required to surrender their ID cards. 
The oil production plant also held brainwashing sessions for practitioners in the company-owned hotel. Mobile monitoring systems were set up in two meeting rooms, with the capacity to store surveillance videos up to one week.
For refusing to renounce their faith, Mr. Li Bin was suspended from his job on April 1 and Ms. Chen Hailing was dismissed on April 21.
It was reported that relevant personnel would get monetary rewards for each practitioner signing the guarantee statements.
Re-emergence of Brainwashing Centers
When the targeted practitioners refused to renounce their faith in the "Zero-out" campaign, a number were taken to brainwashing centers for "further education." 
Wuhan, the capital of Hubei Province and where the pandemic broke out, was once a "national role model" in hosting brainwashing sessions for Falun Gong practitioners. With more than 60 brainwashing centers already in place, the Wuhan authorities have recently opened another nine locations across the city. 
Often known as "Legal Education Centers" or "Transformation Learning Centers," the brainwashing centers are located in government offices at every level of government, colleges and universities, state enterprises, and private companies and residences. Places such as nursing homes, hospitals, welfare homes, guest houses, and hotels are also used to hold brainwashing sessions.
Starting in 2021, the authorities in Wuhan gave the brainwashing centers new names, such as "caring homes" or "caring centers," in order to avoid the increasing international scrutiny of the hidden crimes taking place in these facilities.
According to the latest information collected by Minghui, between January and June 20, 2021, 43 practitioners and a family member in Wuhan City were held in 13 brainwashing centers.
While in the brainwashing centers, the practitioners are subjected to various forms of abuse, including being prohibited from using the toilet, sleeping, washing up, or drinking water. The authorities hired people who'd given up Falun Gong under pressure to brainwash the practitioners.
Mr. Fang Wanggui, a 90-year-old resident of Wuchang District in Wuhan, was dragged to Nanhu Brainwashing Center and released at night in January 2021. This happened three days in a row. 
Ms. Zhang Wei, an associate professor at the Wuhan University of Technology in Hubei Province, was arrested at 7:30 a.m. on April 4, 2021, after she refused to sign statements to renounce Falun Gong. She is now in the Qingling Brainwashing Center. The police also threatened to arrest her sister Ms. Zhang Fan.
Ms. Feng Xiaoyun, another Wuhan resident, was on her way to take her two children, aged 4 and 10, to school on May 27, when she was blocked at the exit of her apartment building by two community officers. 
They instructed Ms. Feng, who is around 47, to sign a statement to renounce her faith in Falun Gong. They said that because of the CCP's centennial anniversary, each residence community received orders from higher-ups to "convert" a certain number of Falun Gong practitioners. Ms. Feng refused to comply.
When Ms. Feng and her children arrived home at 5 p.m., a group of officers suddenly surrounded her. She quickly went into her home and locked the door. Her kids panicked and were unable to sleep that night. The next morning, as soon as she took her children to school, the police shoved her into a van and drove her straight to the Shiqiao Brainwashing Center.
Other brainwashing sessions are also being held in Sichuan Province, Shanxi Province and Anhui Province.
In addition to setting up a brainwashing base in a wetland park, the authorities in Mayong Town, Guangdong Province also held a series of exhibitions in the communities, school campuses, and companies in 14 villages throughout the town, with content that defames Falun Gong. The event organizers disseminated misinformation through interactive booths, display boards, distribution of pamphlets, gifts, and public questionnaires. Thousands of students and local residents have attended such events.
Police Violence and Inhumane Treatment
Mr. Wang Defu of Xingding County, Hebei Province went to the village office and talked to the secretary about Falun Gong on March 23. Instead of having a conversation with him, the village secretary attacked Mr. Wang, hitting his head against the wall and causing it to bleed. The police arrested Mr. Wang and threatened to take him directly to prison.
When Ms. Shen Xiaona, of Anshan City, Liaoning Province, returned home with her child on the evening of April 27, 2021, she was dragged inside by police officers hiding behind the door. They hit her in the head and kicked her in the back.
After Ms. Shen was brought to the police station at around midnight, the police tied her up in a metal chair, forcibly took a blood sample and beat her again. She has remained in custody since. Her child becomes very scared whenever she sees a police officer on the street.
During the three-day detention of Ms. Xie Yuqin, a Weifang City, Shandong Province resident, following her arrest on May 7, the police constantly beat her and verbally abused her. They dragged her across the floor and caused most of her clothes to be pulled off. Another officer tied her up and threatened to bury her alive.
Ms. Zhang Junxiu, a Hanzhong City, Shaanxi Province resident, noticed that she was followed while walking on the street on June 18. When she began to run, the officer called her name and arrested her. The police savagely beat Ms. Zhang during the arrest, breaking two of her ribs. Her 600 yuan cash, an mp3, a shopping card, an umbrella and the key to her electric motorcycle were confiscated.
Elderly practitioners weren't spared from violence and abuse either.
Five officers, two in police uniform, broke into the home of Ms. Wang Shuhui's daughter (where Ms. Wang was temporarily staying) at 8:00 p.m. on May 13, 2021, and seized her in her bedroom. 
Despite strong protests from the family, the police forcibly dragged Ms. Wang, 78, into a police car and took her to the police station. Two officers carried Ms. Wang to a camera where they made four attempts to take her photo, but were unable to. They then grabbed her middle finger and collected a blood sample. Afterward, they carried her to another room and took her photo with the items confiscated from her home. When she refused to sign the list of confiscated items, the police held her tightly and forcibly pressed her fingerprint on it.
Ms. Wang was taken back home by her daughter at around 2:00 a.m. Her armpits were still bruised and painful two weeks later due to the police violence.
A 75-year-old woman, Ms. Jiang Guangfeng of Tianjin, suffered a similar ordeal. When she refused to sign a statement to renounce Falun Gong following her arrest on June 7, the police slapped her in the face, took off her socks and stuffed them into her mouth, and forced her to sign the statement. 
Her index finger, middle finger and ring finger on her right hand became swollen and deeply bruised as a result. Exhausted, she collapsed on the ground. Two staff members of the residential committee helped her walk back home. As she was walking, she could barely breathe due to the extreme pain under her right armpit.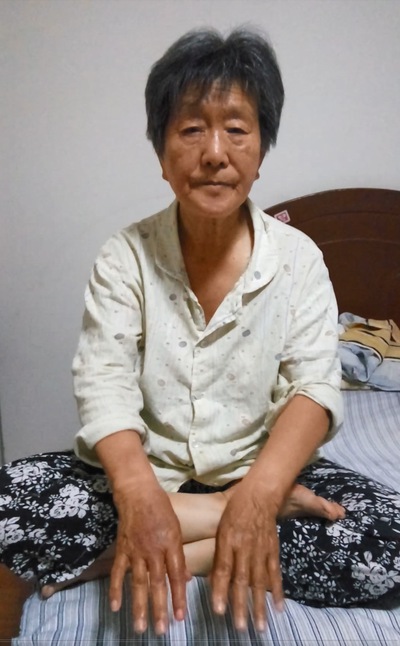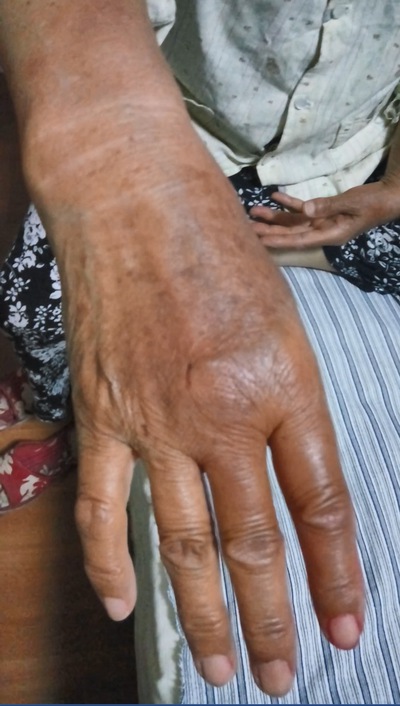 Ms. Jiang's fingers became swollen and turned dark after police abuse in custody.
Two weeks after 71-year-old Ms. Zhong Weiling was arrested and taken to a detention center on June 16, 2021, the Lianyungang City, Jiangsu Province resident became emaciated and suffered constant dizziness.
According to a detention center guard, due to the upcoming centennial anniversary of the CCP's founding, the detention center is receiving between 200 and 300 new detainees every day as part of the regime's effort to "maintain stability" during the celebration.
With injuries to her legs and loss of teeth from being tortured when she was detained previously, Ms. Zhong is having a difficult time getting food due to the extremely limited resources and poor conditions in the detention center. 
DNA and Blood Samples Collected
Between April 26-29, 2021 only four practitioners in Shanghai reported that the police had broken into their homes and collected blood samples from them. Since July 2020, dozens of Falun Gong practitioners in Shanghai have had their blood samples and other personal information taken by the authorities. Some suspect that the recent uptick in collection of biometrics and blood samples from practitioners is for the authorities to establish a massive DNA and organ matching database, as well as to enhance the surveillance of practitioners through China's extensive monitoring network.
Ms. Wu Yuqin was the first to be targeted on April 26, 2021. The police dragged her downstairs without allowing her to put on her shoes. After taking her to the police station, four male officers held her still and drew her blood. The violence caused large bruises on her hands and feet. At around 8 p.m., Ms. Wu was released.
The next day, another four officers knocked on the door of Ms. Wu Xiaojie. Having become paralyzed a year ago, she was unable to open the door for the police. As a result, the police ordered a locksmith to open her door. The police forcibly collected a blood sample and threatened to do the same to her son.
Officers broke into 84-year-old Ms. Qu Mujie's home on April 28. The police first asked if she still practiced Falun Gong. After she confirmed that she did, they threatened to collect a sample of her blood. Ms. Qu strongly resisted and asked for the officers' ID numbers. The incident drew the attention of Ms. Qu's neighbors and they gathered outside of Ms. Qu's apartment, trying to figure out what was happening. The police gave up trying to draw her blood and left.
A day later, the police broke into the home of a female practitioner in her 90s. Despite her strong protest, the police pricked her finger and collected her blood sample. Before leaving, they said to the practitioner, "You are not allowed to have the portrait [of Falun Gong's founder] in your home."
Other personal information collected by the police includes practitioners' handwriting, their fingerprints, height, photos, and phone numbers.
In addition to Shanghai, the police in another 17 provinces and municipalities are also collecting blood and biometric samples from Falun Gong practitioners. These areas include Beijing, Shandong, Heilongjiang, Jilin, Zhejiang, Liaoning, Gansu, Jiangxi, Jiangsu, Guizhou, Hebei, Hubei, Henan, Shanxi, Sichuan, Guangdong, and Shaanxi.
Financial Persecution of the Elderly
In addition to the above-mentioned harassment and physical abuse, elderly practitioners in China also face other forms of persecution, including incarceration and financial devastation. 
It has been over seven years since the authorities in Yingkou City, Liaoning Province suspended Ms. Zhu Ruimin's pension. Her husband, 81, is still living away from home to avoid being arrested for their shared faith in Falun Gong. With his pension also suspended, Ms. Zhu, an 80-year-old retired elementary school teacher, struggles to make ends meet and care for her 101-year-old mother.
Ms. Zhu returned to the Education Bureau several times to seek justice, but to no avail. The last time she went was in mid-May 2021. One of the agency's supervisors said there was no way for them to reinstate her pension. They said that the only thing they could do would be to write a letter, showing that Ms. Zhu has been fired, so that she could apply for a low-income subsidy in the community.
Mr. Dai Dakui, an 82-year-old resident of Chongqing, was arrested on May 12, 2021, for writing letters to local government officials urging them to stop taking part in the persecution. He has now been detained for two months. Having been sentenced twice for a total of nine years and having his pension from 37 years of service suspended several times, Mr. Dai is now facing possible prosecution again.
Another practitioner, Ms. Tang Xuzhen, a retired professor in her 80s, had her pension suspended by Southwest Medical University in Sichuan Province in 2011. Throughout all these years, the university never provided any formal notification or explanation of the suspension of her pension. Ms. Tang repeatedly returned to the school to seek justice, but to no avail. In 2021, Ms. Tang filed several lawsuits against the school for withholding her pension, only to be given the run-around by different agencies. The school leadership instructed security personnel to completely block Ms. Tang from even entering the campus.
The Plight of Families
Another devastating impact of the persecution is on practitioners' families. The separation of parents from their young children, the detention of a family's sole breadwinner, or the incarceration of practitioners caring for elderly parents, have all caused tremendous distress to Falun Gong practitioners' families.
For seeking the release of her mother, Ms. Wang Meiqi and her two aunts were twice arrested, on December 21, 2021, and April 19, 2021. As Ms. Wang, a college senior, was scheduled to take the graduate school entrance exam between December 26 and 27, she had to request special permission to take the exams and then return to finish serving the detention. Her mother, Ms. Zhang Qiaolei, was sentenced to 7.5 years and fined 10,000 yuan. Ms. Wang and one of her aunts are also facing prosecution.
In Japan, Ms. Fu Weitong is also working hard to secure the release of her mother, Ms. Mao Jiaping of Dalian City, Liaoning Province, who was targeted in the group arrest on June 2. Shortly after she finished holding a rally in front of the Chinese Embassy on June 12, Ms. Fu received a phone call from her father in China. He asked her to stop her activities and take down reports about her mother from Minghui, as the authorities in China threatened to have him fired from his job.
The detention of Mr. Dai Xuebing, a 49-year-old logistics company owner and the sole breadwinner in his family, left his four-year-old son, his wife, who is in poor health, and elderly parents in their 80s in deep despair.
The police began to follow and harass Mr. Dai in January 2021, after he had a phone conversation with a Falun Gong practitioner who was looking for a job in Changsha City, Hunan Province. Following Mr. Dai's arrest on May 30, the police told his wife that he had been recorded by a surveillance camera distributing Falun Gong materials. Those who were with him were also arrested and are facing prison sentences.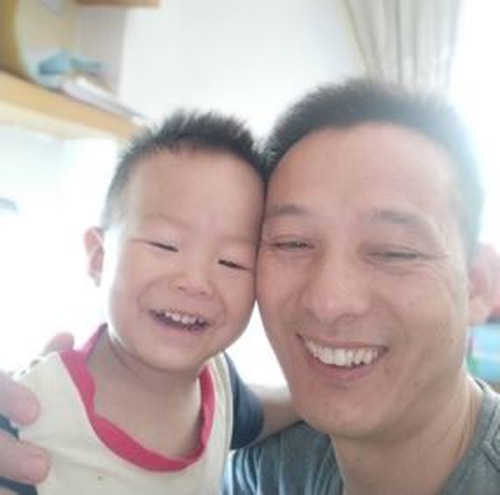 Mr. Dai Xuebing and his son
Just as a mother in her 70s had returned home from the hospital after suffering a heart attack, she was devastated to hear about the arrests of her son, daughter, and daughter-in-law. With the three members of the family in Guangzhou City, Guangdong Province still incarcerated and facing prosecution, their mother suddenly fell into a coma on June 22 and the doctor issued a critical condition notice on June 26.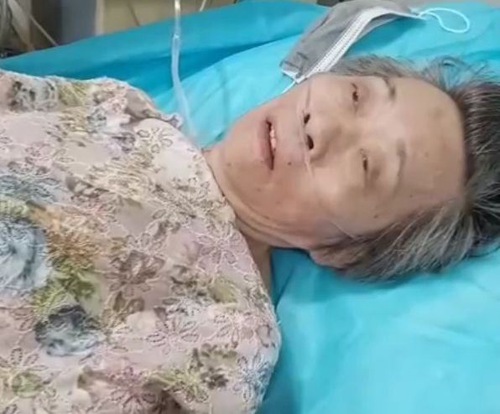 Mother of the Zeng siblings undergoing emergency treatment
Repeatedly Persecuted
Throughout the 22 years of persecution, some practitioners have been repeatedly arrested and detained for their faith. 
Mr. Chen Yan, a Shuangyashan City, Heilongjiang Province resident, was arrested on April 23, 2021 after being reported by a child's grandfather for talking to the child about Falun Gong. Prior to his latest arrest, the 59-year-old former employee of the Shuangyashan Mining Bureau Second Construction Company has served two labor camp terms and a prison term, for a total of nine years. While serving time, Mr. Chen was constantly abused and tortured. He was hung up by his wrists, held in solitary confinement, had his four limbs tied up in a spread-eagle position, was shocked with electric batons, had his legs forcibly pulled apart in the splits, and was brutally force-fed.
Six months after Ms. Zuo Xiuyun was released from serving five years, she was arrested again on June 19, 2021. This is the sixth time that the Fujian Province resident has been arrested for her faith. Four of her previous arrests have resulted in prison sentences, for three years, six years, three and a half years, and five years. She also lost her job as a kindergarten teacher and was divorced by her husband in 2003.
Her brother, Mr. Zuo Fusheng, a veteran, has served two labor camp terms for a total of three years and eight months, as well as a six-year prison term. He was once hung up by his wrists and beaten for six hours in the prison, causing him to become blind in one eye. His wife divorced him to avoid being implicated in the persecution.
When the two siblings were imprisoned, their mother passed away on April 25, 2015, less than two months before Ms. Zuo was released from her third prison term.
Professionals Targeted
Many of the targeted practitioners are professionals, including college teachers, lawyers, engineers, accountants and doctors, and even police officers. 
Ms. Liang Yaomin, a former police supervisor in Yantai City, Shandong Province, has been suffering severe heart problems and her legs shake uncontrollably, four months after her arrest on January 9, 2021. Her lawyer and family submitted an application for the release of the 62-year-old woman on bail on medical grounds, but the police rejected the application, saying that the rejection was due to "her bad attitude of not cooperating with the authorities or pleading guilty."
Two plainclothes officers knocked on the door of Ms. Zhang Chunhe, an accountant and former finance director in Guangzhou City, Guangdong Province, at around 8 p.m. on April 10, 2021. They claimed that they were there to collect a trash management fee. After she opened the door, the police barged in and arrested her. The police have put seals on her door while she is detained.
Other practitioners who have been targeted in the first half of 2021 include Mr. Gu Jiushou, an 82-year-old retired senior engineer, as well as Mr. Wang Dexin, a retired expert in drilling oil wells with extensive experience in diamond drills.
Related reports:
Deaths of 67 Falun Gong Practitioners Reported in First Half of 2021
667 Falun Gong Practitioners Sentenced for Their Faith Reported in First Half of 2021
2,857 Falun Gong Practitioners Reported Arrested and Harassed in March and April 2021
226 Falun Gong Practitioners Targeted for Their Faith in February 2021
1,216 Falun Gong Practitioners Reported Arrested and Harassed in January 2021
15,235 Falun Gong Practitioners Targeted for Their Faith in 2020
Related report in Chinese:
All articles, graphics, and content published on Minghui.org are copyrighted. Non-commercial reproduction is allowed but requires attribution with the article title and a link to the original article.
Category: Overview of persecution