Yunnan Woman Twice Imprisoned, Denied Retirement Benefits
May 22, 2021 | By a Minghui correspondent in Yunnan Province, China
(Minghui.org) A woman in Kunming City, Yunnan Province suffered two prison terms for her faith in Falun Gong, an ancient Chinese mind and body practice that has been persecuted by the Chinese communist regime since 1999. While in prison, Ms. Tang Yu was fired from her workplace, and she was denied the right to apply for early retirement at age 50.
Ms. Tang, 51, a resident of Xishan District in Kunming, was an employee of Xihua Park. Shortly after she took up Falun Gong in 1996, all of her chronic illnesses, including neuropathic headaches, heart disease, being habitually cold, palpitations, and gynecological problems, disappeared.
Ms. Tang used to have a bad temper due to her health problems. Practicing Falun Gong helped her to recover and also gain a positive attitude towards life. She worked conscientiously and built harmonious family relationships.
Because she refused to give up Falun Gong after the persecution started, she was repeatedly detained, imprisoned, and tortured in the past 20 years. Without her retirement pension, she is living off unemployment benefits and can barely make ends meet.
One and a Half Years of Imprisonment
Three police officers from Daguan Police Station of Kunming arrested Ms. Tang on the street on June 23, 2008. They searched her bag at the police station and found copies of the Nine Commentaries on the Communist Party and some materials about the persecution of Falun Gong. They beat her severely and then handcuffed her to a wooden stool until 4:00 a.m. She was taken to Wuhua Detention Center the next day.
The Kunming Municipal Procuratorate indicted her on December 23, 2008. The Kunming Intermediate Court tried her on November 19, 2009, and sentenced her to one year and six months in prison. She was transferred to Guandu Detention Center and imprisoned there until her term expired. She was not given enough food for her meals or allowed to shower. She was also exposed to extreme cold outside and one of her ribs was broken.
Arrest and Failed Court Hearing
Ms. Tang was arrested near the Yunnan Province Medical School at about 7:00 p.m. on September 30, 2011. Wang Zhongfang from the Domestic Security Division seized Ms. Tang's electric bicycle. The police also ransacked her home without a search warrant and confiscated her Falun Gong books, photo of Falun Gong's founder, a computer, Falun Gong informational materials and two cellphones. No confiscation list was provided.
The police beat her at the Donglu Police Station. Her knees swelled, and she was black and blue. She couldn't squat down or stand up. She was also handcuffed with her hands behind her back.
When the police took Ms. Tang to the hospital for a physical exam in preparation for her detention, the officers held Ms. Tang's head, hit it against the wall, and twisted her fingers. The many injuries Ms. Tang had eventually made the Xishan District Detention Center deny her admission.
Before releasing Ms. Tang, the police forced her sister to sign a pledge statement to monitor her. They threatened to sentence her to seven years in prison if she went out to spread information about Falun Gong within a year of her release. They also told Ms. Tang to press her fingerprint on the statement, but she refused. She was released on bail at around 10:00 p.m. the same day. The police returned her electric bicycle but no other items.
Three months later, on December 27, 2011, one police officer from Xishan District Domestic Security Division and three officials from Kunming Municipal Procuratorate banged on the door of Ms. Tang's parents' home, where she was staying. They threatened to give her life imprisonment if she distributed materials exposing the CCP's persecution of Falun Gong again.
The Kunming Municipal Procuratorate delivered Ms. Tang's indictment to her parents' home on January 6, 2012, when she was not present. About two months later, she was notified to attend a court hearing in a few days at the Kunming Intermediate Court. She refused to acknowledge the persecution and did not go. Instead, she wrote a complaint letter and sent it to related government agencies. She did not hear back from the court regarding the hearing.
Multiple Arrests and Severe Beatings
Four people from the Xishan District 610 Office and Court broke into Ms. Tang's home on January 25, 2013. She was not at home, but her parents, both over 80, were. Her father is disabled and dependent on Ms. Tang for care. The four officers ransacked the home and confiscated various items. They pushed her mother down, threatened the elderly couple, and forced Ms. Tang's mother to put her thumbprint on a document.
On September 1, 2013, Ms. Tang happened to pass out informational materials about Falun Gong to a plainclothes officer, who reported her to Liangyuan Police Station. In no time, nine officers arrived and tried to drag her into a police car. She strongly resisted, and it took them about an hour to get her into the car by pinching and twisting her arms. Her arms were covered with bruises as a result.
During the ride, one of them pushed her head down and another stepped on her feet. They took her to Liangyuan Police Station of Kunming. Her Falun Gong materials and other belongings in her bag were confiscated without a receipt. Before she was released, the police ordered her to show up at Xishan District Domestic Security Division the following Tuesday, September 3, and threatened to harass her elderly ailing father if she didn't comply with their demand.
Ms. Tang was reported and arrested again for handing out materials about Falun Gong on August 18, 2015. She was handcuffed behind her back at the police station and severely beaten. She received injuries on her head, thighs and arms. She was released after 5:00 p.m..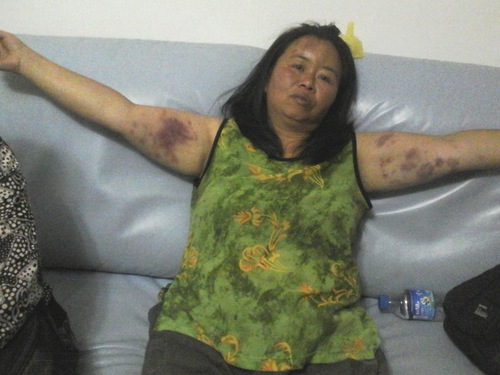 Ms. Tang bruised from the beating
Only two months later, Ms. Tang was arrested again on October 27, 2015. The police ransacked her home while her parents were at home and confiscated many of her personal belongings. The police took her for a physical examination before moving her to the local detention center. One of her right ribs was found to be broken as a result of the beating. She was released on October 29.
Sentenced to 3.5 Years in Prison
A month later, on November 26, 2015, the police arrested Ms. Tang one more time and took her to the Yongchang Police Station. During her 12-hour detention there, the police beat her, taped her mouth to prevent her from shouting "Falun Dafa is good," and cuffed her hands to a chair. They also carried her and hit her head against the wall. She wasn't given any food and was not allowed to sleep.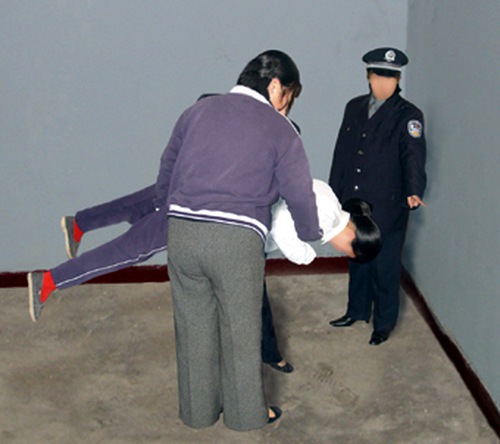 Torture reenactment: hitting the victim's head against the wall
She was taken to Kunming Intermediate Court the next day, but no formal hearing was held and the judge only asked her to sign a few documents. She was taken to the Kunming City Detention Center in the afternoon.
Ms. Tang later received a verdict of three and a half years in prison, dated November 26, 2015, the day of her arrest. She appealed the verdict but to no avail.
In Kunming Detention Center, she was forced to do heavy labor. She was punished by being made to stand in the hallway if she failed to meet the quota. Her family did not know her whereabouts during her more than a year of detention there, so they couldn't make cash deposits or send in daily necessities to her. She had to help other detainees with their labor in exchange for some supplies and food.
Ms. Tang was transferred to the Yunnan Province Second Women's Prison on January 14, 2017. The guards confiscated all the daily necessities she brought with her from the detention center. They attempted to force her to write statements to renounce Falun Gong. When she refused to write it, the guards ordered other inmates to make trouble for her. She developed hemorrhoids and had to suffer the pain for more than 100 hours before being given medical treatment.
Ms. Tang was assigned to a different division three months later, where two inmates were ordered to monitor her around the clock. She was not allowed to talk to anyone and had to write thought reports every week. She had blisters and serious infections in her feet from wearing prison shoes, and she was allowed to wear slippers only after repeated requests to prison guards. There was also a time when Ms. Tang had a heart attack and suffered from spasms.
Her family was not notified when she was taken to the prison. Only more than a year and a half later did they learn where she was imprisoned and her sister was able to visit her. By then, her parents had passed away after living under long-term anxiety and fear since the officers from the 610 Office raided their home multiple times while Ms. Tang was detained.
Financial Persecution
Ms. Tang's workplace forced her to take early retirement in December 2002 and she was due to receive 1,100 yuan each month between December 1, 2002, and January 15, 2019. However, her workplace reduced her monthly payment to 800 yuan starting in September 2011 without any explanation.
In 2017, the Xihua Park recalled employees that were forced to leave, including Ms. Tang, per a new regulation, and asked them to return to work. As Ms. Tang was serving her second prison term, her workplace fired her and stopped her 800 yuan monthly payment, with the excuse that she had missed work for more than 15 days.
At the time, Ms. Tang had 32 years of service under her belt and had paid into China's social security system for 27 years. She was told that according to relevant policies, she would not be allowed to apply for early retirement (age 50 is the legal early retirement age in China) because her employment had been terminated. Moreover, she would have to pay into social security (more than 17,000 yuan a year) herself between 2017 and 2025 (when she turns 55, the normal retirement age in China) if she wanted to apply for retirement and receive pension benefits.
With no other income or pension, Ms. Tang has had to rely on meager unemployment benefits to get by after her prison release in 2019. Unable to pay into social security by herself, she found herself facing a dilemma: without receiving pension benefits, she's unable to pay into social security, but without paying into social security, she's not allowed to receive pension benefits.
Continuous Harassment
When Ms. Tang was released on May 14, 2019, an officer from Xishan District 610 Office and the police met her at the prison gate and notified her to go to Jinbi Police Station to fingerprint documents and make a statement. A week later, Zhang Xu, an officer from Jinbi Police Station, came to her home and ordered her to sign an admonition letter promising not to attend any public rallies. He kept taking pictures of her.
Since then, officers from Jinbi Police Station, including Zhang Xu, and Donglu Police Station officers have appeared at Ms. Tang's home multiple times. She was ordered to report to the police station or to sign more admonition letters.
The police and the residential committee staff also often asked people in the stores near her home where she went, and they called her family to check on her whereabouts. Her family had no choice but to cut their ties with her.
Related Reports:
Kunming Woman Gets Four Years for Her Faith, Parents Die from Stress
Mr. Li Peigao and Ms. Tang Yu Arrested for Distributing Suing Jiang Zemin Brochures
Recent Arrest of Ms. Tang Yu for Distributing Shen Yun DVDs (Photos)
All articles, graphics, and content published on Minghui.org are copyrighted. Non-commercial reproduction is allowed but requires attribution with the article title and a link to the original article.
Category: Accounts of Persecution