Recent Arrest of Ms. Tang Yu for Distributing Shen Yun DVDs (Photos)
October 09, 2013 | By a Minghui correspondent in Yunnan Province, China
(Minghui.org) On September 1, 2013, Falun Gong practitioner Ms. Tang Yu handed a Shen Yun Performing Arts DVD to a man in an apartment complex. This man turned out to be in charge of persecuting Falun Gong at the domestic security division. He called the police to arrest her. The police pinched and bruised her arms before taking her to the Liangyuan Police Station.
Ms. Tang, 44, is retired from West Garden in Kunming City, Yunnan Province. The garden is a botanical garden highlighting the architecture of the Bai ethnic group and orchids.
Prior to practicing Falun Gong, Ms. Tang suffered from many ailments, such as neuropathic headaches, heart disease, being habitually cold, palpitations, and gynecological problems. She also had a bad temper due to having to deal with all her health problems. After getting divorced, she came across Falun Gong. Since then, she has been healthy and maintained a positive attitude towards life.
Nine Police Officers Arrest Her
At about 8 a.m. on September 1, Ms. Tang met a young man in an apartment complex near the Xishan District of Kunming City. She handed him a Shen Yun DVD and then left.
Shen Yun showcases authentic traditional Chinese arts. It has gained tremendous popularity worldwide and is often referred to as "the number one show in the world."
After she had driven about 4 meters away on her electric bicycle, the young man caught up with her and yelled, "I'm from the domestic security team! I will make sure you get a prison sentence!" He also instigated passersby to give false witness accounts.
The man called Liangyuan Police Station and said that he had "caught a Falun Gong." After about 10 minutes, a police vehicle arrived. Nine officers dragged Ms. Tang into the police car. Ms. Tang shouted at the top of her lungs, "Falun Dafa is good! The police are arresting good people!" The police pinched and twisted her arms, making them black and blue.

Bruises on her left arm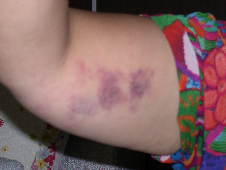 Bruises on her right arm
It took the nine policemen about an hour to get Ms. Tang into the police car. In the car, one of them pushed her head down and another stepped on her feet. They took her to the Liangyuan Police Station of Kunming.
Qiu Xueyan from the Xishan District Domestic Security Division went to the police station (the two agencies shared the same office location) and confiscated 2013 Shen Yun DVDs, DVDs on the Nine Commentaries on the Communist Party, software to circumvent the Internet blockade, and stickers regarding quitting the Chinese Communist Party (CCP), which were in Ms. Tang's bag. He didn't give Ms. Tang a receipt.
He then ordered her to show up at the Domestic Security Division the following Tuesday, September 3. He threatened to harass her sick elderly father if she didn't comply with his demand.
Suffering Many Years of Persecution
Since the CCP started its persecution of Falun Gong in 1999, Ms. Tang has informed many people of the facts of the persecution. She was arrested, sentenced without due process, and tortured.
On June 23, 2008, Ms. Tang was taken to Daguan Police Station. She was beaten and searched. The police stole personal items from her handbag.
She was taken to the Wuhua Detention Center in Kunming and held for nine months. She was then transferred to the Guandu District Detention Center for another nine months. On April 2, 2009, the Middle Court in Kunming City held a secret trial and sentenced her to prison for a year and six months.
At 7 p.m. on September 30, 2011, Ms. Tang was arrested near the Yunnan Province Medical School and taken to Donglu Police Station. Two security guards and Wen Yongqiang from the Xishan District Domestic Security Division held her and beat her. Her knees were swollen and her body black and blue. She wasn't able to squat down or stand up. She was also handcuffed with her hands behind her back.
Wang Zhongfang from the Domestic Security Division of the Xishan District also stole Ms. Tang's electric bicycle. Qiu Xueyan, chief of the Xishan District Domestic Security Division, went to the Donglu Police Station, planning to take her to the Xishan District Detention Center. After he noticed her injuries, he took her to the Ma Street Hospital.
Wen Yongqiang, Wang Zhongfang, and two other security guards beat her in the hospital. Wen grabbed Ms. Tang's head, hit it against the wall, and tried to break her fingers by twisting them. She was found to have many different injuries. The Xishan District Detention Center, after viewing the medical report, refused to admit her. Wen and Wang took her home and continued to threaten her and her family.
On September 30, 2011, Wen, Wang, and six others ransacked her home without a search warrant. They confiscated many of her belongings and refused to give a receipt.
Family Harassed and Threatened
At about 11 a.m. on December 27, 2011, Wen went to Ms. Tang's home with Wu Lin, Liu Rong, and one other person from the Kunming City Procuratorate. Wu Lin threatened Ms. Tang that if she continued to distribute Falun Gong truth clarification materials, she would be given a life sentence.
At around 10 a.m. on January 25, 2013, four people from the Xishan District 610 Office and Court broke into her home.
She was not at home, but her parents, both over 80, were. Her father is disabled and dependent on Ms. Tang for his care. The four ransacked the home and confiscated various items.
They pushed her mother down, threatened both of them, and forced Ms. Tang's mother to put her thumbprint on some kind of document.