5,313 Falun Gong Practitioners Targeted for Their Faith in First Half of 2020
July 17, 2020 | By a Minghui correspondent in China
(Minghui.org) Despite the coronavirus pandemic, the Chinese Communist Party (CCP) intensified the persecution of Falun Gong in the first half of 2020, which recorded 2,654 practitioners being arrested and 2,659 harassed for their faith. Among these practitioners, 1,687 had their homes ransacked. At the time of writing, 1,246 (47%) of the arrested practitioners remain in custody.
Falun Gong, also known as Falun Dafa, is a traditional spiritual discipline based on the principles of Truthfulness, Compassion, and Forbearance. It has been persecuted by the Chinese Communist Party (CCP) since 1999.
Although most provinces in China were locked down in the early months of 2020, there were more practitioners harassed each month in 2020 than the in same period in 2019. There were also more practitioners arrested in February, March, May and June 2020 compared to last year.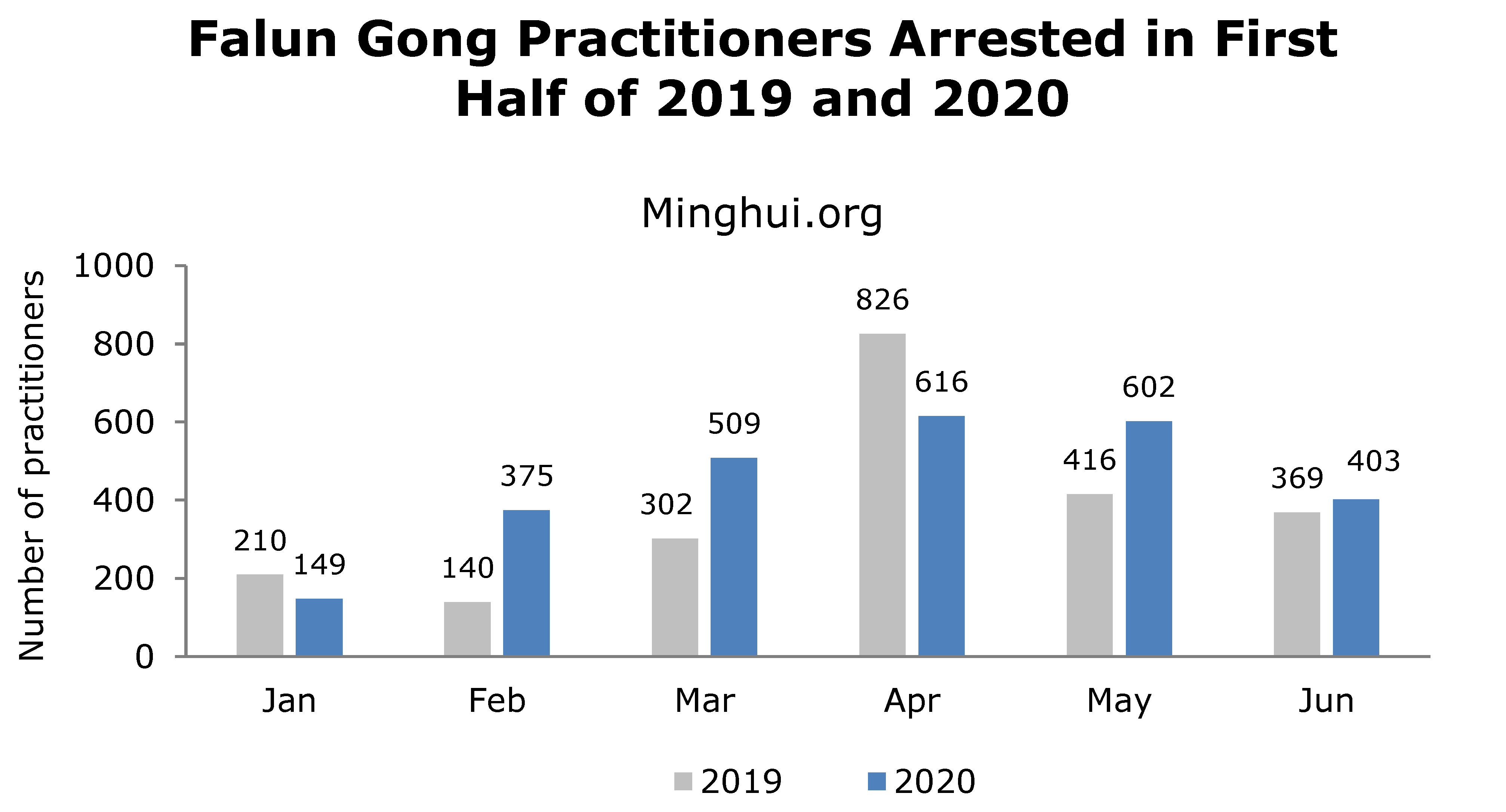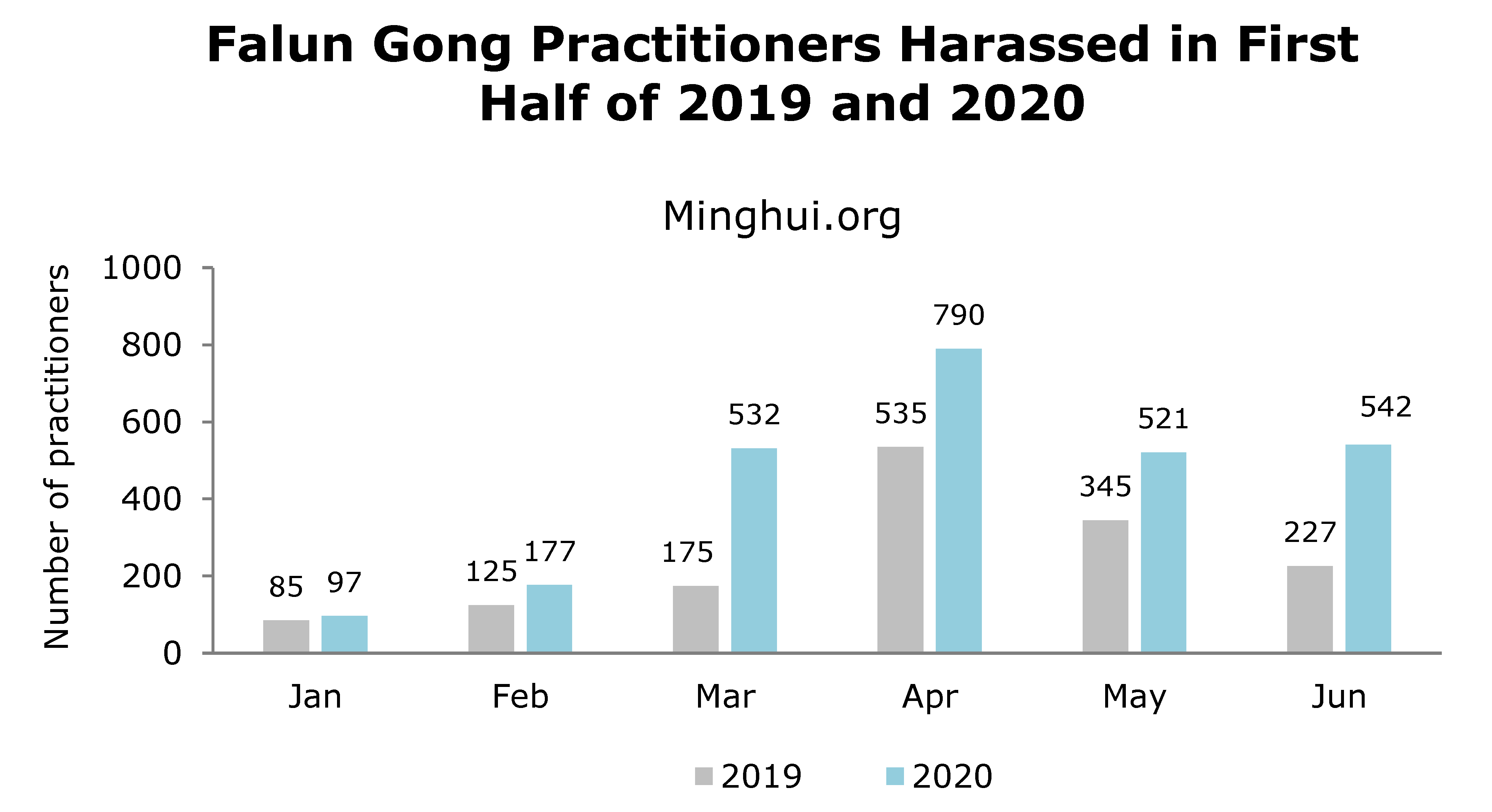 The arrests directly led to the deaths of three practitioners, including a 68-year-old woman who died in custody on the day of her arrest, another woman who died four days after her arrest, and a third woman who died in early July after she was beaten for hours after her arrest in late June.
Many elderly practitioners were also targeted. More specifically, 540 (10.1%) of the 5,313 targeted practitioners were 65 or older, including 116 between 65 and 70, 278 in their 70s, 140 in their 80s, and 6 in their 90s.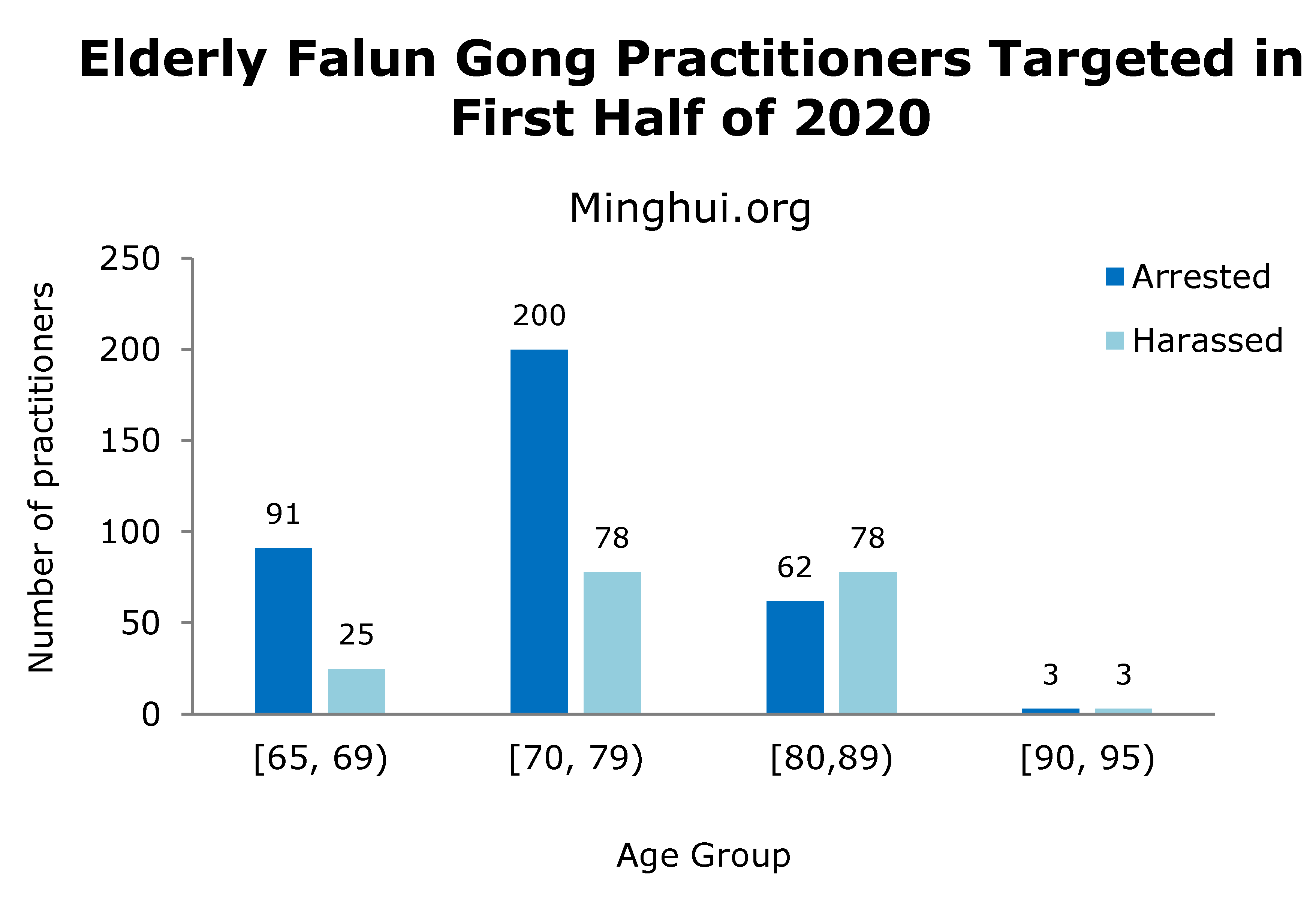 The targeted practitioners come from all walks of life and include college professors, teachers, computer experts, accountants, engineers, doctors, retired military officers, bank managers, and small business owners.
Some of the practitioners have been repeatedly persecuted in the past two decades. A former teacher in Sichuan Province served 15 years and a Beijing man was incarcerated for 14 years before they were arrested again this year. One software engineer was arrested again seven months after he finished serving five years. A woman in Jiangxi Province was still harassed after she finished serving two years. The police ordered her to report to them every month and write thoughts reports. They also took her fingerprints and recorded some of her personal information, including the size of her shoes.
Due to the strict censorship in China, the number of Falun Gong practitioners persecuted for their faith can't always be reported in a timely manner, nor is all the information readily available.
Targeted in the Pandemic
As many practitioners stepped up their efforts to expose how the CCP has been using similar cover-up tactics from the persecution of Falun Gong to handle the coronavirus outbreak, they were met with retaliation by the authorities.
One woman in Hunan Province was forced to live away from home after the authorities found she put up posters with QR codes that could connect to overseas websites with uncensored information about the pandemic. A physician in Ningxia Province was arrested twice, first in March and then in June, for handing out informational materials. Even a nine-year-old girl in Hubei Province wasn't spared of harassment after the police found her putting up information in her neighborhood.
One woman in Guangxi Province who was arrested on February 5 in the middle of the night by officers who claimed they needed to take her and her husband's temperature has been held incommunicado for 3.5 months. Her family is very worried about her health.
Persecution Before Sensitive Dates
The CCP intensified its persecution of Falun Gong before sensitive dates, such as the biggest political meetings (known as the "Two Sessions") in Beijing––the National People's Congress and the Chinese People's Political Consultative Conference––that were postponed from March to May, and two sensitive dates (April 25, the anniversary of a peaceful 10,000-practitioner appeal, and May 13, the anniversary of Falun Gong's public introduction).
Since April, police in Beijing have ransacked many practitioners' homes, interrogated them, and forced them to fill out questionnaires about whether they still practiced Falun Gong or if they'd signed any statements to renounce their faith before.
Because local detention centers have refused to admit practitioners due to the pandemic, most of the practitioners have been released on bail. Some were forced to leave Beijing and not allowed to return before the end of the "Two Sessions."
Outside of Beijing, the authorities in the provinces of Shandong and Heilongjiang posted a 1,000-yuan reward for people who reported a Falun Gong practitioner and 5,000 yuan for each officer who arrested one.
A Xinjiang Province resident in her late 80s was arrested prior to the CCP's meetings and has been detained incommunicado since.
An 84-year-old woman in Shanghai was monitored around the clock days before the anniversary of the April 25 Appeal.
In Xi County, Shanxi Province, the police arrested more than 100 practitioners on May 17, 2020, which came only days after Xi Jinping's visit to Taiyuan City in the same province on May 11 and 12.
Persecution Ordered by the PLAC and 610 Office
The 5,313 practitioners targeted in the first half of 2020 are from 28 provinces and municipalities. Hebei, Shandong, Liaoning, Heilongjiang, and Sichuan are the top five provinces with the most practitioners targeted.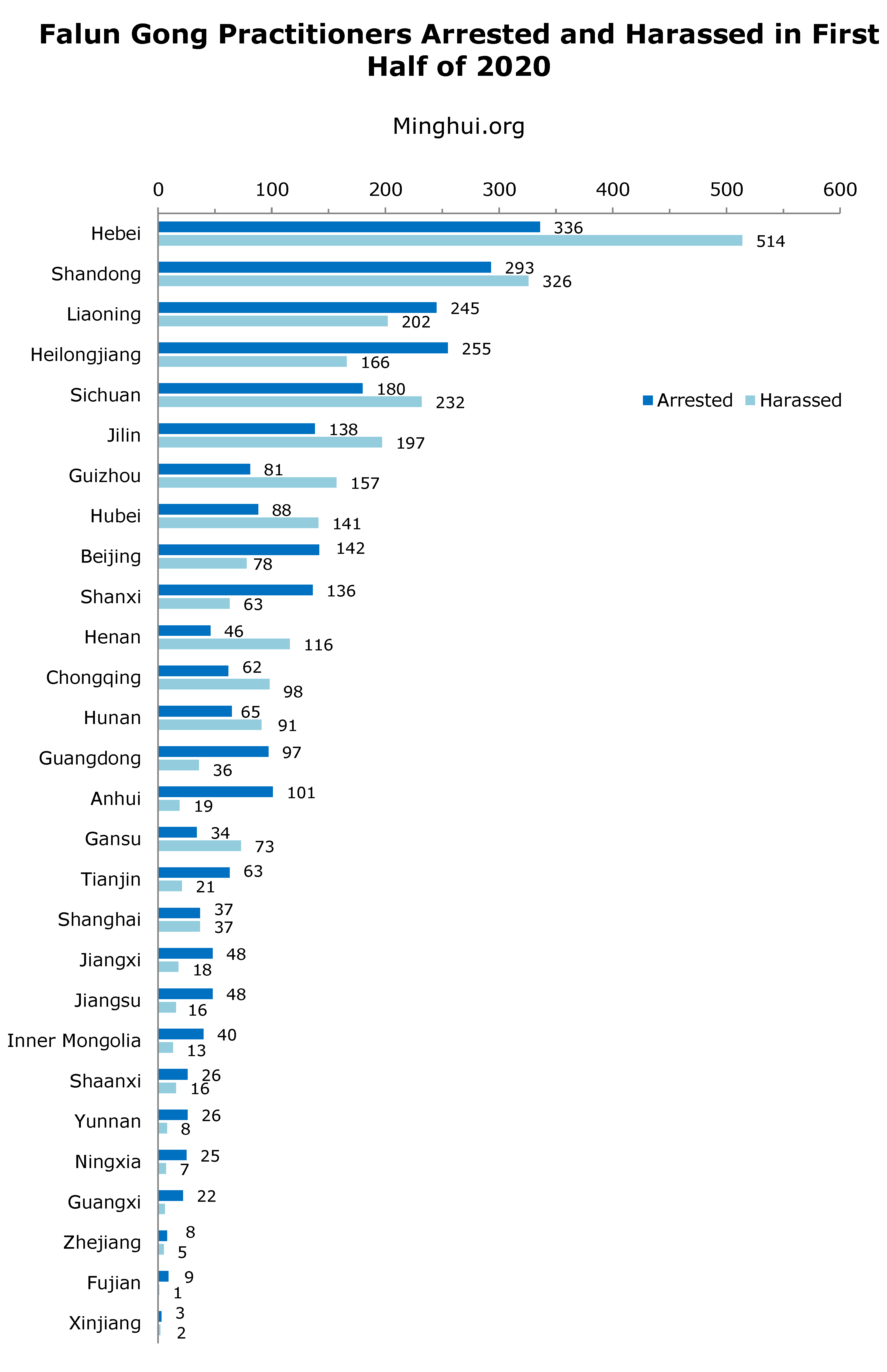 The authorities in several provinces, including Shandong, Jiangxi, Hebei, Liaoning, Guizhou, and Jilin, harassed practitioners on a large scale and held brainwashing sessions.
In Cangzhou City, Hebei Province, the Political and Legal Affairs Committee (PLAC) issued a seven-page classified document about a new campaign. The PLAC, an extrajudicial agency given the power to override law enforcement and judiciary agencies in China, has been responsible for orchestrating and executing the persecution policies against Falun Gong.
A June 15 deadline was given for the authorities to find venues for the brainwashing classes. Religious leaders, psychological counselors, and former practitioners of Falun Gong who quit the practice under pressure were recruited as speakers.
In Jilin Province, the PLAC ordered new rounds of persecution, resulting in six practitioners being arrested and more than 60 harassed between March and April.
This large-scale brainwashing and harassment campaign is part of a new "zero-out campaign" to force the practitioners to renounce their faith.
It was reported that the PLAC in Guizhou issued an order to completely "transform" all practitioners between 2020 and 2023. The order was based on Document No. 101 released by the central PLAC in Beijing, titled "On the Issue of Reducing the Number of Falun Gong Practitioners."
In most instances, the police and residential committee members called or visited the practitioners in person. If the practitioners refused to sign the prepared statements to renounce Falun Gong, the officials threatened to send them to brainwashing centers or threatened to prevent their children from finding jobs or going to college. In Liaoning Province, the officials also threatened to take back government-assigned farmlands from some practitioners who are farmers. Those who practiced Falun Gong before but gave up due to the persecution were also harassed.
In addition to the PLAC, the 610 Office, a Gestapo-like organization established on June 10, 1999, specifically to suppress Falun Gong, still plays a critical role in the persecution, even as the CCP announced its dissolution in 2018.
Zhao Leji, secretary of the CCP Central Commission for Discipline Inspection, recently visited a city and revealed that the disbandment of the 610 Office was simply to quell criticism of the CCP's human rights violations against Falun Gong practitioners. He made it clear that the 610 Office was to continue its work after it is integrated into the public security and PLAC system.
According to information provided to Minghui.org by a staff member of the Hunan Province PLAC, one of Zhao Leji's secretaries came to Hunan in June 2020 and listened to updates provided by the Hunan PLAC about their recent progress in the persecution of Falun Gong.
Zhao's secretary also demanded to talk to Falun Gong practitioners who have been forced to renounce their faith after attending brainwashing sessions and check if they've indeed given up their faith wholeheartedly. He hinted that if the practitioners only signed the renunciation statements as a formality, then the local authorities needed to intensify the suppression.
As arranged by the Hunan PLAC, Zhao's secretary arrived in Xiangtan City on June 19, 2020. While some of the PLAC staff previously told practitioners that they could still practice Falun Gong at home as long as they didn't go out to talk to people about it, Zhao's secretary directly asked the practitioners whether they still meditated at home, a question designed to find out their real situation.
With the non-stop questions from Zhao's secretary, a male practitioner surnamed Liu suffered a mental breakdown and said he couldn't remember anything. Prior to his recent renunciation of Falun Gong, Liu had been repeatedly held in detention centers and brainwashing centers, and he had served a term of forced labor. He previously suffered a mental disorder from being tortured in custody.
Legal Procedures Violated
The police violated legal procedures at every step of the prosecution process, from arresting practitioners who were meditating at home to ransacking their homes without search warrants. Some practitioners were taken to mental hospitals for further persecution and denied family visits despite their medical conditions.
The police in Jiangsu Province stayed outside and monitored a practitioner's home for days when she went out for a short trip. They arrested her as soon as she came back on April 29. A team of officers in Xinjiang travelled nearly 2,000 miles to persecute practitioners in Hebei Province for unknown reasons. A woman's arrest was approved by an out-of-town procuratorate to fill a quota. The police in Chongqing forced other practitioners to provide false accounts in order to charge a 75-year-old man.
Financial Persecution
The CCP follows three major policies in the persecution of Falun Gong, to "ruin their reputation, break them financially, and destroy them physically."
In addition to arresting, sentencing, and torturing practitioners, the authorities also ransack their homes, confiscate their valuables, force them out of their jobs or their children out of school, or suspend their pensions.
In the first half of 2020, police extorted or confiscated a total of 2,091,600 yuan from 42 practitioners, averaging 49,800 yuan per person. Two practitioners had more than half a million yuan taken from their homes during their arrests.
After finding a total of 14,200 yuan in cash at a Shandong woman's home, one officer appeared to be very excited and shouted, "We're having a big festival today!"
***
Below are the snapshots of some of the arrest and harassment cases.
Deaths Following the Arrests and Harassment
Hebei Woman Dies Within Hours of Her Arrest
A 68-year-old woman in Tangshan City, Hebei Province died hours after she was arrested in a police sweep of 36 local Falun Gong practitioners.
A group of officers from Duanminglu Police Station in Fengrun District broke into Ms. Han Yuqin's home around 5 a.m. on June 18, 2020. The officers brought Ms. Han to the police station, forced her to sit in a metal chair, and ordered her to fill out a form to renounce Falun Gong. She refused to comply.
When Ms. Han's daughter went to the police station to visit her around 10 a.m., she was denied visitation. Around noon, Ms. Han's husband went to the police station to deliver lunch to her. She didn't have an appetite and couldn't stop crying. Her husband also noticed that her legs had became swollen after sitting in the metal chair for hours.
Ms. Han went to the restroom around 4 p.m. The officers waited outside for a while. When she still didn't come out, they went inside and found she had collapsed on the floor.
The police took her to the Fengrun District Chinese Medicine Hospital after the urgent care facility next door refused to accept her. She was pronounced dead shortly after.
Ms. Han's family was informed of her death around 6 p.m. They saw her body at the hospital. Her hair was messy and she had blood in her nose.
Ms. Han's family said she had always enjoyed good health since she began to practice Falun Gong in 1995. It's not clear whether they had asked for an autopsy to determine the cause of her death.
Henan Woman Dies in Custody Four Days After Being Arrested
Ms. Zhang Zhiwen, a Yuzhou City, Henan Province resident in her 60s, was arrested at home on May 13, 2020. Officers confiscated her Falun Gong books and related materials.
The police didn't tell Ms. Zhang's husband where they were taking her. He managed to find out the next day that she had been held on a 15-day criminal detention at Xuchang City Women's Detention Center and that she was arrested because she was reported for distributing Falun Gong materials last August.
Ms. Zhang's husband went to deliver clothes and insulin for her on May 15, but the detention center guards refused to accept the items and said they would provide medication for Ms. Zhang's diabetes.
On the afternoon of May 16, Wang Xiaowei from the Yuzhou City Domestic Security Division, who participated in Ms. Zhang's arrest, told her husband that her condition didn't look good.
The next morning, Ms. Zhang's husband called Wang and asked about her situation, only to be told that Ms. Zhang had already passed away. Wang said they had sent Ms. Zhang's body to the Xuchang City Funeral Home without providing further information.
Heilongjiang Internist Beaten to Death
A 66-year-old physician in Haining City, Heilongjiang Province was beaten to death by the authorities days after her arrest.
Ms. Wang Shukun was a doctor of internal medicine at Hailin Town Hospital in Hailin City. She hadn't gone to work for months due to the coronavirus epidemic outbreak. In late June 2020, she received a call from Han Yan, the Party secretary of the hospital, and was told that Chen Guangqun, the president of the hospital, was looking for her.
Ms. Wang thought that the hospital was arranging for her to return to work. When she got to the hospital, it turned out it was officers from Hailin City No. 1 Police Station who were looking for her. The officers attempted to force her to write statements to renounce Falun Gong and to acknowledge that her husband, Mr. Yu Xiaopeng, also practices Falun Gong.
Mr. Yu, a surgeon at the same hospital, was fired 29 years ago for refusing to fabricate medical records as directed by the then-hospital-president. He had been petitioning all these years and was considered a primary target by the authorities, who tried to further the persecution of him by claiming he also practiced Falun Gong when he never did.
When Ms. Wang refused to sign the statements, the police beat her for hours in the hospital. They threatened that if Ms. Wang didn't write the statements, they would find others to write the statements on her behalf.
Ms. Wang suffered sharp pain in her leg and begged for the officers to let her go. They agreed but threatened that they would find her again a few days later.
Ms. Wang had to crawl up the stairs to get back to her apartment unit. Her husband noted she had bruises on her body. Her kneecaps were broken, and she was soaked in sweat.
Ms. Wang suddenly suffered a cerebral hemorrhage in the afternoon on July 1. She was very dizzy and felt like throwing up. She passed away around 4:25 a.m. on July 2. Her body was cremated on July 4.
After Ms. Wang's death, the police kept harassing Mr. Yu and demanded him not to report this to the Minghui website.
Her Son Still Jailed for His Faith, 84-year-old Woman Dies Two Months After Police Harassment
While her son is still serving a five-year term for practicing Falun Gong, 84-year-old Ms. Fu Shuqin, who lived by herself, died two months after she was harassed by the police for their shared faith.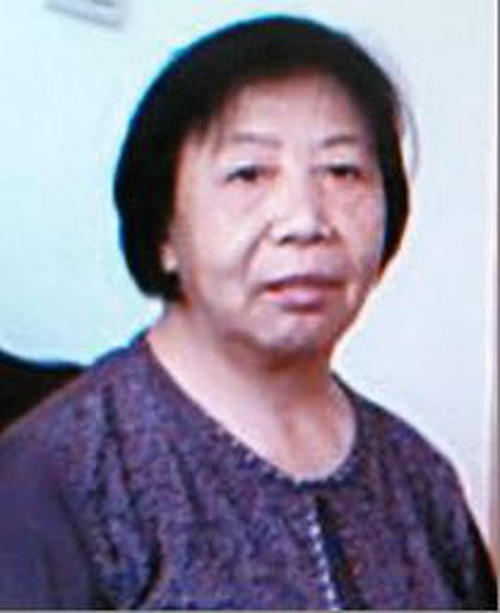 Ms. Fu Shuqin
Three officers harassed Ms. Fu, of Yingkou City, Liaoning Province, in April 2020. Ms. Fu told them that she took up Falun Gong before the persecution began and that her many ailments, including a heart problem, diabetes and high blood pressure, were all cured as a result. The police attempted to force her to stop practicing Falun Gong and tried to deceive her into signing three copies of prepared statements renouncing Falun Gong, but Ms. Fu refused to comply.
Prior to the April harassment, the police and even her family had tried to pressure Ms. Fu to persuade her son, Mr. Jin Fuzhang, to give up his faith in Falun Gong. Mr. Jin was arrested on June 28, 2016 and later sentenced to five years. Ms. Fu stood by her son and insisted that he'd done nothing wrong in upholding Falun Gong.
The latest harassment left Ms. Fu traumatized. She kept her curtains closed and asked her friends not to visit her for the near future. She also lost her appetite and had trouble walking. Her health declined on a daily basis and she passed away on June 6, 2020.
During this period, her daughter-in-law called the Dalian Prison several times and demanded that the prison authorities allow Mr. Jin to visit his seriously-ill mother, but to no avail.
Family Tragedies
Beijing Man Harassed by Police While Mourning the Deaths of His Wife and Father
Mr. Yang Yuliang and his 24-year-old daughter Ms. Yang Dandan were taken into custody on April 27, 2020, and detained for several days.
Mr. Yang's arrest came only five days after his wife, Ms. Gao Yan passed away after suffering decades of persecution. The couple were at one time forced to live away from home for ten years. Only two days after they returned, the police arrested the couple and gave them each two years of forced labor.
While detained, the couple were subjected to barbaric torture and brainwashing aimed at forcing them to give up Falun Gong. Mr. Yang suffered multiple organ failure and Ms. Gao developed persistent high blood pressure and an endocrine disorder.
The authorities continued to harass the couple after they were released, which eventually led to Ms. Gao's tragic early death at the age of 49.
Only two weeks before Ms. Gao's death, Mr. Yang's father passed away on April 7.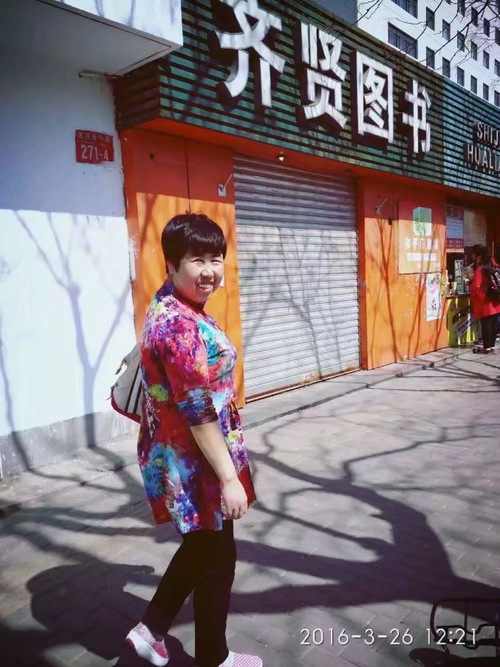 Ms. Gao Yan
Shanghai Woman's Month-long Detention for Her Faith Traumatizes Disabled Daughter
A group of six officers broke into the home of Ms. You Jia, a resident of Shanghai, on May 29, 2020, and arrested her for distributing informational materials about Falun Gong. The officers searched her place and confiscated her Falun Gong books, a laptop, a printer and some printing paper. Ms. You was in her pajamas when the police arrived. The officers didn't allow her to change clothes when they took her away.
When Ms. You's husband and their lawyers went to the Zhoujiadu Police Station in the evening to seek her release, they were told that she had already been transferred to the Pudongxinqu Detention Center.
Ms. You's 15-year-old daughter has autism and DiGeorge syndrome (a rare chromosomal disorder characterized by the deletion of a small segment of chromosome 22) and has been relying on her mother for care. The teenager couldn't sleep at night and kept asking for her mother. Her father, who had to work to support the family, struggled to care for her with no help around (his parents live out of town, and his mother-in-law is still recovering from surgery for lung cancer).
Ms. You was released on June 28 after one month of detention.
Shanxi Woman Arrested, Her Mother Passes Away Three Days Later
Ms. Li Xiuying, 55 and of Jincheng City, Shanxi Province, was arrested at home on March 11, 2020. The police ransacked her home and confiscated her two computers, a printer and some Falun Gong books.
Ms. Li's 85-year-old mother was so terrified that her body couldn't stop trembling during the police raid. She fell ill after Ms. Li's arrest and died three days later. The police continued to harass and intimidate Ms. Li's husband on March 21.
Ms. Li was held in a brainwashing center located in a hotel for a month. The guards attempted to force her to renounce Falun Gong. They threatened to force her daughter's school to expel her if she didn't comply.
Life in Danger
Husband in Critical Condition in Detention in China for His Faith, Wife in New York Calls for His Release
Ms. Wang Jing, a Falun Gong practitioner in New York, is calling for the release of her husband, who is fighting heart and kidney failure in hospital following his arrest in China.
Mr. Ren Haifei, 45, was arrested at his rental apartment in Dalian City, Liaoning Province on June 26 for practicing Falun Gong. Agents from the Ganjingzi Police Station made the arrest. When his family called to inquire about his status, deputy chief Huang Xian refused to provide any information. The family then tried Wang Xiaoxu (no relation to Ms. Wang), an officer involved in the arrest. Wang also gave no information and instead cursed at the family.
"My husband has been very healthy through the years because of practicing Falun Gong. I cannot imagine how much he has suffered these past two weeks," Ms. Wang said during a rally in front of the Chinese Consulate in New York calling for his release. "There are many horrible stories concerning detained [Falun Gong] practitioners. My husband is innocent and he should be released now."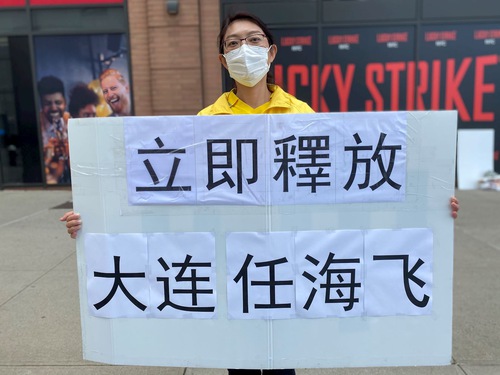 Ms. Wang Jing
Officers from the Ganjingzi Police Station in Dalian City confiscated 500,000 yuan in cash and computer supplies worth more than 200,000 yuan from Mr. Ren's apartment. They also located his car and confiscated 50,000 yuan in cash found in the vehicle.
Police officers did not show IDs during the arrest. Mr. Ren was then held at the Yaojia Detention Center in Dalian, where he went on a hunger strike in protest.
Arrested in the Middle of the Night, Guangxi Woman Detained Incommunicado for Over Three Months
A Guilin City, Guangxi Province resident has been detained incommunicado for over three and a half months for her faith in Falun Gong. Her family is very worried about her health.
Ms. Zhao Renyuan and her husband, Mr. Xie Jianxin were arrested in the middle of the night on February 5, 2020. The police knocked on their door and claimed to be temperature checkers. Mr. Xie sent a text to a relative about the situation and said he didn't open the door. When the relative saw the text the next morning and called Mr. Xie, the couple had already been arrested.
Mr. Xie and Ms. Zhao are currently detained at Room 201 in the 2nd ward and Room 301 in the 1st ward, respectively, in Guilin City No.2 Detention Center. The police didn't allow their family to make phone calls or visit them.
In the past few months, the couple's family has been writing letters to them. Mr. Xie has been writing back each month, but the family hasn't heard back from Ms. Zhao after her only letter on March 18.
The couple's family has been calling the detention center to inquire about her situation. The guards told them either that she refused to write letters or that they didn't know about her situation, before quickly hanging up the phone.
Ms. Zhao's lawyer went to the detention center on June 18 to get her signature on his Power of Attorney document. The guards denied the visitation with the excuse of the coronavirus epidemic and also refused to deliver the lawyer's letter to Ms. Zhao.
Ms. Zhao's cousin, who lives in the same city with the couple, wrote to the detention center on June 22 and requested Ms. Zhao be allowed to contact her family again. She hasn't received any reply at the time of writing.
Ms. Zhao's sister called the detention center on June 29 and asked whether she was sick or had some accident. One male guard replied, "We have doctors in here." When the sister kept asking what had happened, the guard said everything was fine and then hung up.
Ms. Zhao's sister called back and a female guard picked up the phone. She said to Ms. Zhao's sister, "The person you just talked to was talking non-sense. Your sister is doing fine. We are very busy now and don't have time to talk to you." She hung up and no one picked up the phone when the sister called back.
Ms. Zhao's family is now very concerned about whether she is experiencing any medical situation in custody.
Cancer-stricken Woman Denied Medical Parole from Prison, Family Harassed and Home Ransacked
A 68-year-old woman who developed cancer while serving time for her faith in Falun Gong has been denied medical parole. The police ransacked Ms. Shen Jinyu's home on March 17, 2020, and confiscated the cellphones of her husband and older daughter. Her younger daughter has been forced to live away from home to avoid being arrested for their shared faith.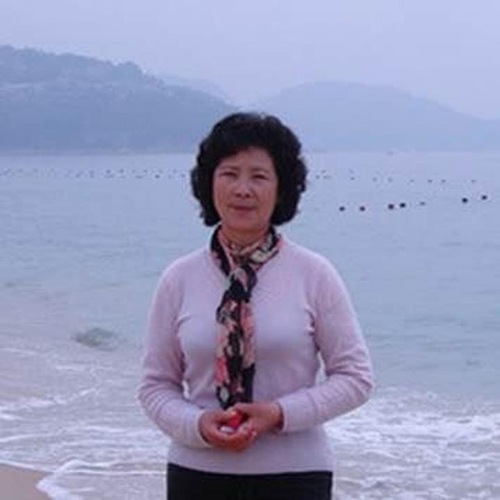 Ms. Shen Jinyu
Ms. Shen, of Yanqi County, Xinjiang Province, was arrested on September 18, 2016, for distributing Falun Gong informational materials in the neighboring province of Gansu. She was later sentenced to four years by Chengqu Court on August 23, 2017.
Less than four months after she was sent to the Lanzhou Prison in Gansu, her uterine fibroids that were cured by practicing Falun Gong recurred. She also suffered significant decrease in her vision. She fainted twice while taking a shower. The prison hospital confirmed that she has developed uterus cancer in 2019. Ms. Shen's family requested to have her released on medical parole, only to be rejected by the prison and local authorities.
On March 17, the police ransacked her home and confiscated her Falun Gong books and other personal belongings. The cellphones and IDs of her husband and older daughter were confiscated. Her younger daughter, Ms. Liu Zhenling, has been forced to live away from home since.
The social security office in Yanqi County withheld her more than 100,000 yuan in pensions, citing a new regulation that Falun Gong practitioners are to be denied retirement benefits while serving time for their faith.
It was reported that the Jiayuguan City Intermediate Court is asking her family to pay 2,000 yuan in exchange for her early release. It's not clear whether they complied.
Repeatedly Persecuted
Once Incarcerated 12 Years for His Faith, Ningxia Man Arrested Again
A resident of Yinchuan City in Ningxia Hui Autonomous Region was arrested on June 5, 2020, for practicing Falun Gong while visiting his relatives in Guyuan City in the same province about 200 miles away.
Mr. Ma Zhiwu, 50, held a hunger strike at Guyuan City Detention Center to protest the persecution and was sent to the hospital for force-feedings. His family repeatedly went to the police station and detention center to demand his release but to no avail.
The local procuratorate recently approved his arrest and he is now facing indictment for his faith.
Mr. Ma was a railroad crew driver. He took up Falun Gong in May 1998. After the Chinese communist regime ordered the persecution of his faith in 1999, he has been repeatedly arrested and held in detention for 12 years.
Mr. Ma was first given three years of forced labor, shortly after he was arrested in September 1999 for appealing for Falun Gong. Because he went on a hunger strike to protest the illegal detention, the local court sentenced him to six years in prison at the two-year mark of his labor camp incarceration.
The prison guards once tied him to a "death bed," with his four limbs stretched tightly in a spread eagle position for more than 40 days. He was also force-fed with unknown drugs with dead flies in it. He felt his body was burning inside afterwards, and he was unable to stand or walk for six months.
Mr. Ma's wife was pregnant with their daughter when he was first arrested in 1999. The little girl grew up without her father around. She was taken into police custody on November 20, 2001, when she was two years old, as the police tried to use her to force her mother to renounce Falun Gong.
When Mr. Ma was released in February 2008, his daughter was already 8 years old. But only two years later, Mr. Ma was arrested again on September 12, 2010, and sentenced to three and a half years in prison. He suffered brutal torture, including beatings, sitting on a small stool for long hours every day for 1.5 years, sexual assault, and freezing. His left kidney was injured. His rib was broken. He had blood in his urine. His legs were severely swollen and bruised, and he was unable to stand.
During the time of his incarceration, his father passed away in 2010 due to the mental distress of worrying about him.
The authorities have been constantly harassing Mr. Ma since he was released on March 12, 2014. Just before the anniversaries of a historic appeal of Falun Gong practitioners on April 25 and the public introduction of Falun Gong on May 13 this year, the police and the residential committee staff members harassed Mr. Ma at home.
Barely Survived a Decade of Prison Torture, Jilin Woman Arrested Again
Having barely survived a decade of torture in prison years ago, a 49-year-old woman in Shulan City, Jilin Province was recently arrested again for not giving up her faith in Falun Gong.
Ms. Song Yanqun before the persecution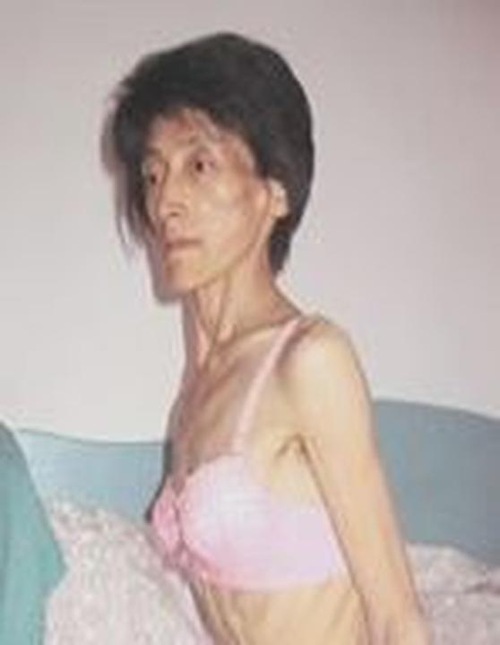 Ms. Song Yanqun after 10 years in prison for her faith
A group of officers knocked on Ms. Song Yanqun's door on March 26, 2020. Pretending to be conducting a census, they deceived Ms. Song into opening the door.
The officers told Ms. Song that her letter to CCP Premier Li Keqiang, in which she demanded that the CCP stop persecuting Falun Gong, had been returned by Beijing and that the National Appeals Office has ordered them to arrest Ms. Song.
Ms. Song said to the police, "I'm just seeking justice for my faith. I didn't do anything wrong, yet I was almost tortured to death in prison. I'm still suffering many health problems now and can't live normally. What's wrong in my writing to the premier?"
Although the police didn't arrest her right away, they returned later that evening and took Ms. Song to the local police station. Her Falun Gong books and other personal valuables were confiscated. Ms. Song is currently held in the Jilin City Detention Center.
Her father sought her release at the police station. He told the police that the decade-long torture his daughter suffered in prison had caused a great deal of damage to her body and mind. He said that even though years have passed since she returned home, she still hasn't recovered from the trauma. He said she told him that writing appeal letters helped alleviate the pain in her heart and that she was writing letters every day, sometimes staying up all night to write them.
The police expressed sympathy for Ms. Song, but they also told her father that the order to arrest her came from above and they couldn't do anything about it. They also revealed that the authorities were planning to sentence her again.
Seven Months After Serving Five Years for His Faith, Software Engineer Arrested and Faces Another Prison Sentence
Only seven months after Mr. Wang Yifan finished serving a five-year term for practicing Falun Gong, he was arrested and is now facing another term for raising awareness about his faith.
Mr. Wang, 36, was a software engineer working in Tangshan City, Hebei Province. He was sentenced to five years by Tangshan City Court in 2015 after being reported for circumventing internet censorship at an internet cafe.
Every time Mr. Wang's parents traveled 500 miles to the Jidong No.2 Prison, their request to visit their son was denied on the first try. They had to implore the prison repeatedly before being finally granted visits.
After Mr. Wang was released in May 2019, he moved in with his parents, who live in Rushan City, Shandong Province.
Only seven months later, he was arrested again for talking to people about Falun Gong at a farmers' market. The police ransacked his parents' home and put him on criminal detention.
Accusing Mr. Wang of being a repeat offender, the police soon submitted his case to Rongcheng City Procuratorate in March 2020. Days later, the prosecutor indicted him and moved his case to Rongcheng City Court.
Mr. Wang was secretly tried by Rongcheng City Court on May 15, 2020. He is currently held at Rushan City Detention Center.
Once Imprisoned for Eight Years, Hunan Woman Arrested One More Time
A group of police officers broke into Ms. Lu Mengjun's home on June 2, 2020 and arrested her for her faith in Falun Gong. They confiscated her printer, some Falun Gong informational materials, as well as 1,000 yuan in cash. Her family has been denied visitation and they are also kept in the dark as to where she is being detained.
Ms. Lu, 58, and her younger sister, Ms. Lu Yingjun, both residents of Xiangtan City, Hunan Province, took up Falun Gong in 2003. Ms. Lu Mengjun's rheumatism and her sister's severe asthma soon disappeared.
Because of speaking up for Falun Gong, Ms. Lu Mengjun was repeatedly arrested and sentenced twice to a total of eight years. Her younger sister was forced to live away from home for three years after escaping an arrest on June 4, 2007. Their 80-year-old father was also forced to go into hiding to avoid police harassment. The mental pressure from the persecution took a toll on the younger Ms. Lu. She passed away on January 29, 2011, only months after she returned home. She was survived by a toddler son.
Elderly Not Spared
Six Women, Mostly in Their 80s, Get Harassed and Face Prosecution
Six women from Maanshan City, Anhui Province, all between 77 and 86 years of age, were arrested and had their homes ransacked on April 24 and 25, 2020.
Ms. Xie Kuaiji, 84, wasn't taken into custody because her family objected. The other five —Ms. Zhou Chunying, 86; Ms. Wang Suhua, 84; Ms. Shen Xuemei, 84; Ms. Chen Xiufang, 83; and Ms. Ji Yinzhu, 77—were taken to the local police station and interrogated.
The police said that they had been monitoring the practitioners since March 2020 after videotaping them distributing Falun Gong materials. The women were asked where they got the materials.
Although the five practitioners were released on the evening of their arrests, the police ordered them to return to the police station the following day for further questioning. The police are preparing to submit their cases to the procuratorate for prosecution.
78-year-old Woman in Criminal Detention for Distributing Information
A 78-year-old woman has been in criminal detention at Yanshan County Detention Center following her arrest on June 30, 2020, for raising awareness about the persecution of Falun Gong.
Ms. Dong Yunxian, from Wenshan City, Yunnan Province, was arrested while distributing informational materials about Falun Gong around 9 a.m. on June 30, 2020. More than 10 police officers, agents from the 610 Office and several members of the residential committee ransacked her home an hour later. Her two computers, two printers, Falun Gong books, and other materials were confiscated. Ms. Dong was then taken back to Wolong Police Station and interrogated.
Ms. Dong's family went to seek her release the next morning. The police denied their request and told them to come back at 3 p.m. When they returned in the afternoon, they were told that Ms. Dong has been placed in criminal detention.
Beijing Woman Arrested, Police Threaten Her Daughter to Watch Her
Ms. Xu Fengmei, a 68-year-old Beijing resident, was stopped by officers at a bus station on her way home on June 6, 2020, after being suspected of talking to people about Falun Gong. The police searched her bag and didn't find Falun Gong-related materials. They followed her home and searched her place without a warrant. Her computer and Falun Gong books were confiscated.
The police next brought Ms. Xu to the local police station. When she refused to answer their questions during interrogation, the officers verbally abused her. They also provided her with no food or water, nor did they allow her to use the restroom.
Hours later, Ms. Xu began to experience symptoms of high blood pressure. The police took her to a hospital, where doctors recommended that she be admitted immediately. But the police ignored them and took Ms. Xu to Daxing District Detention Center, which declined to accept her due to her hypertension. Ms. Xu was released on bail in the evening of June 7. Her daughter, though, was threatened while picking her up.
The police demanded that Ms. Xu's daughter watch her closely and prevent her from going out, or they would force the younger woman's landlord to terminate her lease or have her workplace fire her.
The police returned to Ms. Xu's home on June 8, took her photo and threatened her again not to go out. They said they would send some people to monitor her.
Sixty-Five-Year-Old Woman Detained in Psychiatric Hospital, Faces Trial
A 65-year-old woman in Foshan City, Guangdong Province was arrested on March 17, 2020, for her faith in Falun Gong. It took Ms. Li Yanqun's daughter more than two months to find out that she had been sent to the Foshan No. 3 People's Hospital, a renowned psychiatric hospital in the region.
Ms. Li's daughter told a Minghui correspondent that she went to her mother's home on March 18, only to find a piece of police tape on the door. She used her spare key to get in and found the place in a big mess. She knew right away that her mother had been arrested again for refusing to renounce Falun Gong.
While searching for her mother, Ms. Li's daughter was referred to two local police stations and two local detention centers, none of which revealed her mother's exact detention location.
The younger woman hired two different lawyers, but neither lawyer had luck making appointments with the two detention centers, which denied having Ms. Li in their custody. After the lawyers' repeated requests, the authorities finally revealed that Ms. Li was currently being held in the psychiatric hospital, but still rejected her family visits.
While inquiring about Ms. Li's case status at Chancheng District Procuratorate on May 27, her daughter found that the prosecutor had accepted the police's submission of her case on April 29. The daughter learned later that the prosecutor indicted Ms. Li on June 5, 2020, and forwarded the case to the local court soon afterward. Ms. Li is facing trial for her faith now.
Another practitioner, Ms. Deng Meizhen, 78, was arrested at Ms. Li's home on March 17.
Police Violence during Arrests
73-Year-Old Veteran's Teeth Knocked Out by the Police
Because of spreading information about a notice issued by the Chinese publication bureau that lifted the ban on publication of Falun Gong books, Mr. Cheng Defu, a 73-year-old veteran in Chongqing, was arrested on March 7, 2020.
A group of officers broke into Mr. Cheng's home. When Mr. Cheng tried to stop them, one plainclothes officer pressed him against the floor and handcuffed him. He also slapped Mr. Cheng in the face. No officers showed their IDs or a search warrant.
While a few officers took Mr. Cheng to the local police station, the remaining officers stayed and ransacked his home. His 3,300 yuan in cash, a computer, a media player, four copies of the above notice, and even a magnifier, were confiscated.
At the police station, the police locked Mr. Cheng into a metal interrogation chair and questioned why he talked to the residential committee staff about the above notice.
When Mr. Cheng went to the restroom, the same plainclothes officer who beat him at home slapped him in the face again. Two of his teeth fell out afterwards.
The officer also stepped on Falun Gong books and sat on the photo of Falun Gong's founder that were confiscated from Mr. Cheng's home.
Six Falun Gong Practitioners in Heilongjiang Arrested for Seeking Release of Fellow Practitioner
Six Falun Gong practitioners in Harbin City, Heilongjiang Province were arrested for seeking the release of a local practitioner who was detained for distributing information about their faith. Five of the six practitioners were given ten days of detention.
Ms. Zhang Jun, 67, went to the nearby town of Xinglong to distribute informational materials about Falun Gong on the evening of April 9, 2020. She was followed by an on duty officer, then reported to the Xinglong Town Police Station.
Yang Chunlai, head of the police station, ordered his officers to search for Ms. Zhang around town. They arrested her and impounded her car.
Ms. Zhang's family and six Falun Gong practitioners went to the police station on the following afternoon to seek her release. Although the police agreed to release Ms. Zhang, they arrested the six practitioners and confiscated the minivan they had borrowed from a friend. The police searched the van and found some Falun Gong materials.
The police slapped the driver, Mr. Sun Tienong, in the face so hard that he felt extremely dizzy and collapsed.
When Mr. Li Yan tried to stop the police from beating Mr. Sun, the officers dragged him to a room without surveillance cameras and beat him. They handcuffed him and held him to the ground. One officer stepped on and twisted his face and head. Another one kicked him on the back.
After one practitioner surnamed Zhang (no relation to Ms. Zhang Jun) was released at around noon time, the remaining five practitioners, including Mr. Sun, Mr. Li, Ms. Yu Shufan, Ms. Gao Yabin, and Ms. Xu Shufeng, were interrogated and verbally abused by police chief Yang.
Yang threatened the practitioners to never again come to Xinglong Town to distribute Falun Gong materials. He also threatened that the practitioners' children and grandchildren may be implicated and punished if they exposed the persecution to the international community or published the officers' phone numbers online (many practitioners outside of China are calling the police and urging them not to participate in the persecution).
The police issued a ten-day detention notice to the five practitioners that evening. Because the second wave of the coronavirus pandemic was on the rise in the region, the practitioners were ordered to serve time at home. Ms. Yu's home was ransacked the next day.
The police refused to return the two cars confiscated from Ms. Zhang and Mr. Sun. When Mr. Sun's friend and owner of the minivan went to the police station to demand the return of the vehicle, he was himself arrested, even though he doesn't practice Falun Gong.
Nine Falun Gong Practitioners Arrested for Private Gathering – One Interrogated for Nearly 30 Hours Despite Medical Condition
Nine residents of Lu County, Sichuan Province were stopped by the police on their way home on April 30, 2020, after having studied Falun Gong teachings together. The police pointed guns at them and threatened to pull the trigger if they didn't stop walking.
Four of the Falun Gong practitioners were taken to Lu County Police Department and the other five to Qifeng Police Station. All of them were interrogated overnight about who organized the gathering. The police also body-searched them and confiscated the Falun Gong related materials they carried with them.
Seven of the practitioners have been released. The other two practitioners, Mr. Yi Qunren and Mr. Wang Xianshu, remain in criminal detention at Naxi Detention Center, at the time of writing. Their detention notices bore no signature of the officer in charge and stated that the practitioners were charged with "undermining law enforcement," a standard pretext used to criminalize Falun Gong practitioners.
Ms. Yin Minghui, 85, was interrogated overnight at Qifeng Police Station. The police forced her to sign the interrogation records without letting her read it. They also refused to provide her with a copy when she asked for it. Ms. Yin was released at around 5 a.m.
On the next day, the police came to her home and forced her to sign more documents without explaining what the documents were about. Ms. Yin noticed some practitioners' photos on some pages.
Another practitioner, Ms. Wen, was brought to the hospital from Lu County Police Station for physical examination. The doctors drew her blood, collected a urine sample, and took nasal swabs. They also measured her blood pressure, temperature, and heartbeat, as well as performing a magnetic resonance imaging (MRI) on her.
Knowing that the communist regime has been harvesting organs from living Falun Gong practitioners for decades, Ms. Wen was very scared after going through such extensive examination. Her blood pressure was more than 200 mmHg and her body temperature increased to 102.2°F. Her face was pale and her feet were swollen.
During the interrogation, Ms. Wen kept telling the police that she felt very dizzy and had intense chest pain and tightness. Despite her strong request to go home, the police took turns interrogating her into the early morning and accused her of faking her condition.
After nearly 30 hours of non-stop interrogation, Ms. Wen was released on bail around 5 p.m. on the next day.
Targeted for Speaking Out
Retired College Professor Suspected of Distributing Information about Her Faith, Monitored Around the Clock for Weeks
A 70-year-old woman in Lanzhou City, Gansu Province was monitored around the clock for weeks between late February and March 2020 for her faith in Falun Gong.
Officers broke into the home of Ms. Wang Chunhua, a retired professor of Northwest Normal University, on February 25, 2020, by deceiving her into believing they were there to conduct a census.
The officers claimed that they noticed many Falun Gong-related materials hanging on people's doors in the neighborhood and suspected Ms. Wang of putting them up. Without a search warrant, they ransacked her place and confiscated her computer, printer, Falun Gong books and some related materials.
Ms. Wang tried to clarify the facts about Falun Gong to the officers, but they didn't listen. A young officer in his 30s responded that the Chinese Communist Party was the best and that he didn't believe he would incur karmic retribution for taking part in the persecution.
The same officer also forcibly collected Ms. Wang's fingerprints, palm prints and blood sample. Prior to harassing Ms. Wang, he had harassed several other practitioners living in the neighborhood.
Before leaving, the police ordered Ms. Wang to sign the interrogation record. She refused.
One officer returned to her home on February 27 and demanded she sign the interrogation record or face five days of detention. Ms. Wang refused to open the door.
The officers harassed her a few more times between February 29 and March 20, 2020. Ms. Wang noticed there were people outside of her apartment building around the clock to monitor her during that period.
Elementary School Teacher Detained for Talking to His Students about Communist Party's Bloody History
An elementary school teacher was detained for 40 days after he was reported for talking to his students about the history of killing and deceit by the Chinese Communist Party.
Mr. Fu Qilong, of Changchun City, Jilin Province, talked to his students about uncensored information regarding the communist regime during one class in November 2019. He urged the students to withdraw from the CCP's youth organizations and to develop independent thinking of their own, rather than falling victim to its propaganda education. Some students said they wanted to quit the Youth League they had joined.
Two weeks later, some of the students' parents learned about this and reported Mr. Fu to the school and local education bureau. They also threatened to send him to prison, especially knowing that he practiced Falun Gong.
Mr. Fu was ordered to stop all of his classes and stay at home in December. Some parents demanded that he turn in the name list of the students who quit the Youth League, but he refused to comply.
The school leadership also deceived him into going to school to talk to them, only to have a former labor camp guard there to brainwash him.
While the students were still in winter break on January 6, 2020, the school ordered them to go back to classes to receive some legal education. This turned out to be a special class session for officers from the Kuancheng Police Department to interrogate the students.
On January 8, the police broke into Mr. Fu's home and confiscated his Falun Gong books, computer, and printer. He was taken to Mengjiaqiao Police Station and interrogated. He refused to answer the police's questions or sign any pre-prepared documents.
Mr. Fu was held at a detention facility for ten days. The guards attempted to deceive him into signing a statement promising to renounce Falun Gong. He refused to do so.
During the ten days, the police submitted his case to the Procuratorate, which refused to accept it.
The police attempted to force him to admit to some made-up crimes on January 18, but he again didn't comply. He was admitted to the Changchun City No. 1 Detention Center and held for 30 days. The police submitted his case to the Procuratorate again during this period, but the case was again not accepted.
Mr. Fu was released on bail on February 18, 2020.
Livelihood Affected
Guizhou Family's Car Washing Business Forced to Stop
Ms. Xia Weixian and her husband, of Guiyang City, Guizhou Province, operated a car washing business to support their family, including their two children and her parents-in-law.
After the authorities in Guizhou launched the "Zero-out" campaign to target local practitioners, the police approached Ms. Xia around May 20 and attempted to force her to sign statements to renounce Falun Gong. When Ms. Xia refused, the police ordered her family to close the business, or they would tear down their car washing facility.
Unable to bear the pressure from the persecution, Ms. Xia's husband filed a divorce in late May. When Ms. Xia told the village secretary that she was willing to give up her house and move to her parents' home after the divorce, the village secretary refused to approve their divorce, claiming that they wouldn't be able to monitor her if she moved away.
Jiangxi Woman Fired and Deprived of Pension after Serving Two Years
Having barely survived a two-year prison term for her faith in Falun Gong, Ms. Liu Yongying almost collapsed upon finding out that she had been fired by her school and her pension had been revoked.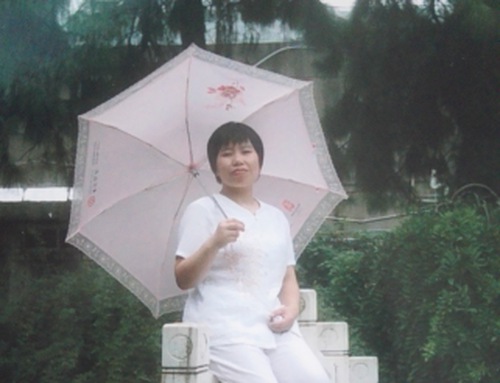 Ms. Liu Yongying before the persecution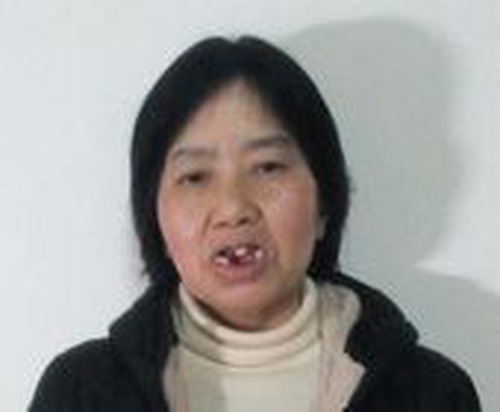 Ms. Liu Yongying after suffering two years of severe abuse in prison
Ms. Liu, 57, was a senior lecturer at Jiangxi Civil Administration School in Nanchang City, Jiangxi Province. She was arrested on April 3, 2018 and sentenced to two years in prison with a 5,000-yuan fine in October 2018.
When Ms. Liu was finally released on April 3, 2020, her son almost couldn't recognize her – she was emaciated and looked listless. She had also lost many teeth.
Upon returning home, Ms. Liu's husband told her that the 610 Office had forced her school to fire her in May 2018, only one month after her arrest. The school leaders were also forced to make self-criticism speeches in front of the entire school and all school staff's annual bonus was withheld. They were also forced to denounce Falun Gong and promise to distance themselves from it.
Ms. Liu went to the provincial social security office (SSO) in mid-April 2020 to file the application to receive her retirement pension, as she had reached the retirement age in September 2018. The receptionist told her that they couldn't find her profile in the system and asked her to consult her local social security office.
Her local SSO told her that her school didn't participate in the social security program until after 2014 when a major social security reform took place. Her school, however, stopped making contributions to her account after her arrest in 2018. As such, she had only about 3.5 years of contributions, when the reform requires a minimum of 15 years of contributions before one qualifies for pension benefits.
The SSO staff told Ms. Liu that if she would like to receive a pension through the social security program, she would have to make up the missed contribution of 11.5 years. If she chose to pay the contribution on an annual basis, she would have to wait until 2031, when she would be nearly 70, to qualify for pension benefits. Or she could pay the remaining required contribution of 120,000 yuan in one lump sum in order to receive a monthly payment of 1,000 yuan starting now.
Related reports:
139 Falun Gong Practitioners Sentenced to Prison for Their Faith in First Half of 2020
938 Falun Gong Practitioners Targeted for Their Faith in May 2020
107 Falun Gong Practitioners Sentenced for Their Faith between January and May 2020
1,178 Falun Gong Practitioners Targeted for Their Faith in April 2020
89 Falun Gong Practitioners Sentenced for Their Faith between January and April 2020
747 Falun Gong Practitioners Targeted for Their Faith in March 2020
33 Falun Gong Practitioners Sentenced for Their Faith During Coronavirus Lockdown in China
The Persecution of Falun Gong Continues in China Despite Coronavirus Pandemic
194 Falun Gong Practitioners Targeted for Their Faith in January 2020
Chinese Communist Regime's Courts Sentence 193 Falun Gong Practitioners As New Coronavirus Explodes