33 Falun Gong Practitioners Sentenced for Their Faith During Coronavirus Lockdown in China
April 10, 2020 | By a Minghui correspondent
(Minghui.org) According to information collected by Minghui.org, 33 Falun Gong practitioners were sentenced for upholding their faith between February and March 2020, when much of China was on lockdown and most courts were closed amid the coronavirus epidemic.
Another 38 practitioners had already been sentenced to prison for their faith in January 2020, bringing the total of the sentenced practitioners in the first quarter of the year to 71 (download the full list).
The newly sentenced 33 practitioners hail from 13 provinces and regions. Hebei and Shandong Provinces sentenced the most practitioners (each reporting five cases), followed by Henan, Jilin and Zhejiang Provinces (each reporting four cases). Three practitioners in Tianjin were sentenced, while one practitioner was given prison terms in each of the remaining regions, including Beijing, Shanghai, Anhui, Heilongjiang, Jiangsu, Liaoning, and Shanxi.
Three practitioners were given probation and a 75-year-old practitioner's term remains to be investigated. The remaining twenty-nine practitioners' prison terms ranged from seven months to nine years, with an average of 2.9 years. While 21 practitioners were sentenced up to 4 years, 8 practitioners were given heavy terms between 7 and 9 years.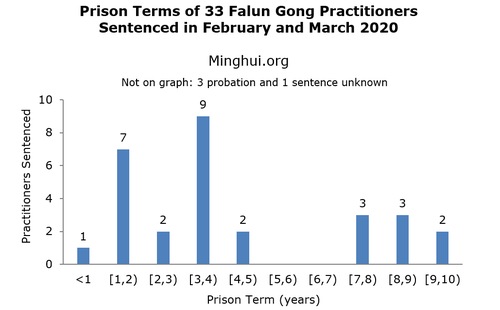 Mr. Huang Qingdeng, an 82-year-old man in Leqing City, Zhejiang Province, was sentenced to seven years on March 12, 2020. Another man in Linyi City, Shandong Province, Mr. Zhu Tonggui, was secretly sentenced to nine years, after nearly two years of incommunicado detention.
A judge in Jilin Province threatened Ms. Sun Yuying, 66, after she was sentenced to three years, that if she didn't sign the court-prepared statements to renounce Falun Gong, he would increase her term to five or seven years, with an additional 50,000 yuan fine.
According to a Chinese lawyer, many, if not all, procuratorates and courts have remained closed during the epidemic. Many regular cases were postponed, but cases against citizens exposing the information about the epidemic or against Falun Gong practitioners and other dissidents were still processed.
The Hanyang District Procuratorate in Wuhan indicted Ms. Zou Shuangwu, 70, and Ms. Wu Guiju, in her 50s, and forwarded their cases to Hanyang District Court in March. Both of the practitioners were arrested last year and have been held at Wuhan City No.1 Detention Center.
In addition to the wrongful sentences and indictment, the practitioners have had their terms incarceration extended and been denied medical parole and contact with their families.
Wuhan Prisons Refuse to Release Falun Gong Practitioners After Their Terms Expire
In Wuhan, the epicenter of the epidemic, the authorities refused to release two Falun Gong practitioners even after their prison terms had expired.
Ms. Cai Rufen, who was sentenced to three years, was scheduled to be released on February 21, and Mr. Cheng Youjin, who was given four and a half years, on February 26, 2020.
Now more than one month has passed, their families still don't know their whereabouts.
According to Ms. Cai's family, Wuhan Women's Prison officials called them in February 2020 to say that Ms. Cai would be transferred to the Xinzhou District People's Hospital and then to a hotel for quarantine. They never heard back from the authorities and do not know where Ms. Cai is.
Fanjiatai Prison officials informed Mr. Cheng's family that he was placed in quarantine due to the epidemic. The authorities didn't say where he was quarantined or how long it would be.
In contrast to Ms. Cai and Mr. Cheng, a woman who was imprisoned in Wuhan for ten years for taking bribes, was released on February 18 despite having exhibited flu-like symptoms. Even though Wuhan was still on lockdown at the time, her family was allowed to drive her to Beijing. Two days after she arrived in Beijing, she tested positive for the coronavirus and was sent to a local quarantine center.
It was reported that hundreds of officers in Wuhan Women's Prison have contracted the coronavirus since January. After dispatching officers in Hunan Province, Guangdong Province, Guizhou Province, and Chongqing to work in Wuhan in February, the Chinese authorities mobilized more officers from Guangdong Province Women's Prison and Fujian Province Women's Prison to support Wuhan Women's Prison in mid-March.
The officers working in the prison are all wearing protective gowns and goggles and their cellphones have been confiscated. It's possible that the authorities are trying to prevent them from leaking information.
Denied Family Visits, Phone Calls, and Medical Parole
After the prisons in Wuhan suspended all visitation on January 23, the Liaoning Province Prison Administration Bureau also stopped the visits to their prison system three days later.
According to a prison guard in Liaoning Province, they have begun to experience shortages of food and supplies since February 9. The authorities didn't only ban all visits to the prison, but also blocked the inmates from making monthly phone calls to their families. If one has to make a call, it has to be approved by the prison leadership. Otherwise, no inmates were allowed to contact anyone outside.
The family of Ms. Lan Lihua, a 48-year-old resident of Shenyang City, Liaoning Province, told Minghui.org that although Ms. Lan is suffering from late-stage breast cancer that has metastasized, the authorities in Liaoning Women's Prison still denied her medical parole because she refused to renounce Falun Gong. Meanwhile, they are also denying her family visits due to the coronavirus epidemic.
Mr. Xiao Xiangyu, of Anguo City, Hebei Province, was also denied family visits by Baoding Detention Center. The detention center wouldn't even accept the clothes his family sent him and forbade his family from hiring a lawyer for him during the epidemic, with the excuse that they wouldn't allow the lawyer to visit him either.
The authorities in Jilin Province imprisoned 85-year-old Mr. Xu Jingchao in mid-January 2020, after he was sentenced to 2.5 years with 3 years' probation on January 23, 2019. While Mr. Xu's verdict didn't require him to serve time in prison, the police claimed that he violated probation after he was arrested again on December 2, 2019, for giving out Falun Gong materials. The authorities refused to reveal to his family where he is being detained.
Detention During the Epidemic
Despite the outbreaks in China's crowded prisons and detention facilities, the authorities continued to hold Falun Gong practitioners in custody, even after their cases were rejected by the procuratorate.
In Jilin Province, fifteen practitioners have been detained at Siping City Detention Center since August 15, 2019. Although the Lishu County Procuratorate has returned the practitioners' cases to the police multiple times, with the latest return on March 15, 2020, the police still refuse to release them, and the detention center is also blocking their lawyers from visiting them.
The 15 Jilin practitioners were targeted during a group arrest of 34 locals on August 15, 2019. Although more than half of the practitioners were later released, 15 of them remained detained. Seven of them are from the same family.
Ms. Nan Tianju, of Wuhan, Hubei Province, was arrested on August 11, 2019, for talking to people about Falun Gong. She has been held at Erzhigou Detention Center since. The Xinzhou Procuratorate returned her case to the police due to insufficient evidence in December 2019.
When her family went to Hengdian Police Station to inquire about her case, the police refused to disclose any information and denied that they are responsible for it.
A practitioner in Wugong County, Shaanxi Province, Ms. Liu Huirong, has been denied family visits since her arrest on August 26, 2019. She was indicted on January 20, 2020, and originally scheduled to appear in Qindu District Court in February 2020. But due to the epidemic, the judge postponed her hearing.
Ms. Liu's family said they have repeatedly requested to visit her along every step of her prosecution process, only to be given the run-around between the police, the detention center, procuratorate and court. Now the lockdown and epidemic have become another excuse for the authorities to reject their requests to visit Ms. Liu.
Snapshots of Sentencing Cases
Below is a snapshot of some sentencing cases in February and March 2020.
Shandong Man Secretly Sentenced For His Faith
Mr. Zhu Tonggui, 45, was secretly sentenced to a nine-year term in March 2020 after nearly two years of incommunicado detention.
The Linyi City, Shandong Province resident was arrested along with his older brother, Mr. Zhu Tongchao, on May 23, 2018. Their 90-year-old mother was so traumatized by the violent arrests of her sons that she fell ill afterward.
The Zhu brothers were interrogated at the local police station following their arrests. The officers forcibly collected blood samples and took their pictures.
On May 25, the brothers were transferred to the Linyi City Detention Center. The guards beat Mr. Zhu Tonggui and put him in handcuffs and shackles in a position that made it impossible for him to stand up straight.
While his older brother was later released on bail, Mr. Zhu Tonggui was transferred to a brainwashing center. On one occasion he was deprived of sleep for three days.
When Mr. Zhu's family and lawyer visited him at the brainwashing center on July 27, 2018, Su Wei, the head of the brainwashing center, threatened and struck the lawyer.
For the past 21 years, Mr. Zhu Tonggui has been forced to live away from home to avoid persecution. The authorities withheld his ID, rendering him unable to find a job. The police also constantly harassed his elderly mother, causing her tremendous mental distress.
76-Year-Old Woman Gets 2.5 Year Prison Term for Not Giving Up Her Faith
Ms. Ma Shufen, a 76-year-old retired teacher was recently sentenced to 2.5 years in prison.
Ms. Ma was taken away from her home during a group arrest in Tianjin on December 4, 2018. Prior to her arrest, officers from Xincun Police Station and staff members from her local residential committee had harassed her several times and questioned whether she still practiced Falun Gong.
Ms. Ma was indicted in September 2019. The court officials said they could give her a lenient sentence because of her advanced age, on the condition that she renounced her faith. But if she didn't renounce her faith, they threatened to give her a heavy term. She refused to comply and was jailed.
Judge Threatens to Increase Prison Sentence for Jilin Woman Who Refuses to Renounce Falun Gong
Ms. Sun Yuying was informed by judge Li Zhongcheng in late February 2020 that he had sentenced her to three years in prison for her faith in Falun Gong.
Judge Li ordered her to go to the local court to sign three prepared statements promising she would renounce Falun Gong. He said to her on the phone, "If you sign one statement, I will reduce your term by one year. If you sign two statements, I'll give you two fewer years. If you sign all three statements, you will be acquitted. But if you don't sign any of them, I will increase your term to five or seven years, and you will also be fined 50,000 yuan."
Judge Li also bragged that he had sentenced Ms. Sun's younger sister, Ms. Sun Yingjun, to three years and two months for her faith in Falun Gong. The younger Ms. Sun, who is serving time in Jilin Province Women's Prison, suffered from declining health only a few weeks after she was imprisoned in late 2019.
Ms. Sun Yuying, 66, of Jilin City, Jilin Province, was arrested on May 16, 2019, for passing out information about Falun Gong. Another practitioner, Ms. Li Shuping, in her 60s, was arrested with her.
Ms. Sun developed a heart condition in July and was treated in the hospital. She was later released on bail after her family paid a 2,000-yuan bond to the police. She was required to report to the police every week.
Ms. Li remains in custody in the Jilin City Detention Center.
On December 31, 2019, the police took Ms. Sun to the Chuanying District Court. Judge Li ordered her to sign the three prepared statements to renounce Falun Gong. Ms. Sun said she did nothing wrong and wrote, "Falun Dafa is good, Falun Dafa is a righteous school of practice," instead of signing any statement. Incensed, the judge extorted 20,000 yuan from her family.
Two months later, judge Li sentenced Ms. Sun to three years in prison without holding a hearing. She is now facing increased time in prison for refusing to sign the statements.
Because they practice Falun Gong, Ms. Sun and her sister have been repeatedly arrested and detained and had their homes ransacked over the past two decades. Both they and their families have suffered tremendous mental distress because of the persecution.
Married Couple in Henan Province Sentenced for Their Faith
Mr. Dong Tianfu, 66, and his wife, Ms. Zhao Song, 64, a married couple in Yuzhou City, Henan Province, were arrested at home on October 12, 2018. Their computer, printer, and Falun Gong books were confiscated.
Both Mr. Dong and Ms. Zhao were put on criminal detention soon after their arrests. Mr. Dong was detained at Yuzhou City Detention Center and Ms. Zhao was held at Xuchang City Detention Center.
The Weidu District Procuratorate indicted them on September 3, 2019, with the charge of "undermining law enforcement," a standard pretext used against Falun Gong practitioners.
The couple appeared in court twice, first on September 17 and then on November 8, 2019.
The judge recently announced the verdicts against them: Mr. Dong was sentenced to two years with two years of probation, and was fined 5,000 yuan. Ms. Zhao was given one and a half years with two years probation. She was fined 4,000 yuan.
Related reports:
The Persecution of Falun Gong Continues in China Despite Coronavirus Pandemic
Chinese Communist Regime's Courts Sentence 193 Falun Gong Practitioners As New Coronavirus Explodes
194 Falun Gong Practitioners Targeted for Their Faith in January 2020