Chinese Communist Regime's Courts Sentence 193 Falun Gong Practitioners As New Coronavirus Explodes
February 16, 2020 | By a Minghui correspondent
(Minghui.org) The Chinese communist regime sentenced 193 Falun Gong practitioners for their faith in December 2019 and January 2020.
Falun Gong, also known as Falun Dafa, is an ancient spiritual and meditation discipline that has been persecuted since 1999.
A total of 162 sentencing cases took place in December 2019. The other months in the past year, from January to November, recorded cases ranging from 41 to 99, with a monthly average of 65. The December figure of 162 was also more than twice the number (66) in December 2018.
The month of January 2020 registered 31 cases, most of which came shortly before the large-scale lockdown of Chinese cities due to the novel coronavirus epidemic.
In particular, four practitioners in Hubei Province, the epicenter of the coronavirus epidemic, were sentenced for their faith, 3 in December and 1 in January.
For the 193 sentencing cases in the past two months, the prison terms ranged from 5 months to 12 years, with an average of 3.3 years. Fifty-four practitioners were fined by the court for a total of 990,000 yuan. The fine ranged from 2,000 to 60,000 yuan, averaging 18,679 yuan per person.
The 193 practitioners, including four sisters in Anhui Province who were each sentenced to 7.5 years, are from 23 provinces and centrally-controlled municipalities. Liaoning Province registered the most cases both in December (24) and January (13).
Minghui.org was able to collect court information on 135 (69.6%) of the 193 sentencing cases.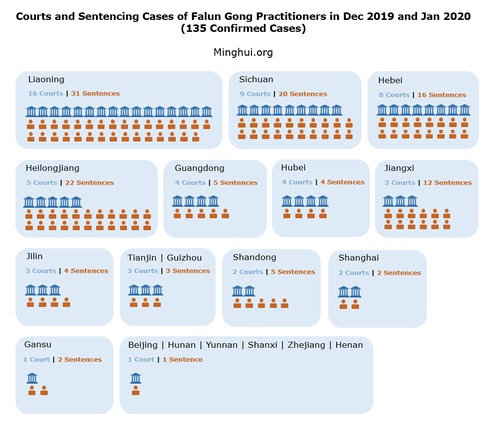 In Liaoning Province, 16 courts were confirmed to have sentenced 31 practitioners. Sichuan Province recorded 9 courts sentencing 20 practitioners. Seventeen other provinces had 1-8 courts handing down prison sentences to 1-22 practitioners.
Click here to download a full list of sentencing cases.
Sentences in the Epicenter of the Deadly Outbreak
Wuhan Practitioner Sentenced to Prison, Judge Never Signed His Verdict
Mr. Wang Hao, a resident of Wuhan City, Hubei Province, went to Lichuan City, a mountainous summer destination in the same province, in mid-July 2019. He was arrested on August 29, only two days before he was scheduled to return home.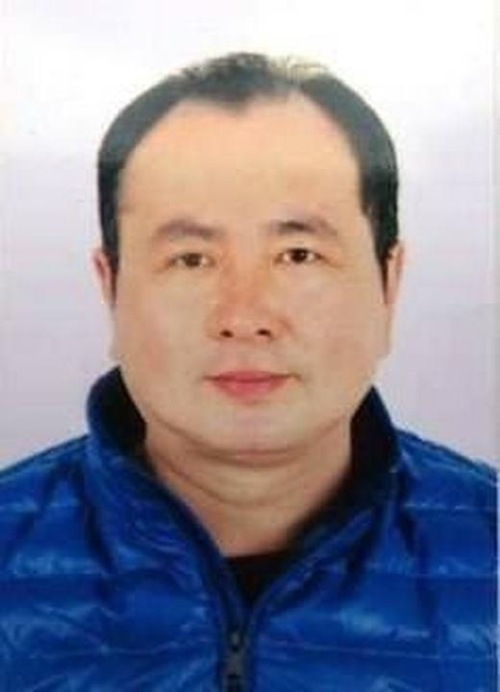 Mr. Wang Hao
A police officer named Zhao Ai from Lichuan called his wife, Ms. Peng Qingqing, on August 30 and told her about Mr. Wang's arrest and detention at Lichuan Detention Center.
Zhao claimed that Mr. Wang had talked to someone about Falun Gong in Lichuan, which triggered his arrest.
Mr. Wang appeared in Lichuan Court on December 30 and received the verdict of 14-month sentence on January 10, 2020.
Mr. Wang's sister and lawyer visited him at Lichuan Detention Center on January 15, 2020. Mr. Wang vowed to appeal the sentence. He also told the lawyer that neither the prosecutor nor the judge signed their names on the indictment and sentencing document, and he suspects that they did so to avoid being held accountable for the persecution.
This is the seventh time that Mr. Wang, 46, has been arrested for his faith. He served two terms of forced labor for a total of three years between 2002 and 2007.
He has been struggling with declining health in the past 12 years as a result of prison torture and suffers from frequent chest pain, headaches, and edema.
Hubei Woman Sentenced to Two Years for Distributing Information about Her Faith, Now Held Incommunicado
Ms. Hou Guihua, a 66-year-old resident in Wuhan City, Hubei Province, was arrested in late June 2019 after being reported for distributing informational materials about Falun Gong in a park. The police ransacked her home, confiscated her Falun Gong books, and gave her 15 days of administrative detention.
Ms. Hou coughed up blood in detention. Instead of releasing her 15 days later, the police held her under criminal detention and attempted to transfer her to Wuhan City No.1 Detention Center, which refused to admit her after discovering that she had high blood pressure and diabetes.
The police released Ms. Hou and placed her under house arrest for six months.
Ms. Hou was tried by Wuchang District Court in late December 2019. The judge sentenced her to two years in prison on the charge of "undermining law enforcement with a cult organization," the standard pretext used by the Chinese courts to sentence Falun Gong practitioners.
Ms. Hou was taken back into custody after the trial and has been held incommunicado since.
Sentenced for Raising Awareness about Falun Gong
Teacher Gets 12 Years for Talking to Her Student about "Truthfulness, Compassion, Forbearance"
Ms. Feng Peirong, a 55-year-old teacher in Anshun City, Guizhou Province, was sentenced to 12 years for talking to her student about Falun Gong.
Ms. Feng worked at the tutoring school owned by her family. Her nephew also attended her classes. As her nephew lived with her, she often talked to him about Falun Gong's principles and advised him to be a good person. The young boy then shared what he learned with another student in the class.
It turned out that that student's father was a police officer. When that student talked to his father about Falun Gong, he reported Ms. Feng.
Eighteen officers broke into Ms. Feng's home and the tutoring school she worked at on December 4, 2018. Her computer and cellphone were confiscated. The police also seized all the cash they could find, as well as her students' profiles and the school's financial documents. The school was also shut down by the police.
Ms. Feng's husband and son were held in custody for one day and released on December 5. On the same day, Ms. Feng experienced a medical condition with her lung and was taken to the police hospital.
The police forced Ms. Feng's 26 students to provide testimonies against her, accusing her of using the tutoring school to "brainwash" and "poison" the students. All the information was later used as prosecution evidence against her.
The lawyers demanded that all 26 students appear in court to accept cross-examination, but the prosecutor rejected the proposal. In the end, the judge ordered a few students to appear in court to testify.
Ms. Feng was tried by Xixiu District Court in November 2019. The handful of her students who appeared in court were so nervous that they were unable to talk and kept shaking.
The judge handed down a 12-year sentence for Ms. Feng on December 17, 2019. She is appealing the verdict with Anshun City Intermediate Court.
Five Liaoning Residents Sentenced for Distributing Falun Gong Materials
Five Kangping County, Liaoning Province residents were sentenced to prison for raising awareness of the persecution of their faith in Falun Gong.
Ms. Gao Lihua, Mr. Dai Mingming, Mr. Gong Baojun and his wife, Ms. Liang Xiuhua, were each sentenced to five years. Ms. Han Jun, Mr. Dai's wife, was given 4.5 years.
The five practitioners were arrested on May 11, 2019 after being reported for distributing informational materials about Falun Gong in Ganqika Town, Inner Mongolia, about 70 miles away from Kangping.
Ms. Han was released on bail seven days later, while the other four remained incarcerated at the Ganqika Detention Center.
The five practitioners appeared in the Ganqika Court on December 11, 2019. Four lawyers entered not guilty pleas for them. The presiding judge frequently interrupted the lawyers and said, "You are not allowed to talk about Falun Gong, or you are promoting it here."
Mr. Gong and Ms. Liang's oldest daughter kept crying during their hearing and almost passed out. Their second daughter has quit her job to take care of the family, especially her 14-year-old brother.
Mr. Dai and Ms. Han's daughter, a college student, was also dealt a blow by the persecution of her parents.
Ms. Gao has been the main caregiver for her mother-in-law, who struggles to cope after her arrest.
Guangdong Man Given Four Years for Spreading Information about Falun Gong
Mr. Wu Jianming, 60, was arrested at work in Guangzhou City, Guangdong Province on November 7, 2018. The police suspected him of using his phones as hotspots to spread information about the persecution of Falun Gong. They monitored him for more than a year before making the arrest.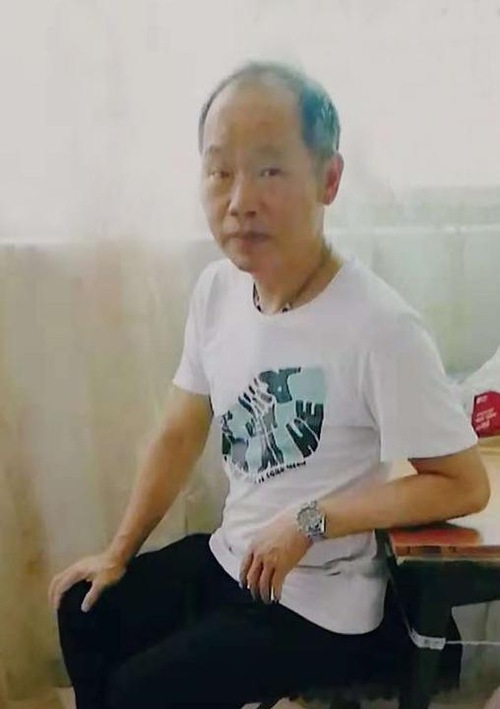 Mr. Wu Jianming
While the police didn't find any evidence about the hotspots at his home, they held him in detention for possessing Falun Gong books and materials.
The Yuexiu District Procuratorate approved Mr. Wu's arrest on December 14, 2018, and indicted him on May 29, 2019, on charges of "undermining law enforcement using a cult organization," a standard pretext used by the authorities to frame Falun Gong practitioners.
The prosecution evidence against him included banknotes with messages about Falun Gong printed on them, two laptops, a tablet, and files on his cellphone.
Mr. Wu stood trial in the Liwan District Court on August 30, 2019. The judge handed down the four-year prison sentence, with a 10,000-yuan fine, on December 26, 2019. Mr. Wu has appealed the verdict.
For not giving up his faith that he credits for curing his stomach and skin problems, Mr. Wu has been arrested several times and spent a total of six years under lock and key. He was subjected to various forms of torture in the detention centers, labor camps, and prisons where he was held. His wife divorced him in 2005 due to the persecution.
Violations of Legal Procedure
Yunnan Man Gets Six More Years While Awaiting Appeal Ruling of an Earlier Five-Year Term for Practicing Falun Gong
Mr. Li Wenbo, a Kunming City, Yunnan Province resident, was sentenced to six years for doing Falun Gong exercises in public. He has filed another appeal against his latest term, which was handed down by Xishan District Court shortly after his court hearing on December 18, 2019.
Mr. Li's six-year term came while he was still awaiting the ruling of his appeal of a five-year term he was given in May 2019 for writing letters to the authorities.
In the letters, he requested that the authorities remove propaganda posters against Falun Gong displayed in his neighborhood and that village officials return the 10,000-yuan fine levied against him for his faith.
Instead of seeing his requests addressed, Mr. Li was arrested on May 17, 2018 and taken to Jinning Detention Center. He developed a gastrointestinal hemorrhage, perforation of hollow organs, intestinal obstruction, and severe anemia after nearly six months of detention. He was released on bail on November 2, 2018.
He appeared in Xishan District Court on May 23, 2019 and was convicted shortly afterwards. He appealed to Kunming City Intermediate Court, which has yet to issue a ruling in the case.
Mr. Li was arrested again on August 23, 2019 and has since been held at Jinning Detention Center.
For upholding his faith, Mr. Li has been repeatedly incarcerated in the past two decades.
He was given three years of forced labor in 2005. He suffered reduced vision, lost six teeth, and had an eight-inch scar on his left leg as a result of the abuse at Yunnan Province No. 2 Forced Labor Camp. His term was also extended for three months because he refused to renounce his faith.
Only one year after he was released, he was arrested again and sentenced to five years in prison in 2009. The guards beat, verbally abused, and hung him up. He developed inflammation and ulceration in the esophagus, as well as a severe stomach problem.
Judge Sentences Two Falun Gong Practitioners to Prison after Failing to Force Them to Use Court-Appointed Lawyers
Ms. Li Xiaochun, 59, and Ms. Zeng Yinlang, 57, were sentenced to prison for spreading information about the persecution of their faith. The presiding judge obstructed a renowned human rights lawyer from representing one of the practitioners and attempted, albeit unsuccessfully, to force them to accept the lawyers she appointed.
The two Jiujiang City, Jiangxi Province residents were arrested on September 11, 2019 while distributing informational materials about Falun Gong in Susong County, Anhui Province (about 45 miles from Jiujiang).
The police submitted their cases to Susong County Procuratorate, which then forwarded their cases to Susong County Court.
Ms. Zeng hired lawyer Xie Yanyi to represent her. Mr. Xie is a renowned human rights lawyer who has been repeatedly targeted by the communist regime himself in the past few years for representing Falun Gong practitioners and other vulnerable groups.
Mr. Xie submitted Ms. Zeng's power of attorney and other required paperwork to presiding judge Zhang Xiaomin on November 21, 2019. Zhang refused to accept the lawyer's application to represent Ms. Zeng.
Zhang also repeatedly pressured Ms. Zeng's family and attempted to force them to accept the lawyers appointed by her. She even ordered the court-appointed lawyers to visit Ms. Zeng at the local detention center, without her family's permission. Zhang also visited Ms. Zeng herself and attempted to persuade her to use only court-appointed lawyers.
Without informing lawyer Xie, Zhang scheduled a court hearing for December 3, 2019. After Ms. Zeng's family found out about it, they hired another lawyer, Li Jinglin, at the last minute to represent her.
Lawyer Li requested that Judge Zhang postpone the hearing, but Zhang refused.
Ms. Zeng and Ms. Li appeared in Susong County Court on December 3. Lawyer Li entered a not guilty plea for Ms. Zeng. Li argued that the two practitioners didn't violate any laws in practicing their faith or speaking out about it. She also added that the police violated legal procedure in arresting the two practitioners and ransacking their homes.
Ms. Li's son defended her innocence. He described how his mother became a better person after taking up Falun Gong.
Judge Zhang sentenced Ms. Zeng to four years and Ms. Li to three years and ten months on December 11, 2019, and fined each of them 10,000 yuan. Both practitioners vowed to appeal the verdicts.
When Ms. Zeng's family called the court on December 18, Zhang's assistant told them that the two practitioners' appeals had been submitted to the intermediate court and were awaiting an appeals hearing.
But when Zhang called Ms. Li's family the next day, she said both practitioners had decided to give up their rights to appeal their sentences. Ms. Li's family suspected that Zhang was attempting to block their appeals.
After Two Years of Incommunicado Detention, Shaanxi Man Given Five Years for Practicing Falun Gong
After more than two years of incommunicado detention, a man from Hanyin County, Shaanxi Province, was secretly sentenced to five years for his faith in Falun Gong.
Mr. Kuang Dongliang, 45, has been repeatedly targeted for his faith during the past 20 years. He was given two and a half years of forced labor after he was arrested in January 2000 for appealing in Beijing for the right to practice Falun Gong. The authorities repeatedly harassed him after he was released. He was forced to leave home in 2005 and moved from place to place in the years that followed.
Mr. Kang finally returned to Hanyin to visit his parents on September 26, 2017. He was arrested the following day while trying to get his ID and household registration card processed at the local police station. He had planned to get the ID and household registration paperwork so his son could enroll in the local school.
He appeared in Hanyin County Court twice, first on September 27, 2018, and then on May 6, 2019. He represented himself and argued that no law in China criminalizes Falun Gong and that no evidence existed to show he had "undermined law enforcement," the standard pretext used to frame Falun Gong practitioners.
Li Xiaojie, the Hanyin County Court judge in charge of the case, told Mr. Kuang on June 10, 2019, that they had transferred his case to the local appeals court because he was "unable to make a decision."
Mr. Kuang's parents and wife repeatedly demanded to visit him at Hanyin County Detention Center but were turned away each time. Meanwhile, many detainees released from the detention center came to visit his parents and said that Mr. Kuang was a truly good person and that they respected him.
When Mr. Kuang's parents, in their 70s, went to the detention center on January 4, 2020, to deposit living expenses for him, they learned that he had been sentenced to five years. The detention center finally allowed them to visit Mr. Kuang a week later.
Mr. Kuang's parents also called Judge Li and asked him why they weren't informed of his trial or told the legal basis for his prison sentence. Li replied that the appeals court instructed his trial court to issue the conviction based on orders from the Domestic Security Division and 610 Office, an extralegal agency created to persecute Falun Gong.
Elderly Targeted for Their Faith
Two Gansu Women, 81 and 66, Sentenced to Prison Again for Their Faith
Ms. Li Guiying, 81, and Ms. Zhu Lanxiu, 66, residents of Jinchang City, Gansu Province, were arrested at home and had their Falun Gong-related materials confiscated on July 23, 2019.
Two days before their arrests, the local Domestic Security Division received a report that two women had talked to a dozen people at several public plazas. After going through the videos taken by facial recognition cameras across the city, the police confirmed that the two women were Ms. Li and Ms. Zhu.
Their case were first submitted to Jinchuan District Court, which refused to take the case and instead forwarded it to Yongchang County Court.
The two practitioners were tried by Yongchang County Court on December 5, 2019, and each was sentenced to six months on December 26.
Prior to their latest sentences, Ms. Li was sentenced to 13 years for practicing Falun Gong in 2004, when she was 63. Her son, Mr. Cai Yong, who also practices Falun Gong, was sentenced to three and a half years in 2008 for his faith.
Ms. Zhu was sentenced to four years in 2004.
Three Sichuan Residents, Including 90-Year-Old, Convicted for Their Faith
Three residents of Weiyuan County, Sichuan Province were recently convicted for their faith in Falun Gong.
Ms. Peng Guirong, 90, her son-in-law, Mr. Liu Wangquan, 66, as well as Ms. Fu Shuqun, 83, were arrested on June 19, 2019.
The three practitioners appeared in Weiyuan County Court on October 10, October 22, and December 19, 2019, respectively. The court appointed lawyers to each of them, who entered guilty pleas for the practitioners.
Mr. Liu testified in his own defense. Ms. Fu and Ms. Peng also shared how they had benefited from practicing Falun Gong and urged the judge not to participate in the persecution.
The judge convicted the three practitioners in late December: Mr. Liu was sentenced to four years in prison with a 3,000-yuan fine, Ms. Fu was given two years of probation, and Ms. Peng was convicted but exempted from criminal punishment due to her advanced age.
Family Affected by the Persecution
Single Mother in Hebei Sentenced to 3.5 Years for Her Faith
Ms. Zhang Xuemei, nearly 50 and a resident of Nanpi County, Hebei Province, began to practice Falun Gong around 2012 and credits the practice for improving her health and helping her to become more open-minded and positive. Fearing the pressure from the persecution, her husband divorced her. Ms. Zhang was given custody of their daughter.
After Ms. Zhang was arrested on March 28, 2019, her daughter, a high school student, was traumatized, and her grades suffered. She is currently being taken care of by Ms. Zhang's sister and her husband, who are also under great stress as a result of the persecution.
It has been reported that Ms. Zhang was targeted after being suspected of putting up posters with information about Falun Gong in a residential area in Nanpi.
Ms. Zhang was scheduled to appear in court on October 22. But a member of the collegiate bench was sick, and the trial was canceled just 13 minutes before it was due to begin.
Her lawyer went to Cangzhou City Detention Center on November 7 to consult with her but was not allowed to see her. The guards claimed that Ms. Zhang was under strict management and denied any visits because she would not renounce her faith.
The lawyer complained to the head of the detention center, but to no avail.
Ms. Zhang stood trial in the Yunhe District Court on December 24, 2019. It lasted only 40 minutes. The judge handed down the 3.5-year term in early January 2020. She has appealed to the Cangzhou City Intermediate Court.
Due to the deplorable conditions in the detention center, Ms. Zhang developed scabies all over her body. Her lawyer applied to the court to have her released on medical parole. Judge Liu Zhongcheng told the lawyer that he couldn't make such a decision and had to ask for instructions from his superiors.
Five Anhui Residents, Including Four Sisters, Sentenced to 4.5-7.5 years for Practicing Falun Gong
Five Haozhou City, Anhui Province residents were sentenced to prison for their faith in Falun Gong.
Four sisters, including Ms. Mu Min, Ms. Mu Pengjuan, Ms. Mu Xia and Ms. Mu Lifang, were each sentenced to 7.5 years in prison with a 50,000-yuan fine.
Ms. Jiang Jianmei was given 4.5 years and fined 30,000 yuan.
The five practitioners were arrested on April 17, 2019. Another six members of the Mu sisters' family, including their mother Ms. Wang Yulan, nearly 80, were also arrested and held briefly in custody.
The five practitioners appeared in the Qiaocheng District Court on December 5, 2019. Their lawyers entered a not guilty plea for them. The women also testified in their own defense.
The judge recently handed down the verdicts against the practitioners. They have appealed the sentences with the Haozhou City Intermediate Court.
Related report:
774 Falun Gong Practitioners in China Sentenced for Their Faith in 2019
Related report in Chinese: