Beijing Man Harrassed by Police While Mourning the Deaths of His Wife and Father
May 11, 2020 | By a Minghui correspondent in Beijing, China
(Minghui.org) Still mourning the passing of his wife and father, Mr. Yang Yuliang was arrested for his faith in Falun Gong on April 27, 2020. Seven officers broke into his home and took him away. His 24-year-old daughter, Ms. Yang Dandan, was also arrested, leaving Mr. Yang's 84-year-old mother at home alone.
The police forced the father and daughter to go through physical examination and get tested for the CCP virus (the coronavirus named after the Chinese Communist Party). They paid more than 1,000 yuan for the testing. While the police didn't have a clear reason why they wanted to arrest Mr. Yang and his daughter, they released them a few days later, upon Mr. Yang's strong protest to return home to take care of his mother and make arrangements for his wife's funeral.
Many of Mr. Yang's neighbors expressed great sympathy for the family. They said, "What the police did is just too much! The family has already been suffering so much, yet they still want to persecute them!"
Ten Years on the Run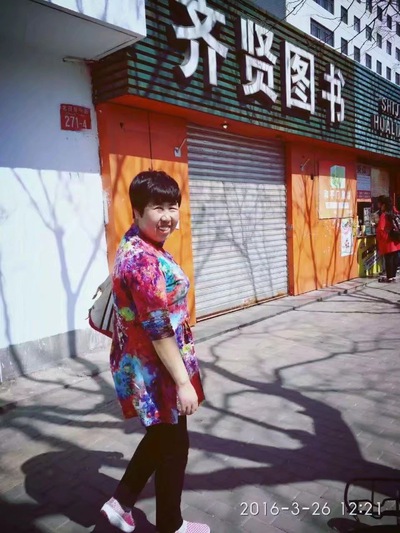 Ms. Gao Yan
In the past 21 years, Mr. Yang and his wife, Ms. Gao Yan, residents of Beijing, have been repeatedly targeted for their faith in Falun Gong, an ancient spiritual and meditation discipline that is being persecuted by the Chinese Communist Party. 
With the onset of the persecution in 1999, the couple was held at a brainwashing center for nine days. Ms. Gao was arrested again in October 2000 and detained for 15 days after she appealed for Falun Gong.
The police attempted to arrest the couple in late October 2001. After they escaped, the police posted them on the Wanted list. They were forced to live away from home for ten years to avoid being arrested.
Their daughter, who was only five years old, was raised by the couple's parents in their late 60s. As they were on the police's blacklist and their IDs were flagged, it was very difficult for them to find jobs to support themselves or rent a place to live. For a period of time, they were forced to make a living by picking up garbage.
Sometimes the couple returned home at night to get a glimpse of their daughter. After not having seen her parents for years, their daughter couldn't recognize Mr. Yang when he suddenly showed up at the door one night. She asked, "Who are you looking for?" 
Arrested and Given Labor Camp Terms
The couple was reported only two days after they returned home in May 2011, after spending ten years on the run. The police arrested them, ignoring the crying of Mr. Yang's mother in her 70s and their 15-year-old daughter.
Ms. Gao was found to have high blood pressure and rejected admission by the local detention center initially. The police, however, forced the detention center to accept her on the next day. Both she and her husband were soon given two years of forced labor.
Mr. Yang was detained at Xin'an Forced Labor Camp and Ms. Gao was incarcerated at Hohhot Women's Forced Labor Camp in Inner Mongolia. Both of them were subjected to barbaric torture and brainwashing aimed at forcing them to give up Falun Gong. Mr. Yang suffered multiple organ failure and Ms. Gao developed persistent high blood pressure and endocrine disorder.
Harassment after Release
Ms. Gao's health remained weak and she never fully recovered after being released in 2013. Yet the police still harassed them constantly every year. Every time when the police came, Ms. Gao was terrified. The couple and their daughter lived in fear. The mental distress only made Ms. Gao' health condition even worse.
Around 4 a.m. on April 17, 2020, Ms. Gao had a stroke and remained in a coma while being resuscitated in the hospital. She passed away around 8 p.m. on April 22. She was 49. 
Only two weeks before Ms. Gao's death, Mr. Yang's father had also passed away on April 7.
While the family was still arranging their funerals, the police returned to target Mr. Yang and his daughter.