Husband in Critical Condition in Detention in China for His Faith, Wife in New York Calls for His Release
July 13, 2020 | By a Falun Gong practitioner in China
(Minghui.org) Ms. Wang Jing, a Falun Gong practitioner in New York, is calling for the release of her husband, who is fighting heart and kidney failure in hospital following his arrest in China. 
Mr. Ren Haifei, 45, was arrested at his rental apartment in Dalian City, Liaoning Province on June 26 for practicing Falun Gong. Agents from the Ganjingzi Police Station made the arrest. When his family called to inquire about his status, deputy chief Huang Xian refused to provide any information. The family then tried Wang Xiaoxu (no relation to Ms. Wang), an officer involved in the arrest. Wang also gave no information and instead cursed at the family. 
"My husband has been very healthy through the years because of practicing Falun Gong. I cannot imagine how much he has suffered these past two weeks," Ms. Wang said during a rally in front of the Chinese Consulate in New York calling for his release. "There are many horrible stories concerning detained [Falun Gong] practitioners. My husband is innocent and he should be released now."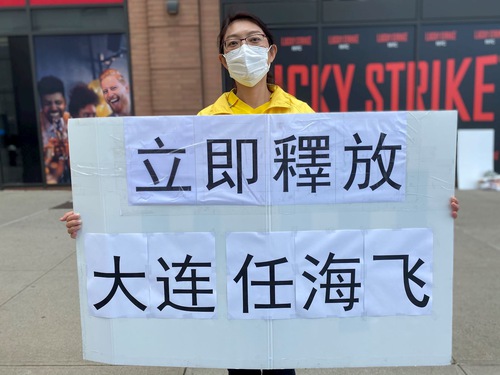 New York resident Ms. Wang Jing said her husband Mr. Ren Haifei is in critical condition in police custody in China.
Mr. Ren's friends and relatives protest in front of the Chinese Consulate in New York, urging his release. 
Falun Gong, also known as Falun Dafa, is a meditation system based on the principles of Truthfulness, Compassion, and Forbearance. Since former Chinese Communist Party (CCP) leader Jiang Zemin began to suppress the practice in July 1999, a large number of practitioners have been subjected to arrest, detention, imprisonment, torture, psychiatric abuse, and even forced organ harvesting. 
Officers from the Ganjingzi Police Station in Dalian City confiscated 500,000 yuan in cash and computer supplies worth more than 200,000 yuan from Mr. Ren's apartment. They also located his car and confiscated 50,000 yuan in cash found in the vehicle.
Police officers did not show IDs during the arrest. Mr. Ren was then held at the Yaojia Detention Center in Dalian, where he went on a hunger strike in protest. 
Ms. Sun Zhongli, another practitioner who lived in the same residential area as Mr. Ren, was also arrested. Over 100 Falun Gong books and her personal computer were confiscated. As with Mr. Ren's arrest, the police did not show any ID during her arrest either. Due to her poor health, Ms. Sun was released the following day. 
According to Ms. Wang, her husband started practicing Falun Gong in 1994 when he was 19 and had since enjoyed good health. 
After the persecution of Falun Gong started in July 1999, Mr. Ren joined other practitioners in raising awareness of the persecution. In 2001, he was arrested at home and later incarcerated for 7.5 years, first at Huazi Prison in Liaoyang and then at Dalian Prison. "He was brutally tortured and put in solitary confinement for not giving up his belief," Ms. Wang said. "When he went on a hunger strike demanding his release, he was tortured and his health deteriorated further."
By the time he was released in September 2008, Mr. Ren, then 33, had become very weak due to the long-time abuse in prison. Yet, he had to stay away from home to avoid further harassment. 
"Across China, Falun Gong practitioners are repeatedly harassed and detained for their faith," said Ms. Wang. Upon learning of her husband's latest arrest, she and several friends and fellow practitioners first went to the United Nations Headquarters and then to the Chinese Consulate in New York on July 1, 2020, requesting the immediate release of Mr. Ren.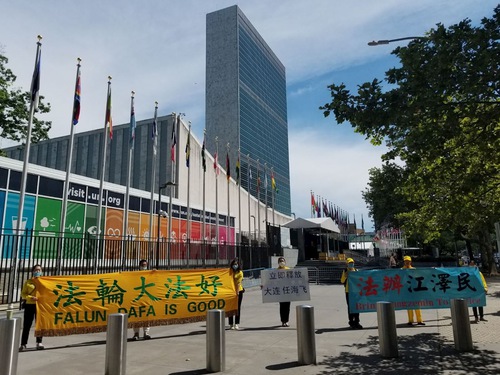 Ms. Wang Jing and supporters stage a peaceful protest in front of the United Nations to call for the release of her husband Ren Haifei, detained in China for upholding his belief in Falun Gong.
Standing next to banners emblazoned with "Falun Dafa is good" and "Bring Jiang Zemin to justice," Dafa practitioner Wang Li'an said he was worried for Mr. Ren's safety in China because forced organ harvesting of prisoners of conscience still continues there. 
Hu Yang, a friend of Mr. Ren, said that the CCP has harmed the world through its infiltration and disinformation. "Because the CCP covered up the coronavirus outbreak, the disease has spread all over the world and caused hundreds of thousands of deaths," Hu remarked. "We have to be clear-minded and distance ourselves from the regime to avoid further losses."
"Every voice counts," Ms. Wang added. "Unless we join together and stop the persecution, more practitioners like my husband will continue to suffer for their faith."