107 Falun Gong Practitioners Sentenced for Their Faith between January and May 2020
June 11, 2020 | By a Minghui correspondent in China
(Minghui.org) According to information collected by Minghui.org, 107 Falun Gong practitioners were sentenced to an average term of 3 years and 9 months for their faith between January and May 2020.
Eighty-nine of the cases have already been included in a previous report published in April 2020. The month of May saw 18 additional cases confirmed, with 1 case taking place in January and March each, 4 in April and 12 in May.
Among the newly confirmed 12 cases that happened in May, 4 practitioners are residents in Jilin Province, 3 in Hubei, 2 in Jiangsu, and 1 in Guangdong, Shanxi and Yunnan each. In particular, two of the three sentenced Hubei residents were given 11 and 12 years, respectively, after being detained incommunicado for two years. Six of the 12 practitioners were aged between 65 and 73.
Falun Gong, also known as Falun Dafa, is a spiritual practice centered on the principles of Truthfulness, Compassion, and Forbearance. Since the Chinese communist regime started persecuting the practice in July 1999, many practitioners have been subjected to arrest, imprisonment, torture, forced labor, and even organ harvesting.
Due to the regime's information blockade, the actual number of Falun Gong practitioners sentenced for their faith is likely much higher.
Below is a snapshot of the recently confirmed sentencing cases.
Two Hubei Residents Secretly Arrested and Sentenced to Heavy Terms
Mr. Cheng Xiaobao, 65, and Ms. Wang Molian, of Xiangyang City, Hubei Province, were recently sentenced to 12 years and 11 years, respectively, by the Xiangzhou District Court. The sentences came two years after they were arrested and detained.
Mr. Cheng's family returned home on March 18, 2018, to see their front door pried open and Mr. Cheng nowhere to be found. It took them more than two years to find out that he had been arrested.
They heard recently that he was in a detention facility in the Xiangzhou District. When they went there, they learned that Mr. Cheng had been transferred elsewhere on March 27, 2020, but they were not told the new location. Mr. Cheng's family still don't know where he is at the time of writing.
Mr. Cheng was previously sentenced to four years in Fanjiatai Prison for practicing Falun Gong. He was beaten and had cuts and bruises all over his body. Because he refused to do the hard labor of making bricks, the guards pushed him into the brick kiln to burn him. Then they dragged him around and continued to beat him. They repeated this torture many times.
After the last time they burned and dragged him, the guards rolled a cart loaded with more than 500 kilograms of bricks over Mr. Cheng's ankle. He sustained an open wound four centimeters long and one centimeter deep.
Ms. Wang Molian also went missing in late March 2018 and her family has never heard anything from the police about her.
She used to work for the China Railway Electrification Bureau Group. During the persecution of Falun Gong, she has served three terms of forced labor for a total of 3.5 years. She was beaten and shocked with electric batons.
Guangdong Woman Sentenced to Sixteen Months Over Fabricated Evidence
Ms. Shi Peiling, a Shenzhen City, Guangdong Province resident, was sentenced in May 2020 to sixteen months and fined 3,000 yuan for her faith in Falun Gong.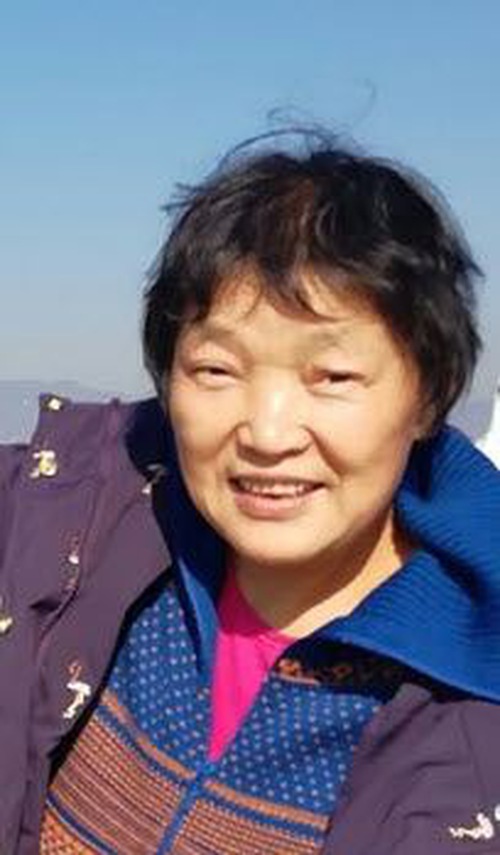 Ms. Shi Peiling
Ms. Shi, 67, was arrested at home on April 24, 2019. The police confiscated her family's passports, other IDs, and 4,000 yuan in cash.
Gao Zhan, the prosecutor from Nanshan District Procuratorate, indicted Ms. Shi in October, accusing her of passing out two copies of informational materials about Falun Gong.
Ms. Shi appeared in the Nanshan District Court on January 16, 2020. Her lawyer entered a not-guilty plea on her behalf. The lawyer pointed out that the police violated legal procedures by ransacking her home without a search warrant and fabricating a witness account – as the location where Ms. Shi distributed the materials described by witness Fan Jianfeng was different from that on the surveillance video.
The lawyer also emphasized that no law has ever criminalized Falun Gong and that the ban on Falun Gong publications was lifted by the Chinese Publication Bureau in 2011. Even if Ms. Shi did pass out materials about Falun Gong as alleged, she still would not have broken any law.
Former Biology Professor Secretly Sentenced for His Faith
Dr. Chen Xinwen, 54 and a former associate professor of biology at Yunnan University, was arrested and detained for 15 days in June 2019 for telling people on the street about the persecution of Falun Gong. The police took him back into custody in July that year and kept his family in the dark regarding his whereabouts.
It was confirmed in May that he has been secretly sentenced to 1.5 years in prison.
Dr. Chen took up Falun Gong in June 2012. He shared with his family that the practice helped him find inner peace and see the true meaning of life. As such, he had never hesitated to share his experience with others and urge people not to believe the demonizing propaganda against Falun Gong by the communist regime.
After talking about Falun Gong during a class, Dr. Chen was reported by his students, arrested on October 20, 2016, and detained for 15 days. After he was released, the school authorities barred him from teaching and fired him on July 12, 2017.
Targeted in a Group Arrest, Tianjin Woman Sentenced to 9 Years for Practicing Falun Gong
Ms. Gao Lijuan, a teacher in Tianjin, was sentenced to 9 years in prison and fined 30,000 yuan in January 2020 for her faith in Falun Gong.
Ms. Gao, 48, was arrested on December 28, 2017, together with 36 other Falun Gong practitioners. She is now awaiting the result of her appeal at Binhai New District No.3 Detention Center, where she has been held since her arrest.
During a pre-hearing meeting between the judge, Ms. Gao and her two lawyers on February 28, 2019, her lawyers argued that there is no legal basis for the persecution and that their client didn't violate any laws in practicing her faith or telling people about it. Ms. Gao denied all of the allegations against her.
When Ms. Gao appeared in Binhai New District Court on June 24, 2019, the judge threatened to sentence her to 12 years, citing an order from his superiors.
To date, 8 of the 37 practitioners targeted in the group arrest have been sentenced, with the highest term of 11 years given to Mr. Li Yongquan.
When Ms. Gao was arrested, her daughter was a high school junior. The girl was left at home by herself afterward, as her father has been forced to live away from home to avoid persecution for his shared faith in Falun Gong. Her grandmother, nearly 80 and who used to live with them, moved in with Ms. Gao's sister after being terrified by the police during her arrest.
Ms. Gao's daughter applied to colleges outside of China, but her applications were intercepted by the 610 Office, an extralegal agency created specifically to persecute Falun Gong. She is now attending a Chinese college.
Download full list of the 107 practitioners sentenced between January and May 2020.
Related reports:
89 Falun Gong Practitioners Sentenced for Their Faith between January and April 2020
747 Falun Gong Practitioners Targeted for Their Faith in March 2020
33 Falun Gong Practitioners Sentenced for Their Faith During Coronavirus Lockdown in China
The Persecution of Falun Gong Continues in China Despite Coronavirus Pandemic
194 Falun Gong Practitioners Targeted for Their Faith in January 2020
Chinese Communist Regime's Courts Sentence 193 Falun Gong Practitioners As New Coronavirus Explodes