139 Falun Gong Practitioners Sentenced to Prison for Their Faith in First Half of 2020
July 9, 2020 | By a Minghui correspondent in China
(Minghui.org) According to information compiled by Minghui.org, 139 Falun Gong practitioners were sentenced to prison for their faith in the first half of 2020.
Falun Gong, also known as Falun Dafa, is a spiritual practice centered on the principles of Truthfulness, Compassion, and Forbearance. Since the Chinese communist regime started persecuting the practice in July 1999, many practitioners have been subjected to arrest, imprisonment, torture, forced labor, and even organ harvesting.
The 139 sentenced practitioners, 24 of whom 65 or older, came from all walks of life, including government employees, doctors, professors, accountants, software developers, and marketing managers. The prison terms ranged from 3 months to 12 years, with an average term of 3.43 years.
In Hubei Province, the epicenter of the pandemic, the Xiangzhou District Court sentenced a 65-year-old man and a woman to 12 and 11 years respectively in May, about one and a half months after the province reopened.
Other heavy sentences, especially given to elderly practitioners, included 8 years to a 68-year-old woman and 8.5 years to a 74-year-old man in the same case in Hebei Province, and 7 years to an 82-year-old man in Zhejiang Province. Another case involved two sisters in Tianjin who received 8 and 9 years, respectively. A Canadian citizen who was arrested in her home in Beijing in 2017 was sentenced to 8 years after spending nearly 3.5 years in custody.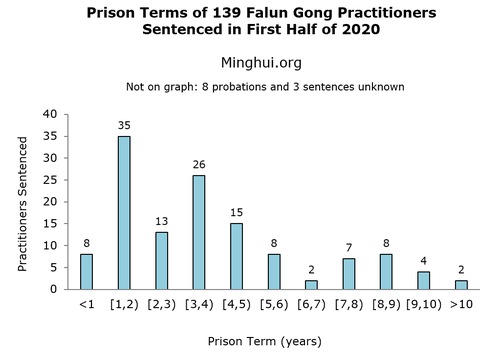 In January, when 45 practitioners were sentenced, Liaoning province alone had 13 cases (29%), and the rest of the 13 provinces each had between 1 and 6 cases.
As the coronavirus epidemic broke out last December, Wuhan was put under lockdown on January 23, 2020, and the rest of China soon followed suit. According to a Chinese lawyer, despite the fact that most procuratorates and courts have remained closed during the epidemic and many regular cases have been postponed, cases against citizens exposing the information about the epidemic or against Falun Gong practitioners and other dissidents were still processed, sometimes in an expedited fashion. In total, 18 practitioners were sentenced in each of February, March, and April, followed by 15 cases in May.
As the country gradually reopened, more sentencing cases emerged, reaching 25 in June.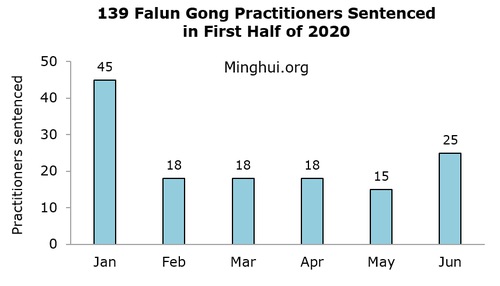 The sentenced practitioners between January and June came from 25 provinces and municipalities. Jilin (15) and Tianjin (13) both reported sentencing cases every month during the first half of 2020. Liaoning (20), Shandong (10), and Sichuan (7) had sentencing cases in four months. Hebei (14), Zhejiang (9), Hunan (6) and Anhui (4) registered cases in three months.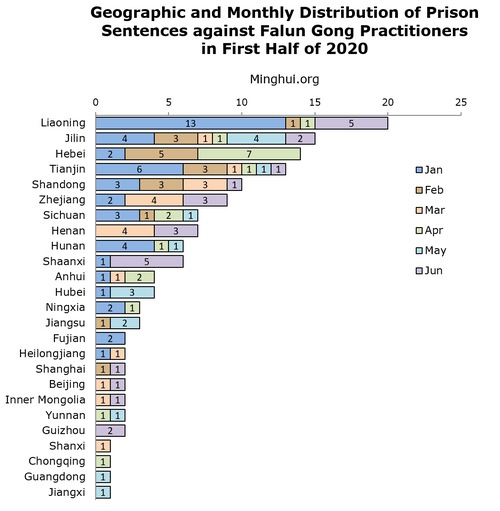 The courts often violated legal procedure in sentencing the practitioners. Some practitioners were secretly sentenced without their lawyers' or families' knowledge. The above-mentioned two Hubei residents were detained incommunicado for two years before being secretly given heavy terms. The male practitioner's family still doesn't know his detention location at the time of writing. One resident of Qinhuangdao City, Hebei Province was tried at her own home on April 6 and sentenced to four years a week later.
Some practitioners were sentenced based on fabricated evidence. One example is a designer from Jinan City, Shandong Province, who was sentenced to two years and three months. The prosecution evidence stated that she distributed Falun Gong information in a residential area in July 2019, when she had remained in custody since she was arrested a month prior. A retired teacher in Sichuan was taken by the police around town after his arrest in April 2019. The police took pictures of him at different locations and then accused him of posting Falun Gong information there.
While most cases against the practitioners usually took up to a year to close, a cloth shop owner in Inner Mongolia was sentenced to four years and three months after she was arrested for talking to people about Falun Gong in March 2020. Another woman in Tianjin was secretly sentenced to six years in late April 2020, after she was arrested in early February 2020.
In addition to the prison sentences, 36 practitioners were fined between 1,000 yuan to 50,000 yuan each, with a total of 370,000 yuan and an average of 10,278 yuan per person. Twelve practitioners were fined equal to or less than 5,000 yuan, 12 were fined between 5,000 and 10,000 yuan, and another 12 were fined equal to or more than 10,000 yuan.
The persecution against the practitioners didn't only cause significant mental stress to themselves but also left their family members in deep distress.
In Jiamusi City, Heilongjiang Province, an 82-year-old bedridden man died in agony while his wife, in her 80s, was still serving time after she was secretly sentenced to a year.
The wife of the above-mentioned 74-year-old sentenced to 8.5 years in prison was given seven days of administrative detention for sending letters to the authorities to seek justice for her husband.
After a Wuhu City, Anhui Province resident was sentenced to three years, her parents in their 80s, who had relied on her for care, now struggle to fend for themselves.
Also in Anhui Province, the four sisters and a friend who were arrested last April, were sentenced to 4.5-7.5 years with 30,000-50,000 yuan fine in January 2020. The sisters' mother, nearly 80, was held briefly in custody after she was arrested along with the sisters.
Of note, information about the sentencing cases was collected between January 1 and July 4, 2020. Due to the communist regime's information blockade, the actual number of Falun Gong practitioners sentenced for their faith is likely much higher.
Download full list of sentenced practitioners here. Below are snapshots of some sentencing cases.
Heavy Terms
Two Hubei Residents Secretly Arrested and Sentenced to Heavy Terms
Two Xiangyang City, Hubei Province, residents who had been missing for two years are now confirmed to have been arrested and sentenced to heavy terms for their faith in Falun Gong. Mr. Cheng Xiaobao was given 12 years, and Ms. Wang Molian 11 years.
Mr. Cheng's family returned home on March 18, 2018, to see their front door pried open and Mr. Cheng, 65, nowhere to be found. It would take them more than two years to find out he had been arrested.
Mr. Cheng's family heard in May that he was in a detention facility in the Xiangzhou District. When they went there, they learned that Mr. Cheng had been transferred elsewhere on March 27, 2020, but they were not told the new location. Mr. Cheng's family still doesn't know where he is at the time of writing.
Ms. Wang also went missing in late March 2018 and her family has never heard anything from the police about her.
82-year-old Man Sentenced to Seven Years for His Faith
Mr. Huang Qingdeng, an 82-year-old man in Leqing City, Zhejiang Province, was sentenced to seven years by the Leqing City Court on March 12, 2020.
Mr. Huang and his wife, Ms. Chen Eying, were arrested at home on April 17, 2019. Their Falun Gong books, photos of Falun Gong's founder, several cellphones, and a computer were confiscated. They were kept at the Leqing City Detention Center after the arrests.
Ms. Chen has been released a few days after Mr. Huang was convicted. It's not clear whether Ms. Chen was sentenced to a shorter term herself.
Canadian Businesswoman Sentenced to Eight Years in China for Her Faith in Falun Gong
After nearly three and a half years of detention, Ms. Sun Qian, a Canadian businesswoman who was arrested for practicing Falun Gong while living in China, was sentenced to eight years by the Wenyuhe Court in Chaoyang District, Beijing.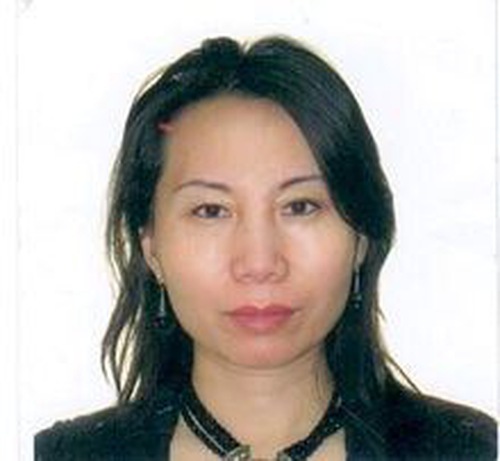 Ms. Sun Qian
Ms. Sun, who was born in China, is the founder and vice president of a multimillion-dollar biochemistry company. She was naturalized as a Canadian citizen in 2007. Due to years of hard work, she suffered severe liver and heart problems, as well as depression. In 2014, she began to practice Falun Gong, and her health quickly improved.
Ms. Sun was arrested on February 19, 2017, by more than 20 police officers at her home in Beijing. She was ordered to give up Falun Gong while in custody. The officers pepper sprayed her, handcuffed and shackled her for two weeks, and forced her to watch slanderous videos demonizing Falun Gong.
Ms. Sun first appeared in Wenyuhe Court on September 12, 2018. Nearly two years later, the judge announced her verdict at her second hearing on June 30, 2020.
According to her sister, Ms. Sun Zan, the court allowed only four people to attend her sentencing hearing, including Ms. Sun Zan, her husband, and two staff members from the Canadian Embassy. Due to the coronavirus outbreak in Beijing, Ms. Sun Qian was wearing a protective suit with her face covered during the court proceeding.
Retired Marketing Manager Sentenced to Eight Years for His Faith
Mr. Deng Daoheng, a retired marketing manager in Kaijiang County, Sichuan Province, was arrested on January 13, 2018. The police raided his home and confiscated more than 100 Falun Gong books. They also searched his computer and found greeting cards created by local practitioners to celebrate the public introduction of Falun Gong.
He was denied family visits during the two years he was held at Kaijiang County Detention Center.
Mr. Deng was secretly tried on April 9, 2019. The confiscated books and electronic greeting cards were used as evidence against him. He testified in his own defense, arguing that he violated no laws by practicing his faith and owning Falun Gong books and materials.
The Kaijiang County Court sentenced the 62-year-old man to eight years in mid-January 2020.
Elderly Practitioners Targeted
Wife in Her 80s Secretly Sentenced to One Year, Bedridden Husband Dies in Despair
While Ms. Fan Guiqin, in her 80s, was serving time for practicing Falun Gong, her paralyzed husband died at home alone, at the age of 82.
Ms. Fan Guiqin and her bedridden husband Mr. Wen Defang
Ms. Fan, of Jiamusi City, Heilongjiang Province, was arrested in a police sweep on July 26, 2019. More than 40 local Falun Gong practitioners were arrested on the same day.
The police returned to Ms. Fan's home several times after the arrest and searched her place. They also harassed her family and ransacked her son's home.
Ms. Fan's husband, Mr. Wen Defang, had been relying on his wife as the sole caregiver after he suffered a stroke and became bedridden and incontinent 15 years ago.
After Ms. Fan was arrested, Mr. Wen often cried and had trouble eating. He lived in fear and distress every day. His health was also deteriorating quickly.
Ms. Fan's family frequented the police station and judiciary agencies to seek her release but to no avail.
The police submitted Ms. Fan's case to the Xiangyang District Procuratorate in October 2019. The Xiangyang Court later secretly sentenced her to one year without informing her family.
Mr. Wen died at home alone on April 17, 2020.
77-year-old Woman Sentenced to Six Months' House Arrest
Ms. Shi Qiaoyun, a 77-year-old woman in Xiangtan County, Hunan Province, was arrested on May 22, 2019, after being reported for distributing informational materials about Falun Gong.
The police searched her home around 11 p.m. on May 22 and verbally abused her. They confiscated three of her Falun Gong books.
The police harassed Ms. Shi on September 24 and 25, 2019, asking her what she was doing and looking around her residence. On the 25th, they arrested her and ransacked her home. She was taken to the hospital with her hands cuffed behind her back.
After Ms. Shi was found to have high blood pressure and a heart condition, the police released her and ordered the local village secretary to monitor her.
The police returned on September 28 and took Ms. Shi to Huashi Police Station, collected her fingerprints, and took pictures of her. She went home later that day.
Ms. Shi was taken to the procuratorate on December 24, 2019, and told that she had been indicted. The Falun Gong materials confiscated from her home were used as evidence for the prosecution, with each page counting as one separate piece of evidence.
Ms. Shi received a verdict issued by the Yuhu District Court on April 21, 2020, indicating that she has been sentenced to six months of house arrest.
According to the verdict, Ms. Shi is prohibited from leaving home without police permission and communicating with others in person or by mail. She was also ordered to turn in her ID, including her passport and driver's license, and has to show up at the local police station whenever she is summoned.
Professionals Targeted
Inner Mongolia Woman Sentenced to Four Years for Practicing Falun Gong
Ms. Ma Xiuqin, a clothes shop owner in Arxan City, Inner Mongolia, was arrested on March 4, 2020. Two other Falun Gong practitioners visiting her shop, Ms. Yang Xiaohua and Ms. Liang Zuohua, were also arrested. One of her customers was also brought to the police station and interrogated after the police heard that Ms. Ma talked to her about Falun Gong.
The police ransacked Ms. Ma's shop and her home. Due to the coronavirus epidemic, they released the three practitioners that evening.
The police arrested Ms. Ma again on March 11 and put her in criminal detention at Ulanhot City Detention Center. The authorities didn't allow her daughter to visit her or send in clothes and daily necessities.
When Ms. Ma's daughter went to the police station to seek her release, the police blocked her at the entrance and refused to talk to her.
The Arxan City Court held a hearing of Ms. Ma through teleconferencing on May 21, 2020. She was sentenced to four years on June 12.
In the past 21 years of the persecution of Falun Gong, Ms. Ma has been arrested several times and served three terms of forced labor for a total of six years.
Former Professor Sentenced to One Year
Mr. Yu Chunsheng, a former mechanical engineering professor and department dean at Shenyang Institute of Technology, was arrested at a local train station on June 19, 2019, after the police scanned his ID at the security checkpoint and found that he is a Falun Gong practitioner. He was held incommunicado and not allowed to have any contact with his family.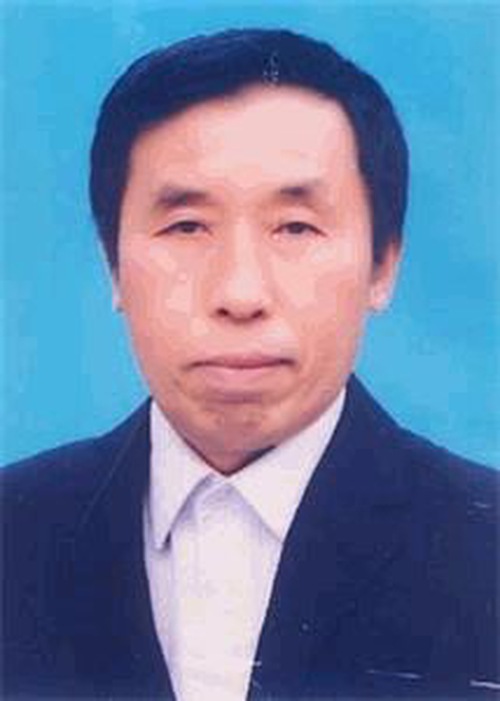 Mr. Yu Chunsheng
The Shenyang Railroad Transportation Procuratorate approved Mr. Yu's arrest on July 3. He was transferred to Yuhong District Detention Center between November and December 2019. His case was also transferred to the Yuhong District Procuratorate.
Mr. Yu was tried over a video conference by Yuhong District Court on April 29, 2020. He was sentenced to one year in June and has been released on June 18. The judge fined him 5,000 yuan prior to his hearing.
This is the third time that Mr. Yu, a Shenyang City, Liaoning Province resident in his 60s, has been arrested for practicing Falun Gong. Because he refused to renounce his faith, he was removed from his position as dean and no longer allowed to teach.
Related reports:
938 Falun Gong Practitioners Targeted for Their Faith in May 2020
107 Falun Gong Practitioners Sentenced for Their Faith between January and May 2020
1,178 Falun Gong Practitioners Targeted for Their Faith in April 2020
89 Falun Gong Practitioners Sentenced for Their Faith between January and April 2020
747 Falun Gong Practitioners Targeted for Their Faith in March 2020
33 Falun Gong Practitioners Sentenced for Their Faith During Coronavirus Lockdown in China
The Persecution of Falun Gong Continues in China Despite Coronavirus Pandemic
194 Falun Gong Practitioners Targeted for Their Faith in January 2020
Chinese Communist Regime's Courts Sentence 193 Falun Gong Practitioners As New Coronavirus Explodes