Once Imprisoned for Eight Years, Hunan Woman Arrested for Her Faith Again
July 8, 2020 | By a Minghui correspondent in Hunan Province, China
(Minghui.org) A group of police officers broke into Ms. Lu Mengjun's home on June 2, 2020 and arrested her for her faith in Falun Gong. They confiscated her printer, some Falun Gong informational materials, as well as 1,000 yuan in cash. Her family has been denied visitation and they are also kept in the dark as to where she is being detained.
Falun Gong, also known as Falun Dafa, is an ancient spiritual and meditation discipline that has been persecuted by the Chinese communist regime since 1999.
Ms. Lu, 58, and her younger sister, Ms. Lu Yingjun, both residents of Xiangtan City, Hunan Province, took up Falun Gong in 2003. Ms. Lu Mengjun's rheumatism and her sister's severe asthma soon disappeared. 
Because of speaking up for Falun Gong, Ms. Lu Mengjun was repeatedly arrested and sentenced twice to a total of eight years. Her younger sister was forced to live away from home for three years after escaping an arrest on June 4, 2007. Their 80-year-old father was also forced to go into hiding to avoid police harassment. The mental pressure from the persecution took a toll on the younger Ms. Lu. She passed away on January 29, 2011, only months after she returned home. She was survived by a toddler son. 
Eight Years of Imprisonment 
Because of distributing informational materials about Falun Gong, Ms. Lu was arrested on February 4, 2004 and later sentenced to four years. She was held at Shuangfeng Prison for one year and served the remaining three years at Hunan Province Women's Prison. 
As Ms. Lu refused to renounce Falun Gong, the guards handcuffed her arms behind her back, with one hand pulled over her shoulder to meet the other hand twisted upwards from her back. The excruciating torture caused the bones of her right hand to be exposed. Her left arm was completely bruised and she struggles to lift her right arm even now. As the guards repeatedly handcuffed her in this manner, the injuries on her wrists were unable to heal.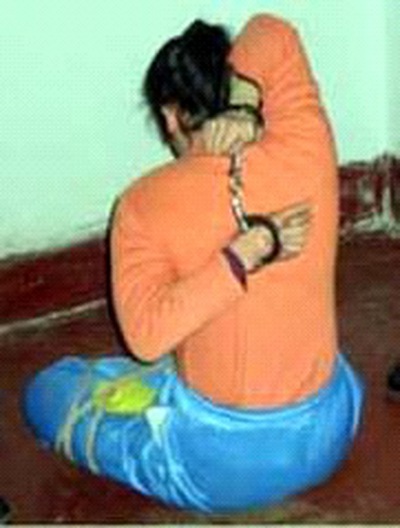 Torture reenactment: handcuffed with the arms behind one's back
The day after she was released on February 3, 2011, Ms. Lu was arrested again and sent to Wujiahuayuan Brainwashing Center. 
Seven months later, she was arrested once more at home on September 27, 2011 and sent to the brainwashing center again.
Ms. Lu was arrested for the fourth time, on September 2, 2013, for distributing Falun Gong informational materials. She was sentenced to four years on March 25, 2014. Her mother, in her 70s, was not allowed to see her when she traveled all the way to the Hunan Province Women's Prison.
In a criminal complaint filed in 2015 against former Chinese leader Jiang Zemin for ordering the persecution of Falun Gong, Ms. Meng's mother wrote, "I'm already 74 years old. In the past ten years, I have been living in fear every day. I worry so much about my daughters (due to the persecution of Falun Gong)."
Related reports:
Mr. Liu Liyan and Ms. Lu Mengjun from Xiangtan Illegally Sentenced
Ms. Lu Mengjun Arrested Again after Four Years of Imprisonment and Torture
Ms. Lu Mengjun Tortured at Hunan Women's Prison for Three Years
Related article in Chinese: