Minghui Annual Report 2015: Wave of Lawsuits Against Jiang Zemin
(Minghui.org) On July 20, 1999, Jiang Zemin, former head of the Chinese Communist Party, launched a nationwide campaign to eradicate Falun Gong, a self-cultivation system based on the principles of Truthfulness-Compassion-Forbearance. Countless Falun Gong practitioners have since been arrested, tortured, or even killed for refusing to renounce their faith. To date, 3,906 Falun Gong practitioners have been confirmed to have died in the persecution.
While several practitioners in China tried to file the first lawsuit against Jiang Zemin in August 2000, the authorities simply refused to register their complaint. Though several lawsuits were independently filed outside of China in the years that followed, practitioners in China had always faced obstacles in getting their complaints lodged with the court system.
A new wave of lawsuits against Jiang began on May 1, 2015, when the Supreme People's Court implemented a new "Registration System Reform," which stipulates that all criminal complaints must be registered with the court once received.
As of December 31, 2015, more than 200,000 Falun Gong practitioners and their family members have filed criminal complaints against Jiang to China's highest court.
The complaints charge Jiang with violating the Chinese Constitution, Chinese Criminal Law, the Convention Against Torture, Convention Against Genocide, and Customary International Law. The plaintiffs hold Jiang responsible for committing the following crimes: torture, murder, extrajudicial killing, organ harvesting, rape and sexual violence, enslavement, wrongful arrest and imprisonment, corruption, persecution, theft and destruction of property.
The plaintiffs' efforts to bring Jiang to justice have received wide support from people both inside and outside of China, from average citizens to prominent legal scholars, and from non-governmental organizations to world leaders.
While many practitioners were investigated or even threatened with arrest for their lawsuits against Jiang, they remain determined to hold Jiang accountable for his crimes against humanity. As the new year begins, we are seeing more lawsuits filed against the former Party leader.
In this annual report, we provide an overview of the lawsuits that were filed in the year that has just passed. For ease of reading, below is a table of contents:
• 201,803 People Sue Jiang Zemin Between May and December 2015• Complaints Came from Every Province in China and 28 Countries• Profile of Plaintiffs• Health Restored from Practicing Falun Gong• Falun Gong Lifts Up Morality• 1,338 Deaths Reported in Criminal Complaints• Complaints Tell of Widespread Torture• Inside China: Grassroots Support for Suing Jiang• Inside China: Prominent Legal Scholars Support Lawsuits Against Jiang• Outside of China: Western Leaders Condemn Jiang for His Crimes• Outside of China: Millions in Asia Support Lawsuits• Concluding Remarks
201,803 People Sue Jiang Zemin Between May and December 2015
In total, copies of 171,059 complaints from 201,803 Falun Gong practitioners and their family members were submitted to the Minghui website between the end of May and December 31, 2015.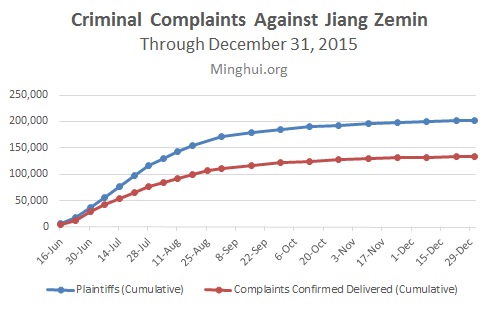 Despite retaliation and attempts by local authorities to stop practitioners from filing lawsuits, among the 171,059 cases received by the Minghui website, 134,176 cases were confirmed to have been delivered to the Supreme People's Procuratorate and the Supreme People's Court. These account for 78.4% of total complaints mailed.
Complaints Come from Every Province in China and 28 Countries
Among the plaintiffs, 2,189 are from Taiwan and 28 other countries, including the United States, Canada, Australia, South Korea, New Zealand, Thailand, Japan, the United Kingdom, Malaysia, Germany, the Netherlands, Sweden, Singapore, France, Spain, Indonesia, Ireland, Denmark, Finland, Norway, Italy, Portugal, Switzerland, Poland, Romania, Belgium, Peru, and Hungary.
The plaintiffs in China come from 33 provincial-level administrative divisions, including 22 provinces, 4 municipalities (Beijing, Tianjin, Shanghai, Chongqing), 5 autonomous regions (Guangxi, Inner Mongolia, Tibet, Ningxia, Xinjiang), and 2 special administrative regions (Hong Kong, Macau).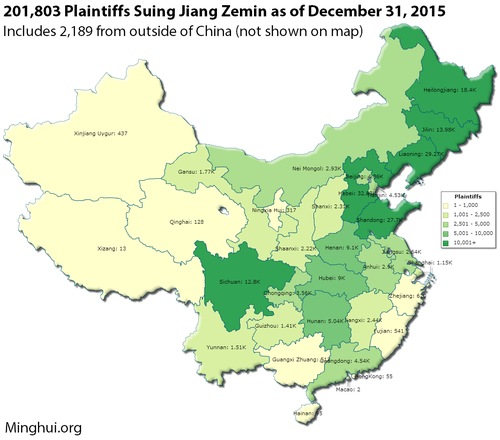 Chinese cities with more than 1,000 plaintiffs taking legal action against the former Communist Party leader are listed below: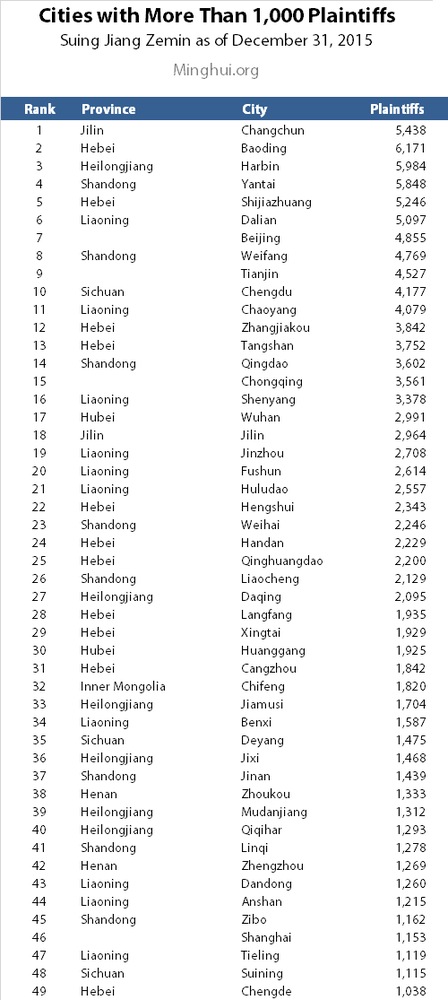 Profile of Plaintiffs
The plaintiffs come from all walks of life, as is evident from cases published by the Minghui website. The following representative report titles offer a glimpse of the plaintiffs:
Former Marketing Manager Sues Jiang Zemin for His Four-Year Imprisonment
Imprisoned Bicycle Mechanic Entrusts Wife to Sue Former Dictator
Businessman Sues Jiang Zemin for Destroying His Company and Ruining His Reputation
Former School Principal Sues Jiang Zemin for Five Arrests and Torture During Six Years of Incarceration
Village Doctor Sues Jiang Zemin After Entire Family Is Persecuted and Father Is Tortured to Death
Engineer Sues Jiang Zemin on Behalf of His Deceased Wife
Chinese Researcher Flees to Canada, Sues Former Chinese Dictator for Incarceration and Harassment
Guangxi Teacher Sues Jiang Zemin for Labor Camp Abuse, Family Suffering
Former Government Official: Seeking Redress in China's Legal System for Persecution by Jiang Zemin
Former Provincial Deputy Publicity Department Director Files Lawsuit against Jiang Zemin
Bank Executive from Hohhot Sues Jiang Zemin for Electric Shocks, Other Torture in Labor Camp
Former Accountant Sues Jiang Zemin for Violating Her Freedom of Belief and Forcing Her to Leave Home
Woman Sues Jiang Zemin for Her Demotion from Model Worker to Prisoner of Conscience
Veteran Files Complaint Against Former Chinese Dictator for Ten Years of Unjust Imprisonment
Retired Costume Designer in San Francisco Brings Charges Against Jiang Zemin
After Fleeing China to Avoid Persecution, Former Pilot Files Criminal Complaint Against Jiang Zemin
Farmer's Wife Sues Jiang Zemin for Persecuting Falun Gong
The criminal complaints share one thing in common: the plaintiffs have all seen their health restored and/or morality uplifted from practicing Falun Gong.
Health Restored from Practicing Falun Gong
Many practitioners shared stories of how they regained their health after they took up the practice of Falun Gong.
Mr. Shao Chengluo, a doctor of traditional Chinese medicine, had many health problems. For more than 20 years, he suffered from insomnia and chronic diarrhea. He became so weak that he had to take a leave of absence from work. He developed stroke symptoms when he was only 43. Four years later in 1998, his fortune turned when he began to practice Falun Gong. His symptoms disappeared shortly afterwards. He is energetic and feels in his 20s though he is now in his 60s.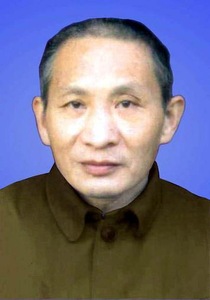 Mr. Shao Chengluo
Falun Gong Lifts Up Morality
Many practitioners also reported how Falun Gong turned them into better people.
Ms. Jiang Wei is a typical example. Once a hotel owner from Chaoyang City, Liaoning Province, she had 30 prostitutes working for her and pulled in handsome profits. She didn't feel that there was anything wrong with it, since that was and still is what other hotel owners do in today's China. After she started practicing Falun Gong, however, she realized that what she was doing was wrong and shut down her prostitution business without hesitation.
1,338 Deaths Reported in Criminal Complaints
Having benefited so much from Falun Gong, many practitioners have used every opportunity to tell people about the ongoing persecution of the practice. For doing so, they have been forced to pay a huge price for exercising their right to freedom of belief: their families' happy and healthy lives were shattered, and they themselves were arrested, tortured or even killed.
A total of 1,338 deaths resulting from the persecution were mentioned in the criminal complaints filed this past year.
For instance, Ms. Tang Lijuan, a 65-year-old former college professor in Heilongjiang Province, reported in her complaint that her son Wang Zhehao died from torture at age 27.
Wang Zhehao
Ms. Zhao Yulan from Xining City, Qinghai Province holds Jiang responsible for the deaths of her son and her daughter-in-law. Mr. He Wanje and his wife Ms. Zhao Zhongxiang died in prison three months apart in 2003, leaving Ms. Zhao devastated.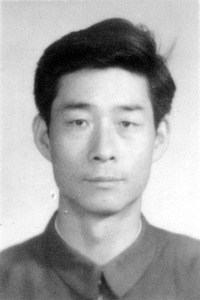 Mr. He Wanji
Complaints Tell of Widespread Torture
A tally of the criminal complaints reveals that 28,002 people were once sent to labor camps or prisons, 839 to mental hospitals, and 68,450 to various detention centers and brainwashing centers. A total of 3,819 people were disabled as a result of being tortured in detention.
In its attempt to force practitioners to give up their faith, the communist regime has devised hundreds of torture methods to inflict physical and psychological suffering. A sampling of Minghui articles on torture paints a chilling picture of what practitioners have experienced at the hands of the authorities.
Labor Camp Threat: "We Have 108 Torture Methods!"
CCP Torture Methods: Water Torture
Torture Methods: Abuse of Sight and Hearing
Torture Methods: Police and Prison Guards Use a Wide Variety of Everyday Objects to Torture Falun Gong Practitioners
CCP Torture Methods: Hanging Up by Handcuffs
CCP Torture Methods: Steaming and Roasting
Torture Methods: Scalded by Boiling Water, Hot Oil and Other Liquids (Graphic Photos)
CCP Torture Methods: Tying Up Victims in Excruciating Positions
Illustrations of Torture Methods Used to Persecute Falun Gong Practitioners (Part I)
Illustrations of Torture Methods Used to Persecute Falun Gong Practitioners (Part II)
Illustrations of Torture Methods Used to Persecute Falun Gong Practitioners (Part III)
Illustrations of Torture Methods Used to Persecute Falun Gong Practitioners (Part IV)
Ms. Hu, a resident of Shenyang, Liaoning Province, told the heartbreaking story of her daughter, who died in Shibalihe Labor Camp in Zhengzhou, Henan Province.
Ms. Hu wrote in her complaint, "I went to the Number Two Hospital in Zhengzhou and saw Guan Ge's remains. Her body had many cuts and bruises. Her eyes were open, and there was blood on her mouth.
"I noticed a big bump and a deep gouge in her head when I put new clothes on her in the funeral home. Her ears had been hit so hard that they had collapsed. There was a small piece of tissue missing on her left arm, and a large bump on the back of her neck. A three-centimeter-long purple scar was visible on her lower back, and her entire left leg was bruised. Her hands were tightly clenched into fists. In my opinion, these signs suggest that my daughter had been brutally tortured in the labor camp.
"When we attempted to take photos of her body, the police on site grabbed our camera and never returned it. They had her body hastily cremated, disregarding all proper procedures."
Ms. Guan Ge
Ms. Guan was once forced to wear a straitjacket as depicted below.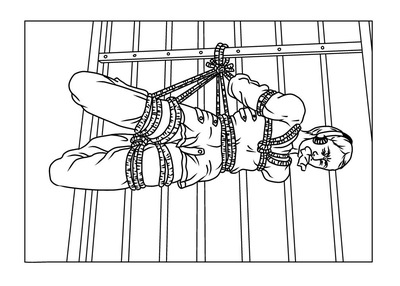 Straitjacket torture
An accomplished calligrapher from Shandong Province was also tortured in prison. Mr. Liu Xitong wrote in his complaint,
"They pinched my skin and twisted it back and forth, like tightening and loosening a screw. They used all their strength to torture me like this. When I screamed because of the pain, they laughed at me and continued the torture. My skin festered the next day.
"While twisting the flesh on my body, the inmates also struck my head. My eyes became red and I had knots all over my head.
"The inmates didn't allow me to sleep. They forced me into a half-squat position, with my hands placed on my knees. I was so weak that I fainted several times. But the inmates woke me up by beating and verbally abusing me," Mr. Liu recalled.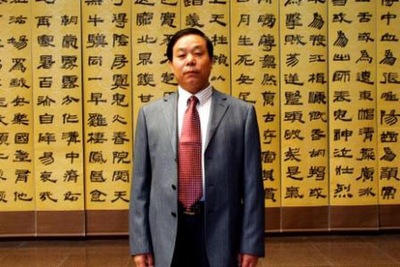 Mr. Liu Xitong
Inside China: Grassroots Support for Suing Jiang
To help the general public understand the importance of suing Jiang Zemin, practitioners in China have risked their lives putting up banners, posters, and signs bearing the message of the lawsuits.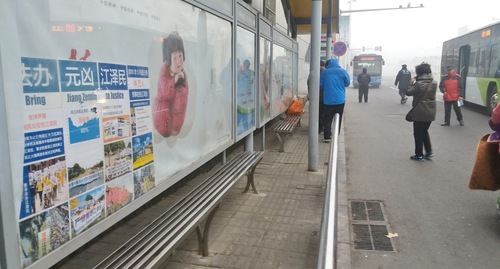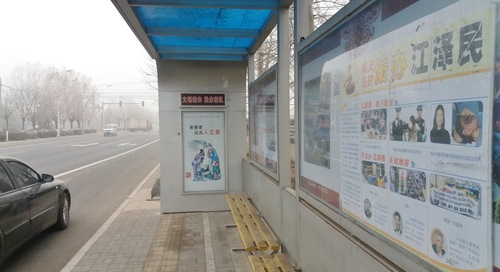 Posters in Beijing announce the movement to bring Jiang to justice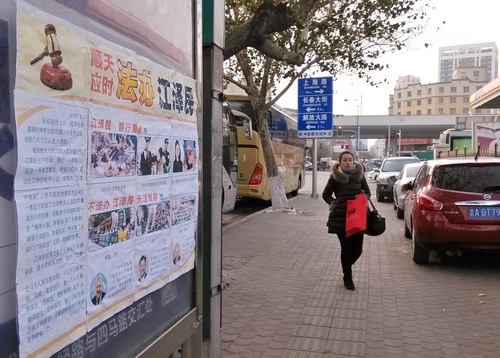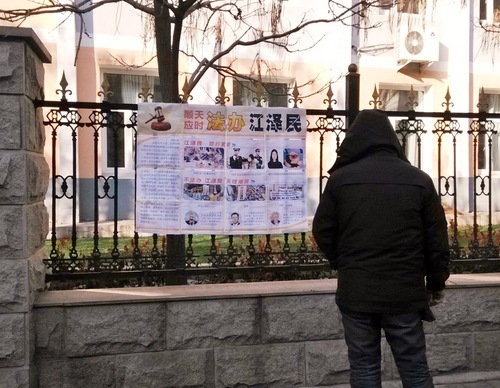 Posters in Changchun, Jilin Province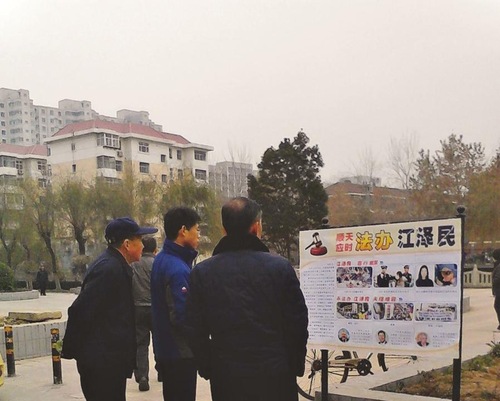 People reading poster in Shijiazhuang, Hebei Province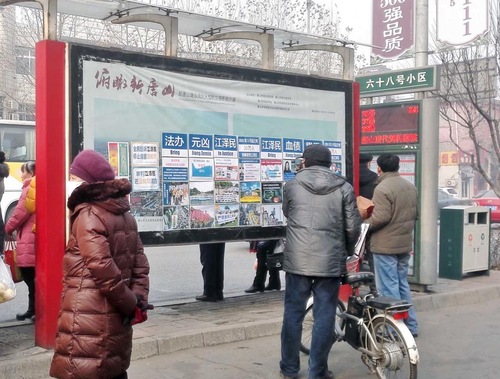 Tangshan, Hebei Province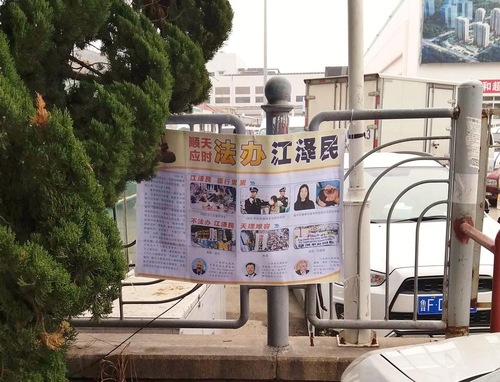 Yantai, Shandong Province
Many among the public have become aware of the lawsuits and have signed petitions calling for bringing Jiang to justice. In Qingyuan County, Liaoning Province alone, 4,651 residents have signed a petition supporting the movement.
Qingyuan residents signed or pressed fingerprints on petitions supporting the lawsuits against Jiang Zemin
The following cases published by the Minghui website give more examples of support from citizens across China for prosecuting Jiang Zemin:
Over 2,000 Baoding Residents Sign Petition Supporting Lawsuits Against Jiang Zemin
Many non-practitioners signed petition seeking to bring Jiang to justice
1,400 More People Want to Bring Jiang Zemin to Justice for Persecuting Falun Gong
Over 2,000 Baoding Residents Sign Petition Supporting Lawsuits Against Jiang Zemin
Nearly 30,000 in One Chinese City Sign Petition Supporting Lawsuits Against Jiang Zemin
Inside China: Prominent Legal Scholars Support Lawsuits Against Jiang
Mr. Zheng Enchong, a renowned human rights attorney, said, "So many people suing Jiang Zemin reflects a fundamental change in China."
Mr. Zhang Zanning, a law professor from Southeast University, Jiangsu Province, remarked, "My colleagues and I all think the lawsuits against Jiang are very encouraging. They indicate that the Chinese are becoming more aware of the law. We should support those who seek to protect their legal rights."
Mr. Bao Tong, secretary to former Premier Zhao Ziyang, said, "The CCP's crimes of live organ harvesting of Falun Gong practitioners and the persecution of Falun Gong for the past 16 years are a public violation of human rights. It makes a mockery of justice and hinders social progress. Everyone that participates in the organ harvesting, including every citizen, and every government agency, should be condemned and should be put on trial to accept the judgment of history."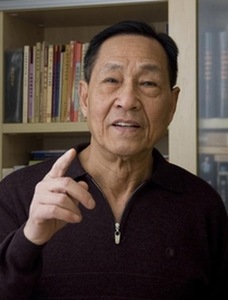 Bao Tong
Outside of China: Western Leaders Condemn Jiang for His Crimes
According to a Minghui article titled "U.S. Members of Congress Support Practitioners' Lawsuits Against Former Chinese Dictator Jiang Zemin," many U.S. politicians have condemned Jiang and called for him to be held accountable for his crimes.
Congressman Dana Rohrabacher said during an interview on October 27 that he supported the practitioners' lawsuits against Jiang in China, and that Jiang and the Chinese Communist Party must be responsible for their crimes.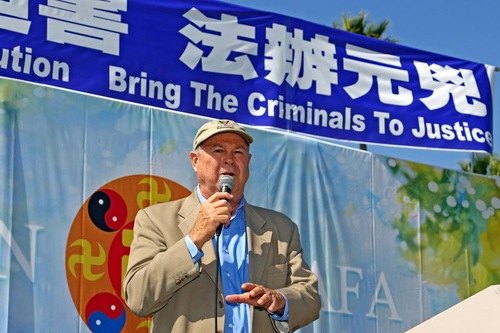 U.S. Congressman Dana Rohrabacher
Congressman Rohrabacher asserted that the CCP is the worst violator of human rights, suppresses religious freedom, and persecutes Falun Gong, Christians, and other people.
He also expressed his concern about the harassment and detention of practitioner plaintiffs in China, saying that it must stop, and if it doesn't, that the United States should condemn the abuses and help the victims.
Five European leaders also called for Jiang to be brought to justice. Martin Patzelt, a member of the German Parliament, said on his personal website that if the Chinese government is incapable or unwilling to investigate the crimes that Jiang has committed, the International Criminal Court will step in.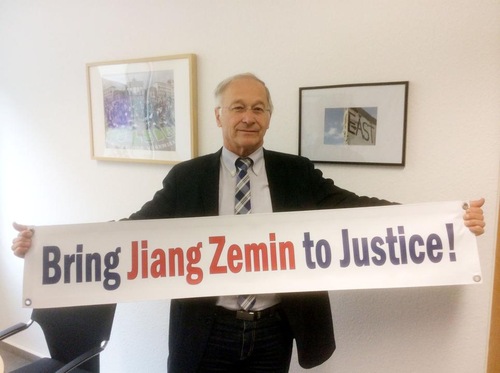 Member of the German Parliament Martin Patzelt
The other four leaders who expressed support for the lawsuits include: Prof. Dr. Klaus Buchner, member of the European Parliament's human rights committee from Germany; Dr. Cornelia Ernst, MEP from Germany; Cristian Dan Preda, MEP from Romania on the Human Rights Committee; and Stefan Eck, MEP from Germany.
Outside of China: Millions in Asia Support Lawsuits
A press conference themed "One Million People Sign Petition to Report the Crimes of Perpetrator Jiang Zemin" was held on Gwanghwamun Plaza in Seoul, South Korea on December 10, 2015, World Human Rights Day.
The South Korea Falun Dafa Association sponsored the event, and spokesperson Dr. Wu Shilie announced that 1,009,784 people from Japan, South Korea, Malaysia, Singapore, Indonesia, Hong Kong, and Macau had signed the petition between July 1 and December 7, 2015. Among them were 466,775 from Taiwan, 381,561 from South Korea, and 63,682 from Japan.
Dr. Wu said that the campaign is meaningful in helping to stop the persecution of Falun Gong by the Chinese regime, and to urge China's Supreme People's Court and the Supreme People's Procuratorate to bring Jiang to justice for his role in ordering the violent campaign against Falun Gong.
Concluding Remarks
In response to the lawsuits, many local authorities have ordered the investigation and/or arrest of practitioners who have filed criminal complaints against Jiang. Such retaliatory action is against the law, as the Chinese constitution guarantees citizens' right to report crimes committed by governmental agencies or individual civil servants.
When questioned about their lawsuits, many practitioners took the opportunity to explain to their interrogators why they had filed the complaints, adding that Jiang is the chief perpetrator who has also turned his accomplices and followers into victims of the persecution. Practitioners only wish to hold Jiang accountable, and they also urge those who carry out Jiang's orders to stop participating in the persecution.
Practitioners call for more people to join the tide of bringing Jiang Zemin to justice.