After Fleeing China to Avoid Persecution, Former Pilot Files Criminal Complaint Against Jiang Zemin
July 02, 2015 | By a Falun Gong practitioner from the U.S.
(Minghui.org) Mr. Zhang Guolang, a former pilot for China Southern Airlines, filed a criminal complaint against former Chinese dictator Jiang Zemin on June 19. Mr. Zhang is suing Jiang for the brutal persecution he suffered in China for practicing Falun Gong, before he fled China in 2008. He has resided in the U.S. since 2013.
"Compared to many other Falun Gong practitioners who were beaten to death or those who were murdered for their organs, I am very lucky to have survived the persecution," Mr. Zhang said.
"In this persecution initiated by Jiang Zemin, government agencies at all levels and police were motivated by money or power to carry out Jiang's persecution policy. Many officers were deceived and committed terrible crimes. Suing Jiang Zemin helps people learn the facts, which will bring an end to the persecution."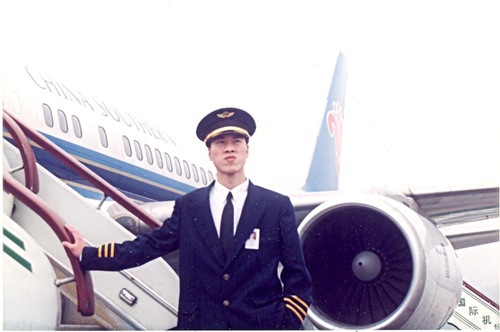 Mr. Zhang Guolang, a former pilot who fled China in 2008, mailed a criminal complaint against former Chinese dictator Jiang Zemin to the Supreme People's Court and the Supreme People's Procuratorate in Beijing on June 19, 2015
Like millions of other Falun Gong practitioners, Mr. Zhang benefited from the practice both spiritually and physically. Because Mr. Zhang refused to give up the practice, he was arrested four times and subjected to torture. His pilot's license was revoked, and he was put under long-term house arrest.
The Domestic Security Division told Mr. Zhang that they would monitor him indefinitely if he still refused to give up Falun Gong.
Eight Long Years of Persecution
Mr. Zhang was first arrested on December 2, 2000. During the four months at the detention center, he was not given enough food and suffered chronic dizziness.
Mr. Zhang developed severe scabies due to the unsanitary living conditions and was sent to a prison hospital. The hospital refused to treat him because he is a Falun Gong practitioner.
Despite painful sores all over his body, the detention center guards sent Mr. Zhang to Huadu Forced Labor Camp, where he continued to be tortured, was forced to do heavy labor and was subjected to brainwashing.
Mr. Zhang's health deteriorated further as a result of chronic malnutrition and poor living conditions.
After he was released, Mr. Zhang's workplace put him under house arrest. Three security officers were assigned to monitor him around the clock.
Mr. Zhang was sent to the Huangpu Brainwashing Center in Guangzhou in early 2002. In addition to sleep deprivation and severe beatings, he was tortured by being forced to squat for a long time and was force-fed with filthy water and spicy paste. The guards also jabbed toothpicks into his fingers and sexually assaulted him.
"Every night, I heard practitioners screaming. When I saw them the next day, some had bruises on their faces and knots on their heads, some had clumps of hair torn out by the guards, and some had injuries on their bodies.
"Every day, I was forced to watch videos that defamed Falun Gong. When I refused to write a statement renouncing my belief, two guards forced me into a half squat and beat me. After seven months of detention, I was on the brink of a mental breakdown," Mr. Zhang recalled.
Upon his release, he was put under house arrest for another three months.
Mr. Zhang was arrested again in August 2004 and was later sentenced to four years in prison.
When he was released in 2007, Mr. Zhang was grounded and sent to a service department.
Whenever major events took place, the police and his workplace detained Mr. Zhang and forced him to prepare "thought reports."
During the Beijing Olympic Games in August 2008, Mr. Zhang was detained at Baiyun Detention Center in Guangzhou for six weeks.
He managed to flee China before the end of 2008 to avoid further persecution.
Background
In 1999, Jiang Zemin, as head of the Chinese Communist Party, overrode other Politburo standing committee members and launched the violent suppression of Falun Gong.
The persecution has led to the deaths of many Falun Gong practitioners in the past 16 years. More have been tortured for their belief and even killed for their organs. Jiang Zemin is directly responsible for the inception and continuation of the brutal persecution.
Under his personal direction, the Chinese Communist Party established an extralegal security organ, the "610 Office," on June 10, 1999. The organization overrides police forces and the judicial system in carrying out Jiang's directive regarding Falun Gong: to ruin their reputations, cut off their financial resources, and destroy them physically.
Chinese law allows for citizens to be plaintiffs in criminal cases, and many practitioners are now exercising that right to file criminal complaints against the former dictator.