Over Seventy Lawsuits Against Jiang Zemin Filed from Xining City, Qinghai Province
(Minghui.org) Seventy-four Falun Gong practitioners from Xining City, Qinghai Province, have recently criminal complains to the Chinese Supreme Court and Supreme Procuratorate against former communist party head Jiang Zemin for his role in the persecution of Falun Gong.
Now in its 16th year, the brutal persecution of this peaceful cultivation practice has caused immeasurable hardship to millions of practitioners in China, through harassment, arrests and arbitrary detentions. It is known that thousands of Falun Gong practitioners have lost their lives in the persecution, though the actual number cannot currently be determined due to the tight information blockade in China.
Below are excerpts from several of the criminal complaints from Xining City.
The Persecution Destroys a Family
Zhao Yulan, an 84-year-old Xining resident, sued Jiang and his followers for the deaths of her son and daughter-in-law.
Ms. Zhao's son, He Wanji, was a railroad policeman in Xining City. He was fired then jailed in the Qinghai Labor Camp because of his belief in Falun Gong. He Wanji was arrested in July 2002 for broadcasting Falun Gong informational programs through the public cable TV system, to debunk the barrage of lies created and perpetrated by the state-run media. In December 2002, Mr. He was sentenced to 17 years and imprisoned in Haomen Prison in Beihaizhou. Just five months later, on May 28, 2003, his family was informed that He Wanji had died of a stroke.
He Wanji's wife, Zhao Zhongxiang, was arrested four times. She died in February 2003 at the Qinghai Women's Labor Camp as a result of torture.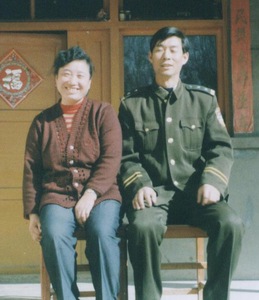 Mr. He Wanji and his wife Zhao Xiangzhong
Ms. Zhao Yulan wrote in her criminal complaint: "In 2002 my daughter-in-law, Zhao Zhongxiang, was once jailed in a small cell in the labor camp, where she was badly beaten and forced to sleep on the cold floor. When she was released 20 days later, she was not able to walk. Her legs were completely numb. She had severe pain in her chest, and could not swallow."
Ms. Zhao herself was not spared harassment and detention by the authorities."On May 13, 2004, six policemen from Huangzhong County department broke into my house at 3 a.m.," she wrote. "They handcuffed me, which caused bleeding in my hands, and jailed me for 15 days. My husband, He Shou'an, also a Falun Gong practitioner, was traumatized by the scene. Due to multiple stresses, including the deaths of my son and daughter-in-law, my husband passed away in January 2004."
Shackled to the Ground for 34 Days
Ge Yanhua, 57, wrote in her criminal complaint that practicing Falun Gong healed her kidney and heart disease. But she was arrested in September 2009 and her home was ransacked by the police. She was sentenced to five years.
"In prison, the guards tried to force me to give up my belief. Four of them kicked me, stomped on me, and cursed at me. They even shocked my neck with electric batons, which caused multiple injuries. The burning of my skin could be smelt in the room.
"Later, I was jailed in a solitary cell. Nobody was allowed to visit me. The prison guards ordered the convicts to beat me. They shackled my hands to the ground, and fixed my head to the wall. In this position, I could not stand up, nor completely sit or lie down. I could only squat, which caused swelling in my hands, arms, feet, and legs. This torture lasted 34 days.
"After I was released in January 2009, the local policemen often came to my house to harass me. I had to leave home and become homeless."
Tortured with Electric Batons
Another railroad worker, 60-year-old Ms. Miao Maoling was held in a labor camp twice, and was sentenced to three years.
In her criminal complaint, Ms. Miao described her experience of being tortured in prison.
"On December 18, 2002. Two policewomen, Zhang Wenjing and Liu Xia, took me to an office. Zhang kicked me down to the ground. Zhang and Liu shocked me on the spine with two electric batons for 10 minutes. Due to the shocks, my head repeatedly struck the floor, causing swelling My skin was burned, and I frothed at the mouth.
"Zhang kept asking me 'will you give up practicing Falun Gong? We will continue, if you don't.' The baton's battery ran dead. After recharging them, Zhang and Liu shocked my ears."
Miao Maoling said in her complaint that she witnessed the tortures inflicted on many Falun Gong practitioners in prison. One of those practitioners, Tan Yingchun, was tortured to death on the morning of December 29, 2002.
200,000 Seek Justice
Since May 2015, more than 200,000 Falun Gong practitioners have filed lawsuits against Jiang Zemin for launching and directing the persecution. Hundreds of thousands of people all over the world have signed petitions supporting the lawsuits and calling for Jiang to be brought to justice.
Background
In 1999, Jiang Zemin, as head of the Chinese Communist Party, overrode other Politburo standing committee members and launched the violent suppression of Falun Gong.
The persecution has led to the deaths of many Falun Gong practitioners over the past 16 years. More have been tortured for their belief and even killed for their organs. Jiang Zemin is directly responsible for the inception and continuation of the brutal persecution.
Under his personal direction, the Chinese Communist Party established an extralegal security organ, the 610 Office, on June 10, 1999. The organization overrides police forces and the judicial system in carrying out Jiang's directive regarding Falun Gong: to ruin their reputations, cut off their financial resources, and destroy them physically.
Chinese law now allows for citizens to be plaintiffs in criminal cases, and many practitioners are exercising that right to file criminal complaints against the former dictator.