Persecution Deaths of 92 Falun Gong Practitioners Reported in the First Half of 2022
(Minghui.org) A total of 92 cases of Falun Gong practitioners being persecuted to death for their faith were confirmed by Minghui.org in the first half of 2022.
Falun Gong, also known as Falun Dafa, is a mind-body practice based on the principles of Truthfulness, Compassion, and Forbearance. Since its introduction to the public in 1992, countless people have been drawn to its profound principles and health benefits. Fearing its ever-growing popularity, the Chinese communist regime launched a nationwide campaign in July 1999, attempting to stamp out the practice.
Hundreds of thousands of practitioners have since been harassed, arrested, detained, imprisoned, and tortured. A total of 4,814 deaths have been documented by the Minghui.org website as of July 6, 2022. Due to the strict censorship of information in China, however, the actual number is likely much higher.
The newly confirmed death cases include 1 practitioner who died in 2008, 1 in 2016, 1 in 2017, 2 in 2018, 2 in 2019, 2 in 2020, 32 in 2021 and 51 in 2022. For the death cases that took place in 2022, 13 were recorded in January, 12 in February, 9 in March, 7 in April, 6 in May and 4 in June.
The deceased practitioners, including 55 females (60%), came from 20 provinces and municipalities. Liaoning had the most cases (22), followed by 14 in Heilongjiang. Hubei and Hebei each had 7 cases. The remaining regions had cases between 1 and 5.
The practitioners came from all walks of life, including professors, accountants, engineers, teachers and truck drivers.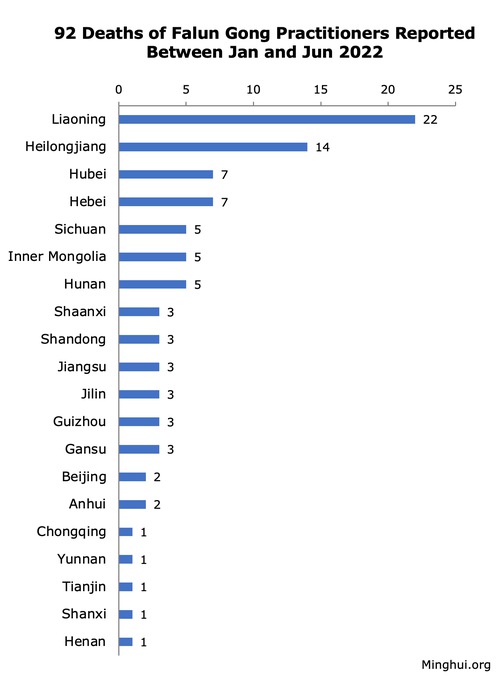 Among the 83 practitioners whose ages were known, 58 (63%) were 60 and above. The youngest practitioner was 44-year-old Mr. Guan Yunzhi of Liaoning Province and the oldest was 89-year-old Mr. Liu Yongcun of Jilin Province.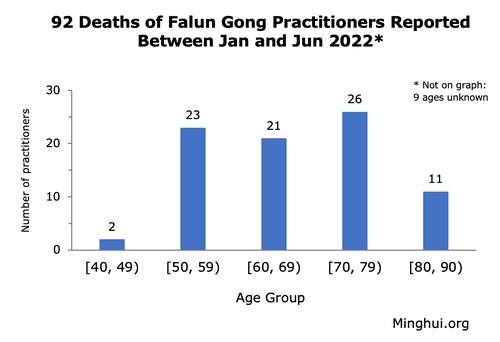 Fourteen practitioners died while still in custody, including in prisons, detention centers or psychiatric hospitals. One 88-year-old woman from Heilongjiang Province died two hours following her arrest for reading Falun Gong books with several other practitioners. A 59-year-old woman died fourteen hours after her failed attempt to escape arrest. Several other women, including the mother of a U.S. resident, were tortured to death days or weeks after they were arrested.
In the case of 74-year-old Mr. Liu Qingfei, the police arrested him on August 28, 2021, claiming to take him for a COVID-19 vaccination. When his family was notified on April 24, 2022, that he had died, they noticed he was still alive after rushing to the hospital. Although the doctor tried to resuscitate him, he indeed died moments later.
In addition to the torture deaths, several practitioners passed away after developing serious conditions in custody and being denied medical parole for not renouncing Falun Gong.
Two practitioners, including an 83-year-old man and a 64-year-old woman, died shortly after being given toxic drugs while in custody.
Several deceased practitioners were prime-aged men, who would have otherwise enjoyed successful careers and happy family lives, had they not succumbed to the long-term incarceration and mental distress from the persecution. They included a man who died one year after serving 19 years for tapping into the TV signal to broadcast programs that debunked the Chinese Communist Party's hate propaganda against Falun Gong, and a math tutor who never regained consciousness after being sentenced to two years when he was still in a coma.
Below are a selection of the deaths. The full list of the 92 deceased practitioners can be downloaded here (PDF).
Deaths Within Hours of Arrests
Police Withhold Death Certificate of 88-year-old Woman Who Dies Two Hours Following Arrest
An 88-year-old woman in Harbin City, Heilongjiang Province died two hours following her arrest on April 13, 2022, for practicing Falun Gong. The police prevented her family from ordering an independent autopsy and withheld the death certificate. Her body is being held in a funeral home.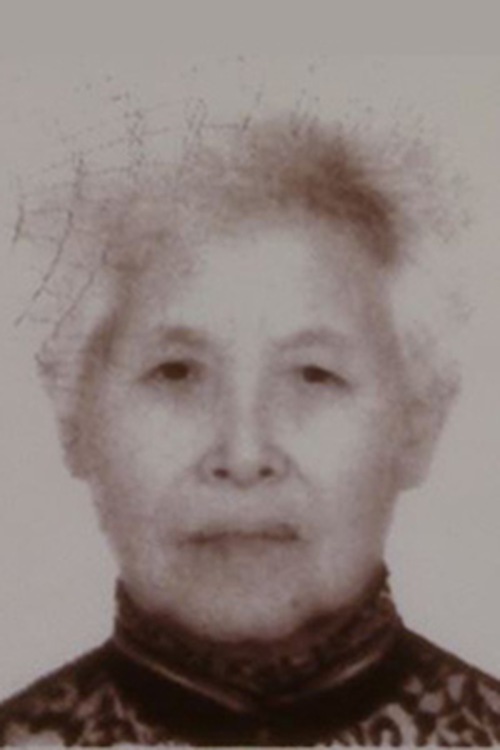 Ms. Cui Jinshi
Ms. Cui Jinshi was reading a Falun Gong book at home on April 13, 2022, when several officers broke in and arrested her. While two young officers held her on the sofa, others searched her home and took her Falun Gong books, a photo of Falun Gong's founder, and an unknown amount of cash.
Ms. Cui tried to stop the police from taking her belongings. In despair, she fell. She kept saying to the police, "Don't take my books away! Don't take Master's photo!"
Two officers dragged Ms. Cui from her apartment on the second floor to the ground floor. Then they suddenly let go of their grip, causing her to fall to the ground.
At 5:45 p.m., Ms. Cui's second son, Mr. Piao Hu, got a call from the police telling him his mother had been taken to the 242 Hospital emergency room. He rushed to the hospital. While the police were still ordering him to pay for his mother's medical expenses, the doctor came over and pronounced Ms. Cui dead. Mr. Piao went into the operating room and saw Ms. Cui's body. Her face was pale, her throat was cut open, and she was only wearing one shoe.
When Mr. Piao was calling the family about Ms. Cui's death, the police ordered a local funeral home to take her body away. Although her family arrived before the hearse left, the driver refused to let them take a close look at Ms. Cui's body.
Escorted by the police cars, the hearse sped away. Ms. Cui's family followed it to the funeral home, only to be stopped at the door and not allowed to see the body.
Not until two days later on April 15, were Ms. Cui's family allowed to see her body, with close monitoring by the police.
Now nearly three months after Ms. Cui's death, her body is still kept at the funeral home. As the police refused to provide her death certificate and any other paperwork, the family is unable to order an independent autopsy or even cremate her body to let her rest in peace.
Shanxi Woman Dies 14 Hours After Being Arrested for Practicing Falun Gong
Ms. Niu Lanyun's family was told by the police on the evening of March 28, 2022 that their loved one, who was just arrested that morning, had died.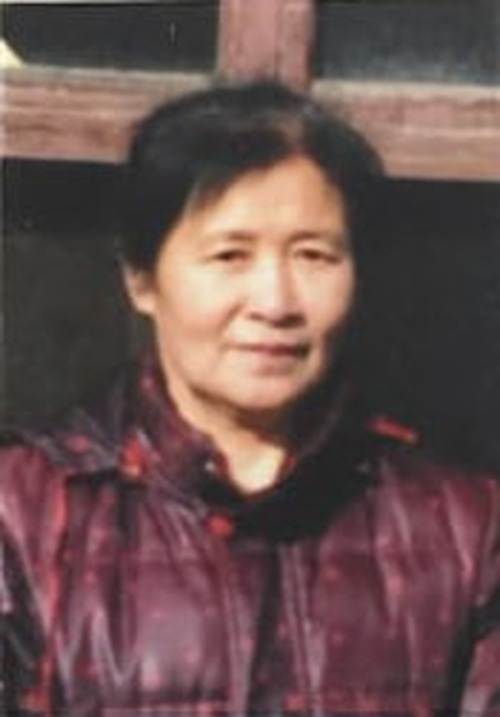 Ms. Niu Lanyun
Ms. Niu had been living away from her home in Datong City, Shanxi Province, since early 2021 to avoid being persecuted for her faith in Falun Gong. A witness saw her climbing down a rope from her third-floor temporary apartment unit in Heng'an Residential Area of the same city at around 6 a.m. on March 28. When she got close to the first floor, she fell. She soon stood up and walked toward the witness.
The witness offered to call an ambulance, but Ms. Niu kindly declined. The witness still made the call. Before Ms. Niu left, the ambulance arrived. When she refused to get into the ambulance, an emergency medical technician tried to drag her into it. As they struggled, the police showed up. They pushed her into the police car and left.
Shortly after, the police arrested Ms. Niu's landlord. According to an insider, when the police went inside Ms. Niu's rented residence, there was fresh dough in her kitchen, suggesting that she was preparing breakfast when she was suddenly forced to escape.
At 8 p.m., the police called Niu's family and informed them of her death. The family was told to go to the Datong Funeral Home to confirm her identity.
The family was still in shock of Ms. Niu's mysterious death and they demanded to know what had happened to her in police custody that resulted in her death.
Deaths Days After Being Arrested
Woman Dies Three Days Following Her Arrest for Practicing Falun Gong
Ms. Huang Sulan, of Chengdu, Sichuan Province, was arrested outside of her apartment building on January 20, 2022, and taken to a secret detention facility in Pengzhou.
The police informed Ms. Huang's family on January 23, 2022, that she had died earlier that day. Her body was soon moved to the Pengzhou City Funeral Home. Her family has seen her body, but further details about her death remain under investigation.
Prior to Ms. Huang's last arrest, she was previously arrested on July 10, 2019, while visiting practitioner Ms. Mao Kun. Although Ms. Huang was released on August 9, Ms. Mao was later sentenced to 11.5 years and died in custody.
Woman Dies in Custody Eight Days After Being Arrested and Denied Medical Treatment
Ms. Zhang Siqin, a 69-year-old woman in Dalian City, Liaoning Province, died at the Yaojia Detention Center on January 26, 2022, eight days after she was arrested for practicing Falun Gong.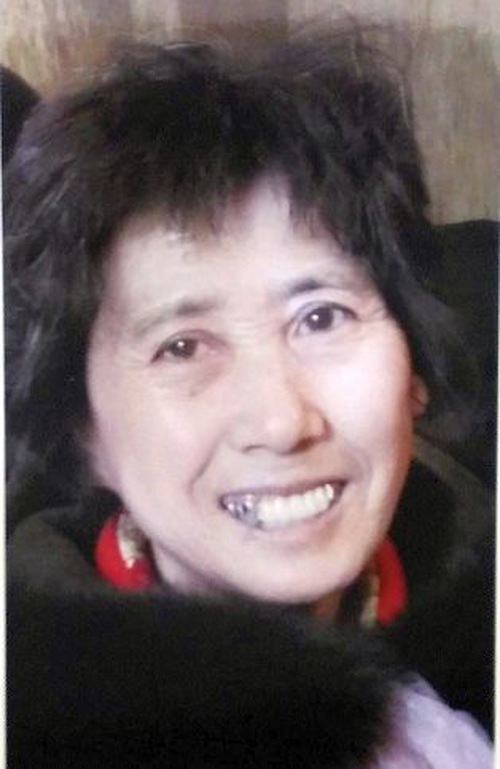 Ms. Zhang Siqin
Ms. Zhang began to experience severe medical problems on the first night at the detention center, yet the authorities refused to provide any treatment for her, except feeding her unknown drugs without any diagnosis.
Ms. Zhang was taken back into custody on January 19, 2022, to serve a two-year term. She was terrified and was struck with a wave of nausea. Even though the doctor advised against her detention due to her medical condition, the police insisted that she was fine and took her to the Yaojia Detention Center.
On the first evening at the detention center, Ms. Zhang was unable to walk on her own or fall asleep. The guards refused to provide her with any food. The next morning, she was so weak that she wasn't able to dress herself and had to rely on her roommate's help.
For the next few days, Ms. Zhang was unable to keep any food down and vomited everything she ate. The food the guards provided was only congee and steamed buns. She remained too weak to stand on her own.
When Ms. Zhang was admitted to the detention center, the guards took away her dentures. She asked several times to have them back, but the guards refused to return them, which made it even more difficult for her to eat.
Despite her medical issues, the guards didn't take Ms. Zhang to see a doctor and instead gave her some unknown drugs, which caused her condition to further deteriorate.
On January 25, the sixth day of her detention, Ms. Zhang began to shake uncontrollably and was unable to sit up on her own. Her roommate reported it to the guards, who insisted on giving her an unknown drug, again with no medical assessment. When Ms. Zhang was unable to take the drug, the guards ordered five inmates to hold her and force-feed her the drug. She became incapacitated and lost the strength to sit up afterward.
At 2:20 a.m. on January 26, Ms. Zhang again began to shake uncontrollably. The inmates in the room were all awake, yet the guards still ignored her. At 9 a.m., she was taken out in a wheelchair but was brought back just ten minutes later. The guards continued to forcibly administer the unknown drug.
Ms. Zhang began to run a fever around midnight. By 2:40 a.m. she was in critical condition. The guards still refused to take her to a hospital and ordered the other inmates in her room to keep monitoring her.
By the morning, Ms. Zhang was unable to sit up even with her cellmate's help. Although the inmates reported her situation at 7:07 a.m., the doctor hadn't shown up by 7:25 a.m. Her roommate kept calling the guards, but no one showed up.
By the time the doctor arrived at 7:30 a.m., Ms. Zhang had stopped breathing and had no pulse. The doctor tried to resuscitate her, but she didn't respond. The doctor called the guards at 7:34 a.m., but they didn't answer until the doctor called the third time. Ms. Zhang was pronounced dead at 7:35 a.m. and removed from the cell.
"If I Die, It Will Be the Result of Torture"
Ms. Ji Yunzhi, a resident of Lindong Town, Bairin Left Banner, Chiefeng City, Inner Mongolia, and mother of Simon Zhang, a U.S. resident, died at Bairin Hospital on March 21, 2022, seven weeks after she was arrested on Chinese New Year's Day (February 1). She was 66.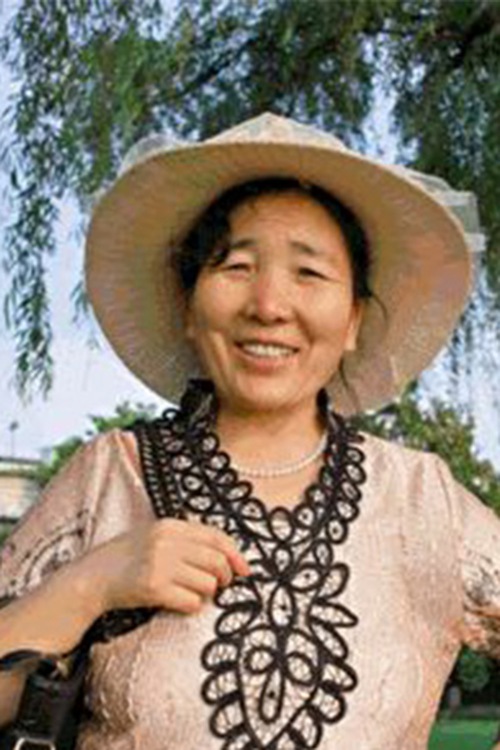 Ms. Ji Yunzhi
While in detention, she was brutally beaten by guards and inmates until she was on the verge of death. "If I die, it will be the result of torture," Ms. Ji once said to her cellmates.
Ms. Ji was arrested at home on February 1, 2022. Despite the fact that she was experiencing convulsions and was vomiting, the police had her sit on the cold tile floor for a long time, taunting her by saying she was faking her symptoms.
Ms. Ji went on a hunger strike at the Bairin Left Banner Detention Center and was force-fed through a nasal tube. The detention center doctor slapped her in the face many times.
On the morning of March 20, 2022, Ms. Ji's husband received a call from the Bairin police notifying him to go to the hospital. Upon arriving there, he was told that doctors had started to resuscitate Ms. Ji, but the prognosis was not good. A plan was made to transfer her from Bairin Hospital to Chifeng City Hospital. But an expert from the city hospital, who had come to Bairin to examine Ms. Ji, said it was too late and there was no need to transfer her. Her husband repeatedly requested her release, but the officer in charge (Xu Jianfeng) refused to do so, saying he needed approval from his superiors.
The family was notified of Ms. Ji's death the next day. They asked to see her one last time in the hospital room, but the police stopped them. Through the window, her family saw that her esophagus had been cut open. There was also blood on her face and shoulder. Many police officers were standing in the hallway. They drove Ms. Ji's family from that level of the building and closed the elevator to that level so that no one could access the area.
After her family left that floor, the police called the Bairin Crematorium, which soon dispatched a vehicle to pick up Ms. Ji's body for storage. When Ms. Ji's family arrived at the crematorium, the forensic investigator did not allow them in. They begged the police and were eventually allowed to go in one at a time and take a quick look at her body. Over 40 police officers had been dispatched to guard the body.
The police have asked Ms. Ji's husband to "negotiate" with them in an apparent attempt to smooth over the situation, but at the time of writing it is not known whether these negotiations involve a settlement for her death or threats to keep silent.
Additional Deaths in Custody
Two Years After Wife's Death, Liaoning Man Dies While Serving Ten-year Prison Term
Having lost his parents and wife in the persecution of Falun Gong, Mr. Yin Guozhi died on May 22, 2022, while serving a 10-year prison term for upholding his faith in Falun Gong. He was 56.
Mr. Yin from Chaoyang City, Liaoning Province, was arrested on September 26, 2019, after his rental apartment caught fire and the police came to investigate the accident. The arrest came after he spent ten years on the run to hide from the police. He was detained at the Jianping County Detention Center and was beaten by the detainees.
The Jianping County Court secretly sentenced Mr. Yin to ten years. They didn't inform his family of his case status until he was sent to the Jinzhou Prison.
Shortly after Mr. Yin was sentenced, his wife, Ms. Fu Jinghua, who was also in displacement, died in her rental place on December 31, 2019, succumbing to years of persecution for their shared faith in Falun Gong.
A relative of Mr. Yin's was visited by two prison guards and a village official on March 8, 2022. They said that Mr. Yin had developed late-stage lung cancer and was receiving oxygen in the hospital. His family was ordered to cover his medical expenses. While it's not clear whether his family complied, Mr. Yin passed away two months later on May 22.
Critically Ill Man, 77, Denied Medical Parole While Serving 8.5 Years, Dies Months Later
The Jidong No. 5 Prison in Hebei Province notified Mr. Han Junde's family on April 14, 2022, that the Baoding City, Hebei Province man had passed away at 10:35 a.m. that day.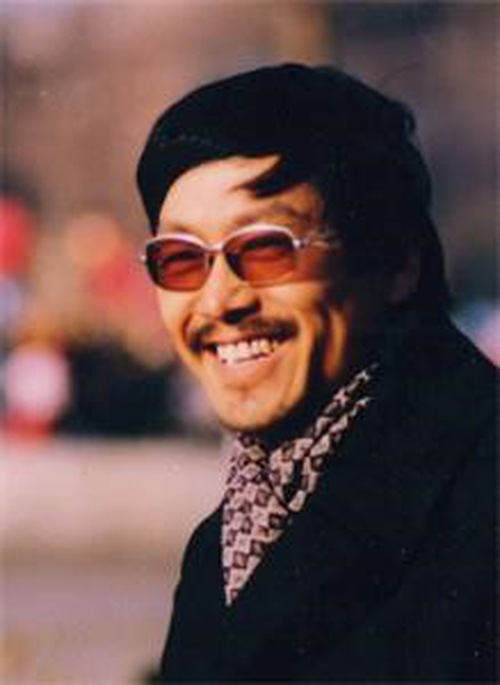 Mr. Han Junde
Mr. Han died less than three years after he was admitted to the prison to serve an 8.5-year term for making gourd crafts carved with "Truthfulness-Compassion-Forbearance" carved on them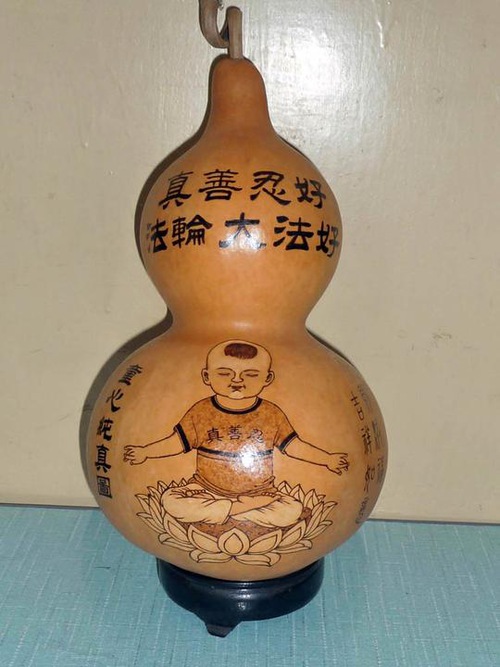 A gourd with "Truthfulness-Compassion-Forbearance is good; Falun Dafa is good" written at the top
After Mr. Han was taken to prison, the guards repeatedly ordered him to plead guilty and renounce Falun Gong. Because he refused to comply, they stripped his rights to see, call, or write to his family.
Mr. Han's family later learned that he had developed severe anemia due to the abuse in prison. He became blind in one eye and had to be wheeled around in a wheelchair in prison. The family had applied for medical parole for him, but the Jingxiu District Justice Bureau denied their application, even after the doctor determined that he qualified.
Mr. Han was hospitalized around early 2022 after becoming critically ill. He was wearing a drainage tube after he was discharged. He was taken to the hospital again on April 5, 2022. He was unable to breathe on his own and was put on a ventilator. He passed away nine days later.
72-Year-Old Man Dies in Prison While Serving Time
Mr. Zhong Guoquan, of Mishan City, Heilongjiang Province, was sentenced to three and a half years in August 2020 for distributing informational materials about Falun Gong. He was admitted to the Jixi City Prison on November 17, 2020, and later transferred to Tailai Prison, where he died on February 6, 2022. He was 72.
Mr. Zhong's family had requested medical parole in early 2022, but the prison turned them down on the grounds that Mr. Zhong was a political prisoner. His family was devastated on February 6 when they received a phone call from the prison saying he had died hours earlier.
Mr. Zhong was arrested on March 4, 2020, after being reported for distributing Falun Gong materials. While awaiting an indictment, he was admitted to the Mudanjiang Agricultural Reclamation Community Hospital on July 6, 2020. He was found to have numerous diseases, including Type 2 diabetes, kidney failure, multiple strokes, high blood pressure, heart disease, urinary tract infection, high cholesterol, blood clots, and impaired vision and hearing.
Mr. Zhong appeared in the Mishan City Court on August 11, 2020, and was sentenced to 3.5 years one week later. He appealed the verdict, but his appeal was rejected by the higher court.
Mr. Zhong was moved from the Mishan City Detention Center to the Jixi City Prison on the morning of November 17, 2020. He was later transferred to Tailai Prison, where he died on February 6, 2022. The Tailai County Chinese Medicine Hospital issued a statement to say that he died of respiratory failure.
Tailai Prison has been used as a concentration camp by the authorities to transform Falun Gong practitioners. Those who refused to write statements to renounce their faith were subjected to various forms of torture, including being hung up by handcuffs, being forced to stand or squat for long hours, sleep deprivation for days on end, force-feeding of chili pepper water, and verbal abuse.
74-year-old Man Dies While Detained for Practicing Falun Gong
Mr. Liu Qingfei's family received a call from the Liaozhong District Detention Center in Liaoning Province at 8:25 p.m. on April 24, 2022, and was told that the 74-year-old Shenyang City, Liaoning Province resident had come down with a sudden, acute condition and had died despite efforts to resuscitate him in the hospital.
When the family rushed to the hospital, Mr. Liu's eyes and mouth were open. His eyes were still bright and didn't look like the eyes of a dead person. They touched his body and realized that it was still warm. They asked the detention center guards standing on the side, "Why did the doctor stop trying to resuscitate him when he is still alive?"
The guards claimed that Mr. Liu suffered an acute condition at 6:39 p.m. They called the hospital and the ambulance came 20 minutes later. Mr. Liu was pronounced dead at 7:08 p.m. It's not clear if he was in the hospital by 7:08 p.m. It's also not clear who pronounced him dead and why the detention center guards waited until 8:25 p.m. to inform his family.
At the family's insistence, the doctor tried again to resuscitate Mr. Liu, but he died moments later.
Mr. Liu was arrested at home on August 28, 2021. The police broke into his place claiming they were there to give him a COVID-19 vaccination. He was interrogated while in custody and suffered a heart attack on the second day of his arrest. He was awaiting trial by the Liaozhong District Court when he died.
Mr. Liu's family suspects foul play in his death. They are keeping his body in the funeral home and they are trying to seek justice for him.
76-year-old Man Dies in Prison, Guards Claimed He Hanged Himself to Death
A 76-year-old man died in March 2022 while serving a four-year term for practicing Falun Gong. When Mr. Jia Chunzhen's family inquired about the wounds around his neck, a prison guard claimed that Mr. Jia had hanged himself with his clothes.
Mr. Jia, of Linxia County, Gansu Province, was arrested in April 2020 and secretly sentenced to four years in Lanzhou Prison in late December 2020. He held a hunger strike to protest the persecution during the Chinese New Year in February 2021. When his family visited him, he had lost most of his hearing and vision.
For a year after the visit, the prison denied him family visitation, using the pandemic as an excuse.
Mr. Jia's family received a call from the Lanzhou Prison in March 2022 and was told that he had passed away on March 18.
His family rushed to the prison and demanded to see his body. Surrounded by multiple guards, his family was given access to his body and they saw that he had wounds on his neck and arms. They asked how the wounds occurred, and a guard claimed that they were a result of Mr. Jia hanging himself.
The prison quickly cremated Mr. Jia's body and gave his family 200 yuan to settle the case.
Deaths After Toxic Drug Administration
83-year-old Man Injected with Toxic Drug While in Prison, Dies 20 Days After Release
Mr. Bai Xingguo was injected with a toxic drug six months before his term for practicing Falun Gong ended. His health kept deteriorating, and he was constantly in a delirious state. When the prison asked his family to pick him up in January 2022, he was already incapacitated and on the verge of death. He passed away 20 days later.
Mr. Bai, of Chengde City, Hebei Province, was arrested on January 4, 2018, when he went with several other practitioners to put up banners reading "Falun Dafa is good." He stood trial on April 18, 2018, and was sentenced to three years in June 2018.
On December 15, 2018, Mr. Bai, who had been released on bail, was taken back into custody at Tucheng Detention Center and later transferred to the Tangshan Prison, where he was given the deadly shot.
Guizhou Woman Dies after Being Force-Fed Unknown Drug in Custody
A woman in Liupanshui City, Guizhou Province, passed away on February 8, 2021, after being force-fed an unknown drug in a detention center. She was 64.
Ms. Zhu Renfen was arrested on February 13, 2019, after being reported for talking to people about Falun Gong. Although she was released that day, she was arrested again on May 31, 2020, also after being reported for talking to people about the persecution six days before. The police ransacked her home, confiscating her Falun Gong book, photo of Falun Gong's founder, and two audio players.
At the Liupanshui City No. 2 Detention Center, the guards ordered Ms. Zhu to take pills that they claimed were "blood pressure medication" (it's unclear if she had high blood pressure). She refused to comply. The guards then held her down and force-fed them to her.
Ms. Zhu's health quickly deteriorated afterward. Doctors at three different hospitals all said her condition was incurable. She was released on bail in late July 2020 and died on February 8, 2021.
Deaths from Long-Term Persecution
Liaoning Woman Dies Four Months after Enduring Nine Years of Imprisonment and Torture
When Ms. Yong Fang was released on October 25, 2021, after serving nine years for practicing Falun Gong, the Anshan City, Liaoning Province resident was so weak that she couldn't take a shower by herself. Her son struggled to care for her and her bedridden husband. Shortly after she was released, the authorities suspended her pension and also ordered her to pay back the 60,000 yuan in payments that she received while serving a forced labor term for her faith, years before her latest prison term.
The ordeals caused her health to further decline. The 65-year-old woman passed away on February 19, 2022, four months after her prison release.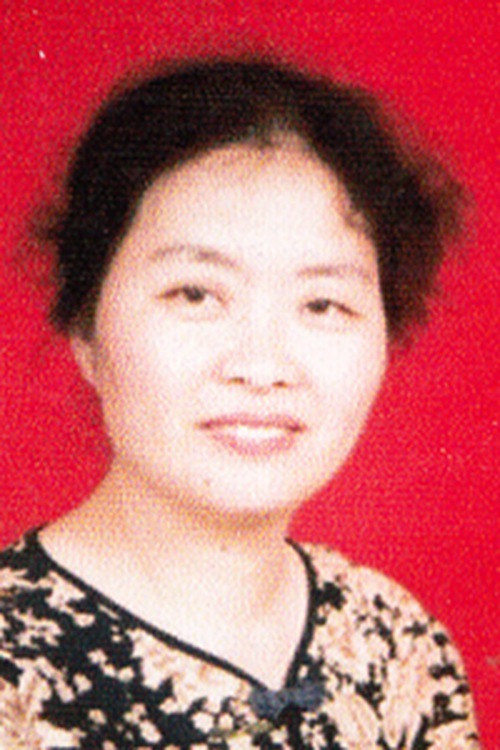 Ms. Yong Fang
After the Chinese communist regime ordered the persecution of Falun Gong in 1999, Ms. Yong was repeatedly arrested and detained for upholding her faith. She was sentenced to prison in 2000 and given a one-year term at Masanjia Forced Labor Camp in July 2004. Following her last arrest in 2012, she was sentenced to nine years in prison. Her younger sister, who was arrested with her, died shortly after.
Heilongjiang Man Dies One Year After Serving a 19-year Prison Term for Speaking Up about His Persecuted Faith
When Mr. Zhang Yaoming was released after serving 19 years for intercepting TV signals to broadcast programs that debunked the propaganda against Falun Gong, he was very weak and emaciated. The Hegang City, Heilongjiang Province resident passed away a year later, at the age of 59. He is survived by his wife Ms. Fan Fengzhen and their child.
When the Chinese Communist Party announced the persecution of Falun Gong on July 20, 1999, all state-controlled media was filled with propaganda programs demonizing Falun Gong. Overnight, the one-hundred-million practitioners of this peaceful mind-body discipline became the top enemy of the state.
To clarify the facts about Falun Gong, Mr. Zhang, a middle school math teacher, and four other practitioners risked their lives by tapping into the local TV signal on April 20, 2002, and playing a 20-minute video refuting the Tiananmen Self-immolation hoax that defamed Falun Gong. Zhang Xingfu, the Party secretary of Hegang City, was infuriated. He gave the order to arrest the practitioners involved, claiming, "Even if you arrest 1,000 wrong people, you can't miss a single one who did it!"
In a few days, over 500 local Falun Gong practitioners in Hegang City were arrested. Mr. Zhang and Ms. Fan were arrested in the middle of the night on April 24 at a relative's home. Three other practitioners were also arrested shortly after.
The Gongnong District Court handed down heavy terms to the four practitioners in October 2002: Mr. Zhang got the longest term of 19 years and the other three were given 13 to 18 years. The fifth practitioner who escaped arrest back then was arrested on September 7, 2005, and sentenced to 17 years in 2006.
Mr. Zhang was first held at the Harbin No.3 Prison and then transferred to the Tailai Prison on June 30, 2014. The prison authorities promised a 2,000-yuan reward to the head of each ward and a 1,000-yuan reward to each of the guards if any ward was able to successfully force all the practitioners in the ward to renounce Falun Gong. Any warden or guard that failed to achieve the 100% transformation rate would face pay deductions, demotion or even job termination. The guards were allowed to use whatever torture methods it may take to break the practitioners' will. If there were not enough torture tools, they could make their own.
The practitioners were often hung up by their handcuffs or tied up to a stretching torture instrument. They weren't allowed to sleep at night. When they dozed off, the guards would pour cold water over them. Sometimes they were hung up and placed under the scorching sun (when the temperature reached over 104 °F). Some were placed in a three-foot-deep pit for days, with their limbs tied up. In another torture, the guards put two steel balls underneath a practitioner's buttocks for seven days. In addition to the torture, the practitioners were also forced to do intensive hard labor without pay.
Mr. Zhang developed severe anemia, skin disease, and hemorrhoids as a result of the torture. Although he was released on medical parole at one point, he was taken back to prison on August 17, 2015, and finished serving his term.
When his term ended on April 23, 2021, instead of informing his family to pick him up, the prison authorities handed him to officials of the Hegang City Political and Legal Affairs Committee, 610 Office and Hongjun Police Station. They took him to the Hongjun Police Station and forced his family to write a statement to renounce Falun Gong on his behalf, before allowing him to go home.
Due to the severe damage to his health after the lengthy prison term and non-stop torture, Mr. Zhang never recovered and passed away in early April 2022.
Sentenced to Prison While Still in a Coma, Math Tutor Passes Away
Mr. Ding Guochen was still in a coma when he was sentenced to two years for practicing Falun Gong. The math tutor from Dalian City, Liaoning Province passed away two months later, on April 30, 2022. He was 51 years old.
Mr. Ding and his wife Ms. Yan Qinghua were arrested during a police sweep across the province on July 11, 2019. The group arrest came as part of the Chinese Communist Party's effort to "maintain stability" ahead of its 70th anniversary of taking power in China.
Ms. Yan was released later that day, but Mr. Ding was taken to the Jinzhou Detention Center in the evening. He held a four-week-long hunger strike to protest the arbitrary detention and was force-fed. He lost his hearing and had a stroke as a result of abuse. He was then released on bail on October 19, 2019.
Mr. Ding resumed practicing Falun Gong upon returning home. He regained some of his mobility, but still had issues with his hearing.
While Mr. Ding was still detained, Ms. Yan went to the local police station to demand his release. Officer Li once grabbed her neck and pushed her into a room for interrogation. When she returned on September 10, 2019, the same officer pulled her hair and pushed her around. Much of her hair fell out as a result. The police also threatened to arrest her two children when they reached 18 years of age.
Mr. Ding had another stroke on January 27, 2021, and fell into a coma. He never regained consciousness and remained in a vegetative state. Despite his condition, the Jinzhou District Court delivered the couple's wrongful convictions on February 23. Mr. Ding was sentenced to two years in prison and fined 5,000 yuan. Ms. Yan was given three and a half years and fined 8,000 yuan.
At one point, three staff members of the Jinzhou District Court went to the couple's home to verify Mr. Ding's health. Ms. Yan pointed to the man, who was in a coma and on oxygen, and said, "He has ended up like this due to the persecution. See for yourself. We can't afford to have him treated in the hospital so I have to take care of him at home."
Seeing the dire situation of the family, the court staff members said to her, "You can stay home to take care of him."
Ms. Yan spent all of the family's savings on Mr. Ding's medical treatment and borrowed more from their relatives and friends. Now living in a destitute situation, she also struggles to cope with the void left by Mr. Ding's passing and care for their two children.
Liaoning Man Dies of Lung Condition Caused by Torture 14 Years Ago in a Labor Camp
Mr. Zhang Guoyu suffered repeated arrests, detention and torture ever since the Chinese communist regime began to persecute Falun Gong 23 years ago. While serving his second labor camp term, he was stretched into an excruciatingly painful position for nine days and suffered a severe lung infection.
Mr. Zhang suffered another round of harassment in 2021, causing him much mental distress, and his lung condition relapsed. He had fluid accumulation in his abdomen, which contributed to multiple organ failure. He passed away on January 18, 2022. He was 50 years old.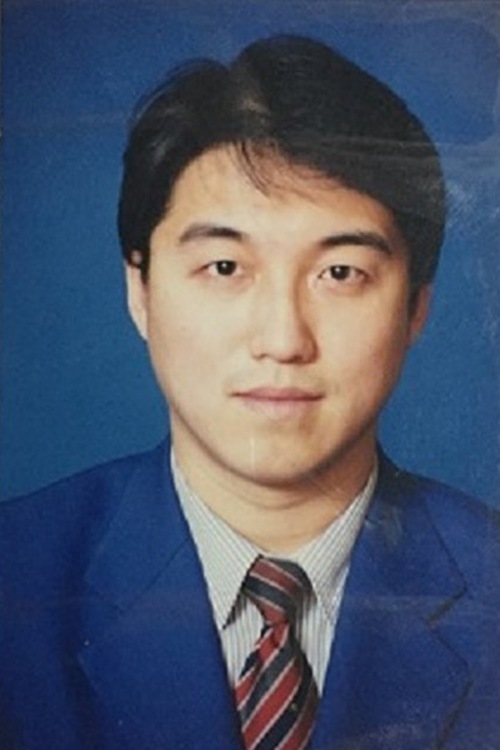 Mr. Zhang Guoyu
Mr. Zhang, a former customer service manager at a communications company in Dalian City, Liaoning Province, was first arrested in 2001 with his wife for going to Beijing to appeal for the right to practice Falun Gong. When both of them were detained, their preschooler son was left at home without their care.
Mr. Zhang was later given two years of forced labor. At Yaojia Detention Center, because he refused to wear an inmate name tag, the guards put him in solitary confinement and instigated other inmates to beat him. They handcuffed him to a bed, covered his head with a helmet and beat him. His legs were severely injured and he was unable to get off the bed afterward. The guards handcuffed him so tight that his fingers were still numb a month later.
Mr. Zhang was forced to lie in bed for over 20 days, with no bedding or blanket. The only time he was allowed to get up was to use the restroom and have meals, which was less than one hour each day. He wasn't allowed to wash or change clothes. When he was finally let off the bed, his hands and feet were severely swollen due to poor blood circulation.
Mr. Zhang was arrested again on September 12, 2006, and given another two years at the Benxi Forced Labor Camp.
In order to force him to renounce Falun Gong, the guards tied Mr. Zhang up in the "extreme stretch" position for nine days in March 2003. In this torture, the guards put two single beds together and fastened Mr. Zhang's four limbs to the corners of the beds. Every now and then, the guards either tightened up the ropes or pulled the beds further apart, keeping them apart by filling the gap between them with bricks.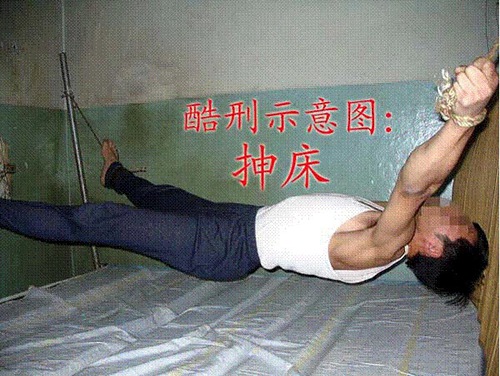 Torture reenactment: extreme stretch
They planned to keep him tied up for a longer time, hoping it would force him to renounce Falun Gong and provide information about other practitioners. By the ninth day, Mr. Zhang began to have difficulty breathing and to exhibit other severe symptoms. When the guards took him to the hospital, the doctor found a severe lung infection that required immediate treatment. The guards refused to let him stay at the hospital but took him to the clinic at the labor camp.
Mr. Zhang suffered a persistent high fever for a week before his temperature finally returned to normal after being given three bottles of IV drips every day. Unable to bear the persecution anymore, he wrote a statement to renounce Falun Gong against his will. He later regretted it and wrote a solemn statement, nullifying the statement, after which he was put in solitary confinement for fourteen days.
After Mr. Zhang was released in September 2008, the authorities continued to harass him and his wife from time to time. He lived in fear and tremendous distress. His lung condition relapsed in 2021 during the latest round of harassment. He had fluid accumulation in his lung and abdomen and died from multiple organ failure at a hospital in the early morning of January 18, 2022.
Premature Death of 44-year-old Man After a Two-year Labor Camp Detention, Forced Divorce and Non-stop Harassment
Mr. Guan Yunzhi, a resident of Tieling City, Liaoning Province, was subjected to inhumane torture while serving a two-year labor camp term between 2002 and 2004 for practicing Falun Gong. His wife divorced him due to the pressure of the persecution. He was also fired by his workplace and subjected to non-stop harassment from the authorities. The mental suffering took a toll on his health. He passed away on March 1, 2022, at the age of 44.
Mr. Guan was first arrested on December 24, 2001, while working at the Qinghe District Power Company. The police threatened to sentence him to prison, to set a precedent [of convicting innocent Falun Gong practitioners] in the Qinghe District.
As Mr. Guan refused to renounce Falun Gong during the interrogation, the police slapped him in the face, stepped on his toes, grabbed his neck, pulled his body hair and burnt his fingers with cigarettes.
Mr. Guan was given two years at the Tieling Forced Labor Camp in late January 2002. When he wrote how he benefitted from practicing Falun Gong in the required "thought report," the guards whipped his back with a spiked rubber stick with a metal core. As Mr. Guan remained firm in his faith, the guards shocked him with electric batons on his head, chest and then all over his body.
The police continued to harass Mr. Guan after he was released. Upon learning about a potential arrest in March 2007, he lived away from home to avoid the police and was fired by his workplace. By then, his wife had been pregnant for a few months. Suspecting that she also practiced Falun Gong, the police arrested and threatened her. Not wanting to continue living in fear, she divorced him.
Mr. Guan was stopped and questioned by the police while walking on the street on July 30, 2014. After a police officer found he practiced Falun Gong, he arrested him and interrogated him overnight. Mr. Guan was released on bail after over 40 days of detention.
As a result of the relentless persecution, Mr. Guan began to suffer medical problems. His health kept deteriorating over the years and he eventually died on March 1, 2022, at the age of 44.
Deaths Induced by Latest Round of Persecution
Wrongfully Sentenced to Three Years, Woman Dies of Brain Hemorrhage
Days after an appeals court upheld Ms. Ma Shufang's three-year sentence for practicing Falun Gong, the Beian City, Heilongjiang Province, resident suffered a brain hemorrhage and died. She was 69.
Ms. Ma, a former household affairs department manager under Tongbei County Forest Bureau Police Department, was arrested on August 12, 2020. Her Falun Gong books, printer, and copy paper were confiscated.
After being interrogated at the Tongbei Forest Bureau Police Department, she was taken to the Tongbei County Forest Bureau Detention Center. She developed high blood pressure and was then released on bail.
The police continued to harass her at home. They submitted her case to the Yabuli Forestry Bureau Procuratorate, which indicted her in August 2021 and moved her case to the Yabuli Court. The judge sentenced her to three years in a virtual trial in December 2021.
Ms. Ma appealed to the Heilongjiang Province Intermediate Court, which held a virtual hearing in early June 2022. The appeals court judge was very arrogant and didn't allow her to talk. She suffered a brain hemorrhage on June 4 and died six days later.
Prior to her latest ordeal that led to her death, she had been arrested a few more times in the earlier years of the persecution and held in a brainwashing center and detention center. She was also fired from her job.
Elderly Woman's Health Quickly Deteriorates After Latest Arrest for Her Faith, Dies Two Months Later
While Ms. Yue Shuxia was released soon after she and her daughter were both arrested for practicing Falun Gong, the mental pressure from the arrest and police interrogation became the last straw that broke the camel's back. Having endured two decades of persecution and served two prison terms for a total of seven years, Ms. Yue quickly lost her vision and her health was on a rapid decline. She passed away two months later, on June 6, 2022, at the age of 73.
Ms. Yue, a resident in Chifeng City, Inner Mongolia, was arrested at home on March 31, 2022, together with her daughter Ms. Li Xiurong. The arrest came after her daughter was followed by the police, as she was reported for distributing Falun Gong materials and identified by the police through surveillance camera videos.
As Ms. Yue refused to cooperate with the police during her arrest, four officers put her on a blanket, and then each carried a corner to take her to the police car. She was then taken to the Pingzhuang Police Station and interrogated.
While Ms. Yue didn't answer any of the police's questions and was released soon after, the arrest and interrogation nevertheless dealt her a huge blow. Upon returning home, she soon became blind and developed many other symptoms. She passed away two months later on June 6, 2022.
Prior to her latest arrest, Ms. Yue was sentenced twice to 3.5 years in prison. She was beaten and deprived of sleep while in custody.
Related reports:
Persecution Deaths of 17 Falun Gong Practitioners Reported in May 2022
Persecution Deaths of 19 Falun Gong Practitioners Reported in April 2022
Confirmed Between January and March 2022: 44 Falun Gong Practitioners Lost Their Lives to the Persecution
Persecution Deaths of 20 Falun Gong Practitioners Reported in January 2022
Reported in 2021: 132 Falun Gong Practitioners Die in the Persecution of Their Faith
All content published on this website are copyrighted by Minghui.org. Minghui will produce compilations of its online content regularly and on special occasions.