Liaoning Woman Dies Four Months after Enduring Nine Years of Imprisonment and Torture
(Minghui.org)
Name: Yong FangChinese Name: 雍芳Gender: FemaleAge: 65City: AnshanProvince: LiaoningOccupation: AccountantDate of Death: February 19, 2022Date of Most Recent Arrest: October 25, 2012Most Recent Place of Detention: Liaoning Province Women's Prison
When Ms. Yong Fang was released on October 25, 2021 after serving nine years for practicing Falun Gong, the Anshan City, Liaoning Province resident was so weak that she couldn't take a shower by herself. Her son struggled to care for her and her bedridden husband. Shortly after she was released, the authorities suspended her pension and also ordered her to pay back the 60,000 yuan of salary that she received while serving a forced labor term for her faith, years before her latest prison term.
The series of ordeals caused her health to further decline. The 65-year-old woman passed away on February 19, 2022, four months after her prison release.
Ms. Yong Fang
After the Chinese communist regime ordered the persecution of Falun Gong in 1999, Ms. Yong was repeatedly arrested and detained for upholding her faith. She was sentenced to prison in 2000 and given a one-year term at Masanjia Forced Labor Camp in July 2004. Following her last arrest in 2012, she was sentenced to nine years in prison. Her younger sister, who was arrested with her, died shortly after.
Last Arrest of the Yong Sisters
Ms. Yong and her sister Ms. Yong Fangzhi went to attend the hearing of five practitioners, Ms. Sun Liqing, Ms. Liu Xuyan, Ms. Lu Qiuying, Ms. Jiao Guimei and Ms. Liu Genxiu, at the Tiedong Court on October 25, 2012.
At 10:40 a.m., several cars of police officers came and arrested over 40 practitioners waiting outside of the court, including the Yong sisters.
Officers from the Duilu Police Station ransacked the sisters' homes and confiscated their Falun Gong books, some cash and other personal belongings. Ms. Yong Fang's husband and son were also arrested. They were released in the evening, together with Ms. Yong Fangzhi.
Ms. Yong Fang was kept in custody. Despite her extremely high blood pressure, she was admitted to the Anshan Women's Detention Center.
The younger Ms. Yong was terrified by the arrest. She was unable to eat or sleep at night upon returning home. She was dealt another blow when the police informed the family a few days later that her sister was taken to the hospital for resuscitation. Worried about her sister, her own health rapidly declined. She passed away two months later, on December 14, 2012. She was 54.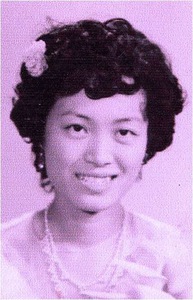 Ms. Yong Fangzhi
Sentenced to Nine Years
In a makeshift courtroom at Anshan City Women's Detention Center, Ms. Yong Fang was made to stand trial by the Tiedong District Court on February 28, 2013. She was later sentenced to nine years.
After two failed attempts to take her to the prison, the detention center guards deceived Ms. Yong that they were releasing her on medical parole and asked her to go downstairs to sign the paperwork. When she went downstairs, the guards carried her into the car and took her to the Liaoning Province Women's Prison.
As the detention center guards didn't allow Ms. Yong to bring any clothes or daily necessities, so she didn't have clothes to change in the prison and had to wear wet clothes as soon as she washed it. Because she refused to renounce Falun Gong, inmate Guo Shumei, who was assigned to monitor her, often verbally abused her. Ms. Yong held a hunger strike to protest the persecution, and was force fed.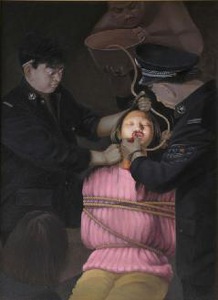 Torture illustration: Force feeding
Ms. Yong was on the verge of death at the 11th ward in the prison. She suffered a stroke on July 13, 2015 and was resuscitated. The doctor issued a critical condition notice for her. When her family rushed to the hospital to visit her, she was in a coma, but was still chained to the bed. Although the prison leadership denied her family's medical parole request for her, they forced them to pay 6,000 yuan for her medical expenses.
Tragic Death
With completely gray hair and a pale complexion, Ms. Yong was released from the prison on October 25, 2021. She was so weak that she didn't have the strength to take a shower by herself. She spoke in a very weak voice and her legs were weak too.
Worried about her condition, her husband suffered a stroke while she was still imprisoned. He became incapacitated and couldn't talk. After Ms. Yong was released, their son, a single man in his 40s who didn't get married due to the persecution, stayed home to take care of them. The whole family relied on Ms. Yong's husband's pension to get by.
Despite the huge financial burden the family was facing, Ms. Yong's son took her to the hospital for some treatment, but as her condition didn't improve, she returned home.
Ms. Yong used to work at a store as an accountant. Shortly after she was released, the authorities suspended her pension. They also demanded that she return the 60,000 yuan salary she received during her previous forced labor camp term.
Ms. Yong suddenly had trouble urinating in mid-February 2022. She suffered heart failure and fell into a coma. She passed away on February 19.
Related report:
Anshan City Practitioner Ms. Yong Fang in Prison, Her Sister Dies as a Result of the Persecution
All content published on this website are copyrighted by Minghui.org. Minghui will produce compilations of its online content regularly and on special occasions.