Sentenced to Prison While Still in a Coma, Math Tutor Passes Away
(Minghui.org)
Name: Ding GuochenChinese Name: 丁国晨Gender: MaleAge: 51City: DalianProvince: LiaoningOccupation: TeacherDate of Death: April 30, 2022Date of Most Recent Arrest: July 10, 2019Most Recent Place of Detention: Jinzhou Detention Center
Mr. Ding Guochen was still in a coma when he was sentenced to prison for practicing Falun Gong. The math tutor from Dalian City, Liaoning Province passed away two months later, on April 30, 2022. He was 51 years old.
Falun Gong, also known as Falun Dafa, is a spiritual discipline that has been persecuted by the Chinese communist regime since 1999.
Arrest
Mr. Ding and his wife Ms. Yan Qinghua were arrested during a police sweep across the province on July 11, 2019. The group arrest came as part of the Chinese Communist Party's effort to "maintain stability" ahead of its 70th anniversary of taking power in China.
Ms. Yan was released later that day, but Mr. Ding was taken to the Jinzhou Detention Center in the evening. He held a four-week-long hunger strike to protest the arbitrary detention and was force-fed. He lost his hearing and had a stroke as a result of abuse. He was then released on bail on October 19, 2019.
Mr. Ding resumed practicing Falun Gong upon returning home. He regained some of his mobility, but still had issues with his hearing.
While Mr. Ding was still detained, Ms. Yan went to the local police station to demand his release. Officer Li once grabbed her neck and pushed her into a room for interrogation. When she returned on September 10, 2019, the same officer pulled her hair and pushed her around. Much of her hair fell out as a result. The police also threatened to arrest her two children when they reached 18 years of age.
Sentencing and Passing Away
The police submitted the couple's cases to the Jinzhou District Procuratorate in early 2020. They were indicted and their cases were forwarded to the Jinzhou District Court on May 14, 2020. When the couple refused to attend the hearing, the police and court staff members often harassed them at home.
Mr. Ding had another stroke on January 27, 2021 and fell into a coma. He never regained consciousness and remained in a vegetative state. The Jinzhou District Court delivered the couple's wrongful convictions on February 23. Mr. Ding was sentenced to two years in prison and fined 5,000 yuan. Ms. Yan was given three and a half years and fined 8,000 yuan.
At one point, three staff members of the Jinzhou District Court came to the couple's home to verify Mr. Ding's health condition. Ms. Yan pointed at him, in a coma and on oxygen, and said, "He has become like this due to the persecution. Take a look yourself. We can't afford the cost for him to receive treatment in the hospital and I can only take care of him at home."
Seeing the dire situation of the family, the court staff members said to her, "You can stay home to take care of him."
Ms. Yan spent all of the family's savings on Mr. Ding's medical treatment and borrowed more from their relatives and friends. Now living in a destitute situation, she also struggles to cope with the void left by Mr. Ding's passing, and caring for their two children.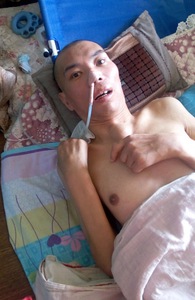 Mr. Ding Guochen before he fell unconscious.
Teacher Beloved by His Students
Mr. Ding had a bachelor's degree in Electronic Information and Electrical Engineering from Dalian University of Technology. He credited Falun Gong for curing his Hepatitis B and complications from a stroke.
Both he and his wife were fired from their jobs in 1999 for appealing to the central government in Beijing for their right to practice Falun Gong. To support the family, he began to tutor students in math. He treated every student with patience and care. Most of them improved their grades quickly, and one who often failed math exams ended up first in his class. During class breaks, Mr. Ding told the students stories of ancient times and encouraged them to quit their bad habits and improve their posture. Many of them cried when they heard about his last arrest.
The students called Mr. Ding's wife and asked when he would come back to teach them. One child said to Mr. Ding's wife, "I couldn't find a better teacher like him! I don't want to go to other tutoring classes. I just want to study with teacher Ding."
Related reports:
Sentenced While in a Coma, Liaoning Man Remains Unconscious Months Later (Graphic Photo)
Couple Sentenced to Prison for Their Faith, Husband Still in a Coma after Suffering a Stroke
Students Cry for Math Tutor Arrested for Not Renouncing His Faith
Liaoning Province: At Least 35 Falun Gong Practitioners Arrested in Two Days
Shenyang City, Liaoning Province: 13 Falun Gong Practitioners Arrested in One Day
Five Liaoning Residents Face Prosecution for Practicing Falun Gong
Views expressed in this article represent the author's own opinions or understandings. All content published on this website are copyrighted by Minghui.org. Minghui will produce compilations of its online content regularly and on special occasions.