Heilongjiang Man Dies One Year After Serving a 19-year Prison Term for Speaking Up about His Persecuted Faith
(Minghui.org)
Name: Zhang YaomingChinese Name: 张耀明Gender: MaleAge: 59City: HegangProvince: HeilongjiangOccupation: Math teacherDate of Death: Early April 2022Date of Most Recent Arrest: April 20, 2002Most Recent Place of Detention: Tailai Prison
A Hegang City, Heilongjiang Province resident was sentenced to 19 years in 2002, for intercepting TV signals to broadcast programs that debunked the Chinese Communist Party's hate propaganda against his faith in Falun Gong.
Mr. Zhang Yaoming was emaciated when he was released in April 2021. He passed away a year later, at the age of 59. He is survived by his wife and their child.
Taking Up Falun Gong
Mr. Zhang was a middle school math teacher. Before practicing Falun Gong, he struggled with severe inflammation of the pharynx, as well as sinusitis and cholecystitis. In his 30s, he often had to take lengthy sick leaves. Although his wife, Ms. Fan Fengzhen, was a doctor herself, she couldn't heal him.
Ms. Fan, 60, was the director of internal medicine department in a hospital. Having contracted pertussis, also known as whooping cough, at the age of three, she often suffered severe coughs in the winter. She also had anemia and other health issues, which left her struggling to juggle work and daily life.
A few days after Ms. Fan began to practice Falun Gong in August 1995, she felt all the fatigue was gone and her body was light and comfortable. Not long after, she noticed that Mr. Zhang had also changed and his bad temper was gone. She was curious and asked him why her practice of Falun Gong would also change him for the better. Mr. Zhang then told her that he had been reading Falun Gong books after she went to sleep and it had been six months already.
Since then, both of the couple enjoyed good health and lived by Falun Gong's principles of Truthfulness, Compassion, Forbearance. Mr. Zhang never had to take sick leave again. Ms. Fan stopped taking gifts from her patients' families and treated her in-laws better.
Arrested for Appealing for Falun Gong
When the Chinese Communist Party announced to persecute Falun Gong on July 20, 1999, all state-controlled media was filled with propaganda programs demonizing Falun Gong. Overnight, the 100 millions practitioners of the peaceful mind-body discipline became the top enemy of the state.
In October 2000, Mr. Zhang and Ms. Fan went to Beijing to appeal for the right to practice Falun Gong. Mr. Zhang was arrested while holding up a banner at Tiananmen Square. Ms. Fan, who stayed in the hotel, was also arrested.
The couple were soon taken back to Hegang and forced to pay 8,000 yuan. At the Hegang City No.2 Detention Center, the inmates covered Mr. Zhang with a blanket and beat him. He was later given one year at the Hegang City Forced Labor Camp.
Ms. Fan was first held at the Hegang City Lockup for two months and extorted 1,000 yuan before being transferred to a detention center to serve seven months of detention. She held a hunger strike to protest the persecution and was released five days later. After she was released, her hospital fired her when she tried to return to work.
Torture reenactment: force feeding
Ms. Fan was arrested again in early January 2002. Police chief Yao of Gongrencun Police Station beat her and caused her eyes to swell and her face to be covered with bruises. While serving 15-day detention at the Hegang City Lockup, she started a hunger strike to protest the persecution again. On the ninth day, the guards force fed her corn meal mixed with a large amount of salt. Her stomach had excruciating burning pain and her throat was severely injured. She almost died from suffocation.
Sentenced to 19 Years for Intercepting TV Signals
Mr. Zhang, Mr. Wang Shusen, Mr. Guo Zhongquan, Mr. Guo Xingwang (also known as Guo Xingguo) and Mr. Yang Yongying risked their lives tapping into the local TV signal on April 20, 2002 and played a 20-minute video refuting the Tiananmen Self-immolation hoax that defamed Falun Gong. Zhang Xingfu, the Party secretary of Hegang City, was infuriated. He gave the order to arrest the practitioners involved, claiming, "Even if you arrest 1,000 wrong people, you can't miss a single one who did it!"
In a few days, over 500 local Falun Gong practitioners in Hegang City were arrested. Mr. Zhang and Ms. Fan were arrested in the middle of the night on April 24 at a relative's home. Mr. Wang, Mr. Guo Zhongquan and Mr. Guo Xingwang were also arrested shortly after.
The Gongnong District Court handed down heavy terms to the four practitioners in October 2002: Mr. Zhang was sentenced to 19 years, Mr. Wang to 18 years, Mr. Guo Xingwang to 15 years and Mr. Guo Zhongquan to 13 years.
While Mr. Yang escaped the arrest back then, he was arrested on September 7, 2005 and sentenced to 17 years in 2006.
Mr. Guo Xingwang endured severe torture at the Hegang City No.1 Detention Center and Hulan Prison. He was released on medical parole on May 7, 2009 and passed away weeks later on June 3.
Mr. Zhang was first held at the Harbin No.3 Prison. In early 2004, the Heilongjiang Provincial Prison Administration Bureau demanded a 95% transformation rate of practitioners. After one practitioner was tortured to death in May that year, the prison authorities transferred most Falun Gong practitioners to other prisons to cover up the crime.
Mr. Zhang was taken to the Tailai Prison with another 27 practitioners on June 30, 2014. The prison authorities promised a 2,000-yuan reward to the head of each ward and 1,000-yuan reward to each of the guards if any ward was able to successfully force all the practitioners in the ward to renounce Falun Gong. Any warden or guards that failed to achieve the 100% transformation rate would face pay deduction, demotion or even job termination. The guards were allowed to use whatever torture methods it may take to break the practitioners' will. If there were not enough torture tools, they could make their own.
The practitioners were often hung up by their handcuffs or tied up to a stretching torture instrument. They weren't allowed to sleep at night. When they dozed off, the guards would pour cold water over them. Sometimes they were hung up and placed under the scorching sun (when the temperature reached over 104 °F). Some were placed in a three-foot deep pit for days, with their limbs tied up upward. In another torture, the guards put two steel balls underneath a practitioner's buttocks for seven days. In addition to the torture, the practitioners were also forced to do intensive hard labor without pay.
Mr. Zhang developed severe anemia, skin disease and hemorrhoids as a result of the torture. Although he was released on medical parole at one point, he was taken back to the prison on August 17, 2015 and finished serving his term.
When his term ended on April 23, 2021, instead of informing his family to pick him up, the prison authorities handed him to officials of the Hegang City Political and Legal Affairs Committee, 610 Office and Hongjun Police Station. They took him to the Hongjun Police Station and forced his family to write a statement to renounce Falun Gong on his behalf, before allowing him to go home.
Due to the severe damage to his health after the lengthy prison term and non-stop torture, Mr. Zhang never recovered and passed away in early April 2022.
Wife's Ordeal
Following Mr. Zhang's prison sentence in 2002, Ms. Fan was given three years of forced labor. She was held at the Harbin City Drug Rehab Center.
On November 12, 2002, prior to the 16th National Congress of the Chinese Communist Party, the drug rehab center started a round of torture of over 100 practitioners detained there. Two practitioners were beaten to death.
Ms. Fan and other practitioners were forced to squat in a row in the morning. The guards randomly called the practitioners out for torture. On the afternoon of November 14, Ms. Fan was called by guard Zhang Yushu.
In the freezing winter, guard Zhao Wei stripped of Ms. Fan's warm pants and sweater and took her barefooted to the basement, where another 70 practitioners were already tortured there. He handcuffed her to a fixture on the ground and opened the window to let the cold wind blow on the practitioners.
One guard shocked Ms. Fan's feet with an electric baton. Another one rolled up a magazine and whipped her in the face, causing her face to be severely swollen and bruised. Then inmate Lu Peiying stuffed a gauze ball with a foul smell into her mouth and taped it shut. Inmate Zhou Lijuan cut her hair randomly to make her look bad.
Around midnight, guard Wang Dan forced Ms. Fan to sit in a water basin and electrically shocked her, including directly on her back and arms. Then they dragged her outdoors. Five guards, each holding an electric baton, continued to shock her. Her head was exploding and she rolled over on the ground due to the pain.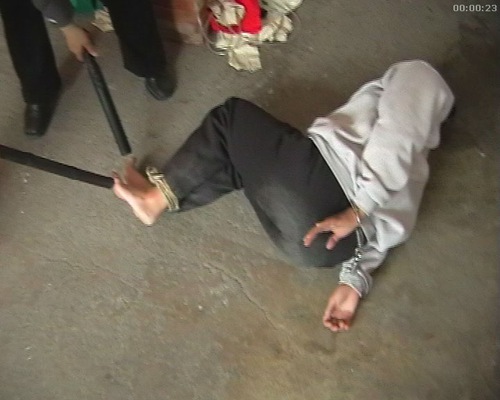 Torture reenactment: electric shocks
Since then, Ms. Fan has struggled with whole-body numbness and dizziness. She couldn't keep her balance while walking and lost the ability to take care of herself. Despite her condition, the authorities didn't released her until almost two years later in October 2004. By then, she had become extremely weak and emaciated. She didn't have the strength to talk and had difficulty eating.
While she and her husband were incarcerated, their young child stayed with a relative. The child often cried and couldn't focus on studies. Ms. Fan's father was also dealt a heavy blow due to the persecution. He passed away on July 1, 2004, three months before she was released.
Related reports:
Falun Gong Practitioners Brutally Persecuted at Tailai Prison in Qiqihar City, Heilongjiang Province
Intercepting TV Signals in China: A Look Back at Falun Gong Practitioners' Peaceful Resistance to the Persecution
All content published on this website are copyrighted by Minghui.org. Minghui will produce compilations of its online content regularly and on special occasions.