Persecution Deaths of 17 Falun Gong Practitioners Reported in May 2022
(Minghui.org) A total of 17 death cases of Falun Gong practitioners were reported in May 2022, bringing the total confirmed deaths this year to 81. Of the cases reported in May, one took place in 2018, one in 2020, four in 2021, and eleven in 2022.
Falun Gong, also known as Falun Dafa, is a mind-body practice based on the principles of Truthfulness, Compassion, and Forbearance. Since its introduction to the public in 1992, countless people have been drawn to its profound principles and health benefits. Fearing its ever-growing popularity, the Chinese communist regime launched a nationwide campaign in July 1999, attempting to stamp out the practice.
The 17 deceased practitioners, including eight females, came from 11 provinces and municipalities. Liaoning topped the list with six cases and Beijing had two. The remaining regions, including Heilongjiang, Hubei, Hunan, Jilin, Jiangsu, Shandong, Shanxi, Anhui, and Hebei, each had one case.
Among the 14 practitioners whose ages were known, nine were in their 50s, two in their 60s, and three in their 70s. The oldest practitioner was 77-year-old Ms. Shao Guoying from Hubei Province, who passed away on January 6, 2022, when her preexisting condition deteriorated due to police harassment.
Three of the practitioners died while in custody, including a woman who died 14 hours following her arrest, a widower who passed away while serving a 10-year term, and another man who was first declared dead when he was still alive and later indeed died.
For most other practitioners, they passed away after enduring two decades of persecution. In particular, a man died one year after serving 19 years for tapping into the TV signal to broadcast programs that debunked the Chinese Communist Party's hate propaganda against Falun Gong. A math tutor who was sentenced to two years when he was still in a coma never regained consciousness and passed away.
Although one practitioner escaped an arrest, she was found dead weeks later at another practitioner's home, where she had been staying before. The police stated that her death was unnatural, but they refused to provide any details about it.
Below are snapshots of some of the death cases. The complete list of all 81 confirmed death cases between January and May 2022 can be downloaded here (PDF).
Deaths in Custody
Shanxi Woman Dies 14 Hours After Being Arrested for Practicing Falun Gong
Ms. Niu Lanyun's family was told by the police on the evening of March 28, 2022, that their loved one, who was just arrested that morning, had died.
Ms. Niu had been living away from her home in Datong City, Shanxi Province since early 2021 to avoid being persecuted for practicing Falun Gong. A witness saw her climbing down a rope from her third-floor temporary apartment unit in Heng'an Residential Area of the same city at around 6 a.m. on March 28. When she got close to the first floor, the rope broke and she fell down. She soon stood up and walked toward the witness.
The witness offered to call an ambulance for her. Ms. Niu kindly declined. But the witness still made the call. Before Ms. Niu left, the ambulance arrived. She refused to get into the ambulance and an emergency medical technician tried to drag her into it. As they struggled, the police showed up. They pushed her into the police car and left.
Shortly after, the police arrested Ms. Niu's landlord. According to an insider, when the police went inside Ms. Niu's rented residence, there was fresh dough in her kitchen, suggesting that she was preparing breakfast when she was suddenly forced to escape.
At 8 p.m., Ms. Niu's family received a call from the police and was informed of her death. They were also asked to come to the Datong Funeral Home to confirm her identity.
The family was still in shock by Ms. Niu's mysterious death and they demanded to know what had happened to her in police custody that resulted in her death.
The latest round of the persecution of Ms. Niu dated back to 2020 when she and several other Falun Gong practitioners were followed and arrested by the police. Although the police released her on the same day, they threatened to look for her again in the future.
Starting on February 17, 2021, the police began to harass Ms. Niu and her family, signaling to arrest her again. To avoid further persecution, Ms. Niu moved out and rented a place in a different district in the same city to live on her own. But the police soon found her again. One day when she returned to her temporary housing, she saw the police officers (in plainclothes) leaving. It's because they didn't recognize her that she escaped the arrest.
Two Years After Wife's Death, Liaoning Man Dies While Serving Ten-year Prison Term
Having lost his parents and wife in the persecution of Falun Gong, Mr. Yin Guozhi died on May 22, 2022, while serving a 10-year prison term for upholding his faith in Falun Gong. He was 56.
Mr. Yin, of Chaoyang City, Liaoning Province, was arrested on September 26, 2019, after his rental apartment caught fire and the police came to investigate the accident. The arrest came after he spent ten years on the run to hide from the police. He was detained at the Jianping County Detention Center and was beaten by the detainees.
The Jianping County Procuratorate indicted him and the Jianping County Court secretly sentenced Mr. Yin to 10 years. They didn't inform his family of his case status until he was sent to the Jinzhou Prison.
Shortly after Mr. Yin was sentenced, his wife, Ms. Fu Jinghua, who was also in displacement, died in her rental place on December 31, 2019, succumbing to years of persecution for their shared faith in Falun Gong.
A relative of Mr. Yin's was visited by two prison guards and a village official on March 8, 2022. They said that Mr. Yin had developed late-stage lung cancer and was receiving oxygen in the hospital. His family was ordered to cover his medical expenses. While it's not clear whether his family complied, Mr. Yin passed away two months later on May 22.
As his family was on their way to the prison to claim his body, the prison called them and ordered them to follow quarantine procedures before they could be given access to his body. Unable to afford the quarantine cost and lengthy waiting period, the family had to give up taking back his body.
The couple's ordeal started when the police attempted to arrest them on July 28, 2009. While Mr. Yin escaped and was forced to live away from home, his wife was arrested and later sentenced to seven years. Their elderly parents were left at home, struggling to care for themselves and their grandson.
The police put Mr. Yin on the wanted list and offered a 50,000-yuan reward for people to report his whereabouts. They also harassed many other local practitioners in attempts to look for Mr. Yin, resulting in the arrests of several practitioners.
Distressed about the couple's persecution and police's constant harassment, Ms. Fu's mother passed away in 2013. Mr. Yin's mother died one year later after suffering from a heart condition and high blood pressure.
When Ms. Fu was released in 2015, she took care of her bedridden father-in-law, who was in his 80s. Her arrest three years later on December 13, 2018, dealt the elderly man another heavy blow. He passed away shortly after she was released from 15 days of detention.
The police continued to harass Ms. Fu and threatened to sentence her to 16 years for upholding her faith. Fearing further persecution, she lived away from home, only to fall ill shortly after and pass away in her rental apartment on December 31, 2019. She was 53.
74-year-old Man Dies While Detained for Practicing Falun Gong
Mr. Liu Qingfei's family received a call from the Liaozhong District Detention Center at 8:25 p.m. on April 24, 2022, and was told that the 74-year-old Shenyang City, Liaoning Province resident had come down with a sudden, acute condition and had died despite efforts to resuscitate him in the hospital.
When the family rushed to the hospital, Mr. Liu's eyes and mouth were open. His eyes were still bright and didn't look like the eyes of a dead person. They touched his body and realized that it was still warm. They asked the detention center guards standing on the side, "Why did the doctor stop trying to resuscitate him when he is still alive?"
The guards claimed that Mr. Liu suffered an acute condition at 6:39 p.m. They called the hospital and the ambulance came 20 minutes later. Mr. Liu was pronounced dead at 7:08 p.m. It's not clear if he was in the hospital by 7:08 p.m. It's also not clear who pronounced him dead and why the detention center guards waited until 8:25 p.m. to inform his family.
At the family's insistence, the doctor tried again to resuscitate Mr. Liu, but he died moments later.
Mr. Liu was arrested at home on August 28, 2021. The police broke into his place claiming they were there to give him a COVID-19 vaccination. He was interrogated while in custody and suffered a heart attack on the second day of his arrest. He was awaiting trial by the Liaozhong District Court when he died.
Mr. Liu's family suspects foul play in his death. They are keeping his body in the funeral home and are trying to seek justice for him.
Suspicious Death
Ms. Feng Yan, of Yingshang County, Fuyang City, Anhui Province, visited a practitioner in Hefei City in April 2021 and stayed with the practitioner for a few days. On April 28, the police broke in and raided the practitioner's apartment. They seized the practitioner and put her in Liu'an Brainwashing Center. Ms. Feng fled the scene and her whereabouts were unknown.
When the practitioner was released two weeks later on May 13, the police had put a new lock on her door, to replace the one broken by them during the raid. The practitioner also smelled a stench. She went up to the attic and saw Ms. Feng's body on the floor, with her eyes popping out and flesh partially decomposed. After the police arrived, they took photos of the body and rushed it to a crematory.
The next day the police called Ms. Feng's family in Fuyang City and had them come to Hefei City. The family wanted to take the body back to Fuyang to be cremated as soon as possible, but the police said an autopsy, which would take three months, must be done before they could close the case. They also warned the family not to post any information about Ms. Feng's death on the Internet or file any complaints. The family agreed to have the autopsy done but demanded to speed up the process. A week later the police issued a death certificate, which stated that the cause of her death was unnatural, but they gave no specifics on what it was.
Since the onset of the persecution, Ms. Feng, 53, was repeatedly arrested and harassed for upholding her faith. The court approved her husband's divorce request without her knowledge, while she was serving time in a labor camp.
After Ms. Feng was released from a brainwashing center detention in 2021, she told her son, "If I died, it had to be them. I would never commit suicide because it is against my belief."
Deaths from Enduring Long Term Persecution
Heilongjiang Man Dies One Year After Serving a 19-year Prison Term for Speaking Up about His Persecuted Faith
When Mr. Zhang Yaoming was released after serving 19 years for intercepting TV signals to broadcast programs that debunked the propaganda against Falun Gong, he was very weak and emaciated. The Hegang City, Heilongjiang Province resident passed away a year later, at the age of 59. He is survived by his wife Ms. Fan Fengzhen and their child.
When the Chinese Communist Party announced to persecute Falun Gong on July 20, 1999, all state-controlled media was filled with propaganda programs demonizing Falun Gong. Overnight, the 100 millions practitioners of the peaceful mind-body discipline became the top enemy of the state.
To clarify the facts about Falun Gong, Mr. Zhang, a middle school math teacher, and four other practitioners risked their lives by tapping into the local TV signal on April 20, 2002, and played a 20-minute video refuting the Tiananmen Self-immolation hoax that defamed Falun Gong. Zhang Xingfu, the Party secretary of Hegang City, was infuriated. He gave the order to arrest the practitioners involved, claiming, "Even if you arrest 1,000 wrong people, you can't miss a single one who did it!"
In a few days, over 500 local Falun Gong practitioners in Hegang City were arrested. Mr. Zhang and Ms. Fan were arrested in the middle of the night on April 24 at a relative's home. Three other practitioners were also arrested shortly after.
The Gongnong District Court handed down heavy terms to the four practitioners in October 2002: Mr. Zhang got the longest term of 19 years and the other three were given 13 to 18 years. The fifth practitioner who escaped the arrest back then was arrested on September 7, 2005, and sentenced to 17 years in 2006.
Mr. Zhang was first held at the Harbin No.3 Prison and then transferred to the Tailai Prison on June 30, 2014. The prison authorities promised a 2,000-yuan reward to the head of each ward and a 1,000-yuan reward to each of the guards if any ward was able to successfully force all the practitioners in the ward to renounce Falun Gong. Any warden or guard that failed to achieve the 100% transformation rate would face pay deduction, demotion or even job termination. The guards were allowed to use whatever torture methods it may take to break the practitioners' will. If there were not enough torture tools, they could make their own.
The practitioners were often hung up by their handcuffs or tied up to a stretching torture instrument. They weren't allowed to sleep at night. When they dozed off, the guards would pour cold water over them. Sometimes they were hung up and placed under the scorching sun (when the temperature reached over 104 °F). Some were placed in a three-foot-deep pit for days, with their limbs tied up. In another torture, the guards put two steel balls underneath a practitioner's buttocks for seven days. In addition to the torture, the practitioners were also forced to do intensive hard labor without pay.
Mr. Zhang developed severe anemia, skin disease, and hemorrhoids as a result of the torture. Although he was released on medical parole at one point, he was taken back to prison on August 17, 2015, and finished serving his term.
When his term ended on April 23, 2021, instead of informing his family to pick him up, the prison authorities handed him to officials of the Hegang City Political and Legal Affairs Committee, 610 Office and Hongjun Police Station. They took him to the Hongjun Police Station and forced his family to write a statement to renounce Falun Gong on his behalf, before allowing him to go home.
Due to the severe damage to his health after the lengthy prison term and non-stop torture, Mr. Zhang never recovered and passed away in early April 2022.
Sentenced to Prison While Still in a Coma, Math Tutor Passes Away
Mr. Ding Guochen was still in a coma when he was sentenced to two years for practicing Falun Gong. The math tutor from Dalian City, Liaoning Province passed away two months later, on April 30, 2022. He was 51 years old.
Mr. Ding and his wife Ms. Yan Qinghua were arrested during a police sweep across the province on July 11, 2019. The group arrest came as part of the Chinese Communist Party's effort to "maintain stability" ahead of its 70th anniversary of taking power in China.
Ms. Yan was released later that day, but Mr. Ding was taken to the Jinzhou Detention Center in the evening. He held a four-week-long hunger strike to protest the arbitrary detention and was force-fed. He lost his hearing and had a stroke as a result of abuse. He was then released on bail on October 19, 2019.
Mr. Ding resumed practicing Falun Gong upon returning home. He regained some of his mobility, but still had issues with his hearing.
While Mr. Ding was still detained, Ms. Yan went to the local police station to demand his release. Officer Li once grabbed her neck and pushed her into a room for interrogation. When she returned on September 10, 2019, the same officer pulled her hair and pushed her around. Much of her hair fell out as a result. The police also threatened to arrest her two children when they reached 18 years of age.
Mr. Ding had another stroke on January 27, 2021, and fell into a coma. He never regained consciousness and remained in a vegetative state. Despite his condition, the Jinzhou District Court delivered the couple's wrongful convictions on February 23. Mr. Ding was sentenced to two years in prison and fined 5,000 yuan. Ms. Yan was given three and a half years and fined 8,000 yuan.
At one point, three staff members of the Jinzhou District Court went to the couple's home to verify Mr. Ding's health. Ms. Yan pointed to the man, who was in a coma and on oxygen, and said, "He has ended up like this due to the persecution. See for yourself. We can't afford to have him treated in the hospital so I have to take care of him at home."
Seeing the dire situation of the family, the court staff members said to her, "You can stay home to take care of him."
Ms. Yan spent all of the family's savings on Mr. Ding's medical treatment and borrowed more from their relatives and friends. Now living in a destitute situation, she also struggles to cope with the void left by Mr. Ding's passing and caring for their two children.
Liaoning Man Dies at 52 Due to Persecution of His Faith
During the past 23 years of the persecution of Falun Gong by the Chinese Communist Party, Mr. Wu Daxing of Shenyang City, Liaoning Province, was repeatedly arrested and harassed.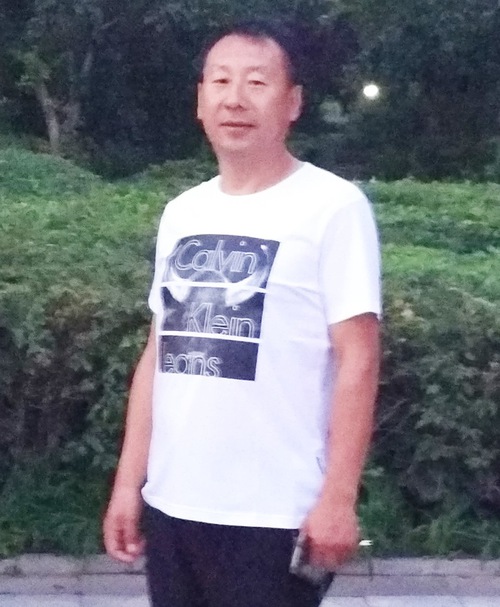 Mr. Wu Daxing
While serving a three-year term between 2007 and 2009, he endured severe torture, including being whipped with a leather belt, being punched on the face, being stomped, electric shocks for hours, and sitting on a stool with a ridged surface. In addition to the physical torture, he was also forced to do intensive labor without pay, as well as being verbally abused and forced to watch videos smearing Falun Gong.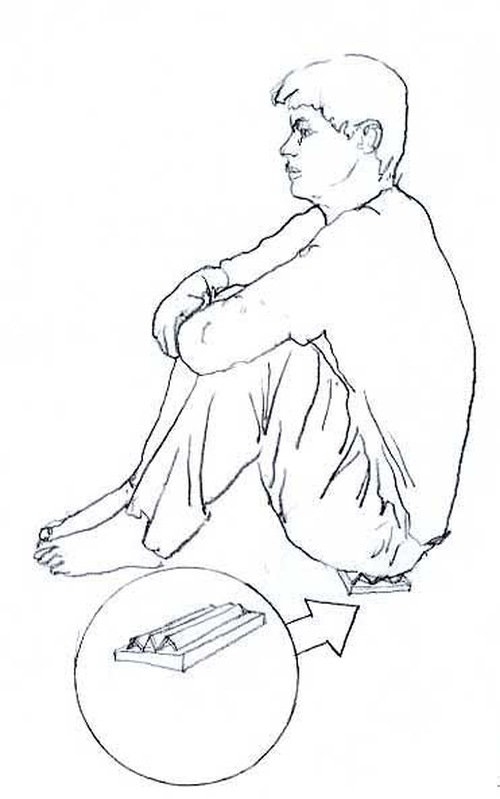 Torture illustration: Sitting on a stool with a ridged surface
After he was released on December 13, 2009, he struggled to recover from the damage to his health caused by the torture. He was no longer the strong man he used to be and had to take frequent breaks even when cooking meals for the family.
Fearing being targeted again, he moved in 2010, but the police found him shortly after. When an officer knocked on his door one day at 7 p.m., he jumped out of the window and escaped. The police then harassed his son at school to try to find out where he was. The boy, then in elementary school, had to stop going to school for several months. The police harassment continued over the years, especially when his father was imprisoned. The boy's teachers often bullied him, which scarred him for life.
Mr. Wu's arrest in 2007 dealt such a heavy blow to his mother that she suddenly became blind. Although he tried to provide good care to her after being released, her health continued to decline and she later passed away. Her passing and the police harassment distressed Mr. Wu greatly. He decided to move again in 2019, but the police still managed to find him and began to harass him again.
Every time he was harassed, Mr. Wu was always in a bad mood. His health deteriorated further and he developed a severe heart condition. He passed away on February 4, 2021. He was only 52.
Hunan Woman Dies After Enduring Decades of Arrests and Harassment
Ms. Kuang Changyun, a Hengyang City, Hunan Province resident, passed away on March 6, 2022, as a result of the persecution of her faith in Falun Gong. She was 68.
After the persecution began, Ms. Kuang was arrested at least ten times and had her home ransacked seven times. She was given a one-year labor camp term in 2000 and had her term extended for a year for not renouncing Falun Gong. She was held in solitary confinement and forced to sit on a small stool. The guards also ordered the inmates to torture her.
Even when her extended-term expired in 2002, the authorities still refused to release her but took her to the Nanyue Detention Center, where she was kept for another six months. After she was released, she went to Changsha to visit her uncle and stayed there for five days. When she returned home, she was shocked to see her residence turned upside down. Agents of the 610 Office then arrested her, with the excuse that she went out of town without getting their permission. She was held at the Nanyue Detention Center for nearly two weeks. She held a hunger strike for a week to protest the detention.
The authorities continued to monitor her daily life since, and they didn't allow her to move out of town to look for a job. To better monitor her, Yue Donghua, the director of the 610 Office, arranged for her to work as a city janitor. She was ordered to work every day without any vacation and was only paid 250 yuan a month. If she had to take one day off, then her salary would be deducted.
The persecution took a toll on Ms. Kuang's health. She passed away on March 6, 2022. She was 68.
Beijing Man Suddenly Dies While Trying to Rescue Wife Arrested for Their Shared Faith
Mr. Wang Lianyi of Beijing suddenly dropped dead in his front yard on April 25, 2022. As he didn't answer his brother's call for two days, his brother scaled Mr. Wang's fence to get into his home and found his body. He was 56.
Only a day before Mr. Wang's death, he was still looking for a lawyer to represent his wife, Ms. Lang Dongyue, who was arrested on December 14, 2021, for practicing Falun Gong and is now facing trial.
Having endured repeated arrests and harassment himself, Mr. Wang was terrified at the sight of the two police cars parked in front of the law firm and he collapsed on the street. After a long break, he gathered his strength and walked into the law firm with his friend. He told the lawyer that he was a farmer and wasn't doing well financially, but he was willing to do everything he could to rescue his wife. He passed away the next day even before the lawyer got back to him.
In the earlier years of the persecution, Mr. Wang was given a labor camp term in 2002. He was detained for 14, seven, and 15 days following his arrests on May 5, 2016, October 21, 2016, and May 19, 2017, respectively.
For demanding his wife's release, Mr. Wang was arrested again on July 19, 2017, and held at a detention center for a month, followed by fourteen days at a brainwashing center.
The police continued to harass the couple afterward, including arresting him at his daughter's wedding on March 22, 2018.
Middle-aged Woman Dies While in Displacement
Ms. Zhang Jingbo, a Yanji City, Jilin Province resident, was forced to live away from home since 2008 to avoid being persecuted for practicing Falun Gong. The fear and tremendous mental pressure took a toll on her health. She passed away in her rented apartment on May 8, 2022. She was only 52.
Following Ms. Zhang's arrest on April 14, 2008, the police tied her up in an excruciating position for nearly six hours. She had difficulty breathing and was on the verge of death. She later held a hunger strike to protest the persecution. The police attempted to force-feed her but had to give up due to her extremely high blood pressure induced by the torture. The police thus gave her one injection, which caused an abnormal heartbeat and generalized numbness in her.
Ms. Zhang became extremely weak and fell in critical condition due to the torture and hunger strike seven days after her arrest. The police, however, still attempted to take her to a forced labor camp. Only after the labor camp guards refused to admit her, did the police release her.
After staying at home for a few days to recover, Ms. Zhang moved away to avoid being arrested again. She was put on the police's wanted list and her family members' cellphones were also monitored by the police.
Prior to her latest arrest, Ms. Zhang was given three years at the Heizuizi Forced Labor Camp on November 29, 2000. She was forced to work 18 hours every day without pay. The guards beat and verbally abused her when she couldn't finish the work on time.
In addition to the forced labor, she was also shocked with electric batons, locked in solitary confinement, and deprived of sleep. Her body was constantly covered with bruises that took months to recover.
Liaoning Woman Dies from Medical Condition Induced by Torture and Drug Administration in Custody
Ms. Wang Chaohui, of Shenyang City, Liaoning Province, passed away on December 29, 2021, succumbing to the long-term mental and physical distress in the persecution. She was 53.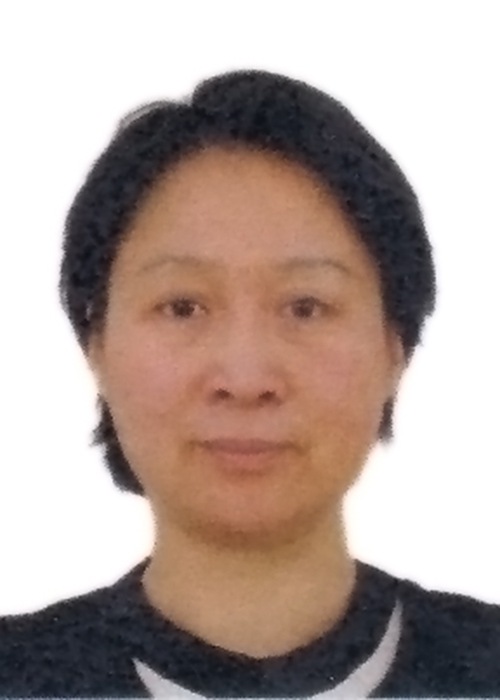 Ms. Wang Chaohui
Ms. Wang was first arrested in July 1999 when she took her 13-month-old son to Beijing to appeal for the right to practice Falun Gong. She was detained for two weeks and shocked with electric batons. She was arrested again in 2000 for photocopying articles from Minghui.org and detained for 15 days. To hide from the police, she went into displacement with her son in late 2000.
Ms. Wang was put on the police's wanted list in August 2008 for hanging up a banner with information about Falun Gong. When she was arrested on September 9, 2009, her 11-year-old son witnessed the whole process, including how the police put a black hood on her head and beat her. The boy was also taken to the police station and detained briefly.
Ms. Wang was later sentenced to four years at the Liaoning Province Women's Prison. After she developed pleurisy, the doctor gave her unknown drugs, which caused a severe liver condition in her. She was on the verge of death and was released in October 2010. Over the years, she struggled with hepatic ascites, and heart and renal failure, which eventually claimed her life.
In addition to the persecution she suffered herself, her family also bore enormous pressure. Both she and her husband lost their jobs. Her parents passed away one after another between 2003 and 2004. Her son was also traumatized after witnessing the persecution the family had to endure all these years.
Related reports:
Persecution Deaths of 19 Falun Gong Practitioners Reported in April 2022
Confirmed Between January and March 2022: 44 Falun Gong Practitioners Lost Their Lives to the Persecution
Persecution Deaths of 20 Falun Gong Practitioners Reported in January 2022
Reported in 2021: 132 Falun Gong Practitioners Die in the Persecution of Their Faith
All content published on this website are copyrighted by Minghui.org. Minghui will produce compilations of its online content regularly and on special occasions.