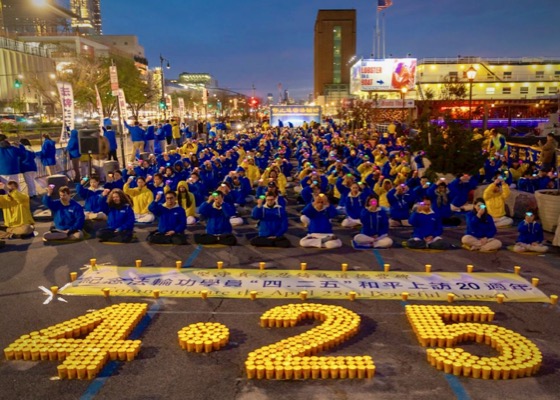 Practitioners gathered in front of New York City's Chinese Consulate to solemnly remember fellow practitioners who died during the ongoing persecution of Falun Gong in China. The practitioners held a candlelight vigil on the evening of April 20, 2019 to remind the world how ten thousand practitioners went to Beijing to peacefully ask the government to allow them their basic right of belief.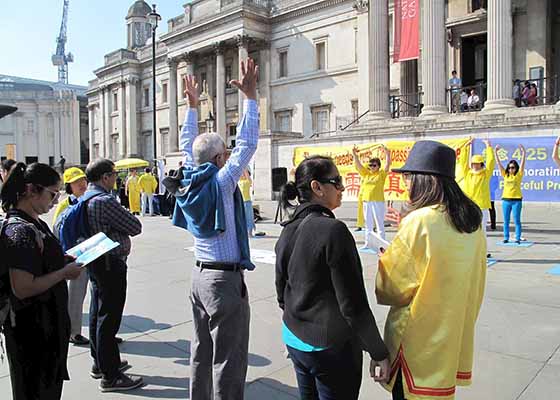 Falun Gong practitioners held a series of activities last weekend to commemorate the 20th anniversary of the April 25, 1999 peaceful appeal of over 10,000 practitioners in Beijing. The events were held in downtown London, London's Chinatown, the Chinese Embassy, and the British Museum.
One thousand Falun Gong practitioners held a large-scale march in Flushing, New York, to commemorate the April 25 peaceful appeal. Among the crowds of spectators, many expressed their support for Falun Gong practitioners' ongoing efforts to end the persecution in China. "Only Falun Gong is able to stand firmly against such a totalitarian regime. This is a miracle and I respect these practitioners the most!" said one spectator.
Court authorities changed a practitioner's age from 76 to 70 to justify a heavier, 9-year sentence for her faith. She was abused during her imprisonment and faced frequent harassment by police after being released.
Falun Gong practitioners in San Francisco held activities outside the Ferry Building and on Union Square on April 20, to expose the Chinese Communist Party's persecution and commemorate the Falun Gong April 25th peaceful appeal in 1999.
Falun Gong practitioners in Montreal commemorated the peaceful appeal that took place in Beijing on April 25, 1999. The following day, Toronto practitioners participated in one of the largest Easter parades in the world, bringing the beauty of Falun Dafa to their community.
~ April 25 Events ~
~ Journeys of Cultivation ~
~ Improving Oneself ~
~ Falun Dafa's Divine Power ~
~ Accounts of Persecution ~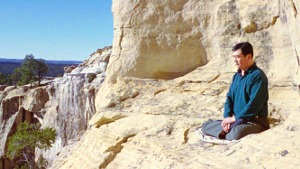 Master Li quietly watching the world from amidst the mountains after leaving New York following July 20th, 1999. (Published January 19, 2000)