Canadian Practitioners Commemorate the Peaceful Appeal of 1999 and Participate in Easter Parade
April 27, 2019 | By Minghui correspondents in Canada
(Minghui.org) Falun Gong practitioners in Montreal gathered over the past weekend to commemorate the peaceful appeal that took place in Beijing on April 25, 1999. The following day, Toronto practitioners participated in one of the largest Easter parades in the world, bringing the beauty of Falun Dafa to their community.
Montreal, Quebec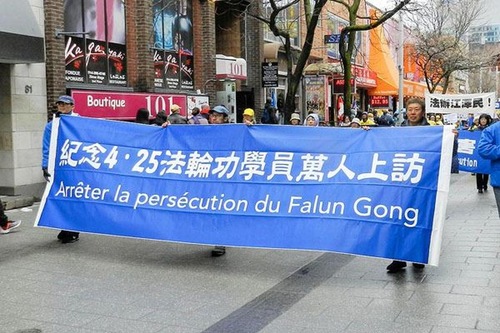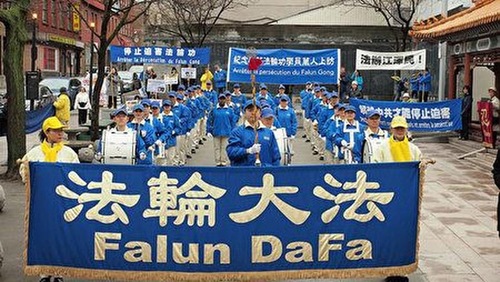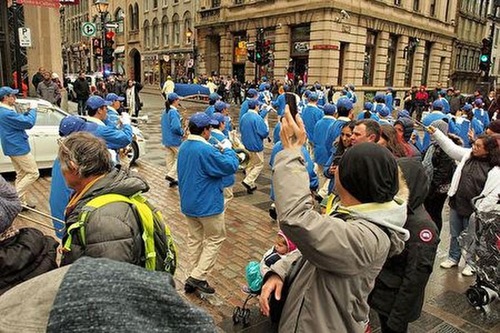 Practitioners parade through Montreal's Chinatown on April 20 after a rally commemorating the peaceful appeal from April 25 in Beijing 20 years ago.
April 25, 1999 is a significant date for China and Falun Gong practitioners. On that day, approximately 10,000 Falun Gong practitioners traveled to Beijing to appeal to the regime's leadership after practitioners in Tianjin were illegally arrested for their belief. The Tianjin practitioners were released following the peaceful appeal, but three months later on July 20, 1999, then Chinese leader Jiang Zemin launched a nationwide persecution campaign against Falun Gong practitioners that continues to this day.
Practitioners who had personally taken part in the appeal in Beijing in 1999 recalled their experiences at a rally in Montreal and called for an end to the 20-year-long persecution.
Ms. Hao from Tianjin spoke during the rally on April 20, and recalled that the 1999 appeal in Beijing was very peaceful and calm. She had been working with other practitioners at the time on a report that included 100 cases in which practitioners had benefited physically from the practice. After hearing about the arrests in Tianjin, she joined other practitioners in Beijing on April 25, 1999.
She said, "Several elderly people who passed by us and who had been through various political campaigns advised me to go home, because the Communist Party could be ruthless. But I told them I had to safeguard my conscience and the principles of Truthfulness-Compassion-Forbearance."
Ms. Hao explained that since the Communist Party took power several decades ago, China's people have lived in terror and dared not speak from their hearts or uphold their principles. She and some other practitioners from Tianjin had been among the last to leave the appeal site, and she was able to see that the ground was completely clear of any trash, a reflection of practitioners' good manners. That is why she thinks the peaceful appeal of 20 years ago not only represented the courage to pursue righteousness, but also the virtue that Falun Gong has brought to practitioners and society.
Practitioners held a parade following the rally, that traveled through Montreal's Chinatown and passed a number of tourist attractions.
Toronto, Ontario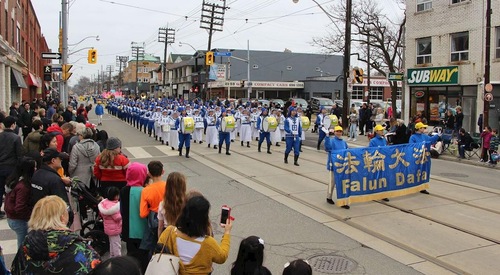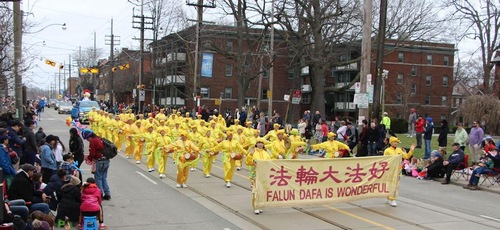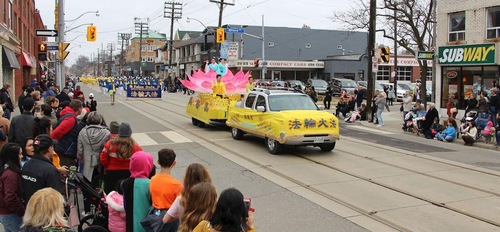 Practitioners attended the Beaches Easter Parade in Toronto on April 21, 2019.
Practitioners in Toronto joined the Beaches Easter Parade on April 21. First held in 1967, the parade is attended by more than 50,000 people each year and is considered the largest and longest-running Easter Parade in the world.
The practitioners' section included the Tian Guo Marching Band, a waist drum troupe, exercise demonstrations, and a float.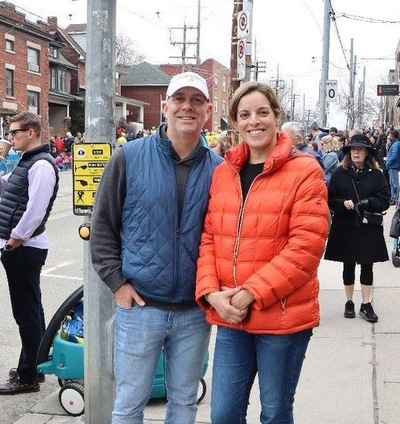 Ciara and Andrew enjoyed the practitioners' performances.
Ciara and Andrew said that they really enjoyed the parade performances by the Falun Gong practitioners. They were shocked to hear about the ongoing suppression in China and felt sorry when told about the mistreatment that practitioners have suffered. Ciara said, "Freedom of belief is a basic human right and no one should take that away." They both said they hoped the tragedy in China would end soon.
Local resident Chris said both he and his friends enjoyed the music played by the Tian Guo Marching Band. "It is truly amazing," he exclaimed. Having heard about Falun Gong and the suppression in China, he said he hoped the situation would change. "I have been to several cities in China. It is a place different from the rest of the world, since people have no access to the free world, and you are monitored all the time," he remarked.
Natalie was excited and joyful as she saw the practitioners pass by. She explained, "This section is so wonderful and so beautiful that I was almost moved to tears." She was surprised to learn about the persecution in China and curious to know more. She said she would look up the Falun Dafa website and check it out. "They are so peaceful and graceful, they really are," she added.
Related article in Chinese:http://www.minghui.org/mh/articles/2019/4/23/多伦多法轮功学员参加复活节大游行(图)-385463.html