San Francisco: Falun Gong Practitioners Commemorate the April 25th Appeal
April 27, 2019 | By Jia Wei and Wang Ying, Minghui correspondents in San Francisco
(Minghui.org) Falun Gong practitioners in San Francisco held activities outside the Ferry Building and on Union Square on April 20, 2019, to expose the Chinese Communist Party's (CCP) persecution and commemorate the Falun Gong April 25th appeal 20 years ago.
Falun Gong group exercise outside the Ferry Building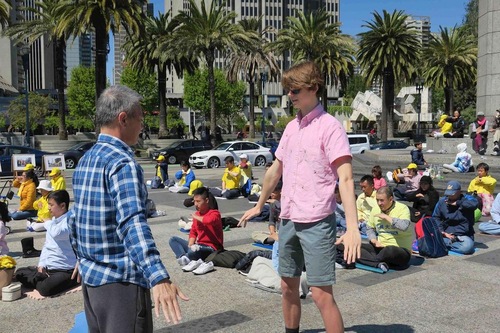 A passerby (right) learns the Falun Gong exercises.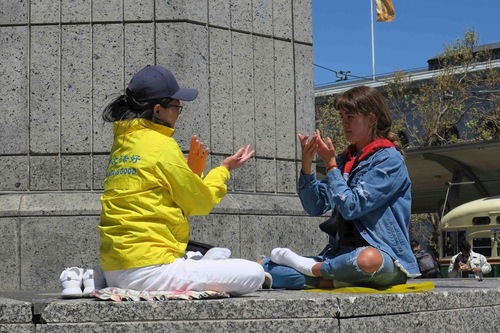 A passerby (right) learns the Falun Gong exercises.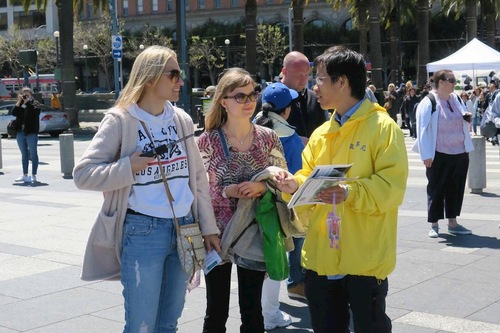 A practitioner tells tourists about the persecution.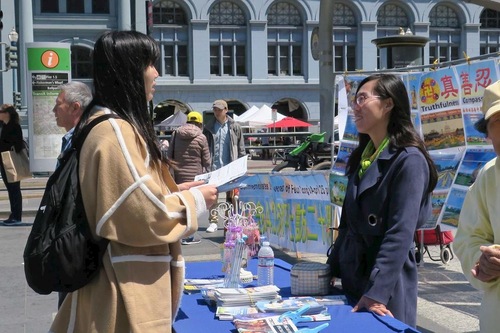 A passerby (left) accepts detailed information from a Falun Gong practitioner.
"Organ Harvesting Is Terrible!"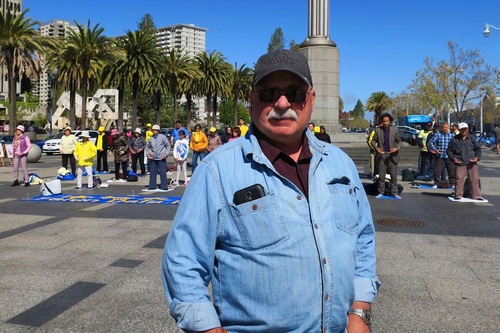 Local resident Mr. Jerry Smith supports Falun Gong activities.
Local resident Mr. Jerry Smith said he had seen many Falun Gong activities in San Francisco and was supportive of practitioners' efforts to end the persecution. He said that he knows that practitioners are a group of peaceful and nice people who are calling for freedom of belief in China. He couldn't understand why the CCP would persecute a self-cultivation group, and couldn't believe it has lasted for 20 years. He said he believed that everyone in every corner of the world should enjoy freedom of belief, and the CCP should respect it.
Upon hearing about the CCP's crimes of harvesting organs from living practitioners for profit, he said it was terrible and he couldn't imagine why the CCP had committed such horrible crimes against people who simply want to practice their faith.
Passersby Admire Falun Gong Practitioners' Strong Faith and Great Principles
Another local resident expressed her admiration for Falun Gong practitioners' persistence and strong faith. She said, "I saw their parade in the rain during the Chinese New Year. They walked straight and showed incomparable tenacity! My friends and I have been talking about it!"
Mr. Peter Whittakerr Impressed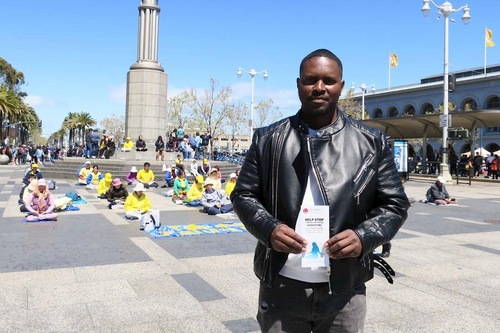 Mr. Peter Whittakerr from Florida
Mr. Peter Whittakerr, a tourist from Florida, learned about the persecution for the first time. He was shocked to hear about the CCP's organ harvesting. He took some photos of the informational fliers and sent them to his friends on Facebook.
Mr. Whittakerr said that no one who believes in morality would be indifferent to such a despicable thing as organ harvesting. He thanked the practitioners for telling him and others about the persecution, and expressed sincere hope that more people would hear about and help stop it. He hopes that these peaceful and faithful nice people will be able to get their rights and freedom.
He was impressed with Falun Gong's cultivation principles of Truthfulness-Compassion-Forbearance. He commented, "The world needs Truthfulness-Compassion-Forbearance. If you compare a group of people with Truthfulness-Compassion-Forbearance as their standard to those without, you will find they are truly outstanding and unique."
Ms. Carol Louder and Siblings Sara and Tony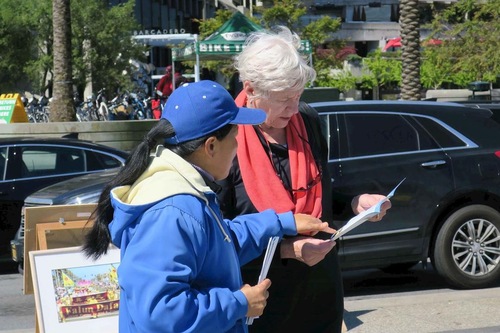 Ms. Carol Louder received information from a Falun Gong practitioner.
Ms. Carol Louder, a tourist from Salt Lake City, stopped to watch the Falun Gong exercises. She told a practitioner that she was very interested in Eastern beliefs. She was impressed with the Falun Gong principles of Truthfulness-Compassion-Forbearance. She said, "If all the people in the world could follow these principles, the world would be a much better place. I appreciate and support your efforts in telling people what's happening in China. I hope the persecution will stop soon!"
Local residents Sara and her brother Tony joined the Falun Gong meditation. They asked practitioners if they could learn the exercises. After learning the meditation movements, Sara said, "It's great! I feel relaxed as if my whole body becomes one. It's a very unique feeling!" Tony said, "I feel very calm and relaxed. Every movement seems to have a different meaning. It's hard to describe this wonderful feeling. You have to experience it in person. I will download the exercise video and find out more."
Personal Experience with April 25 Appeal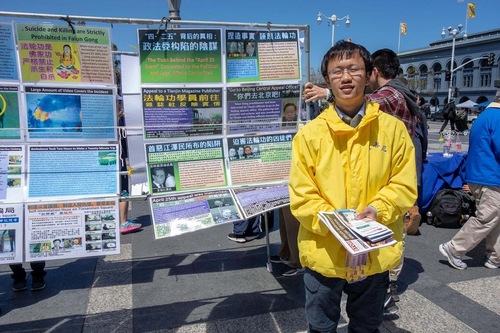 Falun Gong Practitioner David Huang
David Huang, a Falun Gong practitioner, was only 11 when he participated in the April 25th appeal with his parents. His father and aunt were arrested for practicing Falun Gong when the persecution was launched in July 1999. His father was detained for a month and his application for full professorship was rejected because he practiced Falun Gong.
David had started practicing Falun Gong with his parents when he was seven years old. He said that many people who had participated in the persecution had been coerced to follow the CCP's orders, and never knew the true story about Falun Gong, due to the CCP's information blockade. He was there to help spread the facts about Falun Gong.
Candlelight Vigil Mourns Fallen Practitioners in China
Falun Gong practitioners held a group exercise at 4:00 p.m. and a candlelight vigil in the evening on Union Square. They mourned their fellow practitioners who died from the CCP's persecution and called for collective efforts to end the atrocities.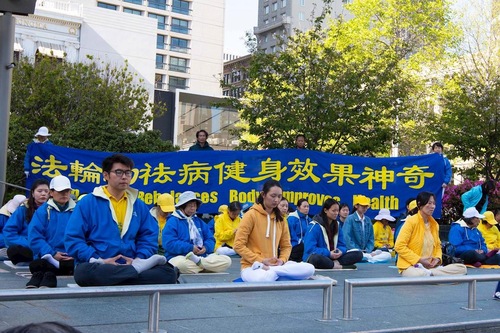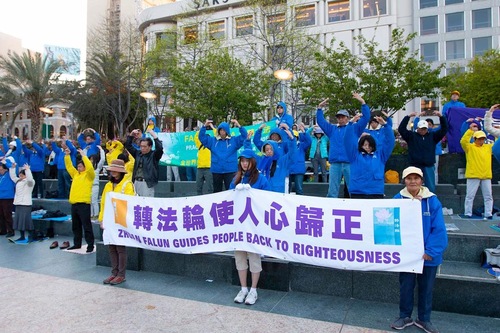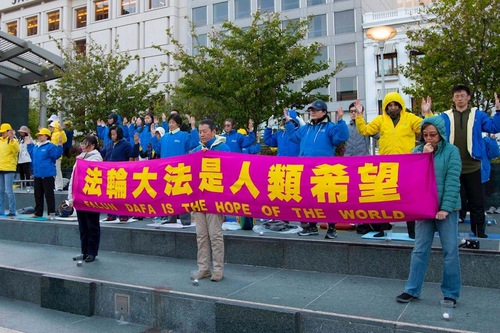 Group exercise on Union Square commemorates the April 25th appeal.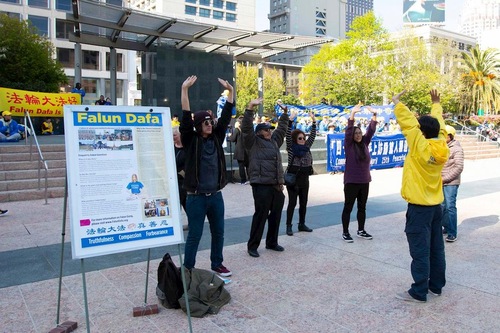 A group of people learn the Falun Gong exercises on the spot.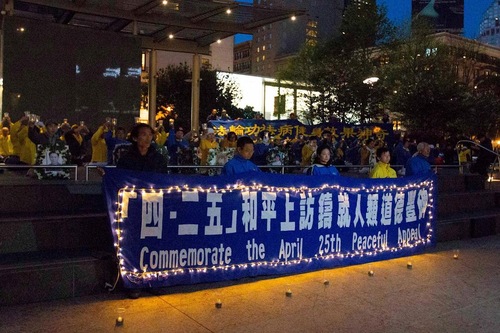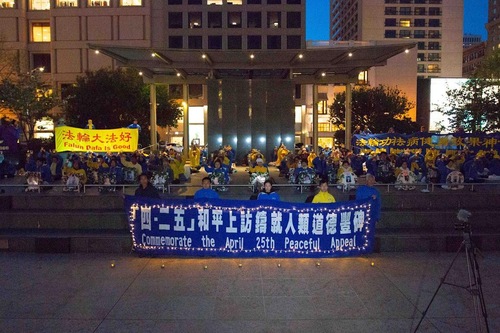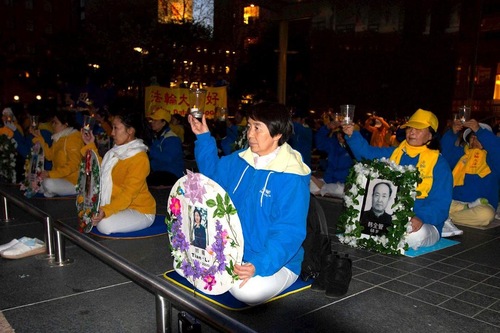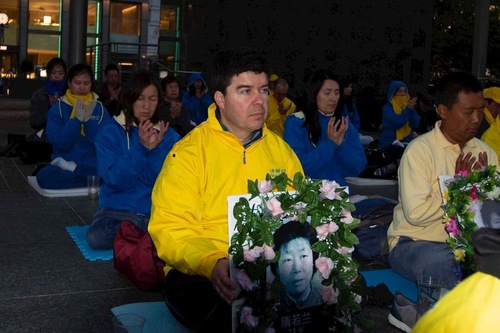 Candlelight vigil on Union Square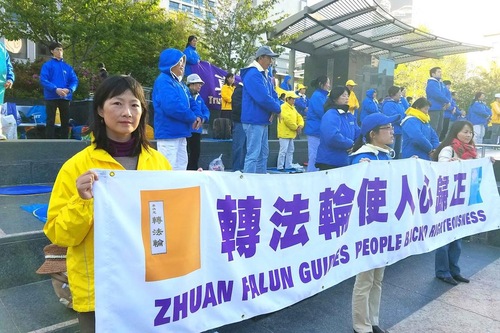 Ms. Chen Yuxiao, a Falun Gong practitioner at the activity, said she and her family had been touched by the peaceful and rational spirit of Falun Gong, and started practicing after hearing about the April 25th appeal.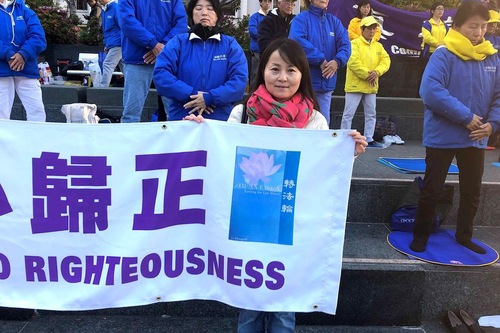 Ms. Li Xuesong, another Falun Gong practitioner at the activity, had appealed for Falun Gong at the government office of Heilongjiang Province and on Tiananmen Square in Beijing. Her mother had been imprisoned by the CCP for practicing Falun Gong for seven years and has not yet been released.