March in Flushing, New York Commemorates 20th Anniversary of Peaceful Appeal
April 25, 2019 | By a Falun Gong practitioner in New York
(Minghui.org) New York Falun Gong practitioners, one-thousand strong, gathered in Flushing, a community in the New York City borough of Queens for a grand march and rally to commemorate a peaceful appeal held in China 20 years ago. The large-scale event, held on Saturday, April 20, 2019, also supported the more than 330 million Chinese people who have renounced their affiliation with the communist party.
Twenty years ago, on April 25, 1999, an estimated 10,000 Falun Gong practitioners gathered peacefully in Beijing to request the release of fellow practitioners who had been unjustly arrested the day before in Tianjin and to appeal for an end to increasing government suppression of their practice. The peaceful nature of the event and the nonviolent way in which it was handled by the then Chinese premier was widely praised by the public as well as by the international news media. However, just a few short months after this event, former communist party leader Jiang Zemin proceeded to launch a massive, systematic persecution against Falun Gong that continues today.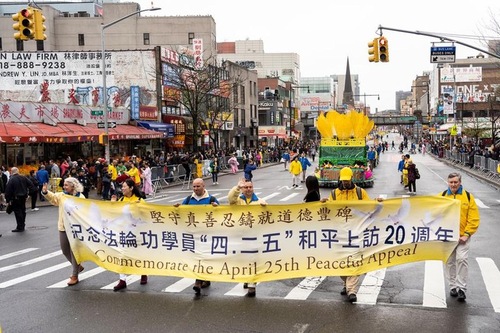 Falun Gong practitioners participate in a march in Flushing, Queens, on Saturday, April 20, 2019.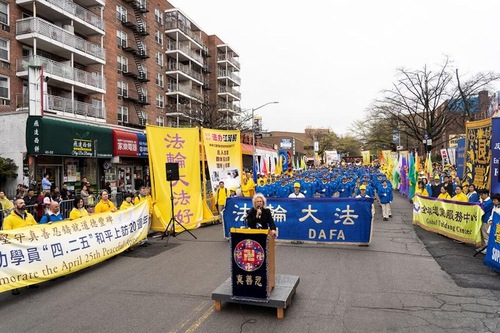 State Assembly District Leader Martha Flores Vazquez speaks in support of Falun Gong at the rally following the march.
It had been raining heavily all morning in Flushing, but the sky started to clear as practitioners started to gather. By 11:00 a.m., the rain had stopped and Main Street was once again filled with people. As the march started just after 12:00 noon, spectators lined the streets to watch. The march, led by the Tian Guo Marching Band, was composed of three sections: the benefits of Falun Gong, opposing the persecution, and calling on people to quit the communist party.
The march included large-scale models of the book Zhuan Falun and a Falun emblem, which rotated as it moved down the street. Decorated floats, exercise demonstrations, a boat team, dragon and lion dancers, waist drummers, and colorful banners made for a powerful and eye-catching display. Most of the spectators were of Chinese ethnicity, as Flushing has a very large Chinese population.
Perseverance Amid the Suppression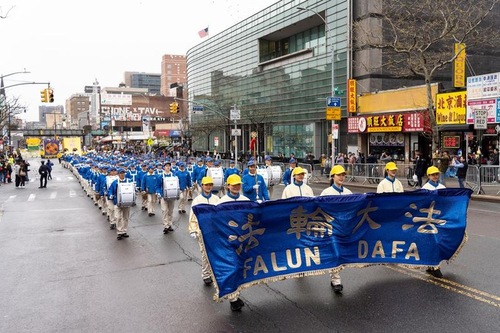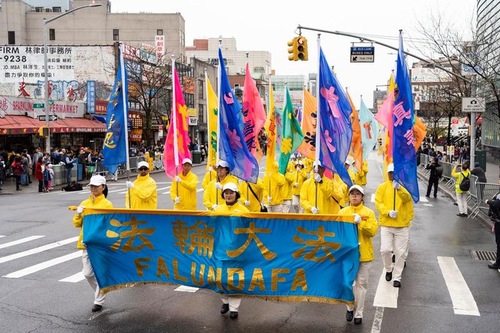 The Tian Guo Marching Band leads the march in Flushing, New York on April 20, 2019.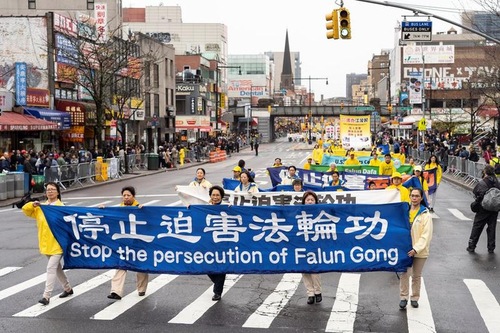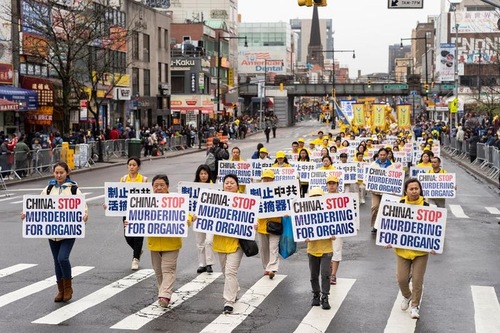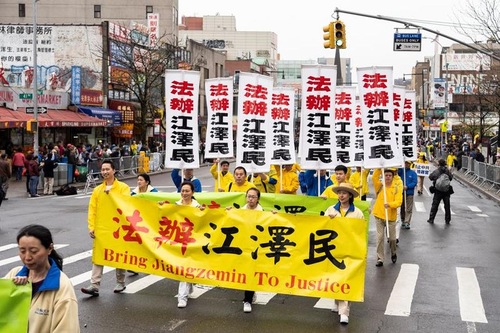 Banners calling for an end to the persecution in China
Impressed by the large-scale march and the messages on the banners, many spectators took pictures and gave practitioners the thumbs up. Eliana Sasics said she hoped everyone could hear the practitioners' voices. She believes that a suppression like the persecution of Falun Gong should not exist in this world.
"Here in the United States, we are able to enjoy a peaceful life; but out there in China, people are suffering so much for their belief. Whenever I think about what they [practitioners] have been through, it breaks my heart," she said in tears.
Ms. Li had never seen a march or other Falun Gong activity like this before. She said that she felt bad about the torture and intense brainwashing practitioners have suffered in China for their faith in Falun Gong's principles of Truthfulness-Compassion-Forbearance.
"I admire practitioners for their courage and determination over the years. Despite the severe suppression, so many people are continuing to practice [Falun Gong] and many more are joining the practice—that in itself tells us that Falun Gong is the best," she said while sobbing.
Freedom of Belief
Mr. Chen, a former shipyard employee from Jiangsu Province, said he was deeply moved by the scenes that met his eye, especially the upright nature of the practitioners. While working at the shipyard years ago in China, he had witnessed dozens of his coworkers being mistreated for their belief.
"One officer was beaten to disability and then put in prison. He could only crawl, instead of walk, for the rest of his life," he remarked, adding that a number of other practitioners were also detained and suffered mental abuse.
Many people have recognized the communist party's brutality and refuse to be complicit in the regime's crimes. "I would not dare to say these things if I was in China," he said. Then he added, "As long as the Party exists, it will continue to harm innocent people."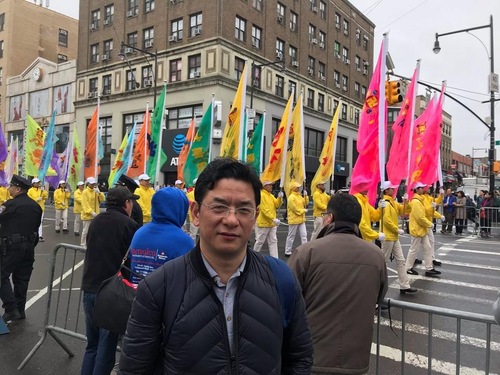 Bill Li says he sees that more people have stopped believing the communist party's propaganda.
Bill Li said he respects practitioners for their courage. Because of his involvement in China's democracy movement, he was once contacted by officials from the State Security Bureau. "We do not believe the communist party's propaganda anymore," he commented. "If China allowed freedom of belief and speech, who would leave their family behind and come overseas?"
Supporting the Righteous
Wang Qingying recently immigrated to the United States from China. Seeing so many people step forward to oppose the communist party's cruelty, he was both surprised and excited. Referring to the party as the most vicious regime in history, he said that millions of people had lost their lives because of it. "Only Falun Gong is able to stand firmly against such a totalitarian regime. This is a miracle and I respect these practitioners the most!" he said.
Ms. Liu came from a high-ranking communist family and said she had held some misunderstandings about Falun Gong until several years ago. After witnessing pro-communist thugs harassing and beating Falun Gong practitioners in front of the Flushing Library in 2008, she saw that practitioners did not fight back. She could immediately tell who was right and who was wrong. She had worked for a major news outlet in China and said that there used to be many pro-communist people in Flushing, but now more people are supportive of and welcome Falun Gong.
Ms. Liu said she felt sorry for those who were paid by the communist party to harass practitioners, because they were committing bad deeds to earn such a small amount of dirty money. Having worked with the U.S. government as a translator, she knew that many of these people had been granted political asylum to stay here. But now they are working on behalf of the communist party. She called for an investigation of these people by the U. S. government or other federal agencies. "These people should be repatriated back to China—since they love the red flag so much, they can enjoy the red flag better in China," she said.
Another spectator, Mr. Liu from Shandong Province was working for a news outlet and videotaped the event.
"This is amazing and I cannot imagine something like this back in China," he exclaimed.
Mr. Liu said he supports innocent people such as Falun Gong practitioners, especially because of their principle of Truthfulness-Compassion-Forbearance.