Toronto, Canada: Commemoration of April 25 Appeal Supported by Members of Parliament
April 25, 2019 | By a Minghui correspondent
(Minghui.org) Falun Gong practitioners in Toronto gathered in front of the Ontario Parliament Building on April 20, 2019 to commemorate the 20th anniversary of the April 25 peaceful appeal. Despite a steady rain, practitioners did the exercises and raised awareness of the brutal, 20-year persecution of Falun Gong in China.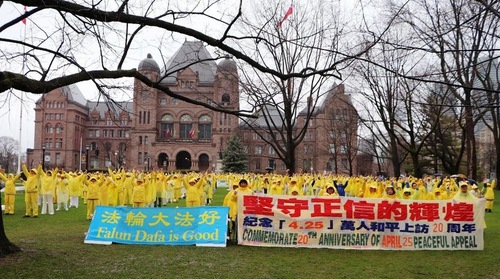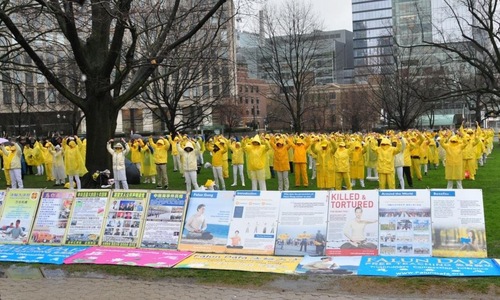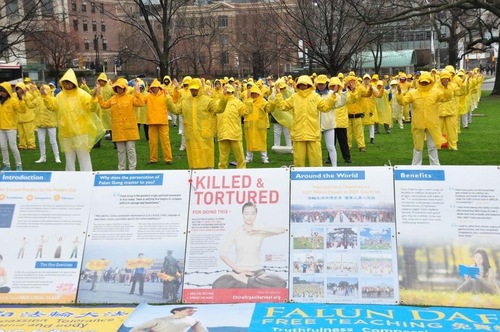 Despite the rain, practitioners did the Falun Gong exercises in front of the Ontario Parliament Building on April 20, 2019.
During the 1 p.m. press conference 46 practitioners who participated in the April 25 appeal in Beijing stood in front of a banner emblazoned with "Keeping the Righteous Belief."
Several Members of Parliament (MPs) attended the event and expressed their support. They called out, "Falun Dafa is good!" with practitioners.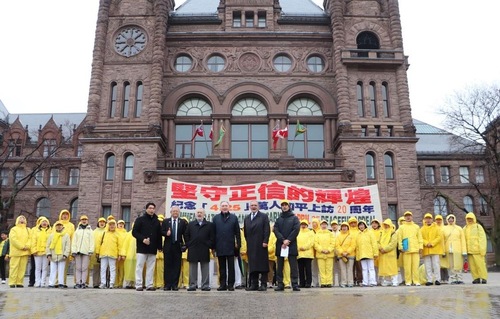 Several MPs attended the gathering to show their support for Falun Gong.
April 25, 1999 is a significant date for the Chinese people and Falun Gong practitioners. On April 25, 1999, approximately 10,000 Falun Gong practitioners traveled to Beijing to appeal to the Chinese Communist Party's (CCP) leadership after practitioners in Tianjin were illegally arrested for their belief. The Tianjin practitioners were released following the peaceful appeal, but three months later on July 20, 1999, then Chinese leader Jiang Zemin launched a nationwide persecution campaign against Falun Gong practitioners that continues to this day.
MP Peter Kent: I Am Fortunate to Stand with Practitioners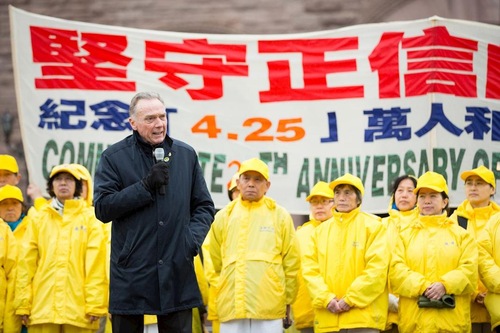 MP Peter Kent
Member of Parliament Peter Kent is Chair of the Friends of Falun Gong in the Canadian Parliament. He discussed how the Chinese Communist Party initiated the persecution a few months after the April 25 peaceful appeal. The brutal persecution includes torture, illegal imprisonment, and other atrocities such as organ harvesting. It has lasted 20 years.
"I am fortunate to stand with you today," said MP Kent. "I hope those CCP agents monitoring us extend the message to the Chinese communist regime: respect freedom, human rights and the rule of law."
Former MP Praises Practitioners Who Participated in the April 25 Appeal as Heroes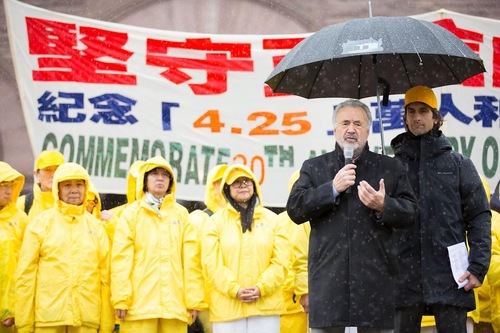 Former MP Consiglio Di Nino feels the world needs Falun Gong's guiding principles.
Former Member of Parliament Consiglio Di Nino praised the practitioners who risked their lives 20 years ago. He said, "You are witnesses. Welcome to Canada. Please continue your protest for human rights and freedom. We are together with you." He told the people in attendance, "They are heroes."
MP Di Nino said that the CCP continues to commit crimes against humanity and stated that he would continue to participate in efforts against the persecution. He said he would stand with the victims of the persecution and do his best to help end it.
The former MP added that today's world needs more of Falun Gong's principles (Truthfulness-Compassion-Forbearance), as many inhumane things are taking place. He commended practitioners for continuing to stand up to peacefully uphold human rights and freedom.
Former MP Wishes Success to the Effort Against the Persecution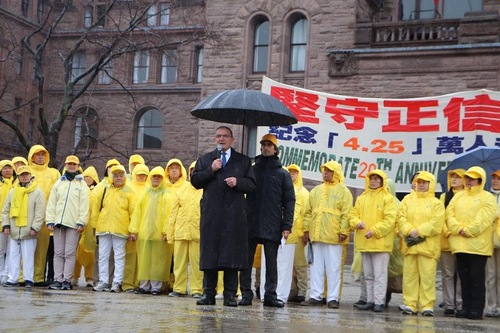 Former MP Wladslaw Lizon understands how oppressive communism is.
Former MP Wladslaw Lizon said in his speech that he grew up in Poland under communist control, so he knew how oppressive and powerful communist tyranny is. He explained that Poland's solidarity movement led to the eventual collapse of the communist regime in Europe.
Mr. Lizon said, "We live in a free country. We can have assembly and protest. When we see basic human rights being trampled in other countries, we must unite and respond."
He said, "I hope in the near future that we will gather again to celebrate victory."
Mr. Lizon affirmed that the rally was important as it showed Falun Gong practitioners and Chinese people that they are not alone. He said he appreciated practitioners' courage over the past 20 years.
After the rally and press conference, practitioners visited Chinatown where they spoke to people about the day's historical significance. They held a candlelight vigil in front of the provincial parliament building at 8 p.m. to commemorate the practitioners who died as a result of the CCP's persecution.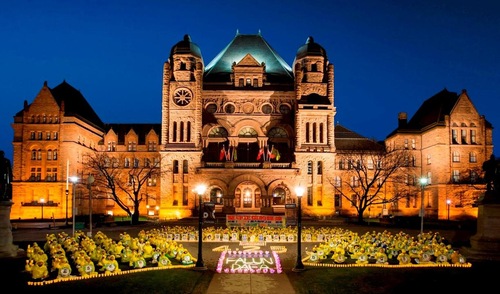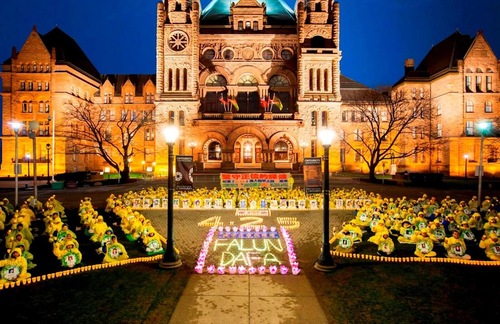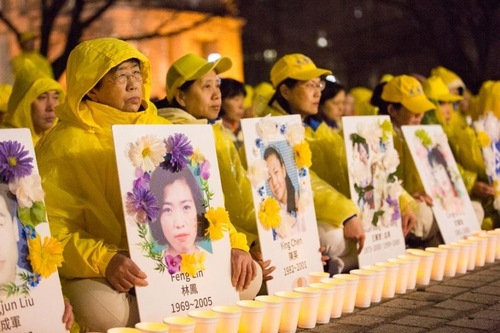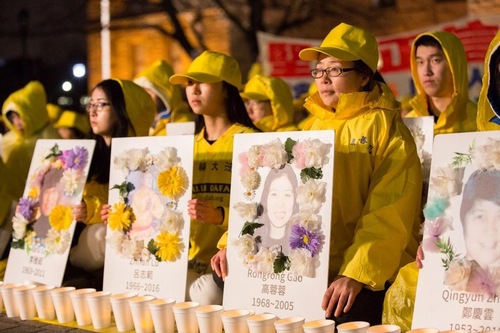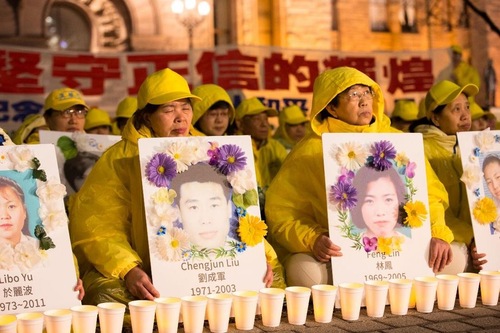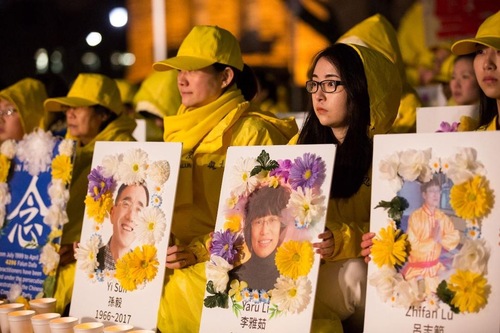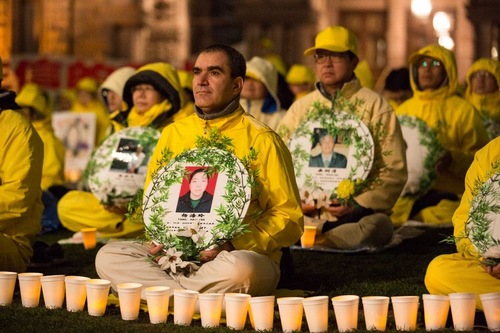 A candlelight vigil was held in front of the Ontario Parliament Building from 8 to 10 p.m. to commemorate practitioners who died as a result of the CCP's persecution over the past 20 years