New Zealand: Government Officials Express Support for Commemoration of Historic April 25 Appeal
April 25, 2019 | By a Minghui correspondent in New Zealand
(Minghui.org) Falun Dafa practitioners in New Zealand gathered at Aotea Square in Auckland on April 20, 2019 to commemorate the 20th anniversary of the peaceful appeal held in Beijing on April 25, 1999.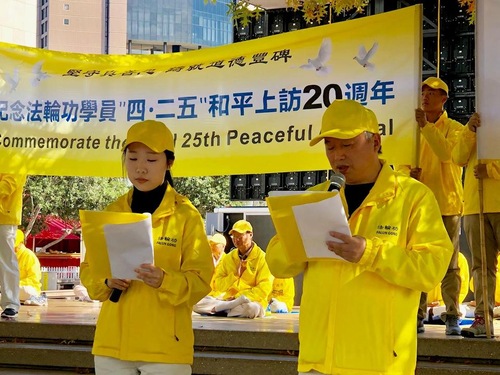 The president of the local Falun Dafa association discussed why practitioners felt compelled to appeal 20 years ago.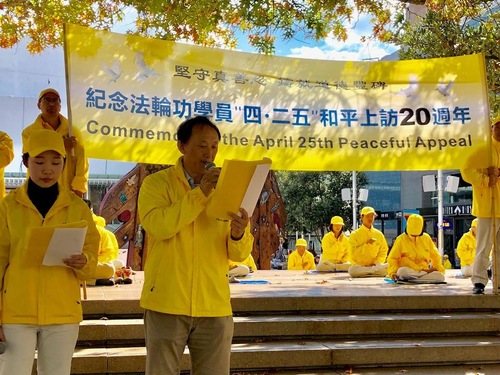 Falun Dafa practitioner Mr. Huang Guohua described how his wife was tortured to death.
On April 25, 1999, 10,000 practitioners went to the State Appeals Office in Beijing to call for the release of practitioners who had been unjustly arrested by police in Tianjin. Practitioners also asked authorities to allow citizens to practice Falun Dafa freely in China.
Letters of support and best wishes for the 2019 commemorative event were received from the following government officials: Ms. Marama Davidson – Member of Parliament (MP) and representative of the Green Party, Mr. David Seymour – leader of the ACT Party and MP, Ms. Jan Logie – Member of Parliament and representative of the Green Party, Ms. Cathy Casey – Auckland councilor and Dr. Stephen Noakes – Senior Lecturer in Politics and International Relations and Asian Studies at Auckland University.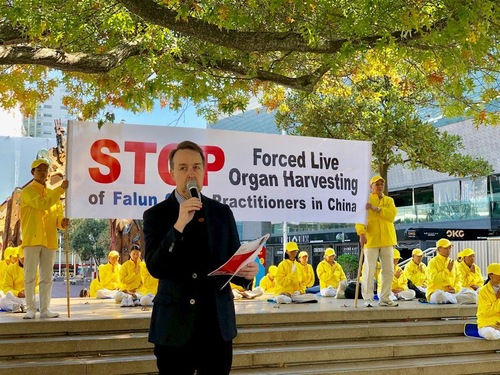 Attorney Kerry Gore called for the right to freedom of belief in China.
Renowned human rights lawyer Kerry Gore spoke at the rally. He said, "The 10,000 Falun Dafa practitioners who went to appeal for the release of detained practitioners were exercising their right to freedom of thought, conscience and belief. These rights are recognized in the Universal Declaration of Human Rights, the International Covenant on Civil and Political Rights and even in China's constitution. Unfortunately, the Chinese communist regime launched an unprecedented suppression on Falun Dafa practitioners on July 20, 1999 and the persecution has continued to this day. Practitioners have been detained, tortured and their organs harvested. Now more than ever, we need to call for the respect for freedom of belief."
Mr. Gore concluded by thanking everyone who supports basic human rights and expressed his admiration for Falun Dafa practitioners who participated in the peaceful protest 20 years ago.
April 25 Appeal Attendees Recollect Historic Day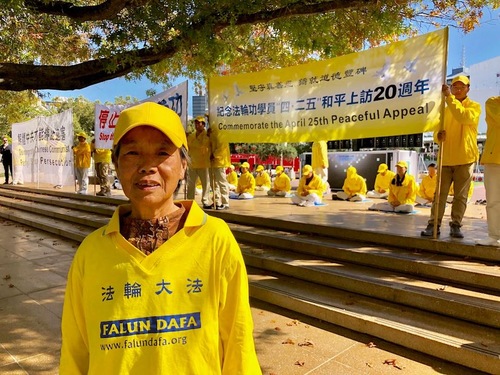 Falun Dafa practitioner Ms. Cao Rongfen recalled her experience of participating in the historic April 25 appeal.
Ms. Cao Rongfen, a Falun Dafa practitioner from Beijing, participated in the historic April 25 event. She recalled the events that day. She said that by the time she arrived at the appeals office around 8 a.m., several practitioners were standing along the street across from the office. She joined them and stood near the west entrance. Several practitioners did the exercises or read the teachings.
Ms. Cao recalled, "As I walked to the west entrance, the atmosphere was quiet and peaceful. There was no shouting of slogans and we did not impede traffic. Around noon, five representatives entered the building and spoke to the premier, then Mr. Zhu Rongji. The representatives came out around 9 p.m and we were told the practitioners detained in Tianjin had been released. Before we left, we picked up all the litter on the ground. Not even a scrap of paper could be found."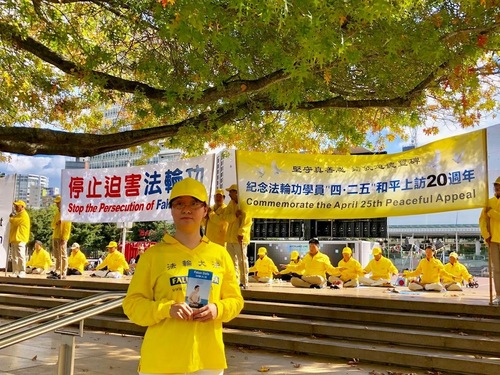 Former Beijing University student Helen was a participant in the April 25 appeal.
Helen was a student at Beijing University in 1999. She said, "When I arrived at the appeals office I was surprised to see so many Falun Dafa practitioners. It was not what I had expected." A practitioner from Hebei Province stood behind her. He had ridden a bicycle overnight from his hometown to Beijing.
Helen said, "Of those who participated in the appeal, the oldest were in their 80s or 90s. The youngest were carried by their mothers. The practitioners came from all walks of life."
Helen feels that practicing Falun Dafa improves one's moral standards. She pointed out that the persecution in China has contributed to the deterioration in morality there.
Public Encourages Practitioners' Efforts
Kristin Li is a student from Shenyang, China. She stopped to watch the rally and lingered for a long time. She said that she'd heard of the 1999 April 25 appeal and questioned what the Chinese Communist Party (CCP) said about Falun Dafa. She knows that Falun Dafa teaches one to be truthful, compassionate and tolerant and that it has nothing to do with politics. When she learned about the state-sanctioned organ harvesting of prisoners of conscience for profit, she was shocked that such a horrible thing was happening. She said she admired Falun Dafa practitioners for standing up for their belief.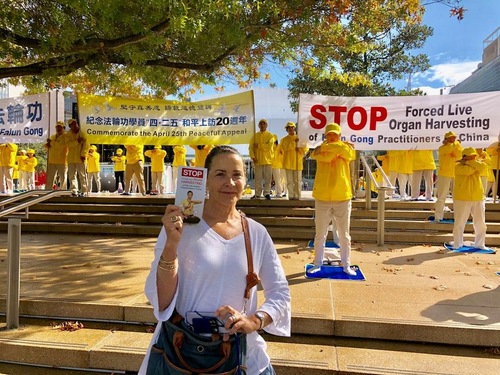 Marguerite hopes the persecution will end soon.
Ms. Marguerite McLeod is from the U.S. The peaceful scene of practitioners demonstrating the exercises drew her over. She said, "I'm touched. The exercises look so beautiful and perfect!" She explained that she meditates and believes that one's physical body and spirituality are the same. She was shocked to learn of the organ harvesting and said, "This persecution is unreasonable and it makes me sad. I simply cannot understand the organ harvesting. I'm grateful to practitioners for raising awareness." She hopes that both the U.S. and New Zealand governments can act quickly to help end the persecution.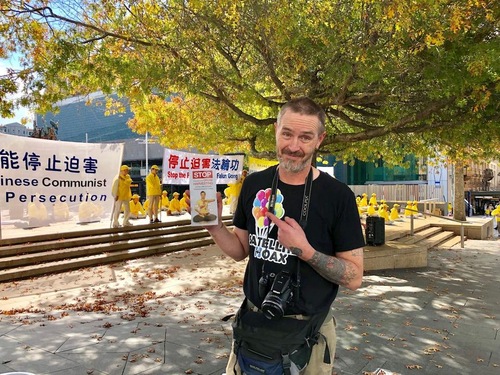 Mark hopes that everyone will pay attention to the persecution of Falun Dafa practitioners.
Mark Keen has many followers on his social media account. He said that he was immediately attracted by the practitioners' speeches. He videotaped them and said he would upload them to his Youtube channel so that more people could learn about the persecution. Mark said, "This persecution has gone on far too long. I first heard about it 10 years ago. The organ harvesting is shocking! I must tell everyone to pay attention to this matter. I hope people will look and see what's happening around them."