2018 Year in Review: Increased Global Efforts in Ending the Decades-Long Persecution of Falun Gong
January 10, 2019 | By a Minghui correspondent
(Minghui.org) Falun Dafa, also known as Falun Gong, continued to inspire people across the world in 2018 with its core principles of Truthfulness-Compassion-Forbearance. About 10,000 Falun Gong practitioners attended an experience-sharing conference in the U.S. on June 21, 2018, and shared how the practice transformed their lives by improving their mind and body. More and more newcomers from different corners of the world began to enjoy learning the Falun Gong exercises and to embark on a spiritual journey to health and happiness.
While people outside of China freely practice Falun Gong, it is a different tale in China. "Letter from Masanjia," an award-winning documentary, lifted the lid on the dire situation faced by Falun Gong practitioners in China, where the communist regime has been persecuting the practice since July 1999. The past year saw more than 40 practitioners losing their lives, 931 imprisoned and many more arrested for upholding their faith in Falun Gong.
Practitioners both inside and outside of China continued their efforts to raise awareness of the persecution. Shen Yun, a New York-based non-profit performing arts company with most of its performers practicing Falun Gong, highlighted the ordeal of Falun Gong practitioners in China in its sold-out shows. A grand rally and march held in Washington D.C. called for an end to the persecution.
Thanks to practitioners' efforts, Falun Gong received more and more recognition and support from the international community in 2018, including from government bodies and NGOs. Many private citizens and organizations have come to say no to communism after recognizing the crimes committed by the Chinese Communist Party in persecuting the peaceful practice.
Efforts are also being made to hold high-ranking Chinese officials responsible for the persecution.
The year of 2018 concluded with thousands of heartfelt greetings pouring in from Falun Gong practitioners and their families to wish the founder of Falun Gong, Mr. Li Hongzhi, a happy new year and to thank him for introducing the practice to the world.
This year, 2019, marks the 20th anniversary of the persecution of Falun Gong. We hope to see a new China where Falun Gong practitioners can freely practice their belief without being harassed, arrested, tortured, or killed for their vital organs. We look forward to seeing more people join the efforts to end the persecution in the new year.
10,000 Attend Annual Experience-Sharing Conference
With Falun Gong's increasing popularity around the world and more people joining the practice each year, its annual cultivation experience sharing conference has seen increased attendance over the years.
The 2018 conference was held at the Capital One Arena in Washington, D.C. on June 21, 2018. Nearly 10,000 practitioners from 56 countries and areas attended.
Mr. Li Hongzhi lectured for one hour and 45 minutes, including a question-and-answer session. Attendees applauded warmly to welcome the revered Master.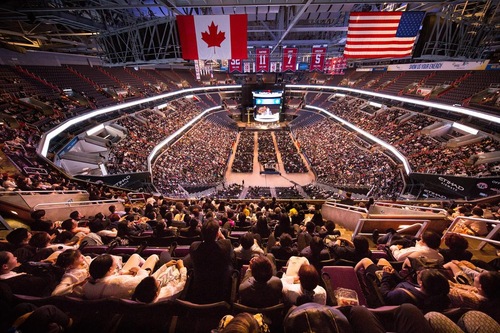 The 2018 Falun Dafa Cultivation Experience Sharing Conference was held at the Capital One Arena in Washington, D.C. on June 21, 2018.
One of the sixteen speakers, Benjamin Maloney, from New York, shared how practicing Falun Gong helped him break an addiction to alcohol and drugs. Once a troubled teenager, he graduated at the top of his class from a prestigious liberal arts college and worked at a Fortune Global 500 company. Ben is grateful for Falun Gong's discipline in turning a lost young soul into a useful adult who makes his parents and himself proud.
Learning the Falun Gong Exercises
Malaysian Falun Dafa practitioners gave a presentation at a health forum on July 31 hosted by PUSPANITA, a women's association of government employees and family members of officials. As five practitioners demonstrated the Falun Gong exercises on stage, many attendees stood up to follow along with the movements. Several hospital managers approached practitioners afterward for more information and to arrange follow-up activities.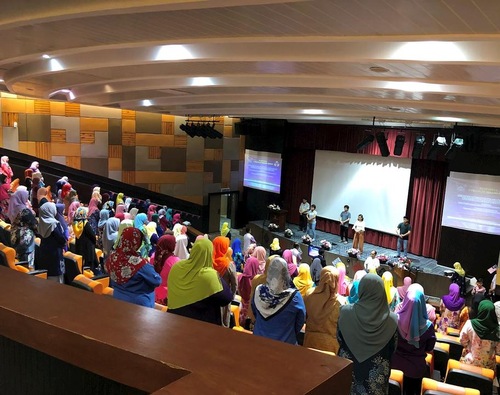 Over 100 forum attendees learn Falun Gong exercises during an event sponsored by the Johor State Health Department and the Tunku Laksamana Johor Cancer Foundation.
Across the ocean in California, about 40 people attended a Falun Dafa workshop on July 31 at a public library in Fremont. After a Falun Dafa workshop held in early July, many more people asked how they could learn the exercises, and this session was added to address the need.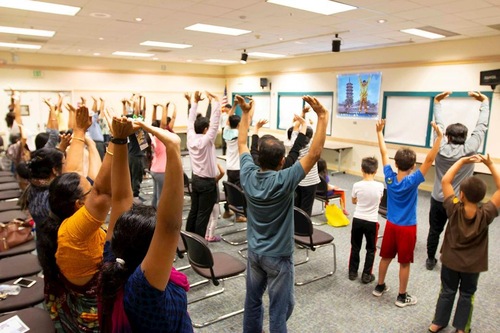 More than 40 residents in Fremont, California attend a Falun Gong workshop on July 31 at a public library.
A Falun Gong presentation and exercise class was held in Cagua, Venezuela on August 12. About 50 people attended the workshop. Facing the nation's worsening financial crisis, many participants said they felt inner peace while doing the exercises. They said that they will continue the practice at home and will share what they learned about Falun Dafa with their friends and families.
From New York City to Seoul, the Tianti Bookstore that specializes in Falun Dafa teachings continues to be welcomed by local residents and visitors. During recent workshop discussions in Seoul, Yuan Zhengxi, who took up the practice after a friend's dramatic health recovery, shared, "The biggest change is the improvement in my sleep. Usually, I only slept soundly for two hours at most. But these days, that has doubled."
Another new practitioner, Kim Baosheng, agreed. "I usually felt uncomfortable in the morning and didn't want to get up. But these days, the uncomfortable feeling is gone. Getting up is no longer a difficult thing. It is amazing," she added.
"Letter from Masanjia" Lifts Lid on Persecution in China
"What begins as an unusual 'message in a bottle' story builds to a powerful tale of human suffering, compassion and perseverance," wrote Kevin Crust of the Los Angeles Times in his review of the documentary, Letter from Masanjia.
Based on a true story, the SOS letter found in a box of "Made in China" Halloween decorations at an Oregon Kmart soon set off a chain of events that eventually led to the shutdown of the entire labor camp system in China.
The letter's author, Falun Gong practitioner Sun Yi imprisoned for his faith at the notorious Masanjia forced labor camp. Learning filming technique from the film's director through Skype, Sun secretly captured harrowing footage of his daily life in his quest to expose the horrendous human rights atrocities inside China.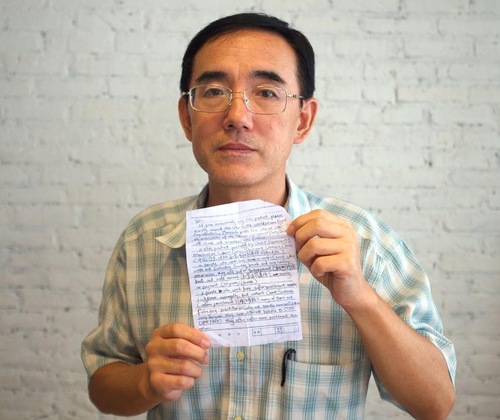 Sun Yi with the letter he wrote in the Masanjia labor camp (Flying Cloud Productions)
The film won more than a dozen awards in 2018, including at the Calgary International Film Festival, Atlanta DocuFest, and Milano International Film Festival Awards. It is also a contender in the Feature Documentary category of the 91st Academy Awards.
"We need to have open dialogues with China about these problems. One of the problems was and still is the (forced) organ harvesting. We cannot stop our open dialogues. We cannot say that this problem doesn't exist," said Tomas Zdechovsky, a Member of the European Parliament (MEP) from the Czech Republic, after a screening of the film at the European Parliament on December 4, 2018.
Over 40 Practitioners Died as a Direct Result of Persecution
The Chinese Communist Party's persecution of Falun Dafa, already in its 19th year, remains unabated in many regions across China. The Minghui website still receives persecution accounts from China every day, including arbitrary arrests, detentions, torture, prison sentences, as well as death cases.
More than 40 Falun Dafa practitioners died in 2018 as a result of torture in police custody.
Ms. Xu Yupan, from Henan Province, was imprisoned for her faith and released on medical parole following a diagnosis of cancer. She recovered by doing Falun Gong exercises at home, only to be harassed frequently by police. Her health took a turn for the worse, and she died at age 70 on the Double Ninth Festival, a traditional Chinese holiday to pay reverence to the elderly.
Mr. Wang Yuelai, from Hunan Province, was in critical condition after three months of detention at Wangling Prison. Despite his family's repeated requests for medical parole, the authorities refused to release him and ordered the guards and inmates to monitor him around the clock. His condition continued to deteriorate until doctors issued a third critical condition notice. He passed away in prison on August 31, 2018. He was 56.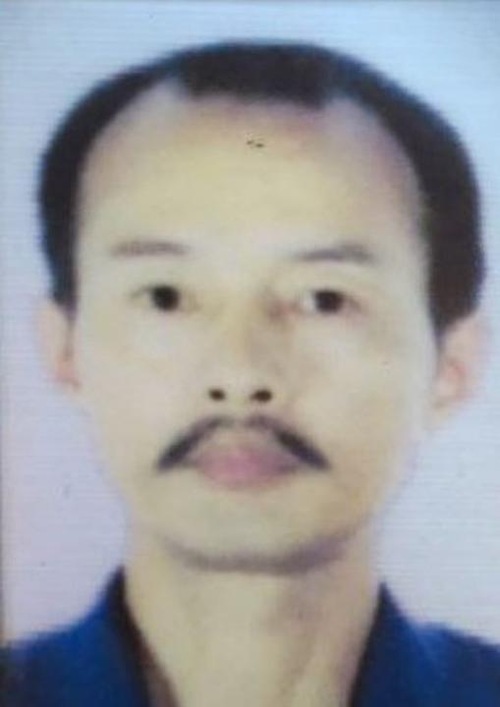 Mr. Wang Yuelai, 56, died in Wangling Prison after his family's requests for medical parole was denied.
Organ harvesting was occasionally associated with these death cases. Ms. Ma Guilan, 64, was arrested on July 4, 2018, for talking to people about Falun Gong and taken to Qinhuangdao City Detention Center in Hebei Province. News broke on September 17 that she had suddenly fallen ill at around 6:00 a.m. one morning. She died hours after being taken to the Qinhuangdao Police Hospital at around 8:00 a.m.
According to insiders, several government agents with unknown identities came to the hospital, cut open her abdomen, and removed her internal organs for some alleged examinations. It wasn't clear where they were taking her organs.
One month before Ms. Ma's mysterious death, two other detainees (who have been confirmed to be non-Falun Gong practitioners) also died under suspicious conditions. Some local Falun Gong practitioners suspect that the three suspicious deaths may have had something to do with China's state-sanctioned organ harvesting, especially with Ms. Ma's organs confirmed to have been removed.
931 Imprisoned for Their Faith in 2018
According to information collected so far, 931 Falun Gong practitioners were sentenced to prison for upholding their faith in 2018, with an average term of 3.2 years.
Ninety-five of the practitioners are of age 65 or above. Ten practitioners in their 70s received a heavy sentence of 7 years, and four practitioners in their 80s received 4 years.
Mr. Wang Xianghui, a Hebei Province resident, was sentenced to 21 months of imprisonment on December 25, 2018, after serving 11 years in prison between 2002 and 2013 for intercepting TV signals to spread information about the persecution.
Other than Mr. Wang, 9 practitioners who were sentenced to 20 years in 2002 for intercepting TV signals to broadcast information about the persecution are still serving time in prison today.
Mr. Huang Min, 76, a professor of electronic engineering at Jiamusi University in Heilongjiang Province, suffered a stroke in 2017 due to long-term torture. However, the authorities still refuse to release him.
In addition to those sentenced to prison, thousands of practitioners were arrested and harassed in 2018. In Weifang City, Shandong Province, 163 practitioners were arrested prior to the Shanghai Cooperation Organization (SCO) summit held in Qingdao City on June 9-10, 2018.
In Harbin and Daqing, Heilongjiang Province, 119 practitioners were arrested on November 9, 2018. It was reported that the authorities had been monitoring the practitioners' cellphones and/or social media activities in the months leading up to the arrests. The police were given lists of names of who to arrest.
In 2017, authorities harassed practitioners under the "Knocking on Doors" campaign that swept China. Since July 2018, the authorities have targeted practitioners in another "anti-gang campaign," in which police turned to Falun Dafa practitioners to fulfill their quotas for arresting gang members.
During the anti-gang campaign in Jilin Province, at least 48 practitioners were arrested and two were harassed in Changchun City in October 2018, including nearly 20 practitioners and their family members arrested in one day on October 12.
Grand Rally and March in Washington D.C. Call for End of Persecution
In conjunction with the annual experience-sharing conference, more than 6,000 Falun Gong practitioners from all over the world held a rally outside the U.S. Capitol in Washington D.C. on June 20, 2018, calling for an end to the 19-year persecution of Falun Gong in China.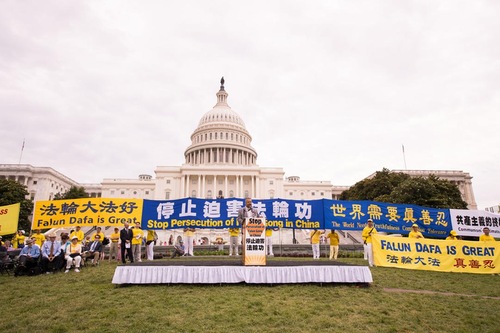 A rally on the West Lawn of the U.S. Capitol in Washington D.C. on June 20, 2018. Practitioners held banners calling for an end to the persecution and for awareness about the dangers of communism.
U.S. lawmakers, human rights activists, and representatives from non-governmental organizations also took part in the rally and expressed their support for Falun Dafa's peaceful resistance to the persecution.
The speakers condemned the Chinese regime's state-sanctioned forced organ harvesting from prisoners of conscience in China, praised the universal values of Truthfulness-Compassion-Forbearance, and called upon the public to recognize the vicious nature of the Communist Party.
Congressman Dana Rohrabacher (CA) addressed the practitioners with heartfelt remarks. He said he would be a longtime supporter of Falun Gong not merely based on people's rights to express their views; rather, he identified with the core principles of Falun Dafa. "I am proud to stand with you and always have been," he remarked.
Following the rally, a grand march took off from Capitol Hill, traveled along Pennsylvania Ave., Constitution Ave., and ended at the Washington Monument.
Practitioners in the march carried portraits of those who lost their lives during the persecution in China, while others carried banners calling upon the public to recognize the brutality committed by the Communist Party. The practitioners' message was warmly echoed by spectators and passersby.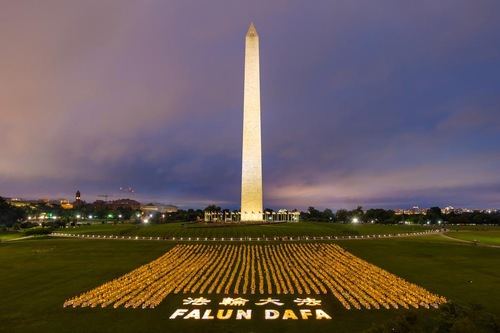 Thousands of Falun Dafa practitioners attend a candlelight vigil in front of the Washington Monument on June 22, 2018.
A candlelight vigil was held at the Washington Monument on the evening of June 22, 2018, the third day of Falun Dafa practitioners' large-scale activities in Washington D.C. "Please sit by my side. Let us close our eyes in serenity. A voice is resounding from deep in our hearts: end the torture, end the killing, and end all suppression. Our compassion and perseverance will prevail," said the host.
Shen Yun Artists Move Audience with Pure Beauty and Falun Gong Story
Shen Yun, a performing arts company in New York with the mission to revive the 5,000 years traditional Chinese culture, concluded its 12 th annual tour in 2018 with nearly 600 shows in 151 cities in 19 countries.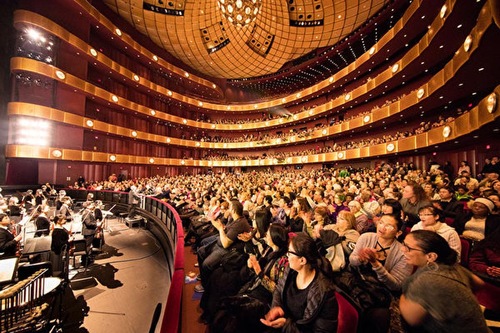 Shen Yun performs to a full house at the Lincoln Center in New York City on January 11, 2018.
Shen Yun's artists, mostly Falun Gong practitioners, follow the noble tradition of spiritual practice and meditation in their daily life in order to bring the utmost beauty to the audience on stage.
While many audience members were stunned by Shen Yun's dazzling costumes, elegant dance, and one-of-kind orchestra of both Chinese and western instruments, more were touched by the artist' self-discipline and inner beauty.
Arthur Waldron, a professor of history with a specialization in China at the University of Pennsylvania, said he enjoyed watching Shen Yun Performing Arts at the Merriam Theater in Philadelphia on March 10, 2018.
"I've been a student of China for 40 years. This reminded me of why I chose that," Waldron said. "Because this is the authentic treasure that Chinese civilization contains, and as I watch those dancers and I listen to the music, I think, this is incredibly good—it's world-standard, these people can do anything."
"The tremendous success that this Shen Yun is having around the world shows that in the battle between despotism, false culture, lack of morality, and virtuous rule, study of goodness, self-cultivation, there's no question who will win."
Professor Waldron also praised Shen Yun for bringing to light the suffering of Falun Gong practitioners by featuring their stories in the show.
He said, "If you think of the plight of the practitioners in China—who are being tortured, they're being used in a satanic way as sources of organ transplants and all the rest—this is a hideous crime. And one never hears about it, though we have all the proof—we have tapes, we have photographs, we have everything. Who would have thought that after that, the whole world would be covered with these [performing arts] troupes. This demonstrates, in some sense, the unity of the universe and the unity of truth."
Support from the International Community
In response to blatant human rights abuses in China, especially the state-sanctioned killing of Falun Gong practitioners for organs, the international community raised strong voices to condemn the abuses and call on the communist regime to end the persecution.
The Georgia State Senate, Missouri State Senate, Arizona State Congress, and the Canadian Senate passed resolutions or legislation to condemn the forced organ harvesting in China.
In the Annual Report published by the U.S. Commission for International Religious Freedom (USCIRF), China was listed as one of the countries of particular concern, along with North Korea, Iran and Vietnam.
"While detained, Falun Gong practitioners suffer psychiatric and other medical experimentation, unnecessary medical tests, sexual assault, violence, torture, and organ harvesting, often as efforts to force them to renounce their faith," the report states.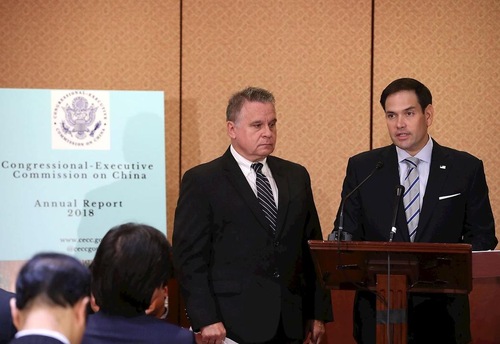 U.S. Senator Marco Rubio (right) and U.S. Representative Chris Smith (left), Chair and Co-chair of the Congressional-Executive Commission on China (CECC), presented the 2018 CECC annual report on October 10, 2018.
Rep. Chris Smith, co-chair of the Congressional-Executive Commission on China (CECC), called the communist regime "audaciously repressive" at a press conference in October 10 for the publication of the CECC's 2018 annual human rights report.
Furthermore, as 2018 marks the 26th anniversary of Falun Gong's public introduction, U.S. government entities at different levels also issued three resolutions, 44 proclamations and 27 greetings letters in recognition of Falun Gong and its practitioners' contributions to society.
Proclamations issued by New York State officials applauded the positive impact the self-improvement practice brings to society and especially noted Falun Gong's core principles of Truthfulness, Compassion, and Forbearance. The officials also condemned the 19-year-long persecution of Falun Gong in China.
Saying No to Communism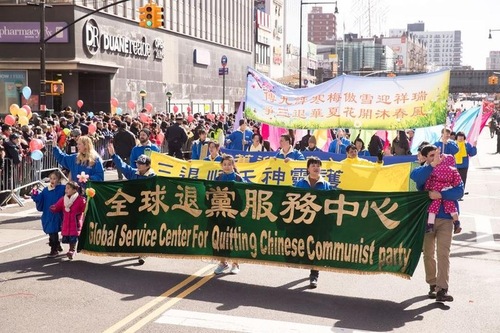 The Global Service Center for Quitting the Chinese Communist Party (Tuidang) in a New York parade celebrating Chinese New Year on February 17, 2018.
As more and more people learn about the crimes committed by the Chinese Communist Party in its persecution of Falun Gong, they joined the Tuidang movement to sever ties with the regime. By 2018, about 300 million Chinese have declared their withdrawal of membership in the CCP and its youth organizations.
In Philadelphia, CCP officials disguised as scholars attempted to defame Falun Gong at an international conference. However, they were met with strong protest from local communities. Their defamatory posters were eventually removed from the forum, and the organizer instead invited local Falun Gong practitioners to tell attendees about the practice and the persecution.
Similarly, an exhibition of plastinated human bodies in Sydney was shut down early on September 16, 2018, after the exhibit caused a public outcry over ongoing ethical and legal concerns that these bodies could be the remains of unwilling organ harvesting victims.
Australians residents, Mr. and Mrs. Grace, traveled from Adelaide to Sydney on the day the exhibit opened and distributed fliers in nearby residential areas.
Mr. and Mrs. Grace (second and first from left) protest the 'Real Bodies' exhibition.
Mr. Grace said the exhibition of corpses was an insult to humanity. He talked to many people who had visited the exhibition. Some of them couldn't stop crying when they came out; they said they didn't know the exhibition contained the material it did.
Efforts to Hold Key Perpetrators Responsible
Along with support from the international community, more progress has been made to hold key perpetrators responsible for their crimes.
An independent tribunal made up of seven experts in International Law, Human Rights, Medicine, International Relations, Chinese History, and Business held three days of public hearings in December 2018 in London. More than 30 persecution victims, medical experts, and investigators submitted evidence and testified.
"We, the tribunal members, are all certain, unanimously, beyond reasonable doubt, that in China forced organ harvesting from prisoners of conscience has been practiced for a substantial period of time, involving a very substantial number of victims… by state-organized or approved organizations or individuals," said the tribunal's chair, Sir Geoffrey Nice, QC, who was also the leading prosecutor of Slobodan Milošević at the International Criminal Tribunal for the former Yugoslavia.
In Canada, a 14-person list of Chinese communist officials responsible for gross human rights abuses was submitted to the Minister of Foreign Affairs by the Canadian Falun Dafa Association during a forum to commemorate the 70th anniversary of International Human Rights Day on December 12, 2018.
A letter accompanying the list called on the Canadian government to sanction these human rights violators under Victims of Corrupt Foreign Officials Act, also called the Magnitksy Act.
Top officials involved in the persecution of Falun Gong also saw their overseas travel scrutinized by hosting organizations. Dong Jiahong, executive president of Beijing's Tsinghua Changgung Hospital and former head of the Chinese People's Liberation Army General Hospital, was disinvited from the 7th Israel-China Hi-Tech Investments Summit in November following complaints of his suspected participation in forced organ harvesting of Chinese prisoners of conscience.