Canadian Senate Unanimously Passes Bill to Combat Organ Trafficking
(Minghui.org) The Canadian Senate unanimously passed a bill to combat organ trafficking on October 23, 2018.
"The bill amends the criminal code to create new offenses in relation to trafficking in human organs and tissue," said bill sponsor Senator Salma Ataullahjan at a press conference.
Sen. Ataullahjan said that the bill, S-240, "amends the Immigration and Refugee Protection Act to provide that a permanent resident or foreign national is inadmissible to Canada if the minister of citizenship and immigration is of the opinion that they have engaged in any activities related to trafficking in human organs and tissue."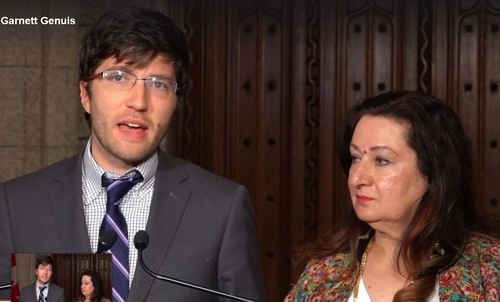 Sen. Ataullahjan and MP Garnet Genuis host a press conference on October 25, 2018 about the passing of Bill S-240.
Important Non-Partisan Issue
Conservative MP Garnett Genuis sponsored a similar bill in 2017.
At the above-mentioned press conference, Member of Parliament Genuis said Sen. Ataullahjan's bill received great support by members of all political parties, as have similar initiatives by himself and other MPs on this issue, including Irwin Cotler, a former Liberal justice minister.
The bill is now awaiting consideration by the House of Commons for becoming legislation.
"My plea to all MPs from all parties is that this is a good human rights initiative, it's a non-partisan initiative, it's something that needs to be done. Let's save lives. Let's make sure that it gets done before the next election," said MP Genuis.
Heightened Concern Over China's Organ Harvesting Crimes
Sen. Jane Cordy told a Minghui reporter that she believes organ trafficking is a global issue. She said that it might be easy to think that it doesn't affect our own communities, but she was alarmed when she learned that a doctor in Toronto had sent 50 of his patients to China for organ transplants.
The case Sen. Cordy brought up was cited by investigations into organ trafficking in China done by David Kilgour, a former MP and secretary of state for Asia-Pacific, and David Matas, a Canadian human rights lawyer.
"It's important to differentiate between what happens in back alleys in some city and what happens in the People's Republic of China," said Kilgour during a Senate committee hearing in May.
According to reports by Matas and Kilgour, imprisoned Falun Gong practitioners have been the main target of state-sanctioned forced organ harvesting in China. Their reports cite a direct correlation between the otherwise unexplained boom in China's organ transplants and the beginning of the brutal persecution of Falun Gong in 1999.
Sen. Wanda Elaine Thomas Bernard, Chair of the Standing Senate Committee on Human Rights, told a Minghui reporter that she believes that the evidence for forced organ harvesting in China is convincing, and that this bill will prevent Canadians from getting involved in these crimes.
She said that the Canadian government must make sure that everyone that is involved in organ trade is aware of this problem, and people must be held legally responsible for their actions.
To date, Taiwan, Israel, Spain, Italy, and Norway have laws in place to prevent citizens from going to China for organ transplants.