2018 CECC Annual Report: The Persecution of Falun Gong Continues in China
October 12, 2018 | By a Minghui representative Wang Ying
(Minghui.org) The Congressional-Executive Commission on China (CECC) issued its 2018 annual report on October 10, highlighting the worsening human rights conditions in China. In particular, the communist regime continues to suppress Falun Gong practitioners, human rights lawyers such as Gao Zhisheng, and ethnic minorities.
Forced organ harvesting was also mentioned. "Several international organizations expressed concern over reports that numerous organ transplants in China have used the organs of detained prisoners, including Falun Gong practitioners," cited the 324-page report, which is available on the CECC website.
"Audaciously Repressive"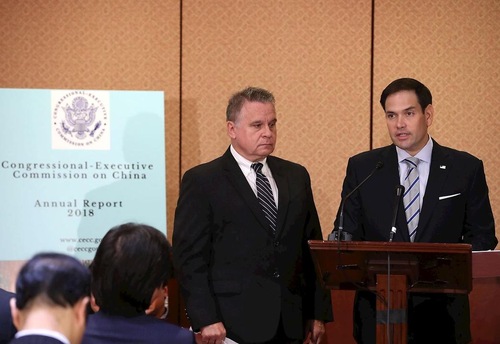 US Senator Marco Rubio (right) and US Representative Chris Smith (left), Chair and Co-chair of CECC, presented the 2018 CECC annual report on October 10, 2018.
U.S. Senator Marco Rubio and U.S. Representative Chris Smith, chair and co-chair of CECC, presented the report at a press conference that day. "The Communist Party has dramatically increased its control over government, society, and business and is ruthlessly employing technology to further its aims. As American policymakers increasingly reexamine the misguided assumptions that have informed U.S.-China relations, we must be clear-eyed about the global implications of China's domestic repression," remarked Rubio.
He said repression of religious groups by the Communist Party also impairs the relationship between China and the U.S. The Communist Party needs to adhere to universal values, not only for U.S. security, national interests, and moral values, but also to be consistent with the hopes of Chinese citizens who seek protection for their basic rights and real political reforms.
He called for sanctions against the communist officials responsible. He said the committee's censure is aimed at the Chinese Communist Party, not the Chinese people. In fact, the Chinese people and Chinese culture have made great contributions to human civilization.
"This report shines a light on the Chinese government's failures to abide by universal standards; shines a light on the cases of tortured and abused political prisoners," explained Smith, "Even by the Chinese Communist Party's low standards, this year has been audaciously repressive." He said the suppression of religious groups, ethnic minorities, and human rights lawyers is the most severe since the Cultural Revolution.
He said that including organ harvesting in the annual report means action needs to be taken against the deplorable practice.
The Persecution of Falun Gong
Quote from the report: "As in previous years, authorities continued to detain Falun Gong practitioners and subject them to harsh treatment, Human rights organizations and Falun Gong practitioners documented coercive and violent practices against practitioners during custody, including physical violence, forced drug administration, sleep deprivation, and other forms of torture."
The US-based non-profit organization Dui Hua Foundation found that Falun Gong practitioners made up the majority of the 800 people convicted under Article 300 of China's Criminal Law. These cases from 2017 are available in judicial databases.
Among them, Deng Cuiping of Yuxi City, Yunan Province, was currently in prison with a term of six years. Bian Lichao of Tangshan City, Hebei Province, was sentenced to 12 years of imprisonment. Zhang Ming and Li Quanchen of Dandong City, Liaoning Province, were also arrested in late June.
Even citizens of other nationalities were affected. On January 5, 2018, the Shenzhen Intermediate Court in Guangdong Province upheld the sentence on the appeal of Miew Cheu Siang (one year and six months), a Malaysian citizen, and his wife Yu Linglan (five years). They are charged with possession and distribution of Falun Gong materials.
In December 2017, the Epoch Times, a U.S.-based news organization, reported 29 confirmed deaths of Falun Gong practitioners in 2017 due to abuse by officials.
Calling for an FBI Investigation
The report also found the Communist Party was "re-inserting itself into the private lives of Chinese citizens through the expanded collection of biometric data, growing surveillance networks, and continued development of the social credit system."
Rubio and Smith also released a letter asking the FBI to report on how it addresses "unacceptable" intimidation and threats targeting Chinese, Uyghur, and Tibetan diaspora communities living in the United States.
"China's authoritarianism at home directly threatens our freedoms as well as our most deeply held values and national interests," noted the report in its Executive Summary.