Minghui Report: Nearly 9,000 Falun Gong Practitioners Arrested or Harassed in 2018 for Their Faith
January 24, 2019 | By a Minghui correspondent in China
(Minghui.org) Nearly 9,000 Chinese citizens were arrested or harassed in 2018 for refusing to renounce Falun Gong, a mind-body practice based on the principles of Truthfulness-Compassion-Forbearance that has been persecuted by the Chinese communist regime since July 1999.
According to information collected by Minghui.org, 4,848 Falun Gong practitioners were arrested and 4,127 were harassed. At the time of writing, 2,414 of the arrested practitioners remain in detention.
After the arrest of Mr. Jia Zhaomin, 48, a middle school teacher in Ji'nan, Shandong Province, on November 11, 2018 for talking to people about Falun Gong, the police posted photos of him being arrested on WeChat and Baidu, and ordered state-funded internet trolls to attack him on the posts in order to smear his reputation and justify the persecution.
Some practitioners targeted in 2018 have been repeatedly persecuted for their faith in the past two decades. Mr. Sun Fangxi of Hefei City, Anhui Province, was arrested on March 3, 2018, while going through security checks at Tiananmen Square in Beijing. His latest arrest came less than two years after he finished serving 13 years for tapping into his local cable TV to broadcast programs exposing the Chinese communist regime's persecution of Falun Gong.
Group arrests were prevalent in 2018. In Heilongjiang Province, 119 practitioners from two cities were arrested on November 9, 2018. Days later, another 17 practitioners from Dalian City, Liaoning Province, and 36 practitioners from Qingyun County, Shandong Province, were arrested on November 12 and 18, respectively.
In Yushu City, Jilin Province, the police arrested 27 practitioners since early November 2018 to accumulate extra points on their year-end performance reviews. According to insiders, each arrested Falun Gong practitioner counts as five non-practitioner suspects and will earn an officer 10 points.
In addition to the mass arrests, police harassed a large number of practitioners as part of the continued "Knocking on Doors" campaign from 2017 and the new gang crackdown campaign in 2018, in which officers target Falun Gong practitioners instead of gang members to meet quotas. In Hebei Province alone, 2,201 practitioners were harassed ahead of a major meeting held by the communist regime in the province.
Many of the targeted practitioners are seniors. A total of 403 practitioners (representing more than 8% of those arrested) are at least 65 years old. Among the harassed practitioners, 180 (more than 4%) are 65 or older.
Ms. Zou Guiqin, 90, from Inner Mongolia, was arrested on November 18, 2018 for putting up Falun Gong flyers. She fainted after the police threatened to jail her for her faith. She was released after two hours of interrogation at the police station.
Another couple, 91-year-old Mr. Yu Jiachuan and his 88-year-old wife, Ms. Wu Ruiqing, were harassed and had their photos taken by officers from Haiyang Police Station in Qinhuangdao, Hebei, on July 25, 2018.
Highly accomplished professionals were also among the targeted practitioners. Ms. Guo Xueping, the president of Tianyang Taifu Real Estate Group in Shijiazhuang, Hebei Province, is facing possible prosecution after she was arrested on September 19, 2018.
Some of the arrested practitioners were beaten, force-fed, and subjected to other abuses during their detention.
Mr. Zhang Ming of Dandong City, Liaoning Province, was arrested on June 29, 2018 for distributing Falun Gong informational materials. He was abused and developed high blood pressure and heart palpitations. His wife, Ms. Xiu Jinqiu, also a Falun Gong practitioner, was tortured to death on November 28, 2013, three months after her arrest. Their daughter, Ms. Zhang Hongyu, fled to the United States. She is now calling for her father's release.
Among the targeted practitioners, 2,050 had their homes ransacked and their belongings and valuables confiscated. The police extorted 2,168,723 yuan from 260 practitioners, with a median of 3,000 yuan and an average of 8,373 yuan each person.
A married couple from Jilin City, Jilin Province, Mr. Li Dekuan and Ms. Liu Li, were arrested on April 30, 2018. The police confiscated 100,000 yuan in cash from their residence.
Ms. Wang Chao, from Yantai City, Shandong Province, also had more than 100,000 yuan in cash confiscated by the police during her arrest on November 28, 2018. Many of her Falun Gong items were also taken.
The targeted practitioners come from 30 provinces and municipalities in China. In particular, one-fifth of the arrested practitioners (1,006) were in Shandong Province, followed by Liaoning (526) and Jilin Province (490). Both Liaoning and Shandong also recorded the highest numbers of practitioners sentenced to prison for their faith in 2018.
The arrests and harassment took place throughout the year, with August registering the most cases of harassment (1,037) and May the most arrests (696).
1. Mass Arrests
The Chinese regime launched a new campaign in January 2018 to combat criminal gangs. But in some provinces, including Hebei, Shandong, Sichuan, and Liaoning, Falun Gong practitioners became the targets.
Some other mass arrests happened around major events.
Groups Arrests in Shandong Throughout 2018
Ahead of the Shanghai Cooperation Organization (SCO) summit held in Qingdao City, Shandong Province on June 9-10, 2018, authorities in Qingdao and its neighboring cities launched large-scale arrests of local Falun Gong practitioners. In Weifang City, a total of 163 Falun Gong practitioners were arrested between April and June.
Shortly after the summit, Shandong police began to monitor the practitioners. Many were targeted to fill quotas for the gang crackdown campaign since July 2018.
In Zhaoyuan City, Shandong Province, 20 Falun Gong practitioners were arrested between August and September, also in the gang crackdown campaign.
In Qingyun County, Shandong Province, 36 practitioners were targeted in a mass arrest on November 18, 2018.
Except for a few practitioners who were released due to their advanced age, the rest of the practitioners remain in detention facilities and are denied family visits.
119 Falun Gong Practitioners Arrested in Two Heilongjiang Cities in One Day
On November 9, 2018, 119 Falun Gong practitioners from Harbin and Daqing in Heilongjiang Province were arrested. It was reported that the police had been monitoring the practitioners' cell phones and/or social media activities in the months leading up to the arrests. The police arrested the practitioners according to a name list.
Two of the arrested practitioners—Ms. Wu Xiulan and a Ms. Mu—are around 80 years old.
Most practitioners were arrested early in the morning before they went to work. The police ransacked their homes and confiscated their Falun Gong books and computers.
One of the victims, Mr. Lu Guanru is now facing indictment after the local procuratorate approved his arrest in December. His lawyer wasn't allowed to visit him at Daqing Detention Center.
Falun Gong Practitioners Targeted in Jilin Province
Jilin has been one of the provinces with the most severe persecution of Falun Gong practitioners.
In Shulan City, 12 practitioners and one practitioner's family member were arrested on July 18, 2018. The police arrested the practitioners while they were asleep. One practitioner was taken away in her underwear. Several others were harassed the same night or the next day.
In Changchun City, 26 Falun Gong practitioners and their family members were arrested on October 12, 2018, two days after Jilin provincial officials announced the campaign to "combat criminal gangs."
Fourteen of the arrested remain in detention by early January 2019. Five practitioners–Mr. Zheng Weidong, Ms. Zhao Xu, Ms. Zhao Qiuyue, Ms. Wang Xiuying, and Ms. Wu Yanan–are facing indictment after their arrests were approved by the procuratorate in late November.
The oldest practitioner targeted was 73-year-old Ms. Yang Peixia, who is now detained at Changchun No.4 Detention Center. The youngest practitioner is Ms. Wang Hong'na, in her early 30s. Ms. Wang was released on November 26, 2018.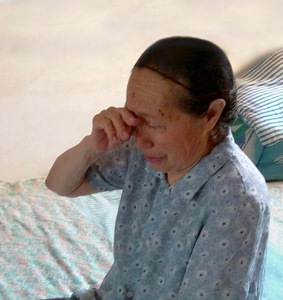 Ms. Wang's 88-year-old grandmother, Ms. Xia Deyun, was traumatized and hospitalized after Ms. Xia's arrest.
31 Falun Gong Practitioners and Their Family Members in Liaoning Province Arrested in Two Days
Thirty-one Falun Gong practitioners and their family members from nine regions in Liaoning Province were arrested between August 22 and 23, 2018.
The Liaoning Province Public Security Bureau created a special task force to orchestrate the mass arrests, which called for police in affected regions to carry out specific actions, including extended surveillance.
The police had been following the practitioners and monitoring their phone calls prior to the arrests. The oldest practitioner arrested was 81-year-old Ms. Chen from Chaoyang City. Four of the practitioners' family members who don't practice Falun Gong were also arrested.
2. Large Number of Harassment Cases in Hebei Province
Having been a province with the heaviest persecution of Falun Gong in the past 19 years, Hebei Province had as many harassment cases in 2018 as the rest of China combined, an unprecedented and concerning trend.
In addition to the nationwide "Knocking on Doors" and gang crackdown campaigns, the secretive annual Beidaihe meeting of the communist regime in early August 2018 also contributed to spikes in harassment cases in July and August.
In Anguo City, police and residential committee staff harassed 107 practitioners in July, including those who had stopped practicing Falun Gong due to the persecution.
In Laishui County alone, over 500 practitioners were harassed by police in August.
An officer in Cangzhou City, Hebei Province, revealed to a practitioner that it was the Hebei Police Department that ordered the harassment. Officers were instructed to ask practitioners whether they still practiced Falun Gong and videotaped them as they answered the question.
The police threatened practitioners' college applications or their family members' job prospects if they refused to cooperate.
Officers were also particular about obtaining the practitioners' personal information, such as their cellphone numbers and WeChat IDs. Some officers forcibly took pictures of the practitioners, as well as the interiors and exteriors of their homes.
3. Elderly Practitioners Targeted
83-Year-Old Man Beaten on Holiday Honoring Elderly
Mr. Min Shigao, 83, from Zhongxiang City, Hubei Province, was stopped by the police at a temple fair on the Double Ninth Festival on October 17, 2018, when he had just finished browsing the fair and was preparing to leave. The police took his bag and electric bicycle key before giving him a savage beating. His hands were injured and bled profusely.
After taking him to the police station, an officer pushed him against a wall and shouted, "I will bury you alive if you don't die [from the beatings]." Mr. Min was released four hours later.
83-Year-Old Woman Arrested for Seeking Daughter's Release
Ms. Peng, 83, a Wuhan City resident, was manhandled by the police into their car on March 22, 2018, while demanding her daughter's release at the First Detention Center. Her daughter, Ms. Huang Yufeng, was arrested on October 8, 2017, for talking to people about Falun Gong.
Ms. Peng went to the detention center with a letter to the director, in which she argued that no law in China criminalizes Falun Gong and that her daughter should not have been arrested for her faith.
One officer snatched her letter, and three others removed her from the lobby to the courtyard. A fifth guard took pictures of her.
She was interrogated at the police station for five hours before being released.
70-Year-Old Woman Released on Verge of Death
Ms. Mu Yongxia, a 70-year-old retired teacher from Heilongjiang Province, was arrested on March 16, 2018 while on her way to visit her sister, who is in her 80s and can no longer care for herself.
Distressed about her arrest and detention, Ms. Mu developed symptoms of a heart problem, high blood pressure, dizziness, cramps, and pressure in the chest. She had great difficulty breathing and suffered back pain. She was taken to the clinic to receive oxygen multiple times. The detention center wanted to release her for medical treatment, but the police department did not agree. The family went to various departments seeking to have her released for medical reasons, but they were not successful.
Around the middle of June, Ms. Mu suffered from nausea and could not eat or drink. She was dizzy and had negative reactions to any medication she was given. She was taken to the hospital several times, but nothing helped.
By the ninth day, she still could not take in any food or drink. The court demanded that her family pay 20,000 yuan in bail in order to release her. Her family could not afford it. Fearing that she might die, the Daqing City Detention Center left her outside its gate on the afternoon of July 10. She returned home on the verge of death.
Authorities Refused to Release 75-Year-Old Woman Despite Cancer Diagnosis
Ms. Li Qingxia, 75, from Yushu City, Jilin Province, developed high blood pressure, high fever, and pain in her leg that made it difficult to walk after she was taken to the detention center following her arrest on August 10, 2018, for talking to people about Falun Gong.
Even though her daughter submitted her medical records that showed she had been diagnosed with uterine cancer, the authorities refused to release her.
Ms. Li has been kept in custody since. She is facing further prosecution after the prosecutor at Yushu City Procuratorate approved Ms. Li's arrest on August 24, 2018.
Harbin Woman Emaciated After 9 Months of Detention
Ms. Ren Xiuyun, 69, was extremely emaciated and exhausted when she was released from nine months of detention on December 1, 2018.
Ms. Ren was arrested on March 1, 2018, at a train station after she was flagged as a Falun Gong practitioner while going through security at the train station.
The police detained her after finding Falun Gong music on her cellphone. They also ransacked her home and confiscated her Falun Gong books and other related materials. She was sentenced to nine months in prison on August 20 by Daowai District Court.
Hubei Woman Sent to Same Brainwashing Center for 8th Time in 14 Years
Ms. Zhou Mingli, in her late 60s, was arrested on April 24, 2018 after the police cut off her power supply and seized her when she opened the door to check whether her neighbors still had power.
She was detained at Wuhan First Detention Center for ten days before being transferred to Etouwan Brainwashing Center, where she was incarcerated 8 times and forced to renounce her faith in the past 14 years.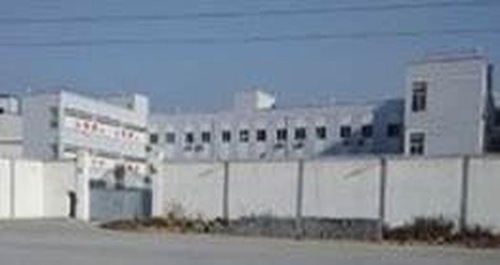 Etouwan Brainwashing Center, which bears no sign on the outside
Ms. Zhou returned home in late November after more than six months of detention at the brainwashing center.
4. Professionals Targeted
The practitioners targeted in 2018 come from all walks of life. Many of them are professionals in different fields, including college professors, government employees, engineers, doctors, artists, accountants, and fashion designers.
Hebei Real Estate Developer Faces Prosecution for Her Faith
Ms. Guo Xueping, the president of Tianyang Taifu Real Estate Group in Shijiazhuang, Hebei Province, is facing possible prosecution for her faith in Falun Gong.
Ms. Guo is an accomplished real estate developer whose company owns subsidiaries spanning different industries, from resorts to supermarkets to a language school. Despite her successful career and prosperity, she often felt lost and empty inside.
After she began to practice Falun Gong in 2013, she was delighted to find answers to the many questions she had about life. She introduced the practice to many of her friends and family members.
While visiting her daughter in the U.S. in 2017, she witnessed firsthand how Falun Gong practitioners outside of China are able to practice their belief without fear of harassment. She became more determined to let people know that the persecution of Falun Gong is illegal.
Because of that, she was targeted by the police.
After monitoring her for a period of time, several officers broke into Ms. Guo's office on the afternoon of September 19, 2018. The police ransacked her company and confiscated her printers, computers, and Falun Gong books. She remains in a secret detention facility in Shuili Hotel in Yuanshi County.
The police are now preparing to submit her case to the Jinzhou Procuratorate.
Colleagues Shocked by Architect's Arrest for Her Faith, Her Sick Child Traumatized by Police Raid
Ms. Sun Lihua, an architect in her 40s in Yantai, Shandong Province, was arrested on June 22, 2018. The police suspected that she had distributed Falun Gong-related materials in a luxury residential area when Communist Party leader Xi Jinping visited Yantai City on June 11, 2018.
The police took Ms. Sun to her home and ransacked the residence in front of her husband and their 14-year-old child, who was on sick leave from school. Officers confiscated Ms. Sun's computer and printer, as well as her car.
When Ms. Sun's husband tried to reason with the officers about the raid, they also arrested him and kept him in the police station until midnight, leaving their frightened child at home alone.
The procuratorate approved Ms. Sun's arrest on July 8. The police submitted her case to the procuratorate on August 13.
Ms. Sun is currently being held in Yantai Detention Center. Her family has hired a lawyer to represent her. She says practicing Falun Gong is legal and denies any wrongdoing.
5. Tortured and Mistreated in Detention
Some practitioners have been subjected to brutal torture and interrogation in custody as police attempted to extract confessions from them and force them to renounce their faith.
Man in Critical Condition after Savage Police Beating
Mr. Chai Dongsheng, from Harbin, Heilongjiang Province, was savagely beaten by police officers after his arrest on December 27, 2018. He suffered from three bone fractures in his right leg and injuries in his head. He is now in critical condition and being treated at an intensive care unit. He has remained in a coma since then.
Ms. Zhang Peiying Tortured in Handan City No. 3 Detention Center
Ms. Zhang Peiying, 43, was arrested on May 16, 2018, for talking to people about Falun Gong.
She was locked in solitary confinement and tied to a "stretching bed" for two days while being detained at Handan City No.3 Detention Center for her continued efforts to raise awareness about the persecution. She was in pain and could not stand or walk for several days afterward.
Ms. Zhang was sentenced to three years in prison in December 2018.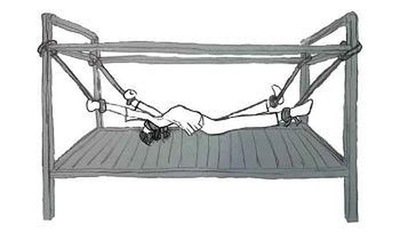 Torture illustration: Stretching bed
Falun Gong Practitioners Strip-Searched and Had Blood Drawn
After the arrests of ten residents of Fushun City on April 24, 2018, the police stripped off their clothes and body-searched them. The practitioners also had two large tubes of blood drawn from them against their will. Male doctors then x-rayed the female practitioners while police officers watched in the room next door.
The police gave no reason for taking the blood samples.
6. Drug Administration
Tianjin Woman Force-Fed and Drugged in Detention, Falls Into Coma One Day After Release on Parole
Ms. Tang Zhongyan was arrested together with her husband, Mr. Gao Fengcun, on December 4, 2018. The police ransacked their residence and confiscated their computers, cell phones, and Falun Gong items.
Mr. Gao was later released on bail due to medical conditions. Ms. Tang was put in criminal detention and sent to Baodi District Detention Center the day after her arrest.
She started a hunger strike to protest the arrest and was force-fed. The guards also drugged her and shocked her with electric batons after tying her to a metal chair. She recounted extreme discomfort in her internal organs afterward and remained extremely weak.
When her lawyer visited the detention center, the guards told him that Ms. Tang refused to meet with him. The lawyer suspected that it was the guards who had rejected the meeting out of fear that he would learn of their brutality against Ms. Tang.
The guards agreed to release her on medical parole on December 24. Ms. Tang went back home at around 11 p.m. on December 25, 2018, and fell into a coma the next day.
Ms. Li Xiumin Paralyzed after Injection of Unknown Drug at Mental Hospital
Ms. Li Xiumin, 49, from Harbin, Heilongjiang Province, was arrested in late October 2018 for trying to explain the facts about Falun Gong to the police and persuade them not to persecute Falun Gong.
She was taken to Yaziquan Detention Center that evening. After more than ten days, she was moved to a mental hospital. The guards shaved her head and injected unknown drugs into her calf.
She soon became paralyzed. The mental hospital staff abandoned her at a humanitarian assistance center. She was taken back home by her son on November 29.
Ms. Li was still able to talk when she arrived home. But three days later, her tongue became rigid. She felt extremely uncomfortable and kept scratching her chest. She also began to lose her eyesight.
More than 20 blisters appeared on her calf, which gradually became round, black scars, with a needle hole in the center. She lost significant weight within a short time.
7. Family Separated
Widow Devastated By Caregiver-Daughter's Second Arrest for Practicing Falun Gong
Ms. Liu Rehan's 79-year-old mother was devastated to learn that she was arrested again for practicing Falun Gong on December 4, 2018.
Having lost her husband in the persecution in 2004 and seen her younger daughter flee to escape further persecution, the elderly mother, who relies on Ms. Liu to take care of her, is now left in despair.
Her 22-year-old grandson, who grew up witnessing the persecution tearing apart his family, now goes to her home from college twice a week to help out.
Ms. Liu's son was only 4 when she was arrested for the first time in 2001. Her husband, a police officer, divorced her while she was serving a three-year term at a labor camp.
After she was released, Ms. Liu was heartbroken to see her son become distant and hateful toward her as a result of the hate propaganda against Falun Gong taught by his teachers at school. It took years for her to fix her relationship with her son, who later became supportive of her practicing Falun Gong.
Mother Tortured to Death, Father Arrested for Exposing Persecution of Their Faith
Ms. Zhang Hongyu decided to go to the United States to expose the persecution her family suffered one year after her mother, Ms. Xiu Jinqiu, was tortured to death on November 28, 2013, and three months after she was arrested for passing out Falun Gong pamphlets.
Still worried her father, who decided to stay in China, Ms. Zhang's heart sank when she heard that her father, Mr. Zhang Ming, was arrested on June 29, 2018, for distributing literature to expose the persecution of Falun Gong.
It was reported that Mr. Zhang was abused in Kuandian Detention Center and is suffering from high blood pressure and heart palpitations. The authorities refused to provide medical care or grant him medical parole.
The police had submitted his case to the procuratorate, and he is facing indictment.
While collecting information to charge Mr. Zhang, the police harassed his 90-year-old father and asked whether he practices Falun Gong. This outraged his family members, as the elderly man had lost most of his hearing and was unable to talk clearly.
Unable to return to China now, Ms. Zhang is doing all she can to rescue her father. She calls upon the international community to pay attention to his case and pressure the Chinese authorities to release him and all other illegally detained Falun Gong practitioners.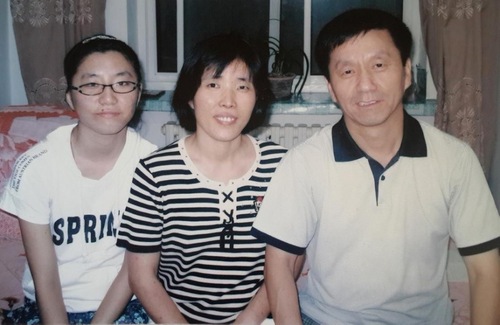 Ms. Zhang Hongyu and her parents
Related reports:
Yushu City, Jilin Province: Police Arrest Falun Gong Practitioners for Extra Points in Year-End Performance Review
Qingyun County, Shandong Province: 36 Falun Gong Practitioners Arrested in One Day
Shandong Falun Gong Practitioners Targeted in Communist Regime's Gang Crackdown Campaign
119 Falun Gong Practitioners Arrested in Two Heilongjiang Province Cities in One Day
Changchun, Jilin Province: 26 Confirmed Arrested in October Raid of Falun Gong Practitioners
Zhaoyuan, Shandong: 20 Falun Gong Practitioners Arrested Since August 2018
31 Falun Gong Practitioners and Their Family Members in Liaoning Province Arrested in Two Days
Shulan, Jilin Province: 12 Falun Gong Practitioners Arrested in One Night
163 Falun Gong Practitioners Arrested in Weifang, Shandong Province Ahead of SCO Summit
Laishui, Hebei Province: "Knocking on Doors" Campaign Targets More Than 200 Falun Gong Practitioners in One Month
Minghui Report: 486 Falun Gong Practitioners Arrested in November 2018
Minghui Report: 296 Falun Gong Practitioners Arrested in October 2018
Minghui Report: 271 Falun Gong Practitioners Arrested in September 2018
Minghui Report: 310 Falun Gong Practitioners Arrested and Hundreds Harassed for Their Belief in August 2018
3,628 Falun Gong Practitioners Arrested or Harassed for Their Faith in the First Half of 2018
590 Falun Gong Practitioners Arrested or Harassed for Their Faith in January and February 2018
Related Articles in Chinese: