Chinese Praise Shen Yun: "This is True Traditional Chinese Culture"
January 24, 2019 | By a Minghui correspondent
(Minghui.org) While audiences around the world enjoy the artistry and spiritual depth of Shen Yun, Chinese audience members who have experienced the performances outside of China feel especially proud and touched to see China's true, traditional culture being presented to millions of people.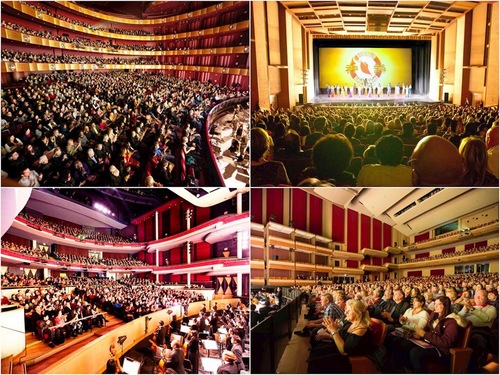 Shen Yun performances at: (left to right, top to bottom) The David H. Koch Theater at Lincoln Center in New York City, New York; the Community Center Theater in Sacramento, California; the Living Arts Centre in Mississauga, Canada; and the Centre In The Square in Kitchener, Canada.
Artist: "Every Movement is Filled with Cultural Meaning"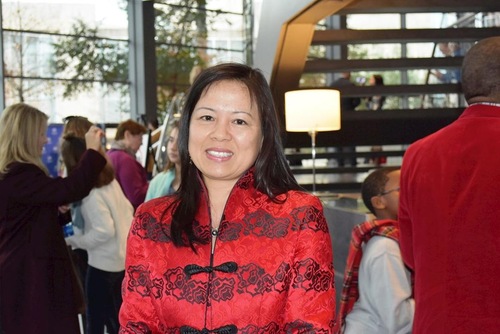 Hu Yu, a painter from China, at the AT&T Performing Arts Center–Winspear Opera House in Dallas, Texas, on January 13, 2019.
"Very touched... I'm proud of Shen Yun Performing Arts," said painter Hu Yu.
Ms. Hu explained that the dances presented in Shen Yun are both meaningful and profound. She said, "They really present our traditional Chinese culture. Every dance movement is filled with cultural meaning.
"From the beginning to the end, it follows the theme, 'The beauty of divine beings dancing (Shen Yun),'" Ms. Hu said.
"This is True Traditional Chinese Culture"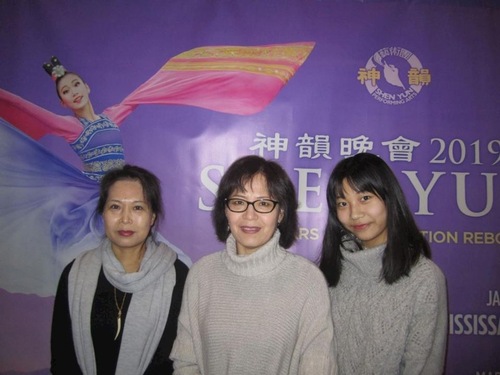 Ms. Zhang (left), her sister (center), and daughter, at the Shen Yun performance in Mississauga, Canada, on January 11, 2019.
"The performance was magnificent. Very stunning, very familiar... I very much admire and respect them," said Ms. Zhang, who attended the performance in Mississauga with her daughter and sister.
"In China, [you] almost can't see Chinese cultural arts that are this traditional and classical. As a Chinese, I feel very emotional. I feel very proud and also very lucky.
"After seeing the performance, I feel very relaxed. It seems like my entire body and mind have been purified. Very comfortable," she added.
"Shen Yun dances cover an abundance of Chinese history and stories. The meanings and values are all very traditional… This is true traditional Chinese culture!" she said.
Artist Finds Cultural Roots Through Shen Yun
Victoria Chen, a painter and former figure skater, with friend Johnathan Rocha at Lincoln Center in New York on January 11, 2019.
Painter and former figure skater Victoria Chen attended the performance in New York on January 11, 2019. Her parents came from China, but she grew up in the U.S.
She said that it's easy to forget where one comes from. After seeing Shen Yun, she felt she had found her cultural "origin," her "root."
Ms. Chen was especially impressed by Shen Yun's animated backdrops. She enjoyed the historical scenes in the backgrounds.
"All the Elite Dancers are Here"
Mr. Zhang, used to be a performer with a dance troupe in China. While visiting his family in the U.S., he attended a Shen Yun performance at Lincoln Center in New York with five children and grandchildren on January 19, 2019.
He was touched by the performances and said, "From the beginning to the end, [Shen Yun] reflects traditional Chinese culture. It's so great."
"Their dance skills and foundations are very good. It seems like all the elite dancers are here... as I watched, I wanted to dance with them."
"The background designs are so good, so perfect. The people and scenery blend so perfectly. Everything is designed so well," Mr. Zhang said.
Upcoming Performances
Shen Yun continues its world tour with upcoming performances in Dallas, Texas from January 22 to 27, Nashville, Tennessee from January 22 to 23, Hachioji, Japan on January 25, and Edinburgh, United Kingdom from January 24 to 25. For more information on tickets and dates, please visit http://shenyun.com.