Shandong Falun Gong Practitioners Targeted in Communist Regime's Gang Crackdown Campaign
December 07, 2018 | By a Minghui correspondent in Shandong Province, China
(Minghui.org) On October 23, 2018, the Public Security Bureau in Yi'nan County, Shandong Province, launched an anti-gang campaign in Yiwen Town. Instead of cracking down on gangs, however, the police arrested two Falun Gong practitioners, Mr. Zu Peiyong and Ms. Li Changfang.
Both practitioners are currently detained. Mr. Zu's parents were harassed and his house ransacked.
The Public Security Bureau had originally planned to arrest all practitioners in the town, but most practitioners were not at home during that time.
The husband of a practitioner, Ms. Zhi Fuqin, was forced to call her more than 30 times to urge her to return home. Two non-practitioners were arrested when police found some bills containing information on Falun Gong in their home. Five practitioners were forced to leave home to avoid being persecuted.
This is not the first time that Falun Gong practitioners from Yiwen Town were arrested.
Police from the Domestic Security Bureau and Yiwen police station went to the town on August 28 to arrest four practitioners. Mr. and Mrs. Sui Shuchang were detained for 15 days before being released. Another couple, Mr. Liu Naixun and Ms. Wang Xilan, were detained for 35 days, even though Mr. Liu did not pass the medical examination that was required before detention. Mr. Liu and Ms. Wang's arrests have been approved since then.
The reason for the arrest was linked to the death of practitioner Ms. Xing Ximei, who was arrested on November 7, 2017, and persecuted to death 13 days later on November 20. The police suspected that the practitioners in Yiwen Town had lent support when Ms. Xing's family sued the Public Security Bureau for causing her death, and thus targeted the town in the crackdown campaign.
Ms. Xing, 66, was arrested at a local fair after she was reported for distributing materials exposing the Chinese communist regime's persecution of Falun Gong. Her family was not informed of her arrest and detention until two days afterwards, when several officers, including the police chief, suddenly showed up and demanded that the family pay 410 yuan for her medical examination and 3,000 yuan for her bail.
When the family refused to pay, the police took them to the Linyi City People's Hospital, where they saw Ms. Xing being resuscitated. Half of her body was paralyzed, and her abdomen was swollen. She was incoherent and only answered, "They are hurting me" when her family asked what happened. Seeing this, the police gave the family 3,000 yuan and left quickly.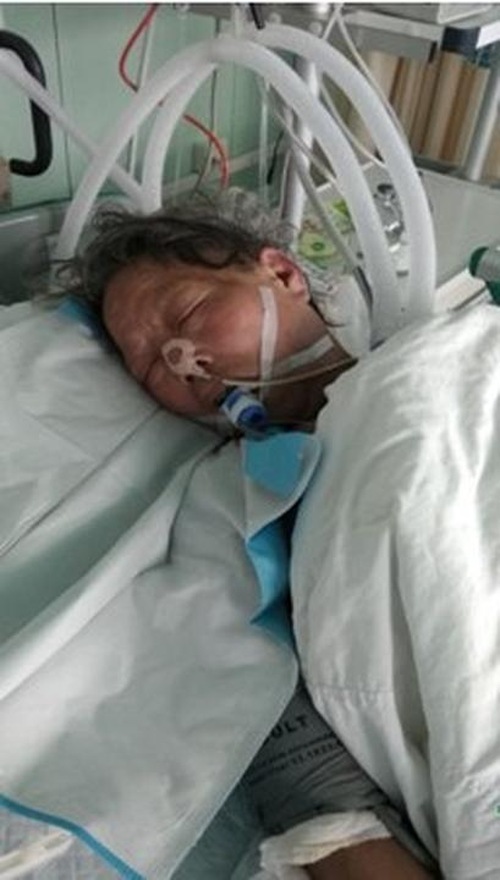 Photo of Ms. Xing being resuscitated in the hospital
Ms. Xing passed away on November 20. She was diagnosed with a stroke and pneumonia, but she was totally healthy on the day of her arrest. Afterwards, the police confiscated her medical records and ordered the local village government to give her family 25,000 yuan in compensation.
When Ms. Xing's daughter went to the police station to ask for an explanation of her mother's death, the police promised to compensate the family. However, the promise was never fulfilled and the police chief at the time has since been transferred.
To seek justice for Ms. Xing, the family sued the Public Security Bureau, but received no response until the inspection team from the central government was due to arrive in Yi'nan County in June 2018.
The Public Security Bureau feared that the family would complain to the team and promised to compensate the family with whatever amount they requested, and also promised to give a subsidy to Ms. Xing's husband if the family agreed not to petition. They also threatened to arrest the family and fire the family's relatives and friends who work in the government if they petitioned again.
Before Ms. Xing's death, she and her husband, Mr. Li Chengji, were arrested numerous times for refusing to renounce Falun Gong; Ms. Xing was also sent to labor camp twice – once in 2007 and again in 2010.
Contact details of those involved in the persecution:Liu Xing, party secretary of Yi'nan Public Security Bureau: +86-139-05397663Zheng Zhijie, deputy director of Yi'nan Public Security Bureau: +86-136-08901119Hu Faqiang, Domestic Security Bureau: +86-135-73991801, +86-135-73982901
(More participants in the persecution contact information is available in the original Chinese article.)
Related reports:
2017 Year in Review: Increased Awareness of the Ongoing PersecutionShandong Woman Dies 13 Days After Being Arrested for Her Faith