Changchun, Jilin Province: 26 Confirmed Arrested in October Raid of Falun Gong Practitioners
January 05, 2019 | By a Minghui correspondent in Jilin Province, China
(Minghui.org) According to newly available information, 26 Falun Gong practitioners and their family members in Changchun City, Jilin Province are now confirmed to have been arrested on October 12, 2018.
Falun Gong, also known as Falun Dafa, is a spiritual and meditation practice being persecuted by the Chinese communist regime since July 1999.
Fourteen of the arrested remain in detention at the time of writing. Five practitioners–Mr. Zheng Weidong, Ms. Zhao Xu, Ms. Zhao Qiuyue, Ms. Wang Xiuying, and Ms. Wu Yanan–are facing indictment after their arrests were approved by the procuratorate in late November.
The group arrest came two days after Jilin provincial officials announced the campaign to "combat criminal gangs." Instead of arresting gang members, police in many regions turned to Falun Gong practitioners to fill their quotas.
The oldest practitioner targeted was 73-year-old Ms. Yang Peixia, who is now detained at Changchun No.4 Detention Center. The youngest practitioner is Ms. Wang Hong'na, in her early 30s. Ms. Wang was released on November 26, 2018.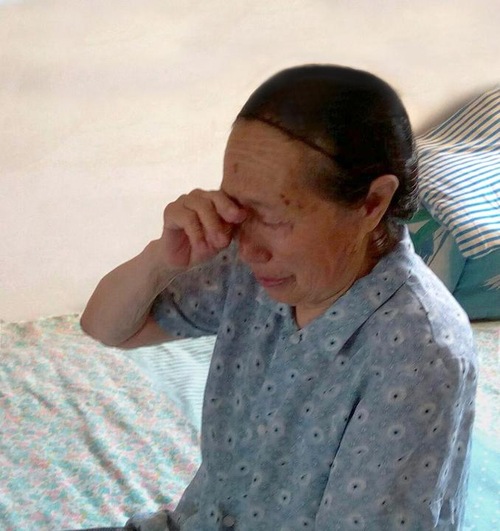 Ms. Wang's 88-year-old grandmother, Ms. Xia Deyun, was traumatized and hospitalized by her arrest.
Most of the affected practitioners were arrested at their homes.
Ms. Wang Liping was preparing to leave for work when six officers broke into her home and confiscated her two computers, three cell phones, and a tablet computer. Although she was released at around 9 p.m. on the same day, the police refused to return the confiscated items to her. It was reported that officers had been following her before the arrest.
Mr. Shi Xingjia, 67, came to Changchun while wandering around to avoid being arrested for his faith. It was reported that he has been placed in solitary confinement at Changchun No.2 Detention Center; he is reportedly suffering from bleeding in the stomach and often coughs up blood.
Below are details about the practitioners targeted in the mass arrest in October: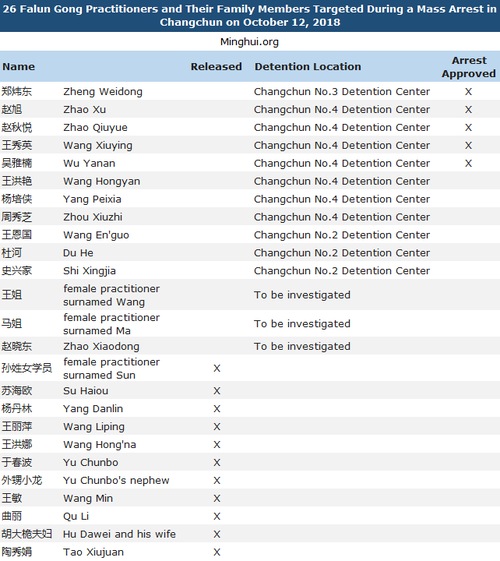 Download list of practitioners targeted in the mass arrest in October 2018
Related reports:
Changchun, Jilin Province: 15 Falun Gong Practitioners Arrested in One Day, Three of Them Facing Indictment