Changchun, Jilin Province: 15 Falun Gong Practitioners Arrested in One Day, Three of Them Facing Indictment
December 15, 2018 | By a Minghui correspondent in Jilin Province, China
(Minghui.org) Three of the 15 Falun Gong practitioners targeted during a group arrest in Changchun City, Jilin Province, on October 12, 2018, are facing indictment after their arrests were approved by the procuratorate in late November.
The group arrest came two days after the provincial officials announced the campaign to "combat criminal gangs." Instead of arresting gang members, the police in many regions turned to Falun Gong practitioners to fill their quotas.
Falun Gong, also known as Falun Dafa, is a mind-body discipline that has been severely persecuted by the communist regime since 1999.
Mr. Zheng Weidong was put under criminal detention after 15 days of administrative detention and taken to Changchun No.3 Detention Center on October 27. His arrest was approved by the Nanguan District Procuratorate on November 30.
Mr. Zheng's computer and printer, confiscated by the police during the home raid, were used as evidence to charge him.
In the past 19 years, Mr. Zheng has served 12 years in prison and has been severely tortured for not renouncing Falun Gong. The guards once tied him to a bed in the spread-eagle position and beat him every day for three months.
He lost his wife, Ms. Shen Jianli (a Falun Gong practitioner who mysteriously disappeared and was later confirmed to have died in custody one month after her arrest), and his job as a senior college lecturer in the persecution. He had been working as a part-time teacher to make a living after he was released in 2013.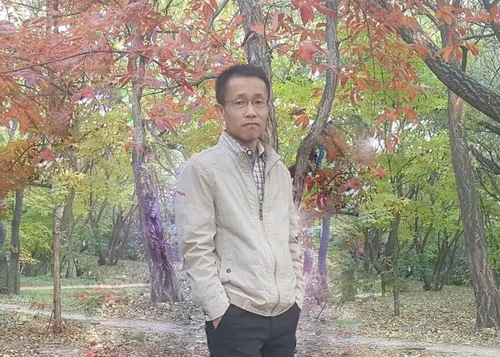 Mr. Zheng Weidong
Ms. Zhao Xu, 37, is currently detained at Changchun No.4 Detention Center. The same procuratorate approved her arrest on November 26.
Ms. Zhao Qiuyue, not related to Ms. Zhao Xu, is a music teacher. Her arrest was also approved by Nanguan District Procuratorate in late November.
Other arrested practitioners include: Ms. Wang Hongna, Ms. Qu Li, Mr. Du He, Ms. Wang Hongyan, Mr. Yu Chunbo, Ms. Wang Min, Mr. Wang Enguo and his wife Ms. Zhou Xiuzhi, Mr. Hu Dawei and his wife, Ms. Wu Yanan, and a male practitioner in his 60s.
The status of these practitioners' cases are being investigated at the time of writing.
Related reports:
Still Reeling from Mother's Death in Custody, Woman Devastated to See Father Arrested Again after 12 Years of Imprisonment
Seven-year-old Zhen Xianchu Endures Hardship and Sorrow Because Her Mother, Shen Jianli, Was Tortured to Death in 2002
Shen Jianli, a Lecturer from Jilin University, is Tortured to Death, Her Family Members Also Suffer Greatly
Falun Gong Practitioners Targeted in Communist Regime's Gang Crackdown Campaign
Related article in Chinese: