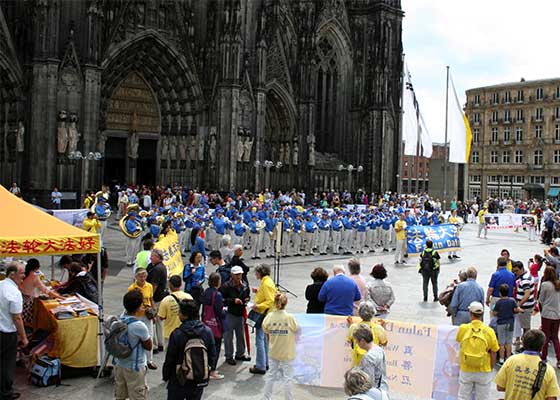 A German official who attended the rally in front of the Cologne Cathedral and heard several practitioners relate their experiences of being persecuted in China commented, "It is really meaningful that more and more Chinese have the courage to speak out. This event drew Chinese people's attention. The persecution is related to everybody. I feel that I need to do something, too."
There was a significant increase in harassment cases since March. Police forces nationwide were ordered to check on practitioners to "ensure social stability" surrounding the dates of two high-level political conferences. Other causes of arrest and harassment included the authorities' "knocking on doors" campaign and retaliation against practitioners who filed criminal complaints against former Chinese Communist Party chief Jiang Zemin.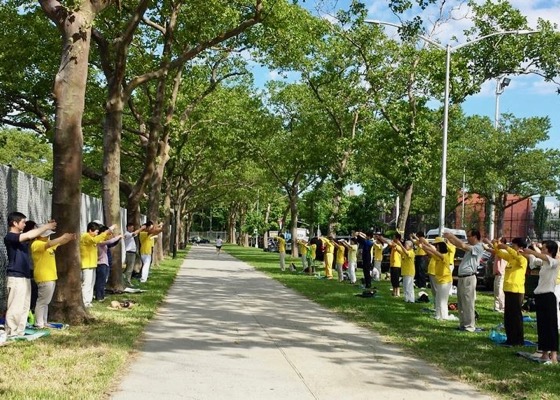 Practitioners introduced Falun Gong and raised awareness about the persecution to people in the Chinese community of Brooklyn, New York on June 25. After an exercise demonstration, banners and information were displayed, and many Chinese people took the opportunity to learn the facts and sever ties with the Chinese Communist Party and its crimes committed during the past eighteen years of persecution.
In their letter to the police trying to secure Ms. Li Hong's release, her supervisor and co-workers wrote, "Over the past 15 years, our company has grown steadily, which would not have been possible without her. After she became a Falun Gong practitioner, she became a much better person. She won the respect and love of our employees, customers, and suppliers."
A practitioner's husband, who initially was against her practice, changes his stance and sees his advanced cancer cured.
Practitioners provide some details on one of the more notorious centers for carrying out the brutal persecution against Falun Gong practitioners.
~ People in China Awaken to the Truth ~
~ Parades & Other Community Events ~
~ Overview of persecution ~
~ Accounts of Persecution ~
~ Podcasts ~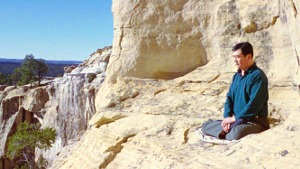 Master Li quietly watching the world from amidst the mountains after leaving New York following July 20th, 1999. (Published January 19, 2000)