Falun Gong Practitioners in Vancouver Call for Sun Qian's Release
June 30, 2017 | By Zhang Ran, a Minghui correspondent in Vancouver
(Minghui.org) Falun Gong practitioners in Vancouver, Canada held a peaceful protest in front of the Chinese Consulate on June 25, condemning the arrest and mistreatment of Canadian citizen and Falun Gong practitioner Sun Qian.
They called for the Chinese government to immediately release Ms. Sun and urged the Canadian government, organizations, media and the general public to help with her rescue.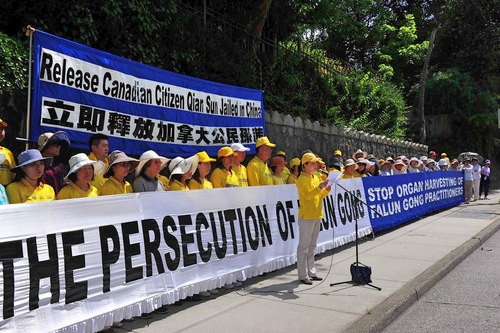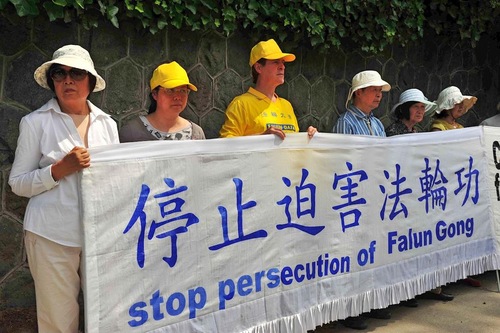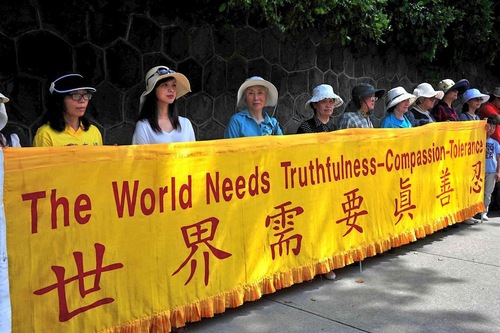 Falun Gong practitioners at the Chinese Consulate in Vancouver call for the release of Sun Qian.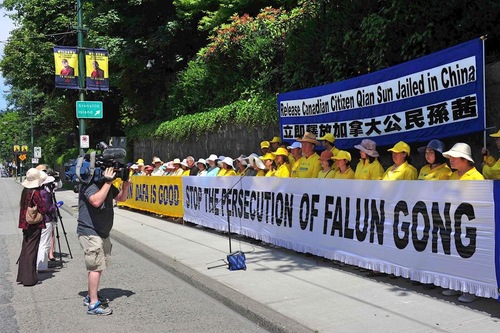 Reporters cover the practitioners' protest.
On busy Granville Street, Falun Gong practitioners unfolded banners reading "Release Canadian Citizen Sun Qian Jailed in China," "Stop Persecution of Falun Gong," "Falun Dafa Is Good," "The World Needs Truthfulness-Compassion-Tolerance." Many passersby expressed their support for the practitioners.
According to reports, Ms. Sun was home in Beijing on February 19, 2017 when more than two dozen officers broke in and arrested her. They also confiscated her Falun Gong books, cell phone, computer, printer, and other valuables.
The police refused to disclose where she was being detained. It took her family several weeks to find out that she is now being held in the Beijing First Detention Center, where she was placed in solitary confinement and pepper-sprayed.
The Falun Dafa Association of Canada in Vancouver released a statement condemning the Chinese Communist Party for Sun's imprisonment. It urges the Canadian government to step in to secure the release of Ms. Sun and other Falun Gong practitioners in custody for refusing to renounce their faith.
Ms. Sun Qian is the vice president of Beijing Leadman Biochemistry Co. Ltd. She became a Canadian citizen in 2007. She credits Falun Gong with curing her heart palpitations, liver problems, and depression after she took up the practice in 2014.
Several Canadian MPs, including Peter Kent, Elizabeth May, and Michael Cooper have urged the Canadian government to help rescue Sun. The Minister of Foreign Affairs, Chrystia Freeland, said she would follow up on Ms. Sun's case.