Falun Gong Practitioners from 10 Countries Hold Grand Parade in Düsseldorf, Germany
July 01, 2017 | By a Falun Gong practitioner in Germany
(Minghui.org) Falun Gong practitioners from 10 European countries held a grand parade in Düsseldorf, Germany, on June 24, 2017; a candlelight vigil in front of the Chinese Consulate on June 23; and did the exercises together in Hofgarten Park on June 24.
Their goal was to share the benefits of Falun Gong and inform people of the 18-year-long persecution of the practice by the Chinese Communist Party (CCP). The parade proved very popular, and people commented: "That organ harvesting must stop! It shouldn't be happening!" "We must work together and not ignore such crimes!" "It is our duty to stop forced organ harvesting!"
Grand Parade in Düsseldorf
The parade, which started at Hofgarten Park at 1p.m., wound through the downtown business district and through Burgplatz and Schadowplatz squares. Falun Gong practitioners, representatives from human right groups, media reporters, and victims of the persecution spoke at the rally at the end of the parade.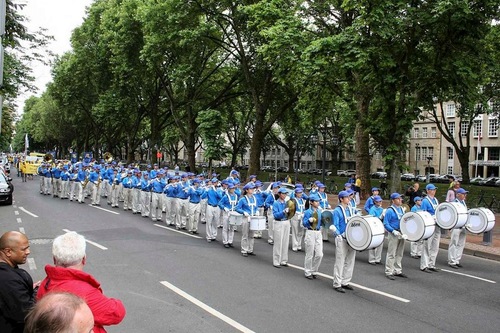 The Tian Guo Marching Band heads the Falun Gong parade.
Banners in German and Chinese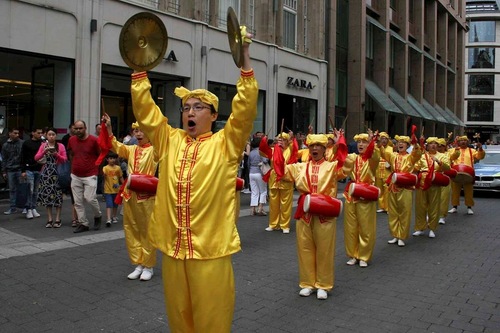 The Waist Drum Team
The Tian Guo Marching Band headed the parade, followed by a float with women practitioners dressed as celestial maidens demonstrating the Falun Gong exercises. Banners in both German and Chinese called for an end to the persecution in China. Practitioners dressed in white held pictures of their fellow practitioners who have died as a result of the persecution. A waist drum team in golden uniforms concluded the parade. The procession stretched out for two kilometers.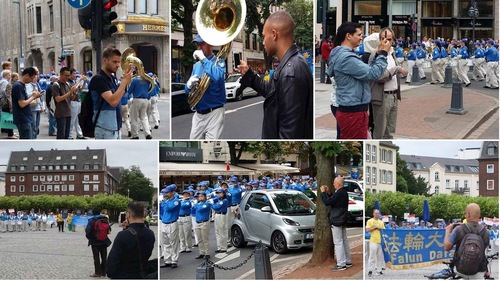 Many people take pictures of the parade procession.
Parade spectators took photos and video, danced along with the music, read the flyers being handed out, and listened to Falun Gong practitioners' explanations. After finding out about the persecution, many signed a petition calling for an end to the CCP's organ harvesting from living Falun Gong practitioners.
Exposing Persecution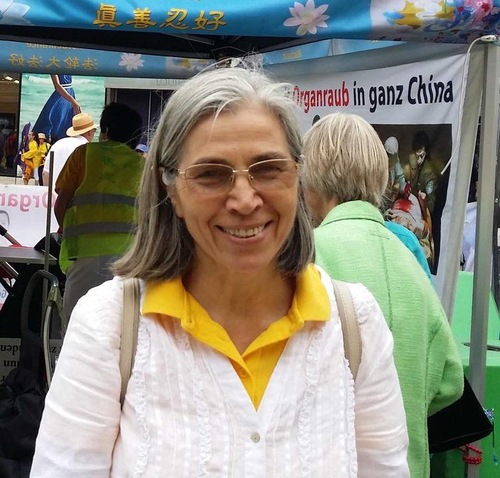 Maria, a parade organizer
Maria, one of the the parade organizers, explained that their goal was to tell the world about the persecution. "Because of the Chinese Communist Party, Falun Gong practitioners in China are seriously abused. Innocent people are killed. This is the most terrible thing in the world."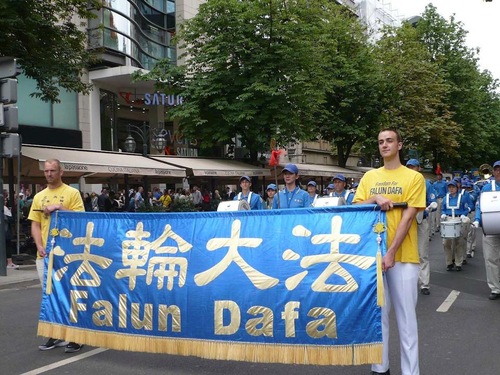 Noah (right), a college student, at the Falun Gong parade in Düsseldorf
Noah, a college student and Falun Gong practitioner, held the "Falun Dafa" banner in the front row. He talked about his experience of practicing Falun Gong. "The book (Zhuan Falun) touched my heart. The ideas in the book are so precious! There are no restrictions. Everyone is an independent individual. What matters is one's heart. I think it's beautiful."
Noah commented on how cultivation has changed him. "I used to be busy all the time, thinking only about myself, rarely about anyone else. I used to fret about who had hurt me and how I could protect myself. After I started cultivating, I treated everyone with kindness. People laughed at me at first, but I continued to help others for no reward. After a while, they told me what I was doing was right and that it was great. They admired me and started to do the same."
Noah is aware of the Chinese Communist Party's (CCP) history of persecution. He wants to let everyone know about the persecution of Falun Gong in China and get them to help stop it.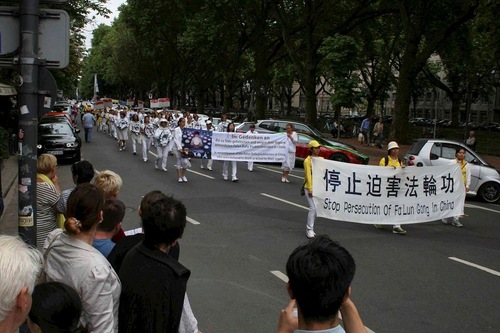 Practitioners in white hold pictures of persecution victims.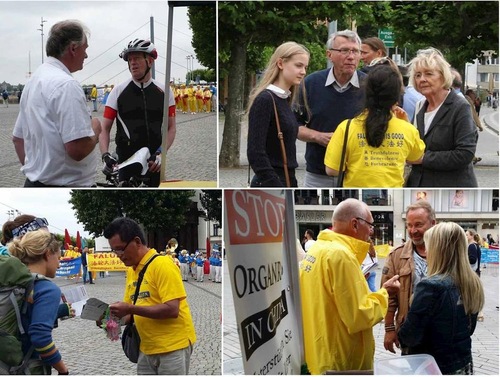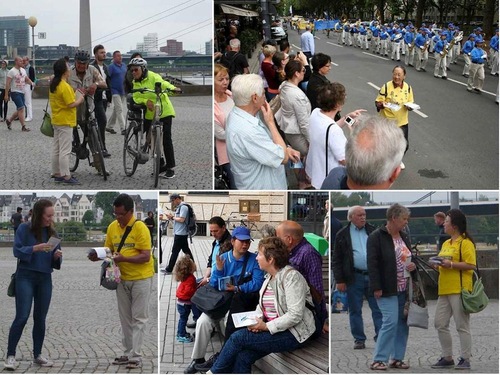 Finding out about the persecution in China
Falun Gong practitioner Ms. Xu Hui was incarcerated in Masanjia Forced Labor Camp when she was in China. She told about the torture she had been subjected to, including being beaten, shocked with electric batons, force-fed, injected with unknown drugs, tied and hung, deprived of sleep for extended periods of time, and so on. One time she was hung on a bunk bed for four days and had no feeling in her arms. Jailers stretched her in different directions. After this round of torture, her back was bent 90 degrees. She couldn't stand up. She had severe pain in her chest. The handcuffs cut deeply into her wrists.
Ms. Liu Wei told how she was brainwashed day in and day out in a Chinese forced labor camp. She was forced to do slave labor for more than ten hours a day and given only a small amount of bad food. She recounted how Falun Gong practitioners were the only ones in the camp who had to have physical exams and blood tests.
Public Support
Marty and three friends from India were at the rally and were appalled to learn about forced organ harvesting.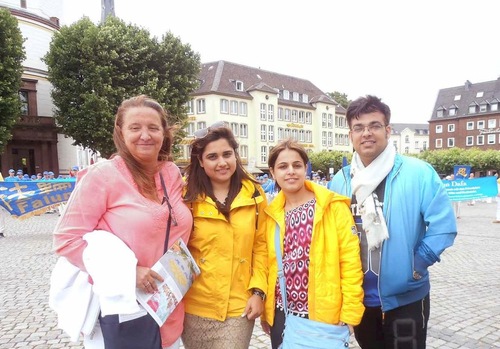 Marty (first from left), Selenie (second from left), and their friends
Marty said she and her friends had heard about the persecution in China and the CCP's organ harvesting before. Selenie said, "I'm a physician. This forced organ harvesting must stop! It shouldn't be happening! I'm very shocked! We didn't know it was so terrible! All of us signed the petition."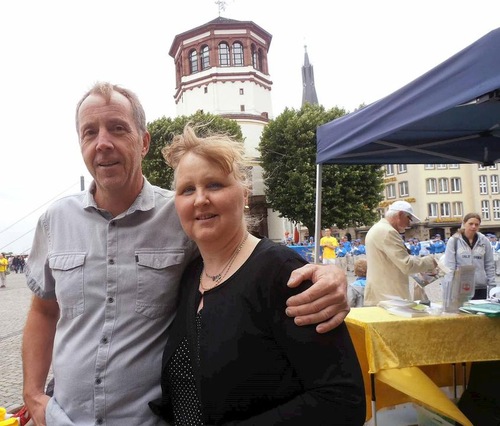 Ilona Damen and her husband Ralf
Local resident Ilona said, "This is the first time we have heard about forced organ harvesting. It's oppression, contempt, and devaluation of human life. We must work together and not ignore such a crime!" Both Ilona and her husband Ralf signed the petition.
Ilona added, "As the lady said in her speech, people forget their inborn nature of Truthfulness, Compassion and Forbearance. Many people and those in power don't think the persecution is their concern. They don't want to oppose it as long as they are fine. It won't work. I think exposing the persecution is right and very important! I hope you will keep up with your work! I wish you success!"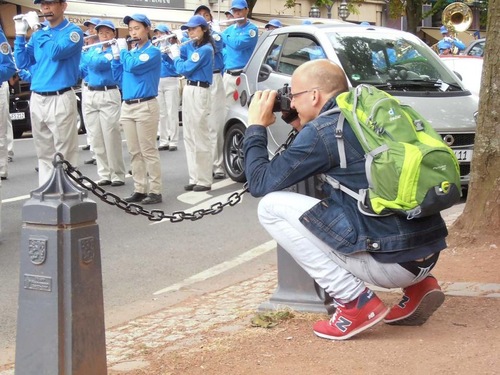 Mr. Schmitz
Schmitz came to Düsseldorf to take photographs for a competition. After hearing about forced organ harvesting, he said, "It is my duty to help stop forced organ harvesting!" He took photos of the parade to help spread the news of the persecution.