Promoting Falun Dafa in Palanga, Lithuania
July 01, 2017 | By a Falun Dafa practitioner in Latvia
(Minghui.org) Signs about Falun Dafa, an exercise demonstration, and an information tent were set up along the parkway to the beach in the city of Palanga in Lithuania on June 17, 2017.
The event was organized by Falun Dafa (also called Falun Gong) practitioners from the neighboring country of Latvia to promote the practice and raise awareness of the persecution in China.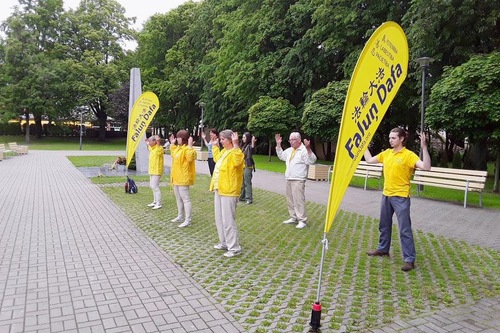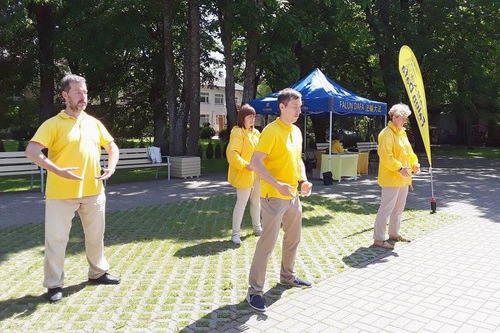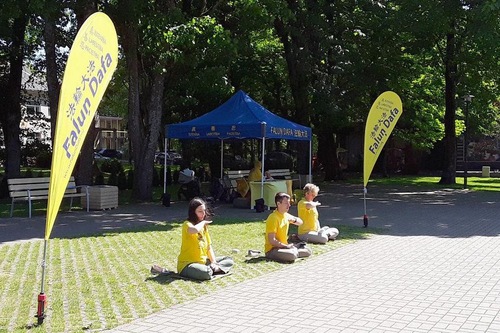 Falun Dafa exercise demonstration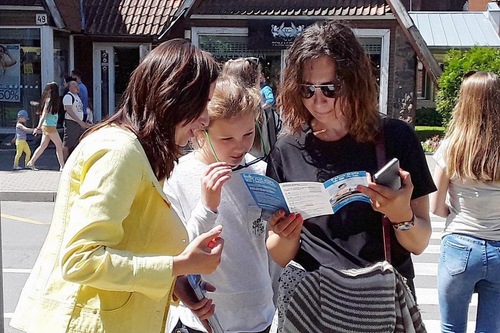 Introducing Falun Dafa and raising awareness about the persecution in China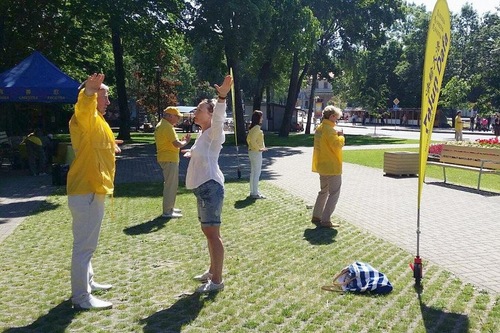 Learning the Falun Dafa exercises
Before the event started, the practitioners talked to the pastor of the church across the parkway. They told him about Falun Dafa and the persecution in China. He welcomed them and said he would convey the information to his congregation.
After the signs and an information tent were set up, several of the practitioners demonstrated the exercise while others handed out fliers and talked to passersby.
Many people stopped to watch the exercises and said they had never heard of Falun Gong. They were very interested in learning more about the exercises and the persecution in China.
Falun Dafa is based on the principles of Truthfulness-Compassion-Forbearance. The five exercises have tremendous power to improve health.
When one has a conflict or confrontation, a Falun Dafa practitioner is required to look inward first, looking for any personal shortcomings based on the principles. A practitioner wants to change and improve him or herself.
The practitioners also talked about the persecution of Falun Gong in China and the Chinese Communist Party's (CCP) forced organ harvesting from Falun Gong practitioners.
Many people were very upset to learn about the persecution and signed a petition to bring Jiang Zemin, the instigator of the persecution to justice.
A man who talked to practitioners for nearly an hour said he also wanted to file a lawsuit against Jiang Zemin.
A lady who learned the exercises said she felt very happy afterward. She said she would read more about Falun Dafa online at home.
As the practitioners were packing up at the end of the day, several passersby asked when they would return to Palanga. The practitioners realized that people were waiting to hear about Dafa, so they decided to organize more events in other cities in Lithuania.