1,843 Falun Gong Practitioners in China Arrested or Harassed in April 2017
June 30, 2017 | By a Minghui correspondent
(Minghui.org) According to information compiled by Minghui.org, 1,843 Falun Gong practitioners were either arrested or harassed in April 2017 as part of the Chinese Communist Party's persecution of the spiritual discipline.
Of the 686 practitioners arrested, 224 had their homes ransacked, and 259 have returned home. The cases of harassment included police ransacking practitioners' homes, confiscating personal property, monitoring their phones, and forcibly taking photos and videos of practitioners.
There was a significant increase in the number of harassment cases since March; police forces nationwide were ordered to check on practitioners to "ensure social stability" surrounding the dates of the National People's Congress and the Chinese People's Political Consultative Conference. Even though the two high-level meetings had concluded, the harassment of practitioners continued into April. In fact, there were 2.78 times as many harassment cases in April as in March.
During these operations, the police extorted a total of 181,420 yuan (~$26,680 USD) from 41 practitioners. The money came mostly from cash confiscated during home raids. Other forms of punishment included illegally suspending practitioners' pensions and wages.
The arrests and harassment took place in 30 provinces and centrally-controlled municipalities. The greatest numbers of arrests were recorded in the provinces of Shandong (104) and Jilin (73). Liaoning Province recorded the most incidents of harassment (275), followed by Shandong Province (244).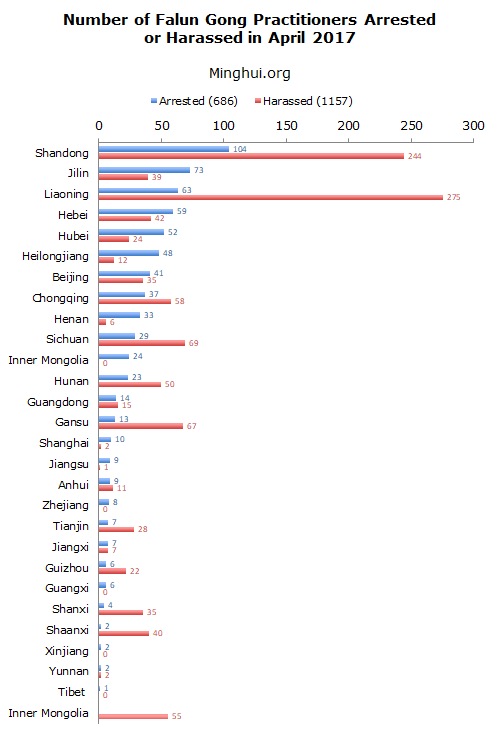 The following cases are representative of the arrests and harassment that took place in April.
Repeated Arrests
Mr. Tu Qingguang from Meizhou, Guangdong Province has been incarcerated three times since the persecution of Falun Gong began in 1999. He was first arrested in November 2010 when he spoke to people about the persecution. The authorities sentenced him to three and a half years in Meizhou Prison. He was released in November 2013.
The police arrested him again on January 25, 2017, for talking to people about the persecution. The police ransacked his residence and held him in a detention center for five days over the Chinese New Year period.
His most recent arrest took place on April 12, after which police ransacked his home and confiscated various possessions. In April, the Meijiang Procuratorate approved his arrest. He is currently held in the Meijiang District Detention Center.
34 Practitioners Arrested in Retaliation for Filing Lawsuits Against Jiang Zemin
Ms. Wang Yanyan worked at the Beijing Automotive Research Institute. She was arrested along with her father on April 13, 2017. She lost her job on January 4, 2017, after she filed a criminal complaint against former Chinese Communist Party chief Jiang Zemin for launching the persecution of Falun Gong.
Ms. Wang is a Falun Gong practitioner from Taikang County, Henan Province. Officers went to Ms. Wang's workplace on December 28, 2016; questioned her about her legal case against Jiang; and demanded that she write a "repentance statement" to nullify her complaint. Ms. Wang refused.
On January 4, 2017, the head of the human resources department told Ms. Wang that the company could no longer take the pressure from both Beijing and the Henan police, and she had to resign.
Ms. Wang and her father Mr. Wang Fengde were arrested at their home in Beijing on April 13, 2017. More than 12 plainclothes officers forced their way in. Only one was in police uniform. They ransacked the residence and confiscated a printer and Falun Gong materials. Ms. Wang and her father were taken away by the officers that morning. Her elder sister, a two-year-old child, and her mother, who is paralyzed and cannot take care of herself, were left at home.
For further details, see: Beijing Engineer Forced to Resign and Arrested for Suing Former Dictator Jiang Zemin
Police arrested Ms. Bai Yanqing in Hanzhong City, Shaanxi Province on April 25. Officers threatened to send her to a brainwashing center because of a criminal complaint she filed against Jiang. Ms. Bai was released the same day.
Mr. Sun Baifang and Ms. Zhao Jinfeng from Changchun, Jilin Province were arrested in early April and later released.
Police Brutality
Ms. Ren Guilan from Xuanhua County, Hebei Province was distributing Falun Gong materials on April 16. She was taken by three local village commissioners, who then took turns beating her. As a result, her head was swollen, her eyes were bruised, and her ears were injured. When she was taken to the police station, officers did not investigate the beating and locked her in the Zhangjiakou City Detention Center.
Five police officers in Jinzhou, Liaoning Province arrested Mr. Zheng Qingguo. In the process, an officer kicked Mr. Zheng, shattering his shoulder and breaking his upper arm. While he was hospitalized, officers slapped him and knocked out two of his front teeth with a heavy object.
Mr. Zheng was detained for 15 days, during which time his family was not allowed to see him. On April 21 the police told his family that he needed to be detained for another 15 days.
"Knocking on Doors" Campaign
Starting in March, police in Fushun, Liaoning Province have been calling or visiting local Falun Gong practitioners in the name of conducting a survey, which they called a "knocking on doors campaign." Officers had a list of names of practitioners they needed to question, which they claimed was an order from the top.
This campaign continued in April, and nearly a hundred practitioners have been harassed. The practitioners were asked questions such as "What do you think of Falun Gong?" and "Are you still a practitioner?" Those being questioned had to give their fingerprint and palm print if he/she refused to renounce their faith.
Five practitioners were harassed by police on April 19. Officers entered Ms. Li Guifen's home and asked if she still wished to practice. When she said yes, the police took photos and videos of her, claiming simply to be creating a record of their having visited her. Another group of officers went to harass Ms. Li Qingzhen, Ms. Liu Guihua, and Ms. Yu Yaqiu at their homes. The police later went to Ren Qingfu's home and asked similar questions.
Harassment in Name of "Helping the Poor" Project
Between March 30 and April 1, officials in Baoding, Hebei Province entered and searched the houses of six practitioners in the name of "helping the poor." When they found Falun Gong-related materials, they called the police.
Five officials entered Ms. Duan Jianhua's home on March 31 and immediately began checking every room in the house. When they found Falun Gong literature, they informed the police. Ms. Duan escaped through a window. The police came and confiscated various items, including computers and accessories that cost nearly 20,000 yuan (~$3,000 USD). The officers also took down and tore all the Falun Gong paintings in the house.
The police returned on April 7, but Ms. Duan was still not home. The took her brother-in-law and husband to the police station and interrogated them.
Ms. Tong Guolan's home was also targeted by the same project on March 31. The police searched her home and confiscated items that were worth nearly $1,500 USD. Ms. Tong was taken to the police station and later released.
The same group of officials went to Ms. Zheng Baoying's home on April 1. They took her computer, printer, and Falun Gong literature that were worth $1,000 USD.
Longtime Targets
Mr. Lin Shiwen and Ms. Ding Shulan in Yantai, Shandong Province were almost 90 years old. Their activities as practitioners consisted mostly of reading Falun Gong books. On the morning of April 20, several plainclothes officers forced themselves into their home, confiscated their books, and recorded video of everything in the house.