2021 Year in Review: Top News Items
(Minghui.org) As the world enters the third year of the pandemic, many people have been struggling to cope with "the new normal." Falun Dafa practitioners held numerous experience-sharing conferences during the past year, both online and in person, to discuss how to live by the principles of Truthfulness-Compassion-Forbearance themselves and spread the blessings of Falun Dafa to the general public. During the pandemic, practitioners have been advising people to recite "Falun Dafa is good; Truthfulness-Compassion-Forbearance is good." Many, including Covid-19 patients, have seen their health restored by reciting the two auspicious phrases.
While people outside of China can freely practice Falun Dafa, its practitioners in China are still facing the ongoing persecution, which was launched by the Chinese Communist Party (CCP) in July 1999. Many practitioners in China have been arrested, detained, tortured, and even killed for upholding their faith.
Despite the brutal persecution, practitioners in China have never wavered in their faith or stopped their efforts to raise awareness of the CCP's brutality and lies. As a result, many ordinary citizens and officials alike have come to understand Falun Dafa and stopped following the regime's persecution policies.
Practitioners outside of China have also been working hard to expose the persecution. They submitted lists of perpetrators involved in the persecution and sought sanctions against the perpetrators. Various countries around the world have been taking actions to stop the CCP's persecution of Falun Dafa, and a number of media reports have documented the severe human rights violations.
The peaceful practice of Falun Dafa continues to flourish outside of China with no culture or language boundaries, thanks to practitioners' persistent efforts in introducing Falun Dafa to the public. The Art of Zhen-Shan-Ren Exhibition and numerous films, as well as practitioners' participation in community events, also helped spread the information far and wide.
While Shen Yun performances bring the divine-inspired traditional Chinese culture to audiences in almost every corner of the world, the Tianti bookstore and the Minghui Publishing Center have also been proud to provide people with Falun Dafa books and related publications.
1. Practitioners Share Experiences to Elevate Together
After Falun Dafa was introduced to the public by Mr. Li Hongzhi in 1992, its practitioners have held regular experience-sharing conferences to share ideas on how to be better citizens by following the principles of Truthfulness-Compassion-Forbearance.
In addition to in-person conferences in Taiwan, Switzerland, Mexico, Brazil, and other places, online conferences were also held in 2021, such as article submissions for World Falun Dafa Day, the International Online Fahui, the Minghui Experience-Sharing Conference, and the 18th China Fahui.
Practitioners also submitted a large number of holiday greetings to express their gratitude to Mr. Li. For example, greetings were received by Minghui from 63 countries to celebrate World Falun Dafa Day, while practitioners from 50 professions in China wished Master Li a happy Moon Festival, a Chinese tradition that represents reunion and happiness.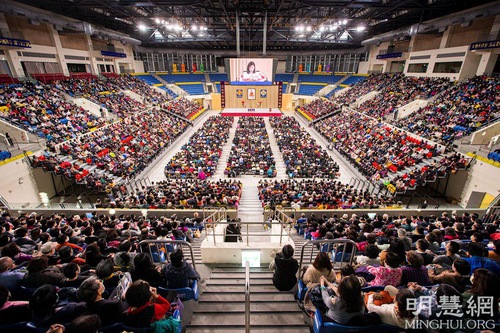 Over 6,000 practitioners attended the 2021 Taiwan Falun Dafa Experience Sharing Conference in Taipei on December 19, 2021.
2. Miraculous Benefits of Falun Dafa on Mind and Body
With five sets of exercises and the principles of Truthfulness-Compassion-Forbearance, Falun Dafa has greatly improved the health and well-being of its practitioners. In addition, non-practitioners who kept in mind "Falun Dafa is good" and "Truthfulness-Compassion-Forbearance is good" also received blessings. After Dong Nguyen, a Vietnamese Chinese physician in Houston, Texas, contracted Covid-19, he remembered advice from a practitioner to recite the two auspicious phrases in times of need. He did so and regained his health. Similar remarkable recoveries were also seen in China, South Korea, Mexico, and Slovakia.
An earlier review explained why those who were infected or had close contact with Covid-19 patients managed to recover quickly. "In Huangdi Neijing (The Yellow Emperor's Internal Classic), one of the best-known ancient Chinese medical texts, it says, 'When a person has righteous qi (energy) residing inside, no viciousness is able to invade.'" The article wrote, "With the CCP as the biggest threat to the world and Falun Gong practitioners as the single largest group suppressed by the regime for their faith, anyone who supports innocent Falun Gong practitioners will be blessed."
3. Persecution in China Remains Unabated
Unfortunately, practitioners in China are still being persecuted for upholding their faith. The police in Hanzhong City, Shaanxi Province beat a woman so badly that they broke seven of her ribs. In Dqing City, Heilongjiang Province, 11 residents received up to 11 years in prison for making phone calls to the public and exposing the brutal suppression.
In 2021, Minghui reported 132 deaths of Falun Gong practitioners as a result of the persecution, 1,187 cases of Falun Gong practitioners being sentenced, and at least 16,413 practitioners arrested or harassed for their faith.
4. More Chinese Residents Awaken
Through practitioners' persistent efforts, many Chinese people and officials alike have learned about Falun Dafa and become supportive of practitioners.
Officials in Shaanxi Province who harassed practitioners in the CCP's "zero-out" campaign backed off from harassing practitioners. A practitioner in Qinghai Province defended her right to her pension, and the local Social Security Bureau dropped a case against her demanding she return the pension payments issued to her during her detention for her faith.
More ordinary citizens also came to know the vicious nature of the CCP. In one example, all 8 members of a family quit the CCP. Zhang Tianyou, a college student hired by the CCP to jam the Quit the CCP hotline, not only severed ties with the CCP himself but also persuaded 59 classmates to do the same.
5. Lists of Perpetrators Submitted to Various Governments
Continuing their efforts from 2020, practitioners in 37 countries submitted an updated list of perpetrators involved in the persecution of Falun Dafa to their respective governments, requesting sanctions on these human rights abusers, including denying entry into their respective countries and freezing their overseas assets. Among them was Fu Zhenghua, a former director of the CCP Central 610 Office, an extralegal agency created specifically to persecute Falun Gong.
Another list was then submitted to 36 countries on Human Rights Day. These 36 countries include the Five Eyes Alliance, 23 countries in the European Union, and eight other countries (Japan, South Korea, Indonesia, Switzerland, Norway, Liechtenstein, Israel, Mexico).
6. Legislation and Resolutions to Curb the Persecution
Several reports were issued by the U.S. government in 2021 highlighting the CCP's human rights violations against Falun Gong practitioners. The agencies include the U.S. Congressional-Executive Commission on China (CECC) in January, the U.S. State Department in March, and the U.S. Commission on International Religious Freedom (USCIRF) in April. The Texas State Senate passed a resolution condemning the CCP's organ harvesting crimes, and dozens of local governments in Virginia did the same.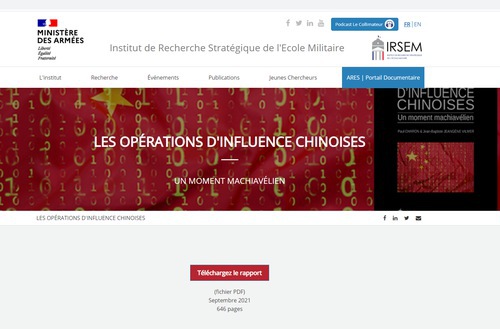 The French Military School Strategic Research Institute (IRSEM) published a report on September 20, 2021, with 79 places mentioning the CCP's persecution of Falun Gong.
Similar developments were seen in other continents. The U.K. passed a law in February 2021 to curb the crime of forced organ harvesting in China. This was followed by a detailed report in September from an institute under the French Ministry of Armed Forces and a hearing at the European Parliament in November against organ harvesting. Numerous members of the German parliament condemned the CCP's forced organ harvesting on Human Rights Day on December 10, and the Yilan County Council in Taiwan passed a cross-party motion on December 24 to endorse the Universal Declaration on Combating and Preventing Forced Organ Harvesting (UDCPFOH).
7. Media Coverage
Knack, one Belgian magazine, published an article on February 25 about body exhibitions and their connection to human rights violations in China, while local BATU TV stations in Indonesia covered World Falun Dafa Day celebrations on May 23, 2021. Similarly, a number of newspapers in Texas, including The Dallas Morning News, reported the adoption of of TX SCR3 as a bill "condemning China's practice of involuntary organ harvesting" in June.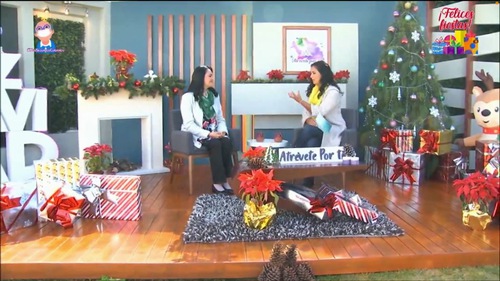 Ligia Reyes (right), host of the program "Dare for You" in an interview with practitioner Jeniffer García (left). (Credit: Mexiquense TV)
In addition, The Scotsman filmed a special feature on Falun Gong practitioners in November on their peaceful resistance against the persecution in China as the 26th United Nations Climate Change conference (COP26) was held in Glasgow. Moreover, Mexiquense TV in Mexico broadcast in December an interview of practitioners on the spiritual practice during a special Christmas program for health and well-being.
8. Introducing Falun Dafa to the Public
As many physical venues were restricted due to the pandemic, practitioners hosted free online instructional classes to teach the exercises to the public. They received positive feedback. Kiryu, a Japanese resident in his 50s, was disabled, and his condition was worsened by the pandemic and other factors. He was thrilled to find that the practice of Falun Dafa relieved his depression and insomnia. "Finally, I can sleep well," he said.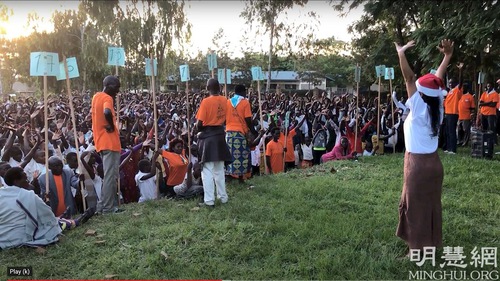 A Falun Dafa practitioner demonstrates the first Falun Dafa exercise during a Christmas celebration in Rwanda, Africa.
From Golden Gate Park to Niagara Falls, from a health expo in Sweden to school campuses in France and Indonesia, people have embraced Falun Dafa with renewed vitality and hope. After 200 volunteers, teachers, and parents failed to handle 1,000 noisy children during a Christmas celebration in Rwanda, Africa, everyone was surprised to find the crowd immediately calmed down and followed a practitioner to do exercises. "This is the most beautiful moment of the day!" one parent exclaimed.
9. Art Exhibition and Films
The Art of Zhen Shan Ren (Truthfulness, Compassion, Forbearance) International Exhibition continued to draw broad attention to the clear contrast between the beauty of Falun Dafa and the ruthless persecution in China. The artworks "brings courage to all the persecuted in the world," wrote an exhibition attendee in Germany.
"Coming and viewing these artworks was a wonderful journey, as if finding our true self, towards a better life," commented one resident of Athens, Greece. "In our hearts, there is only compassion and light, with no viciousness. I hope this will lead to a hope for the future."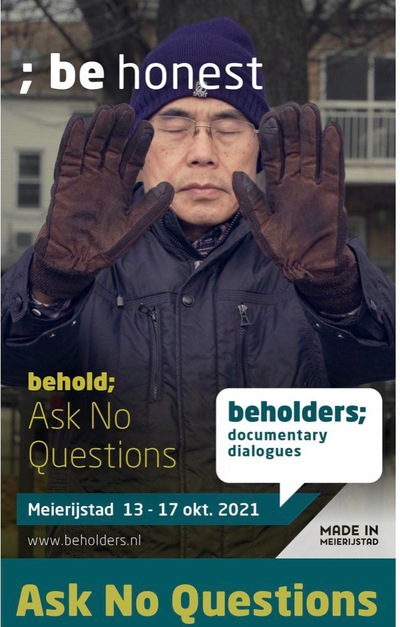 Poster for the movie Ask No Questions
After Beholders, a five-day international documentary film festival, screened the documentary titled Ask No Questions on its first day of October 13 in Veghel, two Dutch newspapers reported on the event the following day and introduced the film. Joost Hengeveld, a contributor to another film festival, agreed that the principles of Falun Gong are beneficial to everyone. He did not know that people were being treated like farm animals in China and thought it was highly alarming that news media in China were broadcasting lies.
10. Falun Dafa Practitioners in the Community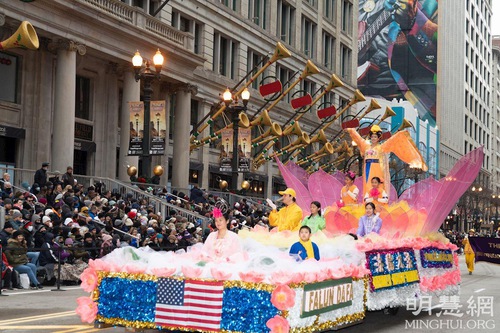 Falun Dafa practitioners' entry was a highlight of the Chicago Thanksgiving Day Parade on November 25.
Many U.S. states including Delaware recognized May 13 as "Falun Dafa Day," and over 10 Canadian cities such as Niagara Falls celebrated the special occasion with flag ceremonies. During the 102nd annual New York City Veterans Day Parade held on November 11, the Tian Guo Marching Band performed a number of compositions with a stirring blend of trumpet, horn, tuba, baritone, clarinet, saxophone, flute, and drums. Spectator Diana Hodges was so excited to see the band that she danced and waved the U.S. flag in tune with the music, exclaiming, "I love it!"
Pointing to her heart, she said, "Oh, my God! It [the music] shook my heart! It touched the hard-to-reach part of my heart. This makes me so excited. Thank you! This music is from heaven. This is a divine connection."
11. Shen Yun Performances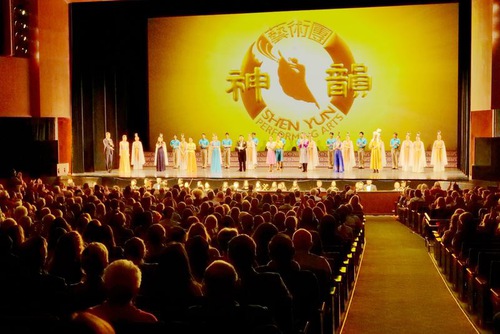 The Shen Yun North America Company's curtain call at the Popejoy Hall in Albuquerque, New Mexico on November 1, 2021
From Arizona to Florida, from South Carolina to Boston, Shen Yun once again brought superb performances across United States and other continents. "[Shen Yun is] amazing. I hope China goes back to [the time] before communism—if that will ever happen. I really hope so! I hope America doesn't become like that!" remarked actress Elise Devereux after she watched a show in Thousand Oaks, California, on October 31. She added that one of the bel canto vocalists had performed a song introducing the divine Creator. "I was all emotional. [It] brought tears to my eyes actually."
12. Tianti Bookstore and Minghui Publishing Expand Their Presence
As English Minghui (en.minghui.org) launched its Android app in December, Minghui Publishing released an e-book version of the award-winning Minghui Report: The 20-Year Persecution of Falun Gong in China and launched a new online store to provide Minghui books, periodicals, and other materials.
All articles, graphics, and content published on Minghui.org are copyrighted. Non-commercial reproduction is allowed but requires attribution with the article title and a link to the original article.