Niagara Falls Joins Over 10 Canadian Cities to Celebrate World Falun Dafa Day with Flag Ceremony
May 11, 2021 | By Minghui correspondent Zhang Yun
(Minghui.org) May is a season of prosperity and hope. More than 10 Canadian cities are celebrating World Falun Dafa Day this month with flag ceremonies or bright lights at landmark buildings.
At 11 a.m. on May 7, a flag bearing the words "Falun Dafa Day" and "Truthfulness, Compassion, Forbearance" flew over Niagara City Hall alongside the Canadian flag and the provincial flag of Ontario.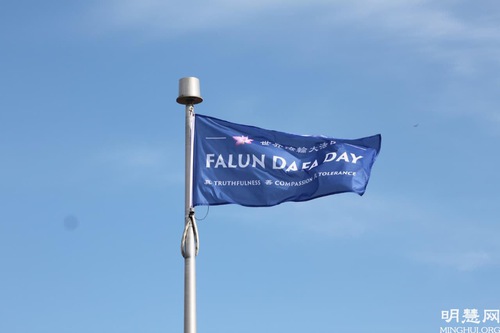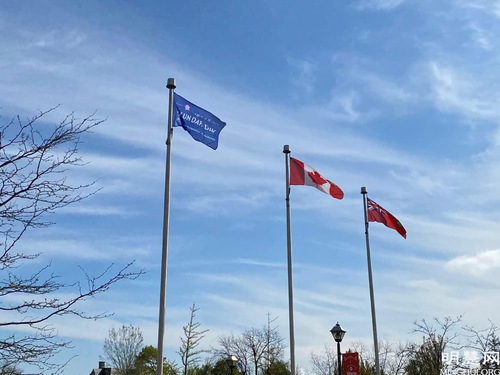 A flag at Niagara City Hall on May 7, 2021, celebrates World Falun Dafa Day.
The Falun Dafa Day flag flies alongside the Canadian flag and Ontario provincial flag.
This was the first flag ceremony to honor Falun Dafa in Canada this year. Similar ceremonies will take place in over 10 Canadian cities over the next two weeks.
Mayor's Congratulatory Poster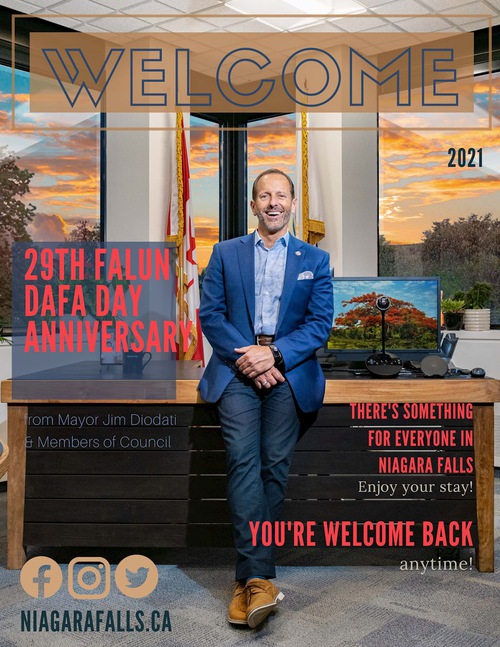 Niagara Mayor Jim Diodati's poster honoring Falun Dafa Day
After the Niagara Falls City Council voted on April 20 to approve the flag ceremony, Mayor Jim Diodati honored it with a poster. He also posted the image online, inviting more people to visit the city.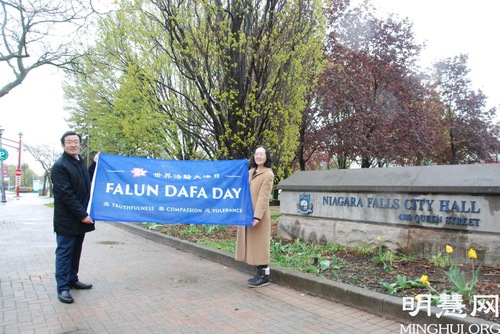 Practitioner Zhang Pixing (left) coordinated the flag ceremony.
Niagara Falls is a world-renowned tourist destination, boasting tens of millions of visitors every year. Zhang Pixing, a Falun Dafa practitioner who coordinated the flag ceremony, said excitedly, "We are glad to be here to share the beauty of Falun Dafa so that more people can benefit from the practice. This includes people worldwide, including China, the birthplace of Falun Dafa."
Over the next two weeks, more cities will have similar celebrations, either with flag ceremonies or bright lights at landmark buildings. "During this difficult time of the pandemic, we sincerely hope the health and spiritual benefits of Falun Dafa could benefit people of all backgrounds," he said.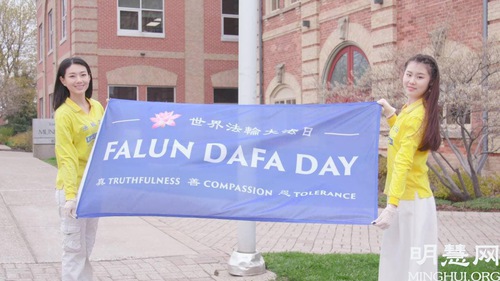 Two young practitioners at the flag ceremony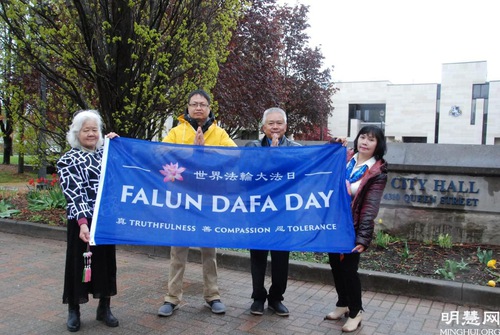 More practitioners at the flag ceremony
Although the Chinese Communist Party (CCP) began to persecute Falun Dafa in 1999, Zhang said the principles of the practice, Truthfulness-Compassion-Forbearance, have guided practitioners through the years and given them strength. "Today, we are happy to see many young practitioners. Also, practitioners from diverse backgrounds have joined the activity today," he said. "It shows that the rain and storm of the past 22 years have in fact built up perseverance among practitioners, allowing the practice to flourish in the younger generation worldwide."
Broad Support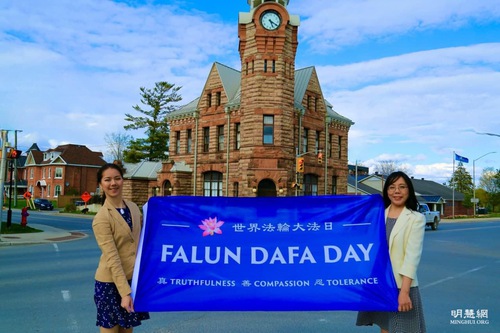 Dai Gongyu (right) is a spokesperson for the Canadian Falun Dafa Association.
Dai Gongyu from the Canadian Falun Dafa Association said that this event shows continued support by officials over the years. In the past, the Governor General, Prime Ministers, Members of Parliament, Lieutenant Governors (heads of provinces), Mayors, and others have issued many proclamations and letters of congratulation to mark the occasion.
When World Falun Dafa Day was celebrated for the first time in 2000, over 60 congratulatory letters were received from the Governor General, Deputy Prime Minister, Minister of Canadian Heritage, and others. The number of greetings increased over the years and reached over 100 in 2020.
Besides dozens of cities honoring Falun Dafa Day on May 13 or Falun Dafa Month in May, more than 10 officials have sent congratulatory videos because they were unable to attend events in person as in previous years due to the pandemic.
Dai thanked the elected officials in Canada for their continued support. She said these flag ceremonies, along with proclamations and congratulatory letters, highlight the Canadian people's understanding and acceptance of Falun Dafa and its principles of Truthfulness-Compassion-Forbearance. "Embracing kindness and standing with the innocent are in clear contrast to the persecution in China, and it will bring long-term prosperity to Canada," she explained.
Information Booth at a Tourist Site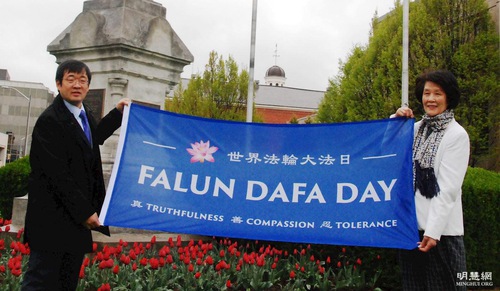 Wang Jinju (right) is a contact person for the Falun Dafa group exercise site at Niagara Falls.
Practitioners in Toronto established an information booth at Niagara Falls in the summer of 2018. Although it is about an hour and a half drive from Toronto, practitioners have been coming here to do the exercises together every day in the summer since then.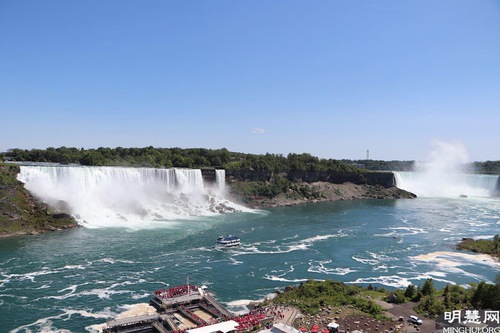 Niagara is a renowned tourist destination. It has the highest flow rate of any waterfall in North America and a vertical drop of more than 50 m (160 ft).
Wang Jinju, one of the information booth's coordinators, said at least 20 million tourists from all over the world visit the falls each year. "Although we just want to share with people the benefits of Falun Dafa, agents acting on behalf of the Chinese Communist Party (CCP) have tried to harass us or stir up conflicts almost every day," she said. "Fortunately, the local officials have learned the facts and know what kind of people we are. They support us."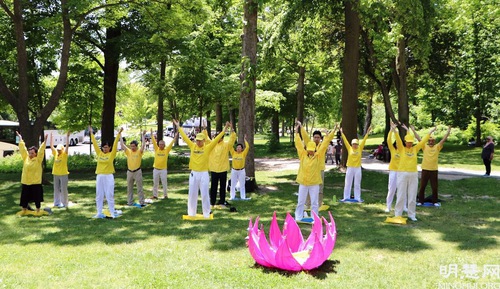 Group exercises at the site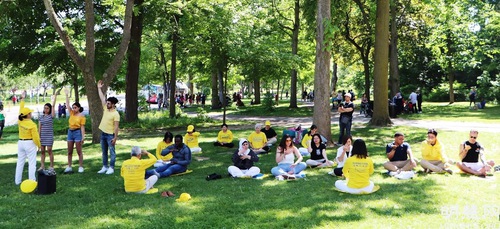 People from all backgrounds learn the practice.
From "What is Falun Dafa?" to "Why it is suppressed in China?" Wang and other practitioners have addressed questions and shared their own experiences with tourists. Some tourists have learned the Falun Dafa exercises, and some said they would pass on the information.
Local Residents: A New Life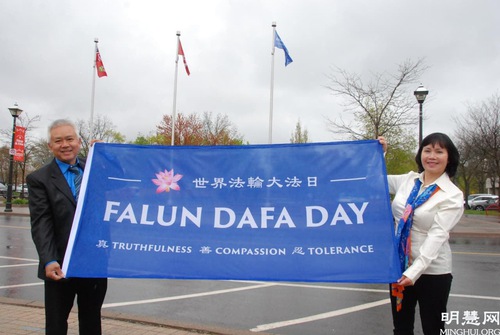 Helen Thieu and her husband said they are indebted to Falun Dafa for their happy life.
Helen Thieu came from Vietnam and now lives in the City of Niagara Falls with her husband. She used to suffer from severe stomachaches. Falun Dafa helped her regain her health and energy. Then, as the couple began to follow the principles of Truthfulness-Compassion-Forbearance in their daily life, her stressful family relationships also improved significantly. "Falun Dafa gave us a new life, physically and spiritually," she said.
The couple owns a successful food plant in the area. Witnessing the positive changes in the couple, their son, daughter-in-law, and niece also started to practice.
As a participant in the flag ceremony, Helen said she is proud to be a Falun Dafa practitioner and a resident of Niagara Falls. "We are very thankful to Falun Dafa for everything we have," she said.
All articles, graphics, and content published on Minghui.org are copyrighted. Non-commercial reproduction is allowed but requires attribution with the article title and a link to the original article.
Category: Dafa Day Recognition